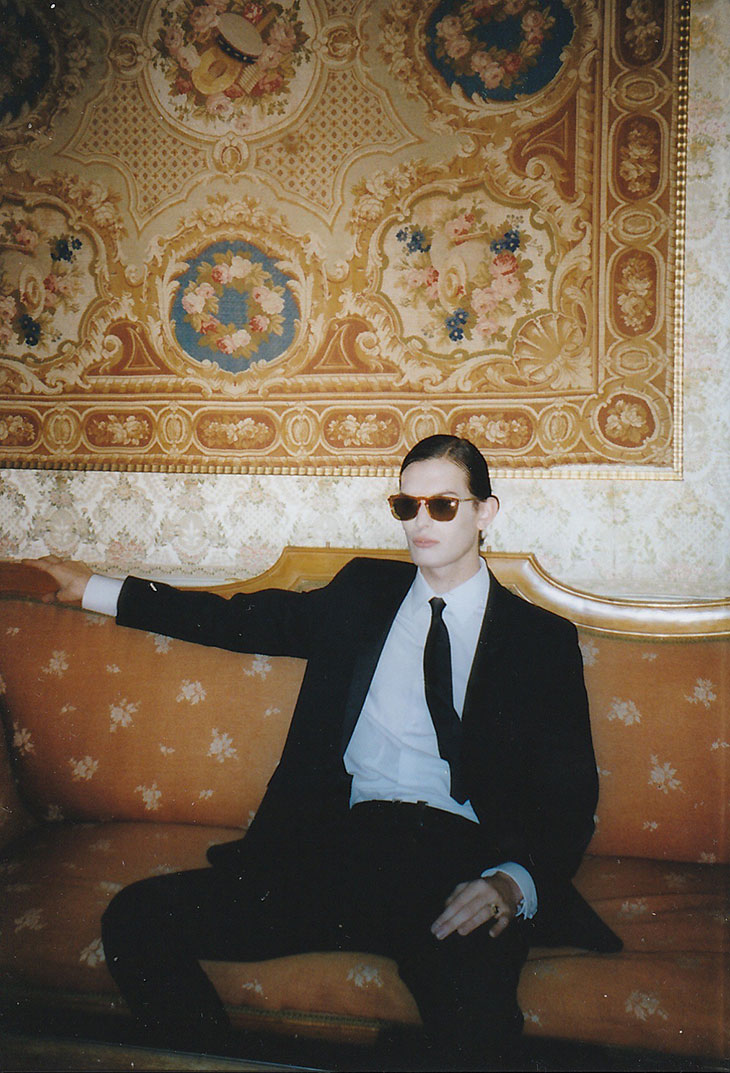 European Vampire, the latest experiment by musician and model Lorenzo Sutto and producer Mark Ceiling, has just released a debut single Tom Ford and a first track of the upcoming album. Presented as the first chapter of this dystopian tale, the single is accompanied by a unique music video. Our editor Katarina Djoric sits down for an interview with singer Lorenzo Sutto.
With a new single out now, it's safe to say that European Vampire is not only a band to keep an eye on in 2020, but it's a force to be reckoned with. Read about the new song and more now below, and keep an eye out for more new music from European Vampire out soon.
Musician and model Lorenzo Sutto was a cover star of our MMSCENE's 30th issue – see here.
Read the interview after the jump:
European Vampire is your new project. Tell me more about it.
EV is a project that took a lot of time to be accomplished. It was born by accident and became instantly something more than just a band. From the beginning, we wanted to create another kind of experience from the ones we had before, pushing our personal boundaries beyond, both sonically and lyrically. It can be seen as a movie made out of songs, atmospheres, canvases and words, used to narrate the same tale in the same dystopian universe. It has something from my personal experience but at the same time, it goes far beyond. For example the fashion element in EV is twisted and deranged as a way for the main character to thrive amongst the pleasures of luxury and shallowness, jumping from party to afterparty by inertia. On the contrary, my personal experience was mainly driven by my will to get by in the beginning and then work in a different environment from home. The male presence in EV is very prominent and present as a symbol of power and dominance against the morals and ethics of the world. What EV achieves by just being this rich, powerful, young man is the certitude of getting away with anything in the predominantly man-centered world we live in.
What is the inspiration behind your new single Tom Ford?
The inspiration came to me just by taking part and watching some of the parties during the fashion week. There's a certain veil of fiction and theater behind the fashion world that has always been very attractive to me and I always wanted to unveil that magic. This Tom Ford character was conceived as a representative of the Paris and London crowd that lurks around hallways and dancefloors, impeccably dressed, immodest and jaded to the bones, always doing something more interesting than what you are doing. The boarding schools, the fluency in many languages, the trips, the holidays, the villas, the mansions, all come to form the archetype of someone that, reluctantly, can be very fascinating to talk to and to observe. I guess that fascination can also come along with a certain level of disgust and detachment, it all depends on what kind of person is watching. When we found the lo-fi house beat while sifting through our projects, it all just clicked: we found our way to portray that character and his sleek, pretentious aura perfectly.
There's a certain veil of fiction and theater behind the fashion world that has always been very attractive to me and I always wanted to unveil that magic. This Tom Ford character was conceived as a representative of the Paris and London crowd that lurks around hallways and dancefloors.
The song is accompanied by a unique music video, which serves as a chapter of a story. What was behind the idea for the video?
We didn't plan any detail of the video, nor did we write a script or anything like that. We just went for it, you know? We came to Riccardo's place, that is an old building used as an attorney's office in the center of Rome. We suited up and started shooting. We pretended to be at a fancy party, in some place in Europe, dancing and chain smoking. I was EV and Angus, my friend from London, was my human counterpart. It's a love/hate dance between these two characters, representing the yin and the yang of EV, but at the same time it's a hunt perpetuated by the vampire against the human. Michele Formica, our director, wanted to shoot everything in a very intimate style. We used the symmetry of the building to give the impression that we were constantly in front of a mirror and the whole dynamic was about a conversation between two opposites.
You have a new album on the way. What can fans expect?
Surely something always different. The narrative nature of the project enables us to experiment with production, arrangement and lyrical choices, so that our songs are really varied in genre and song form. We tend to skew towards electronic music in general, but it really depends on the song and the vibe we want to achieve. Our album will be a collection of impressionist snapshots of our character's life, thoughts and emotional states. The music landscapes we are using in our songs draw the inspiration from musicians like the late Piero Umiliani, classical music such as Ravel and more modern electronic producers such as Lapalux and Andy Stott.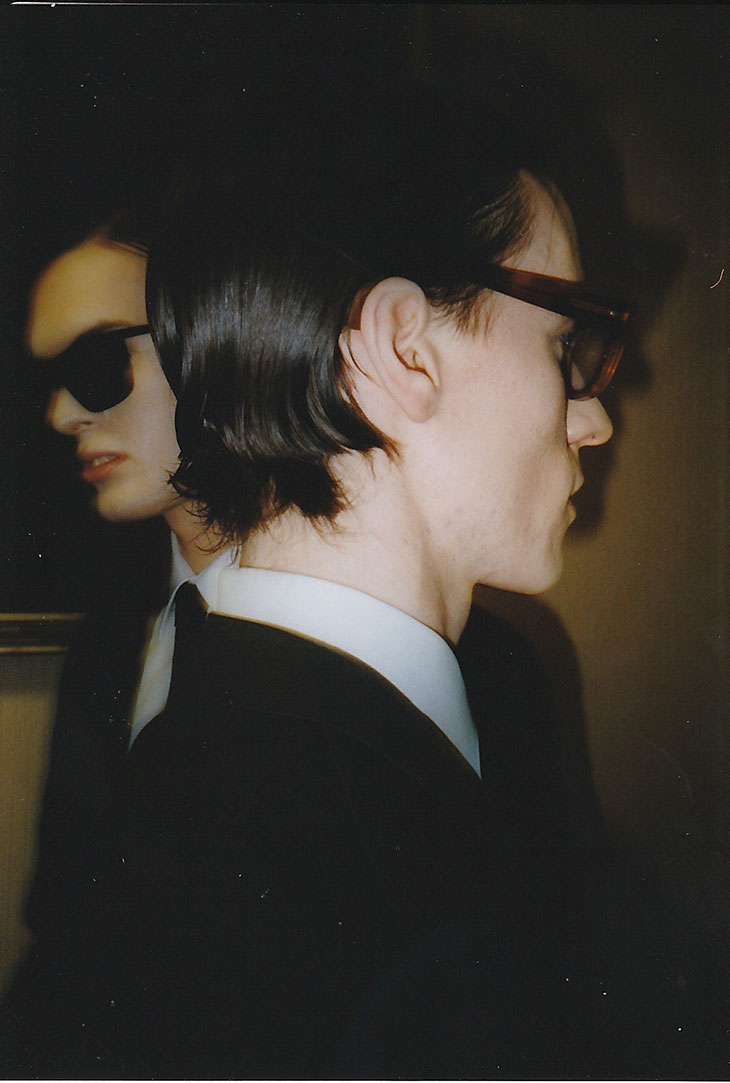 COVID-19 has obviously affected the music industry in countless ways over the past month – what is it like working on an album release right now?
It's terrible not to be able to produce together in the same room. Every song was created in Riccardo's studio/bedroom and I think that it is one of our secrets. Since we had news about this virus we kept on making music together, in each other's places, but it's not the same.
What was the most rewarding part of working on the album?
After we made the video for Tom Ford, we started working on other things and it was amazing to see how we were all getting along so well. Everyone helped in the process and we were just so amazed by the ideas that were coming out, meeting after meeting. It's all very exciting to witness what all of this brainstorming helped us achieve. EV is a team work. Even if in the beginning it was just me and Riccardo, after a while we understood the full potential of this project and we realized we couldn't do it alone. Michele, Aurora, Costanza they all have their places in the project for the video, the graphic novel, the website, the pictures, the logo and even just a hint in which direction we should go. The graphic novel, drawn by Costanza Starrabba, is an example of how the figure of EV can come to life into another expressive form carrying the idea of dualism trough shades and shapes.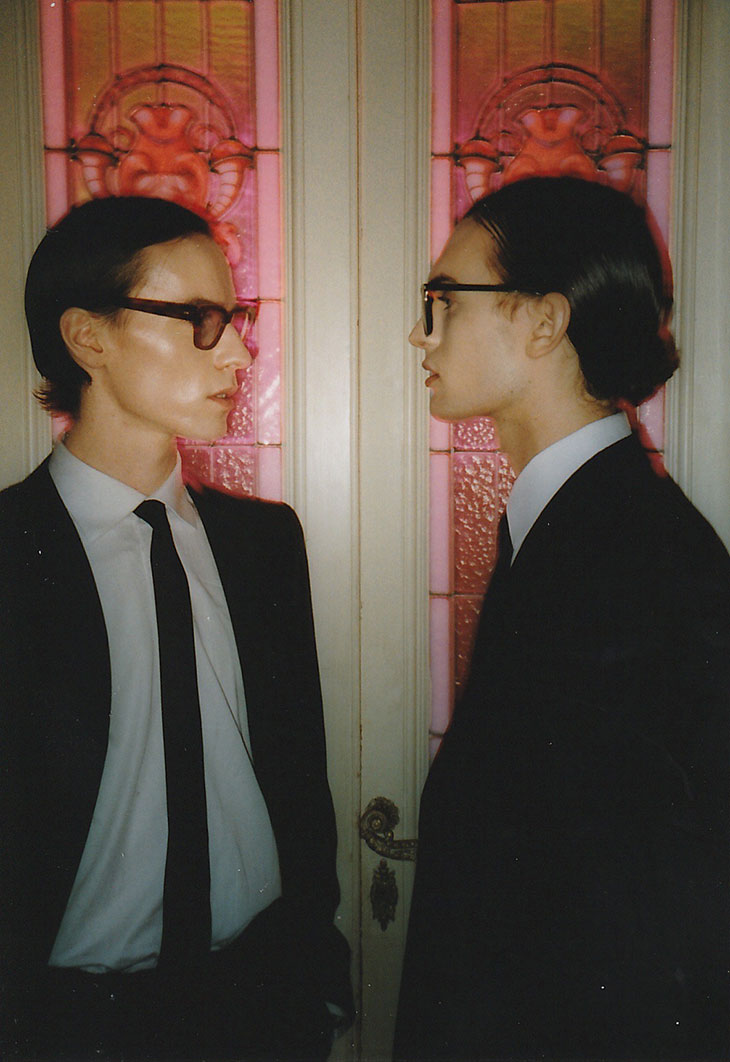 Can you give us a sneak peek of your favourite lyric on a new album?
"Ethereal boys of your lady friends
cocktail fairies and leather bands.
Gather around and let's all stand
in the circle of love until the stamina ends."
Can fans expect to hear any more new music or teasers before the album is out?
Yes they can, sooner than they think.
Do you have any other big plans or goals for the rest of 2020?
Just to make as much good music as possible.
Thank you for taking the time to chat with us.
Thank you for this opportunity!