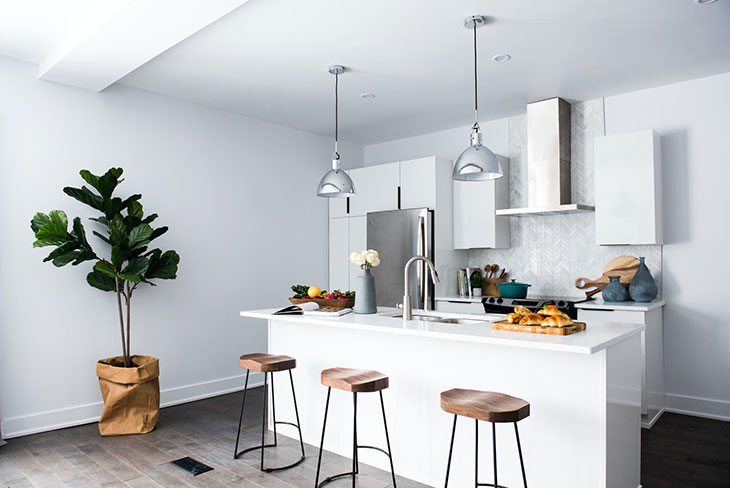 Redecorating your kitchen can be an extremely exciting time. It is your opportunity to turn your home from a place you like to a place you truly love. You have full control of the entire project, allowing you to tailor the look of your kitchen in any way you desire and turn your dream ideas into a reality. Here are some key tips and tricks that you can use to get the very most out of your renovation.
RELATED: INTERIOR DESIGN
Read more after the jump: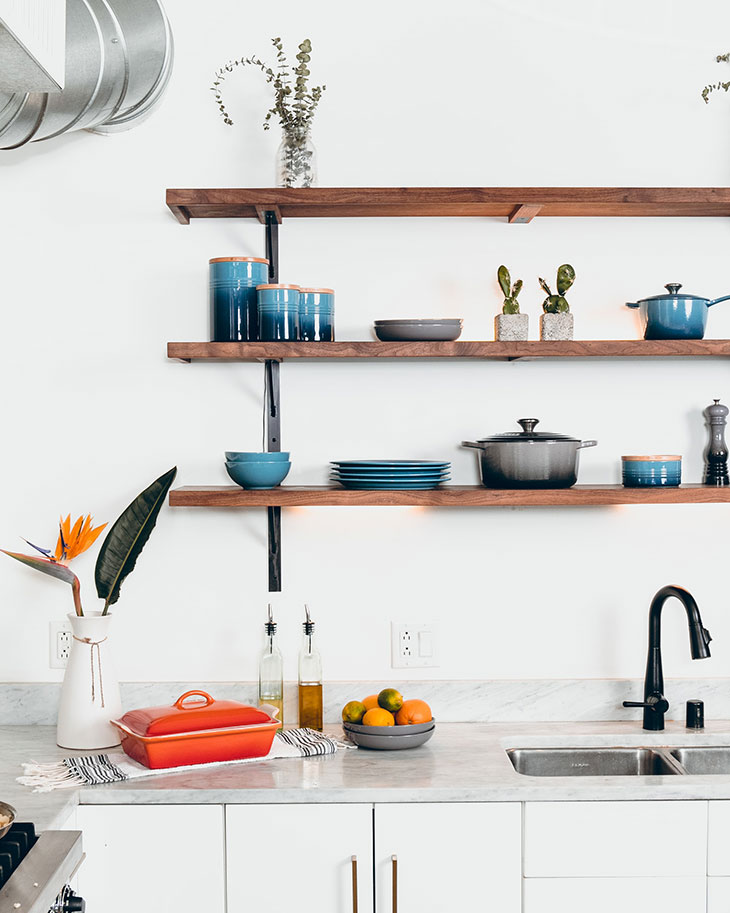 Update Your Backsplash or Cabinets
Updating your cooking area with your very own splashback is visually appealing, very functional and can help prevent the areas around your hobs from becoming a mess. On top of this, it is relatively inexpensive compared to many other kitchen renovation options. You can customize your own splashback with a range of colours based around your preferences. You can stick with the basic black or white options, or create your own pattern that harmonizes with the aesthetic of your kitchen. The right splashback can help your kitchen come to life, especially with the many patterns and colours available on the market. Once installed, they are very easy to clean, ensuring that the days of scrubbing down your kitchen walls is in the past.
Updating your Kitchen Cabinets can change the entire look of the room. Ordering a new full set of kitchen cabinets can become quite costly, however a whole new look can be achieved by painting or refacing your cabinets. The pros at Kitchen Cabinets Calgary recommend that you make sure that the paint you're using is one that can handle the demands of being in the kitchen. The paint should be a high grade, and durable paint as it will be handled and touched far more than typical painted features in the house. The paint has to be able to stand up to the wear and tear of being touched to open and close multiple times a day, as well as handle the occasional splatter or spray from messy recipes or unexpected spills.
Add A Kitchen Island
If your kitchen looks like something is missing, then a kitchen island may be the best option for your kitchen. A kitchen island can make your kitchen appear more comfortable and homely, whilst at the same time being very practical. Not only is this area perfect for food preparation, it is ideal for storing dishes, comfy seating and even a place the family can sit back and relax around. With many designs available on the market, it is easy to find an island that fits both the aesthetic and the function of your kitchen.
Upgrade Your Appliances
In the era of 'smart technology' within the house, upgrading your appliances is a great way to add practicality and efficiency to your kitchen. Whether you want to install induction hobs, a water saving dishwasher, energy-efficient lighting or simply a new microwave, there are many technologies available that can enhance both the aesthetic and convenience of your kitchen. Upgrading your appliances can make a significant difference to your kitchen and do not necessarily have to break your bank account either.
Install Oversized Art Pieces
One increasingly popular trend regarding kitchen refurbishments, is the use of oversized art pieces. Artwork, when used correctly, can become a key aspect of your kitchen and can add that touch of character you need to complete the room. If your wall space is relatively small, you can hang up a single larger piece of art, rather than scattering several smaller pieces around. This is fantastic for making your room appear larger and can add significant value when used correctly.

Consider The Little Differences
Although changes to your kitchen are usually considered to be expensive and in most cases, a large investment, this does not always have to be the case. Cooking is truly an art and can be an inspiration to both family and friends. Look for creative ways in which you can display items around the room that display the 'personality' of the room. You may choose to use hooks to hang your cups and mugs, you may hang a clock in the centre of the room or you could install an open shelf to display artwork and antique bottles that you have collected throughout the year. No matter what you wish to use, a small change to the room can have a huge difference!
Install Quartz Countertops
One, more expensive option you can use to spice up your kitchen is to install quartz countertops. These countertops are top of the range options and stronger than natural stone. Once installed, they will not scratch like a normal solid surface. To further this, you can also choose from different surface types to ensure your countertops match the rest of your design. Though expensive, they can add significant value to your home should you choose to sell, making them more of an investment than a cost.
Install Speakers
A great and inexpensive way to increase the appeal of your kitchen is to install a speaker. A speaker is a great way to set the mood within the room. Whether you want to blast out music while you dance, or you want to create an ambient atmosphere as you enjoy your dinner, a speaker is a great way to do so. There are many speakers available in the market that can be tailored to your room. Your guests won't even know you had a speaker until you use it!
Make Use Of Discrete Storage Spaces
Minimalism is great for many modern day kitchens and has become a leading trend over the past decade. Nobody likes a kitchen full of clutter. Not only is it inconvenient to find anything you need, but it can cause risk to others should dangerous items be left around the room. With discrete storage systems, you are able to remove clutter and keep it out of sight.
Paint The Room
A fantastic way to change the overall aesthetic of your room without having to spend significant sums of money, is by painting the room. This will only cost the price of the paint, as well as the equipment you choose to use and will allow you to customize the room in any way you seem fit. Want to add shades to the room? Go ahead! Want to create a wall full of bright colours? Paint away! With paint, there are so many options you can choose from, allowing you to paint until you are completely satisfied with your design.
No matter what changes you choose to make to your room, it is important that you have fun throughout the process. There is no point making changes to your kitchen if you aren't going to enjoy doing so. So sit back, relax and enjoy the process of remodelling! The more you enjoy, the better job you will do!