Technology is forcing organizations to start considering an office renovation. If you're among this growing group of people preparing to renovate your organization's outdated workspace, you might be wondering where to start. Since office renovation doesn't take place often and requires specific knowledge, it's not uncommon to be at a loss when trying to identify what design strategy to go with. For example, if you decide on an open floor plan for a coworking environment, how will you maintain an aesthetic look along with effective cable management. In order to avoid future problems with your design, here are seven tips to ensure the success of your project from beginning to end.
Read more after the jump: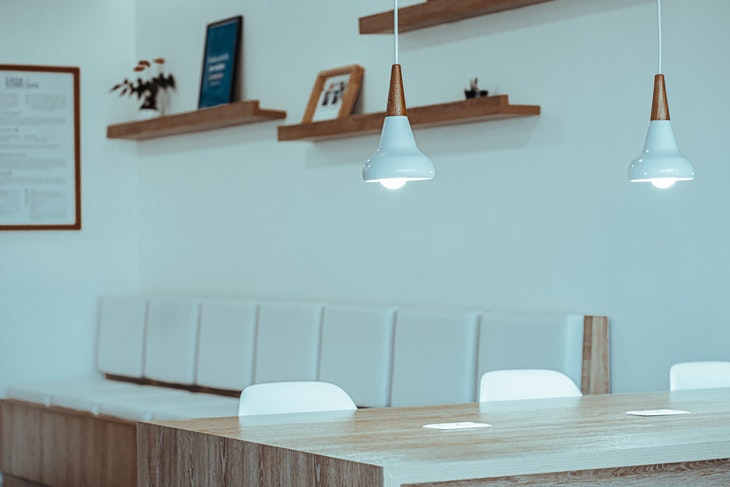 1. Outline the Objective(s) of the Office Renovation
It's crucial to outline the purpose of renovating your interior space. Here are a few things to ask yourself:
Why have you chosen these renovations now?
Who occupies the office space?
What are your pain points?
What technologies will be added during the renovation?
How will those technologies be accessed?
How will it benefit your employees or clients?
2. Find Out How Your Present Workspace Functions
To design an office renovation for the long-term future, one must first understand how the present workspace functions. Find out what characteristics seem to be working for your employees and which characteristics seem to hurt their productivity. This renovation project is your chance to build the most suitable workplace for your people—not for the "average worker."
3. Design Office Space With Your Employees' Well-Being in Mind
Whether you're one who prefers the traditional office design or the open office layout, everyone can agree that keeping employees happy in the workplace is crucial to an organization's bottom line. There is no disputing that the office layout is one of the most vital elements when it comes to promoting productivity.
In an article published by funded.com, there are certain pain points related to productivity that are rooted in how offices are set up and how time is managed. According to Helene Segura, a productivity consultant, the lack of productivity is directly linked to a workspace set up. Here are some of the findings listed in that article:
51 percent of workers fail to engage with work due to a dull office interior
17 percent of workers stated that they were disengaged and that affected their productivity adversely
Investing to improve the ambiance of your office space is important as it can uplift the overall mood
A creative office space doesn't mean you have to incorporate a lot of gimmicks into your office renovation to improve productivity. Today, employees expect to have access to natural light, clean bathroom stalls, private meeting rooms, collaborative spaces, as well as places to get away from others so they can relieve stress. These are the kinds of renovations that play a significant part in boosting employee well-being and productivity.

4. Research Designers and Contractors Before Hiring Them
Prior to choosing a commercial renovation designer or contractor, you need to view their portfolios. Additionally, you should ask for a list of references to get a better sense of the quality work they provide. You also need to make sure the construction company has its own insurance or you will be liable for injuries or damage that may occur over the course of the project. Checking for these things is essential when choosing a contractor. While evaluating the reputation of a designer and commercial contractor, the National Association of the Remodeling Industry (NARI) recommends asking the following things:
Do they communicate well with their clients?
Are most clients happy with their work?
Did the designers, contractors, and their crew arrive at the sites on time?
Were the tradespeople comfortable working with the designer and contractor?
Did they complete the jobs on time and on budget?
Did they fulfill their contracts?
Were the finishing touches completed as expected?
Would the referrer hire the remodeler again without a doubt?
5. Create an Adaptive Workspace Design
In most cases, technological advances are the driving forces behind a majority of office renovations. For example, many organizations are incorporating wearables in the workplace. Wearables are yet another way employers are trying to improve employee productivity, allowing them to perform some job duties quicker and more efficiently. Other companies are looking to install Internet of Things (IoT) devices throughout their offices to improve things like employee productivity, monitor equipment, among other things.
With more connected devices comes the need for more cabling and cabling management. For this reason, the Gridd® Adaptive Cabling Distribution System® is the best solution for ensuring your office renovation is future-proof. A Gridd® adaptive raised access floor provides easy, flexible access to power, voice, and data wherever needed while keeping everything out of sight and out of the way. It is a Whole Building Design strategy that blends cable distribution technology throughout the whole infrastructure. Gridd® allows a building to adapt to inevitable technological changes, remain extremely utilitarian and operational while saving expenses at every stage of its life cycle.

6. Make Use of Space Wisely
Space is a great means to encourage engagement, spur innovation, and stimulate productivity. But what accurately defines an optimal space?
WeWork defines it as "more than just visually appealing—it enables you to get work done, keeps you motivated, and connects you to your team. According to Burow, this gives employees the 'freedom to work knowing things are taken care of.' Thinking of a building as an opportunity to amalgamate data provides valuable insight into how people work—how long they spend in certain spaces, where [sic] conversation is most lively, or what kind of furniture stimulates creativity."
7. Design For Sustainability
Sustainable workspace designs leverage the principle of the triple bottom line (TBL): " [….] a framework or theory that recommends that companies commit to [sic] focus on social and environmental concerns just as they do on profits. The TBL posits that instead of one bottom line, there should be three: profit, people, and the planet." To sum it up, the TBL achieves economic benefits, social benefits, and most importantly of all environmental benefits. According to the International Labor Organization, roughly 1.2 billion jobs are dependant upon more companies adopting sustainable workspace designs. Sustainably designed, healthy and well-planned office spaces can help:
Gain energy savings of between 20 percent and 40 percent
Increase employee productivity and health levels, decrease absenteeism and raise attendance
Make it more manageable for employers to hire and keep the skilled people they need to operate their businesses long into the future
Improve companies' corporate social responsibility (CSR) image within their communities
In certain nations, organizations may qualify for financial grants
By implementing just these seven tips, your organization will greatly improve the likelihood of long-term office renovation success. Not only that but you will be showing your employees that you care about their happiness and wellbeing while doing your part to transition toward a greener economy and a more sustainable tomorrow.
We Would Love to Be a Part of Your Renovation Process
We've helped a long list of big-name clients that include Google, Netflix, Bank of America, Walmart, the Nasdaq, branches of the United States military, the Department of State, among a long list of others. FreeAxez® is the only raised access flooring company that offers Gridd Power® and Gridd Mobile®, two revolutionary technologies designed to make your raised access floor intelligent. Nothing says adaptability and sustainability like Gridd®. If you're interested in learning more about making your upcoming office renovation a total success, please feel free to contact one of our industry-leading experts today!