If you just moved to a new place or are doing a thorough renovation, designing a living room can be a challenge. It is the most used public area in the house, and it requires the right level of sophistication and luxury.
RELATED: INTERIOR DESIGN
So, how do you style your living room space so that it impresses your guests when you're hosting informal gatherings, encouraging friendly conversation, and inspiring welcoming vibes. And at the same, it counts as a perfect lounge for relaxing after a working day. The answer lies in a combination of design choices that you can make with any aesthetic preference in mind and on any budget.
You don't exactly need a magic wand for the perfect living room. Keep reading, in this article, we take you through it all. From what paint colors to use for the walls, what kind of furniture you would need, how to arrange and accessorize it, to fitting laminate flooring, which is very attractive right now and an excellent choice for areas with high foot traffic, such as living rooms. Here's everything you need to plan so that you can make the right choices for designing a living room, whatever its size or shape.
DSCENE editors worked on these interior design tips with our Interior Designer contributors, continue reading for more: 
Arranging your living room furniture
A common threat is not knowing how to arrange your living room furniture. More often, we witness sofas pushed against one wall, a couple of chairs against another, and that's it. Arranging furniture requires more planning.
So the first step in learning how to design a living room is the layout. It might be that you have a small living room with little flexibility for furniture positions, but there's no denying that most of us, whatever the size of our spaces, focus our living room design around the TV. But while turning your living room into a home cinema room may be great for Friday night marathons, it's not always the most efficient – and certainly not always the most attractive – way to arrange your furniture.
If you have space, and particularly in living rooms, arrange furniture to create purposeful zones. Have a sofa that is just for TV fans, but create a defined reading space by putting an armchair next to a window or table lamp, and assign a workspace to a corner with a console table.
Create conversation-friendly layouts
The purpose of your living room furniture is to encourage and support conversations. Position sofas, chairs, and coffee tables very close to one another, and not facing the walls. In smaller rooms with not many seating options, invest in a few accent pieces like folding chairs that can be brought in when you entertain a large group of people. More spacious living rooms can be loosely divided into two or more seating arrangements for more groups to hang out in. There are no fixed rules about furniture placement, so you are creating your place for comfort and relaxation.
Pick a colorful scheme for your living room
When you've worked your way around an aesthetic, decide on the main color for your living room. Think about its size and the height of its ceiling when you are making this decision. It may be interior design for dummies, but if you are looking for small living room ideas to make yours look larger and brighter, you will need to opt for lighter colors. Or, maybe you use your living room in the evening, and you'd rather it felt cozy and intimate with darker colors?
If you are blessed with a larger living room, you can be more adventurous with color. Try experimenting with a darker decorating palette, add a striking feature wall, or get creative with bold paint colors.
Once you've chosen your main room color, pick out one main accent and another one or two accent shades to use in smaller doses. This allows you to add warmth to a neutral scheme and cool down a bright scheme.
How to choose affordable living room flooring
Your living room is a frequent place, so choosing the best flooring is essential. Natural hard flooring can be tricky to maintain, so opt for a rug over it. Keep in mind that light colors should be avoided in favor of darker shades, and they should be stain-resistant. The rug size is important too. When an area rug is too small, it can make the entire room look nonproportional.
Alternatively, go for laminate flooring – it has grown significantly in popularity. Because it is easier to fit laminate flooring than traditional surfaces such as hardwood flooring, it may also cost less and require less skill to install than alternative flooring materials. It is reasonably durable and relatively easy to maintain.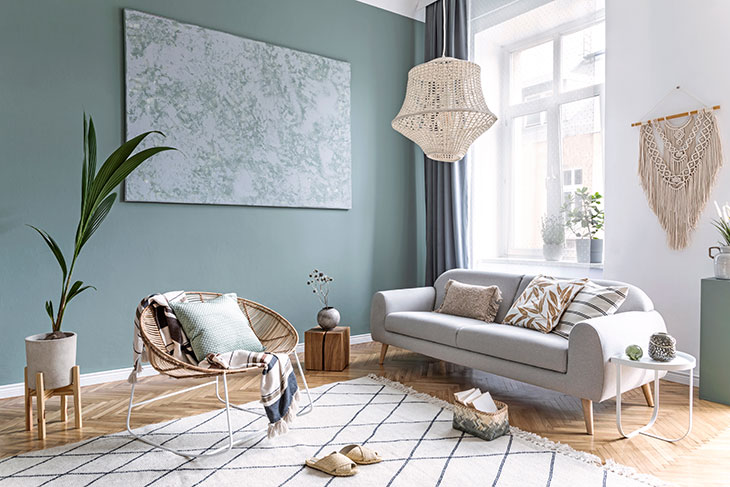 Add personality to your living room
When thinking of accessories, think of an opportunity to tell a story about your personality and your life. By weaving these pieces into the overall design, the space will truly feel like your home.
Take books, for example. They are inspirational. Whether they are gifts from loved ones or reminders of the places that you've been, they're an expression of you and what you like. Your likings should tell your story. Art is another excellent way to add personality to any room. You can browse online art galleries like Singulart for paintings to add to your collection. Make sure they match your color scheme.
The living room lighting – essential part
Lighting your space well is a vital part of living room design because we spend so much time there in the evenings. The right lighting can transform your living room into a cozy, inviting space; the wrong lighting, however, can leave your office feeling as bleak as a dentist's office.
Start to think about the different zones of your living room and choose light sources accordingly: you'll need task lighting, such as a standing or table lamp over an armchair for reading; a dimmable central pendant light for those occasions when you want the room brightly lit; and plenty of accent lighting in the form of low-level table lights, picture lights and even lighting hidden within alcove shelving.
Ending thoughts
Taking the time when selecting items thoughtfully, so that every piece has a purpose and a place is a crucial part of designing your perfect living room. Consider what you want this space to say about you and how you want it to make you feel. Everything that you look at should make you joyful and at peace.
Here's hoping that these suggestions succeed in sparking some new ideas for your living room design project.