"It had to happen." This was jewellery designer Valérie Messika's declaration regarding her collaboration with iconic top model Kate Moss.
But let's tell this story from the very beginning: It all started with Kate's jewellery box that contains colourful pieces, oversized designs, inspiration from all over the world paired with an art deco feel. Everything you can imagine becomes real. As a true jewellery fan, Kate Moss collects the most special pieces. This treasure box might seem quite far from Messika's designs. However it seemed utterly exciting for the designer and full of incredibly interesting inspirations. Two powerful women with ideas twice as thrilling and unique. Memories from Kate's jewellery box can be noticed in various creations of this line, for instance chains created as sautoirs, earcuffs, rings and bracelets that are certainly Boho-inspired. A style that Kate Moss always masters extremely well. However many designs also take their inspiration from the supermodels' relaxed and effortless personality. This oustanding range can be even interpreted as a homage to Kate Moss, a woman who transcended generations and styles. Thus, more than one hundred innovative pieces of jewellery were imagined.

Worth of mentioning is also the fact Valérie deeply believed that the co- designed jewellery should depict both the Maison`s values and Kate's renowned style. As a result, the diamond designer and the supermodel found a completely compelling common language: being significant for this collection is a very unqiue mixture of types of gold, various diamond cuts and even the way the precious materials are applied. This line, that is divided into 9 sets and comprises 75 pieces, can be described as lively, eclectic and extremely colourful. It is, without any doubt, extremely interesting to observe and never gets boring. The spontaneity, sincerity and free spirit of the design duo clearly shines through. As Valérie Messika explains, her goal when designing her jewellery is "To bring women a touch of sparkle and self-confidence." She implements this aim by choosing light, assured and uninhibited creations which both underline her own personality but also joyously expresses the different facets of her own personality.

As location for shooting the collections' campaign, Paris as the capital of fashion, high jewellery and numerous other luxurious things, has been chosen. The influence of the architectural diversity of the city of lights clearly shines through in the diversity of the collection: for instance the symmetry and the modernity of the Bir-Hakeim bridge, the Garnier opera with its impressive baroque look, the Louvre and its highly modern graphic style have inspirated the styles of the designs. Behind the lense of the Australian photographer Chris Colls, Kate Moss acts simply stunning. She masters the fine line between assurance and nonchalance extremely well, she dances, laughs, lives. Being infront of the camera for so many years, she always shines bright and knows best how to work in a highly professional way. For this project, you can even say she is turned into a living artwork. The combination of precious materials and a bunch of various shapes makes these creations so highly desirable. Sensuality and femininity play a central role. Moreover the strong pieces full of character always stay modern and can be described as on-trend high jewellery. You should take a closer look at the movement, flow and flexibility of these precious designs.
But now let's take a closer look at the highlights and our personal favourites of this compelling collection:
The diamond tassel you find in the first set has been a consistent source of inspiration. What makes this creation so fascinating is the way it shifts when the wearer is moving. It once appears as a scarf necklace, with two tassels being worn around the neck. It is perfectly flattering the female silhouette when moving. You can pair it with tassel earrings or a tassel ring. The last mentioned is a tassel strung with diamonds that moves with the hand. The friends and fans of extravagant looks among you will definitely fall for the hat jewellery, earcuff or ankle bracelet which are all flamboyant styles.
Another favourite from this line is a feather created with diamonds which was Kate's and Valérie's inspiration for this set. Due to their infinite and fine lines, the diamonds appear infinite. Because of its asymmetric cut, the "Collier Plastron" strengthens the neck and décolleté with an endlessly elegant lightness and grace. The earrings that Kate is wearing as addition are drawing dynamic curves among the ear. Thus, the lines of diamonds give the impression of flying. A modern earcuff rounds off this look and gives it an extra-fresh approach.

Another highlight is the overall image from the second set. Kate Moss' preference for art deco elements clearly shines through. The styles are kept graphic and the jewellery is focused on the baguette-cut diamond. The topmodel is wearing a headpiece on her forehead that is suspended onto the neck on a choker, the baguette- cut diamonds are shining simply sophisticated.
What else stays in mind? Ultra-cool XXL hoops that appear in various styles! They are true eye-catchers and perfectly frame the face. You can either wear them as a pair or asymmetrically- they always stay highly desirable!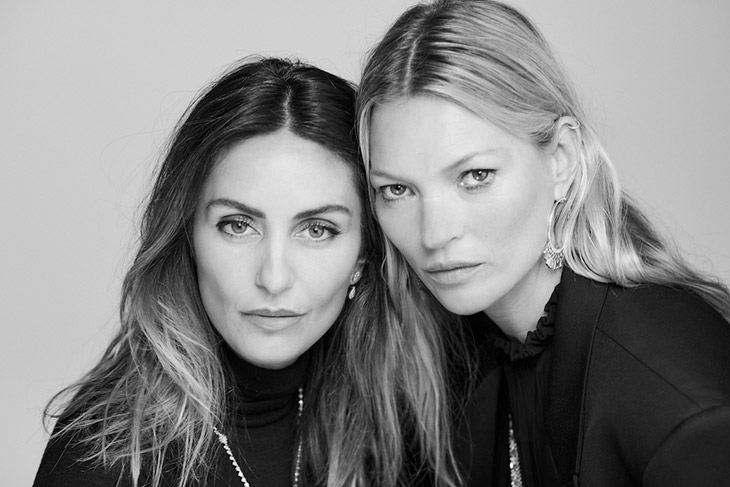 Kate Moss and Valérie Messika have been able to express the different facets of their individual personalities through their unstoppable creativity. As a result, they created a type of relaxed luxury with no restraints holding them back.
Review by Sussan Zeck for D'SCENE Magazine.