There's an implicit irony in wedding jewelry. We each like to think of our love as special and unique — and it is. However, when it comes down to rings and wedding bands, even those of us who tend to dress on the alternative side frequently go with incredibly traditional choices.
In defense of the traditional choices, diamond engagement rings and gold bands are beautiful. There's a reason they're so enduringly popular. The first time you see a diamond's cut under a gem scope is a real WOW moment. The durable nature of metals like gold and platinum symbolizes a lasting bond. It does make sense.
What if you do dare to be different, though? Finding something unique expresses how much thought you put into this most important of jewelry pieces. In addition, if you and your spouse desire something out of the ordinary, it would be an excellent idea to opt for unique, nontraditional rings.
Here are some ideas to get you thinking outside the box on your hunt for the perfect symbol of love.
1) Tungsten Carbide Rings
One of the first questions a jeweler will ask when you're shopping for wedding bands is whether either of you does manual work. Some metals used for rings will scratch easily. Not so with tungsten carbide rings. These rings are produced by combining carbon and tungsten at a high melting point. Tungsten carbide rings, which are typically deep gray in color, can be aesthetically pleasing when carved, polished, and sandblasted.
The artisan rings you can get in tungsten carbide can be beautiful. Black tungsten rings work well with an alternative, craft-based aesthetic, for example.
Tungsten carbide rings are incredibly scratch-resistant, which is its own representation of a long-lasting relationship. They are far less expensive than gold or platinum but have a higher level of hardness and tend to be more durable. Also, if you want to avoid rings that can give you a ring rash, tungsten carbide wedding rings can be the best option since they're hypoallergenic.
Keeping these factors in mind, choosing one of the artisan rings available in this metal is a great practical alternative to a more traditional band.
Traditional — but are you?
2) Unusual Gemstones
As mentioned before, diamonds possess a unique beauty. They're the most popular stone for engagement bands for a reason. But while diamonds may be forever, they're not for everyone.
Many people prefer gemstones that have personal meaning to them, such as their birthstone. Some people prefer other colors to bright white. And some of us love the unusual.
Stones like tanzanite are great ideas for those looking for uniqueness. It's extremely rare and only found in one tiny area of Tanzania. Some estimates suggest over-mining will make it unavailable soon. Apart from tanzanite, you may also choose other unique center stones for your wedding ring. These include tourmalinated quartz, sunstone, jade, iolite, and zultanite.
That said, getting hold of a beautiful and rare stone for your engagement ring while there's still time makes for a unique option. However, given the choices, it's best to conduct thorough research first to ensure the gemstone you pick will work perfectly for your wedding ring.
3) Ornamentation
This one is for the drop-dead cool colleague I once worked with at a coffee shop. She had a fantastic style, and when the time came, her engagement ring matched that. It was black and featured a skull with a diamond between its teeth—what a statement.
In terms of ornamentation, the artisan rings you can find or have made can express your personality. Whether it's a symbol of you, your relationship with your partner, or just something very cool, get creative with your jewelry. It's so rewarding, and trust me, people notice.
Fortunately, many reputable jewellers online can help you in design your beautiful custom wedding ring through ornamentation. For instance, Anania Jewellers and other similar service providers can assist you with creating and designing bespoke wedding rings or rings with exquisite embellishments, depending on your preference.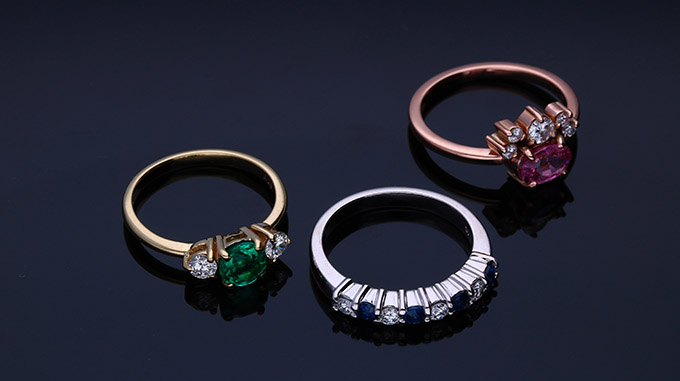 4) Non-Metallic
Depending on your line of work, some alternatives to metal can be ill-advised. If you do a lot of manual labor, a wooden ring will get scratched to bits and possibly broken. Stick to tungsten carbide rings.
However, if you have the delicate, soft hands of a writer, a ring made of wood or many other natural materials can be a superb choice. For some, it can symbolize a connection to nature. For others, it's just a great look.
The artisan rings you can find in non-metallic materials are endless. They're gorgeous and fun. Just think about what it'll be coming into contact with first.
5) No Ring
Outside the box? Forget about the box. Why not do something totally different?
How about matching engagement tattoos, ink fans? If you're into piercings, why not find a beautiful stud to symbolize your unique love?
The Takeaway
As with other wedding preparations, the selection of a wedding ring must be taken seriously. Since it will represent your love and lifelong devotion to your partner, you should choose an engagement ring that embodies both of your personalities.
But whatever you choose, pick something that delights both you and your partner. It's all about you, so break the mold and make your statement!