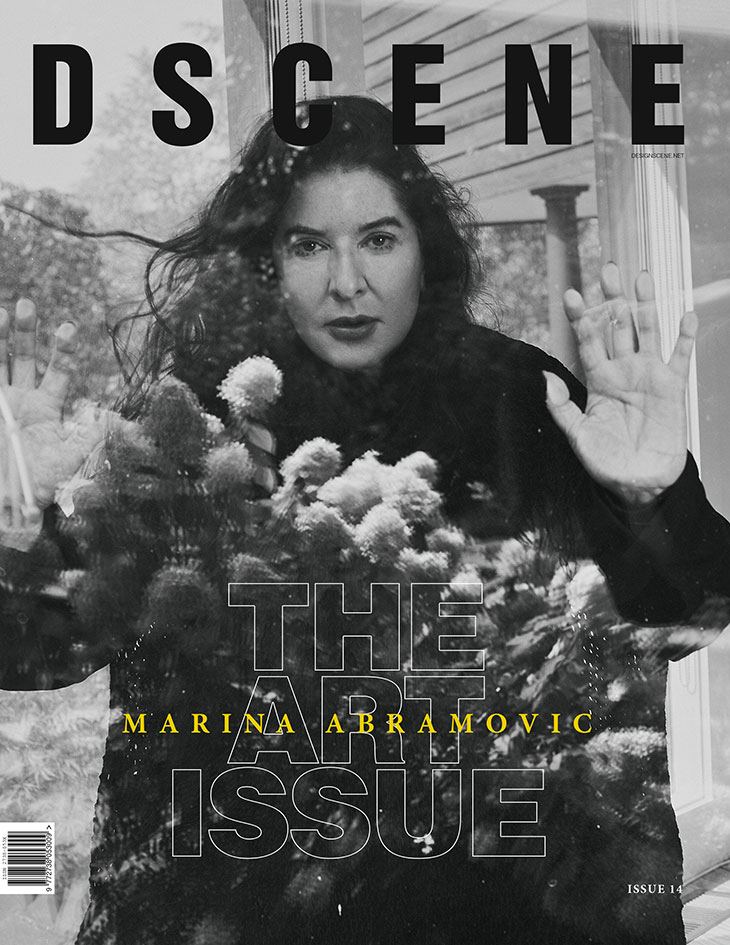 Welcome to the Winter issue of DSCENE magazine which celebrates the art scene in a way we never did before, venturing before our continuous exploration of the relationship between fashion and art. Our dedication to art has always been at the heart of DSCENE, yet in the days where fashion shoots have turned into a health risk together our whole team of editors decided it is time to turn our pages to conversation. Fashion is still present in this issue, especially with the cover story featuring Marina Abramovic, the ultimate artist fashion muse.
Idea of a shoot with Marina was on our mind for over two years now, we finally started talking about it with her team after her retrospective in Belgrade late last year. The exhibition was not only one of Abramovic's most detailed retrospectives it also repositioned the Museum of Contemporary Art Belgrade on European as well as international scene.
The exhibition has generated close to hundred thousand people, re-introducing Marina back to her original hometown but also allowing the young generation to rediscover the artist's complex body of work. We ourselves knew we have to get somebody equally as strong to shoot the cover story for Marina. We had the honour to reunite with our cover star but also contributing photographer Helena Christensen, a true multi-hyphenate in her own right who when behind the camera has a unique way of capturing the personality of her subjects. To capture the story Helena who loves shooting in the great outdoors ventured with our team to Marina's showstopping home in the Hudson. With pandemic precautions the planning took months nevertheless bringing together these two superstars resulted in a timeless series by Christensen capturing Marina who even during the time of pandemic lockdowns is working tiresselly on multiple projects.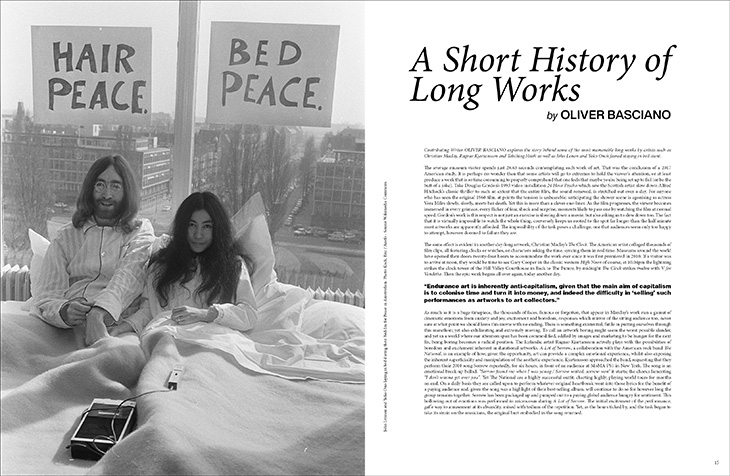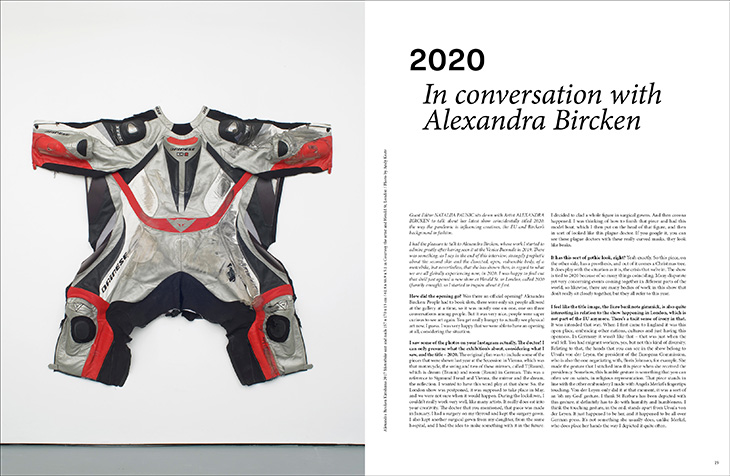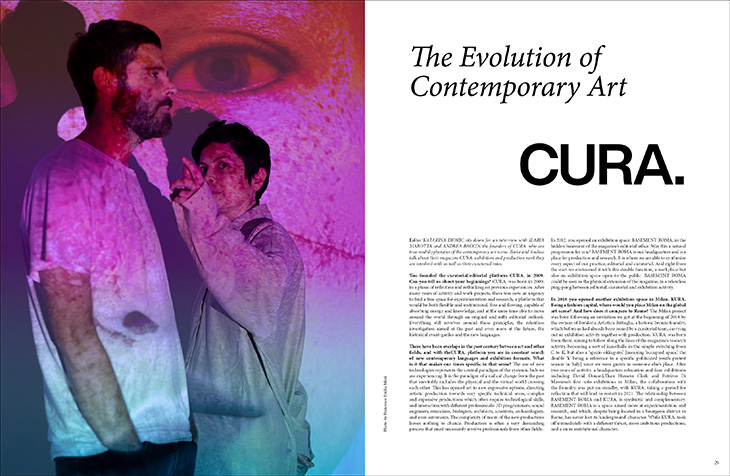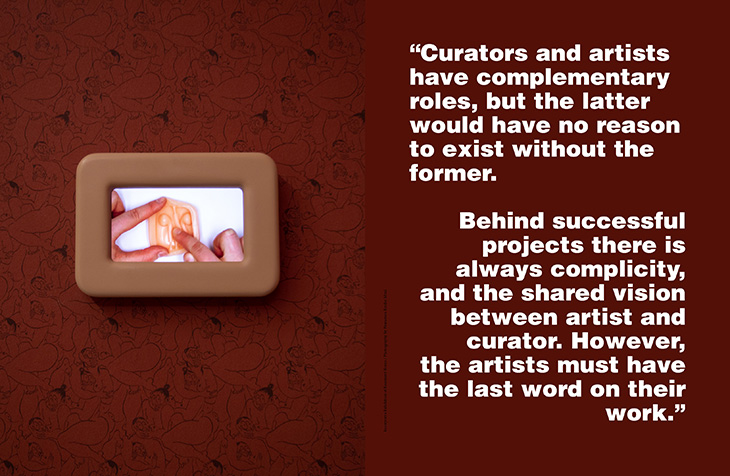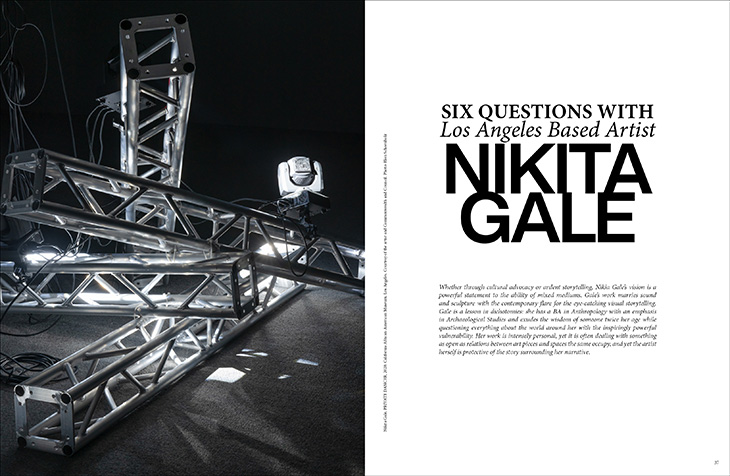 Nobody better to marry fashion and art better than Abramovic herself, who is muse and close friend of designer Riccardo Tisci. For our shoot Marina wore showstopping looks from Mugler in her favourite red but also Kenzo, Oscar de la Renta, Miu Miu, MSGM and Thom Browne to name a few. In our conversation with Marina by Fashion Director and Editor Katarina Djoric fashion naturally became a topic of conversation. Marina shared: "You know in the early 70s the only performance artists fashion was – dirty white, dirty black and naked … nude that is it. Later it became much more complicated. But that is how it was at the time. You know my dream is really to make a performance fashion show. Maybe some change of the fashion through performance art. How all of us performance artists became so glamorous. One of the people I miss a lot is Leigh Bowery who has been creating his own style."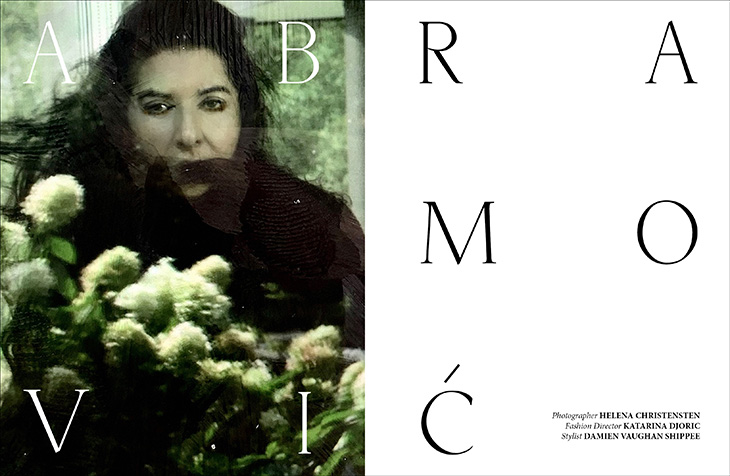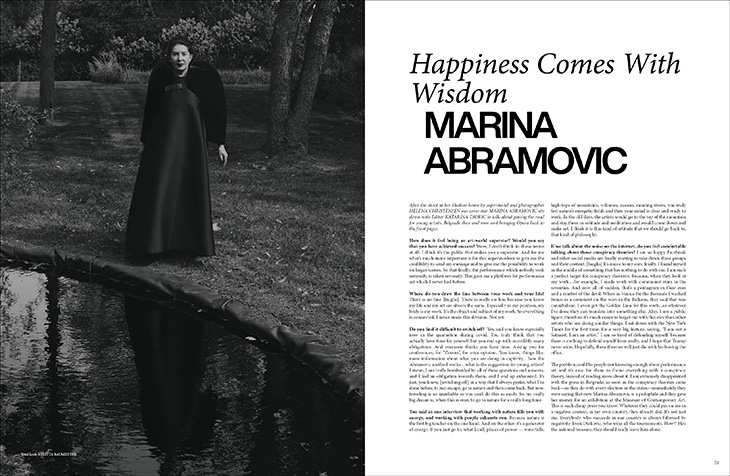 This conversation with Marina just as everything we do today took place in pandemic circumstances. Shortly after her shoot for DSCENE Abramovic has ventured to London where she is preparing a documentary and the first solo show by a female artist at the prestigious Royal Academy of Art in London. Marina found herself via zoom back in our Belgrade office, perhaps our initial small talk in Serbian also brought the topic of the acceptance by her peers in her very first hometown. At the same time talking from her quarantine hotel room in London, where she had to isolate for two weeks after her travel, Marina talked about paving the way for young artists, legends she worked with and bringing opera back on the map.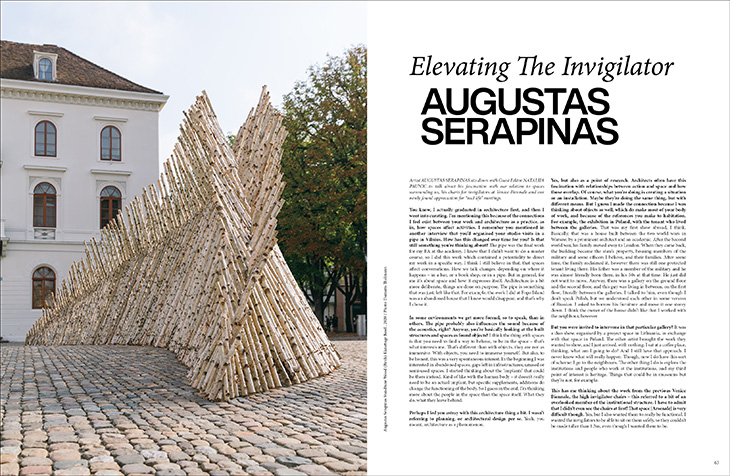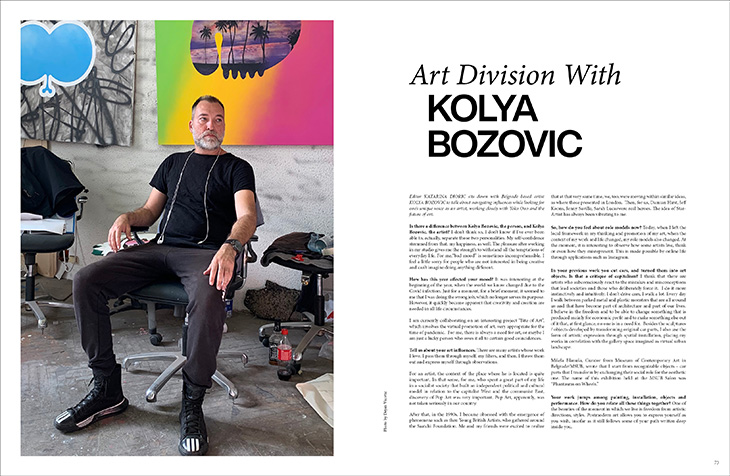 Elsewhere in the magazine, our Guest Editor, Natalia Paunic set the course for our artist conversations. Paunic is a young promising curator based in Belgrade working with some of the most in demand young artists of the moment and also curating for the much talked about Eugster gallery. Natalija takes the opening interview with Artist Alexandra Bircken who's background starts at the prestigious Central St Martin yet a career in fashion takes her to art instead. Today Bircken's meticulously created dissected piece combines her love for fashion as well as design. Natalija talks to Augustas Serapinas who helped us re-examine the way we see architecture's relationship with art. Paunic who has a BA in architecture has shared in an essay also her personal story and the way a work trip to the Venice Art Biennale made her change her path, but also how an incredible work of art has changed her life as well.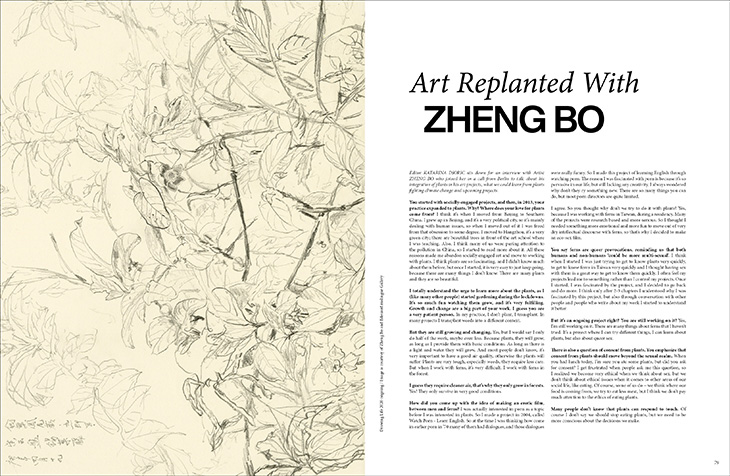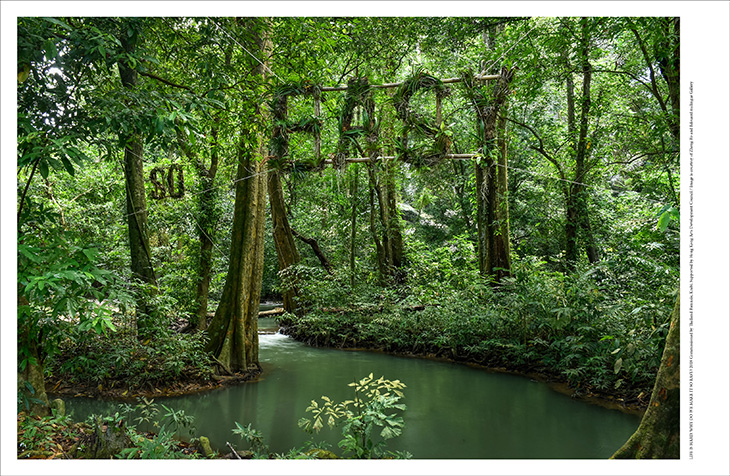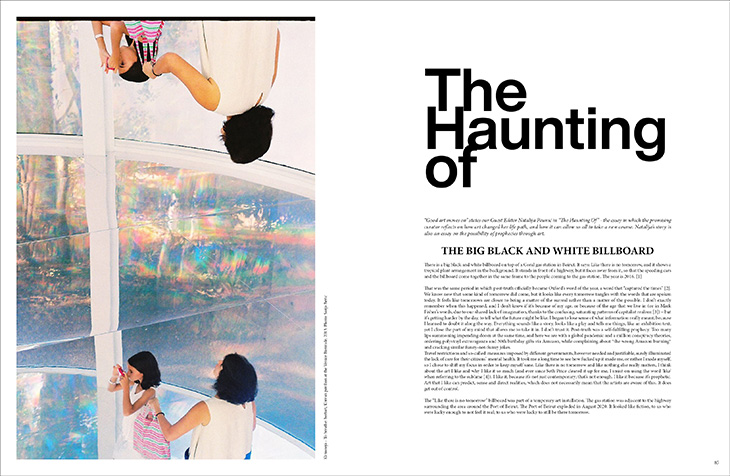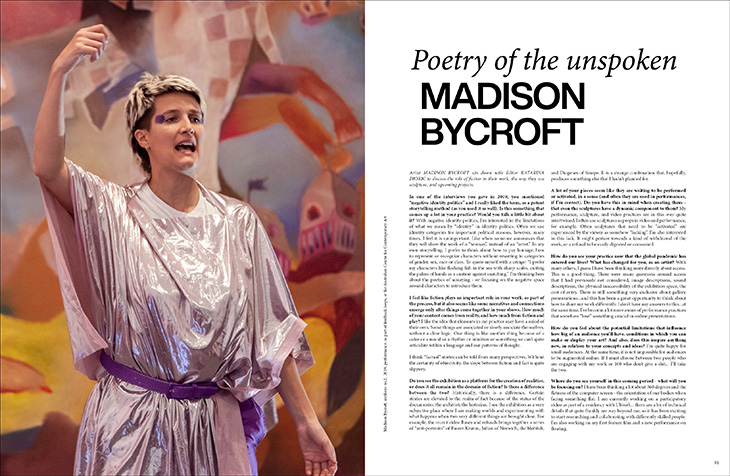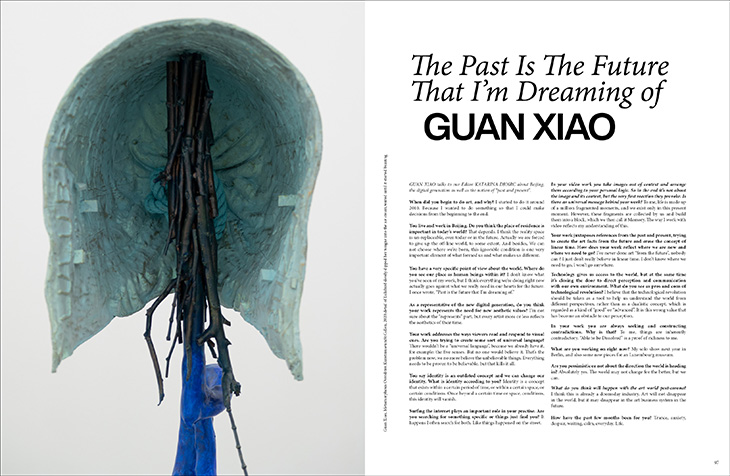 We open this issue with a story on the longevity of performance art, both in it's effects after the performance is finished but also the effect of long timed performance pieces in an essay by Oliver Basciano exploring the medium. In addition to Helena the issue is also a reunion with artist Vuk Cuk, who this time talks about the virtual and the role of science art. Joining him from Belgrade is also artist Kolya Bozovic who talks about ex-Yugoslavia shaping his portfolio but also working with legends such as Yoko Ono.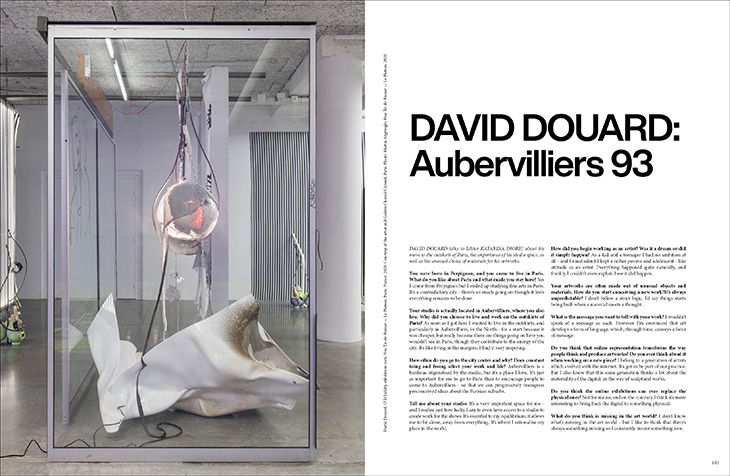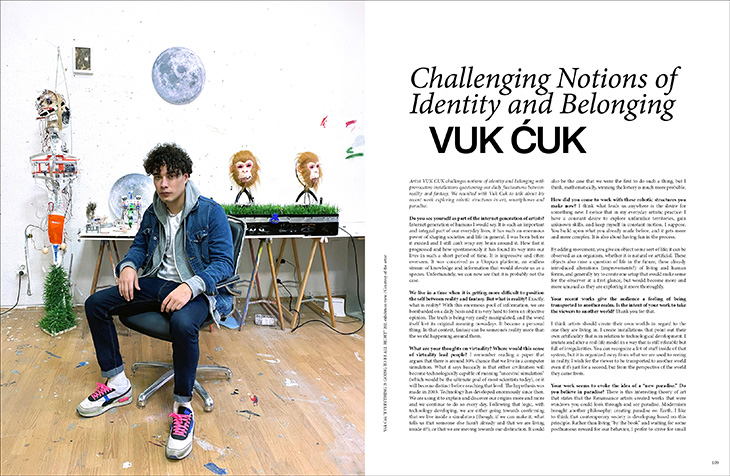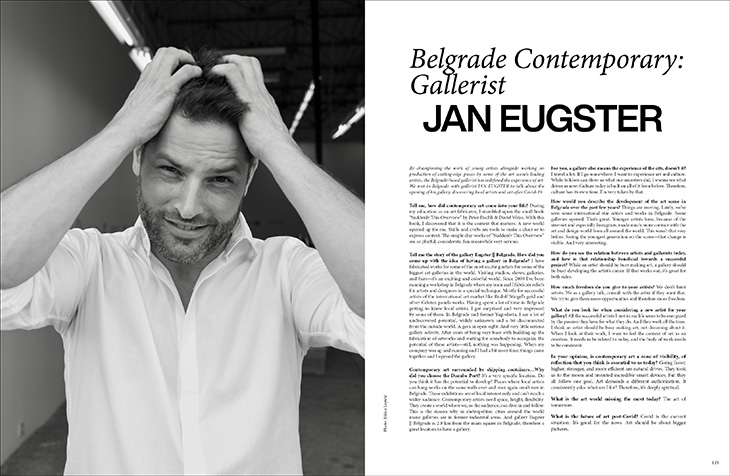 Katarina Djoric finds herself far from her daily role of Fashion Director for this issue as she talks about unforgettable projects with artists David Douard, Zheng Bo, Madison Bycroft, and Guan Xiao among others. I myself had the honour to talk about politics, FedEx and the future for the young artist with Artist Walead Beshty. Our art adventure also features Los Angeles Based Artist Nikita Gale, the seemingly ungraspable art duo Yasemin Baydar and Birol Demir at :mentalKLINIK as well as Gallerist Jan Eugster.
There's much more besides art in this issue, although as with any visit to a memorable art gallery, discovering the pleasure of the unexpected should be part of the experience. Even when we as everyone else had to loom over the pandemic in our interviews, that something more besides was their relentless determination to create disregarding the surprises coming our way.
Words by Editor In Chief Zarko Davinic
DSCENE Team:
Editor-In-Chief ZARKO DAVINIC
Deputy Editor ANA MARKOVIC
Fashion Director KATARINA DJORIC
Art Director IGOR ČVORO
Milan Fashion Editor EMILY LEE
New York Fashion Editor DAMIEN VAUGHAN SHIPPEE
Social Media Manager MAJA VUCKOVIC
Copy Editor JOVANA BICANIN
Guest Editor NATALIJA PAUNIC
Contributing Writer OLIVER BASCIANO
Contributing Photographer HELENA CHRISTENSEN
Featured artists ALEXANDRA BIRCKEN, AUGUSTAS SERAPINAS, DAVID DOUARD, GUAN XIAO, KOLYA BOZOVIC, MADISON BYCROFT, :MENTALKLINIK, NIKITA GALE, VUK CUK, WALEAD BESHTY and ZHENG BO; curators ANDREA BACCIN and ILARIA MAROTTA from CURA, gallerist JAN EUGSTER, as well as the essays by NATALIJA PAUNIC and OLIVER BASCIANO.