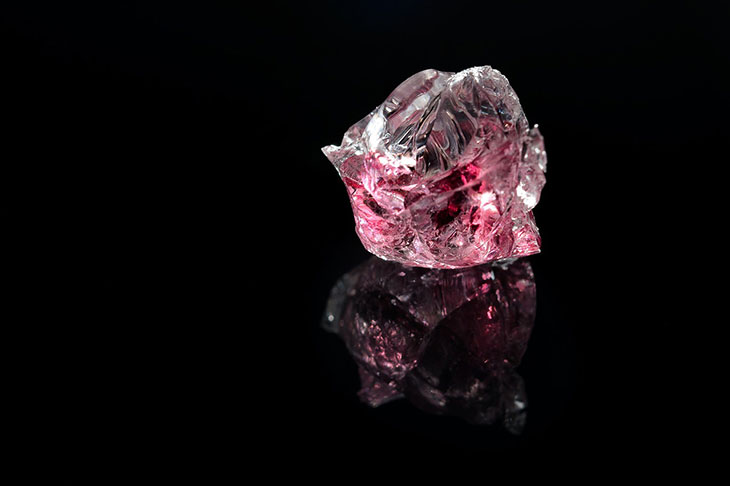 When people talk about diamonds, they usually talk about white or clear diamonds that you most commonly see. Did you know you could get diamonds that are in different colors as well? Colored diamonds or fancy diamonds have seen a rise in popularity in recent years. And it's easy to see why – they are an unusual option for the experimental bride!
Fancy diamonds are also a good option for those who are bored with traditional white or transparent crystals and want something more for their hand. Colored diamonds can appeal to almost every aesthetic. To top it off, they are available in a wide range of budgets too. If you're considering getting a fancy diamond for your wedding ring, let's find out what options you have.
Read more after the jump: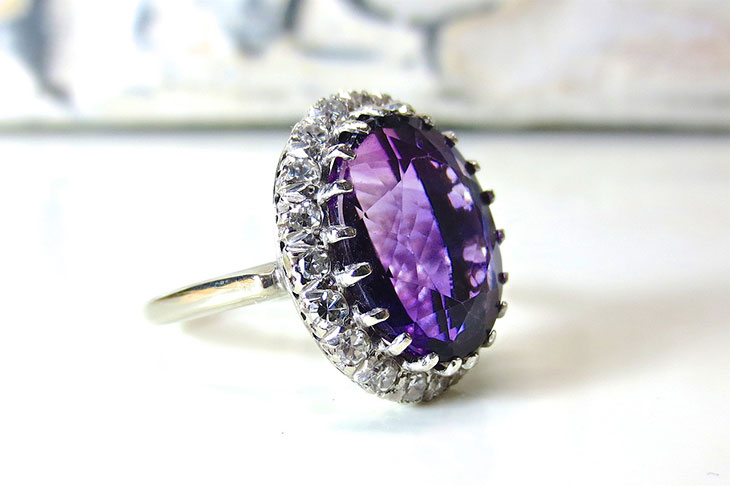 Chocolate Diamonds
Chocolate diamonds or brown diamonds are one of the most common forms of natural diamonds. Until their recent popularity, brown diamonds were used for industrial purposes. They can vary in shade from a deep brown to a pale, almost beige. Chocolate diamonds will make an excellent contrast with white or pale grey metals in the band. If black diamonds are too ominous for you, brown diamonds are a great choice that will give you a similar effect.
Green Diamonds
Green diamonds get their color from radiation and are sourced mainly from South America and Africa. It is rare to find true green diamonds, and you should expect to see yellow, blue, or greyish undertones in your stone. Green diamonds look very distinctly different from emeralds because of the varying tones in which diamonds are available. This is another stone that looks brilliant against a white or light silver background. If you're getting a cluster ring or halo ring, you could incorporate little bits of colorinto your design with green diamonds.
Pink Diamonds
Imagine your finacé's delight when you take her to somewhere extraordinary, and not only do you get down on one knee, but you bring out a delicate pink diamond ring! Pink diamond rings are popular among the younger generation because of the wow factor they have. They're the ideal diamond to incorporate into delicate ring designs. When you look for your pink diamond rings, you should consider getting one set in rose gold to complete the look. You would land up with an iconic ring and stylish ring that you can look back on for generations. Pink diamonds are also a great contrast to have with traditional white diamonds.
Yellow Diamonds
Yellow diamonds, also called canary diamonds, occur when nitrogen is present when the diamond is being formed. The nitrogen is absorbed into the diamond in such a way that blue light is absorbed. Thus, our eyes see the color yellow reflected off the stone. Yellow diamonds are perfect for those partners with a sunny disposition and can be symbolic of the sun shining on your lives together. Yellow diamonds can be quite pale, so it is best to avoid setting them on gold bands. Platinum, silver, or even titanium are better choices for these delicate pieces. If you include yellow diamonds in multi-stone pieces, it is advised to have the yellow diamond be the largest one in the design. Otherwise, it may look washed out.

Blue Diamonds
Blue diamonds are an excellent, striking color choice for your wedding or engagement ring. You can get them in a range of tones, from pale blue to striking navy. These diamonds look excellent against platinum or gold bands, so you don't have to restrict your choices with this one. An unforgettable setting would be to have a large blue center diamond surrounded by small, brilliant clear or white diamonds on a simple band. Blue diamonds are excellent for the minimalist aesthetic as they are glamorous on their own and don't need large or fussy bands to make them look dressier.
Whichever color diamond you choose, what is most important is that both you and your partner are happy with it. Take into account your partner's aesthetic, their job, and their preferences before you decide on anything. While you don't need to ask your partner which exact ring they want, you can try and get an idea of their style by asking them about what designs they like in other rings.
Remember that you will be wearing and seeing it for the rest of your lives, so it's essential to consider all your options before making a decision. When buying fancy diamonds, make sure you choose a reputed, high-quality retailer. If you decide to purchase jewelry in an online store, you should pay attention to jewelry photography. Professional diamond photography is one of the most important signs of a trustworthy jeweler. This is a sizeable investment you will likely make, and you don't want to take any unnecessary risks!