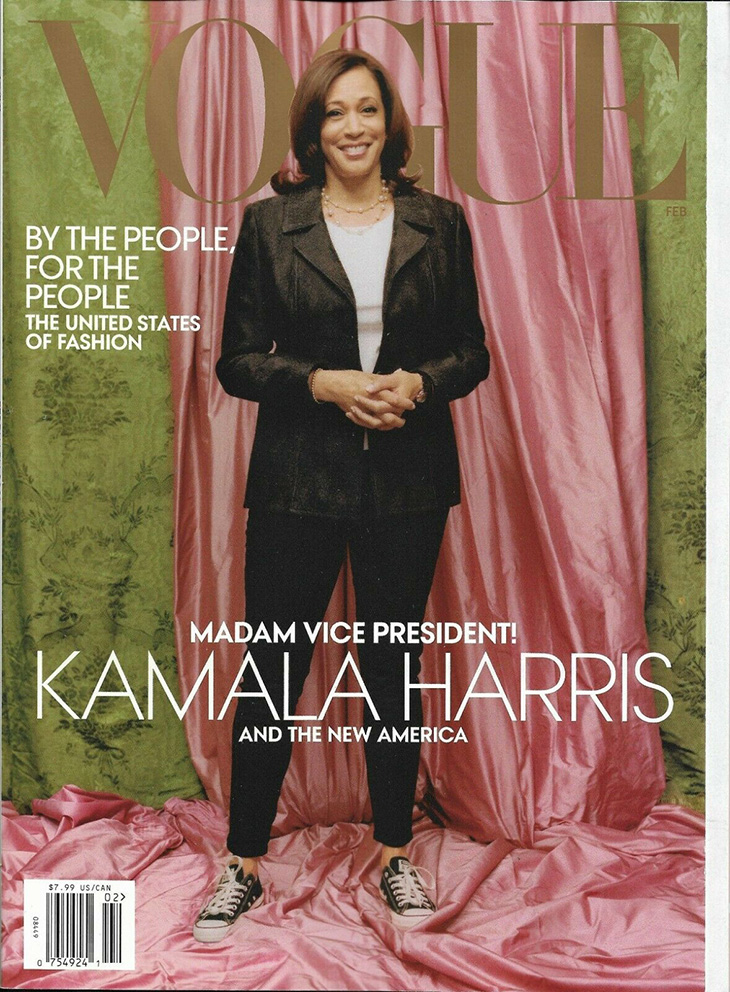 Scan of American VOGUE's February 2021 issue has surfaced on Twitter and Instagram with Madam Vice President KAMALA HARRIS in a suit and a pair of Converse as the cover star of the fashion bible's latest edition. The source of the cover is actually eBay, where a member is selling an alleged copy of the magazine. Please note the user might be one of the first subscribers to receive the issue, nevertheless VOGUE is yet to confirm and share their February 2021 cover.
As the Kamala Harris Vogue Cover has not yet been confirmed by the magazine and while rapidly spreading on Twitter and Instagram the cover above might even be a possible fake. Yet the fashion community is already in a thrutle over the cover image itself, whether fake or real?
The cover is speculated to be work of American Photographer Tyler Mitchell, the youngest photographer ever to land the cover of American VOGUE Magazine with his now famous shoot starring Beyonce Knowles. Mitchell has since become magazine's go to man for celebrities photographing recently Zendaya and Harry Styles in the much talked about gender-fluid cover shoot.
American Vogue has once again managed to bring up the cover criticism, the same hardly bypasses any of the magazines cover and often drives the media buzz in the same. Fashion fans and industry insiders are already commenting on the cover. "I think this is really beautiful and indicative of the dawning of a new era in which our leaders are human and real and not posturing for approval," commented Fashion Editor and Stylist Gabriella Karefa-Johnson on Instagram's go to Covers page Art8Amby.
One of the still remaining forums and go to place for many fans of fashion and fashion insiders never fails to engage a lively discussion. Fans looking into Vogue for fashion and clothes are disappointed with a The Fashion Spot Member sharing: "Don't mind Kamala on the cover, most simply have no idea in how magazines she's appearing across the globe (the ones I've mentioned on here are only a drop in the ocean) But wow, way to ruin last month's set of stunning covers! This is just too rushed – the lack of styling, the ridiculous photography and set design which is hands down Tyler Mitchell. Vogue should've waited. It's too soon after her Elle cover and that one seemed better and more powerful even though she wasnt actually shot on location. But anyway, don't like this cover at all, it's simply awful." The regular TFS member also shares a quote from Anna Wintour's Editor Letter in 2008 talking about Hilary Clinton: "The notion that a contemporary woman must look mannish in order to be taken seriously as a seeker of power is frankly dismaying. How has our country come to this?…This is America, not Saudi Arabia."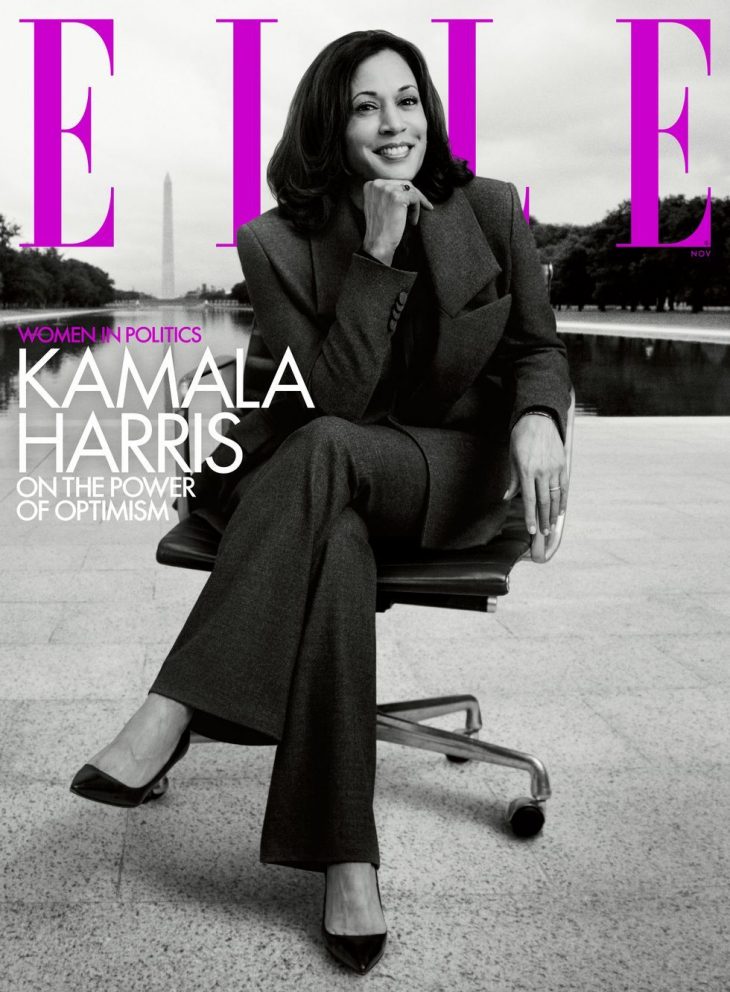 Whether the at the moment speculated cover above of the American Vogue is just a leaked mock-up, Vogue wouldn't be Kamala's first fashion magazine spotlight. Nina Garcia beats Anna Wintour in this race by getting Harris to pose in September before the American election for the November cover. Harris took the cover of Elle Magazine photographed in Washington DC by the famed photography duo Inez and Vinoodh. Harris on that occasion shared: "Unity is when everyone is respected and has an equal voice. We have to be very clear-eyed about what we mean, and that what we mean is not about a Hallmark card."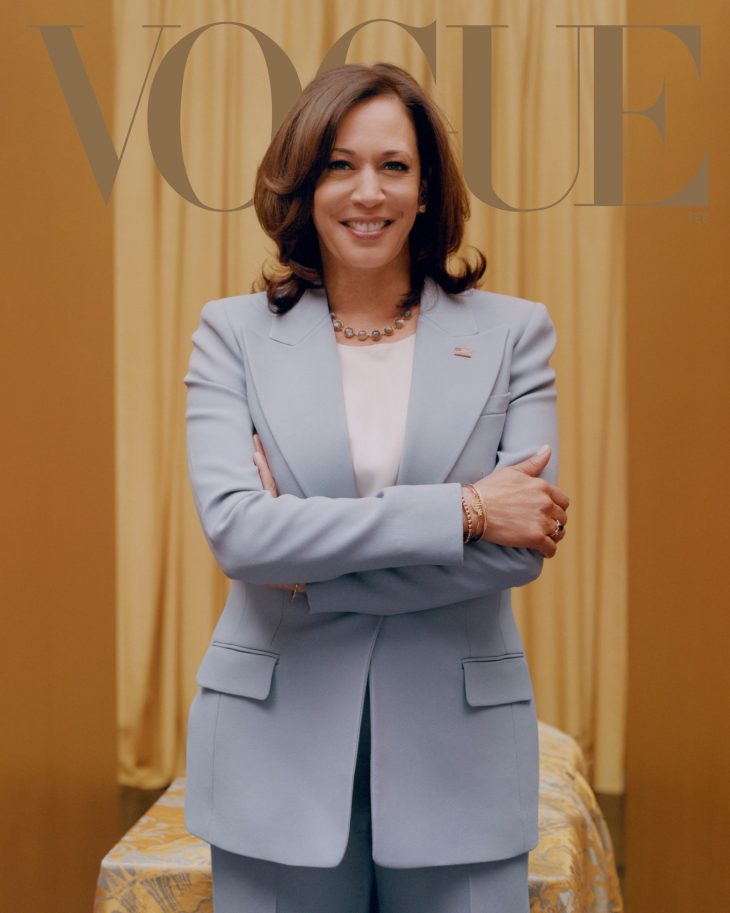 IMPORTANT – The cover of "VOGUE February 2021 issue" is yet to be confirmed by American Vogue on VOGUE.com.
EDIT 6PM CET January 10th – VOGUE Magazine confirms Kamala Harris as their February 2021 cover star photographed by Tyler Mitchell
Vice President–elect Kamala Harris in a Michael Kors Collection suit. Hair, Bre Jaggers; makeup, Marquia James. Set design, Julia Wagner. Sittings Editor: Gabriella Karefa-Johnson.