Balmain Fall Winter 2021 collection takes us on a journey in any sense of that word together with Creative Director Olivier rousteing and his army of models turned astronauts for the occasion. It all starts on the wings of an Air France Boeing and takes us with Olivier Rousteing's glamazon army into outer space.
For the Fall Winter 2021 Balmain collection oversize is the boarding pass code – big earrings, massive bags, big trousers, big everything. Luggage enters the game this time for Balmain like we've never seen it before. From travel luggage to hats inspired hand luggage all adorned into Balmain monogram premiered only a season ago. On the contrary to Versace a price-point counterpart Balmain is ahead of the game with it's focus on the monogram pattern. Olivier Rousteing and Balmain have launched their monogram a season earlier and this is the simply said the second step when it comes to stamping it into our sub-conscious. Yet unlike Versace the design team at Balmain has no need to adorn every single garment in the Balmain monogram, instead additionally they play with bright colours taking on 80s inspired silhouettes.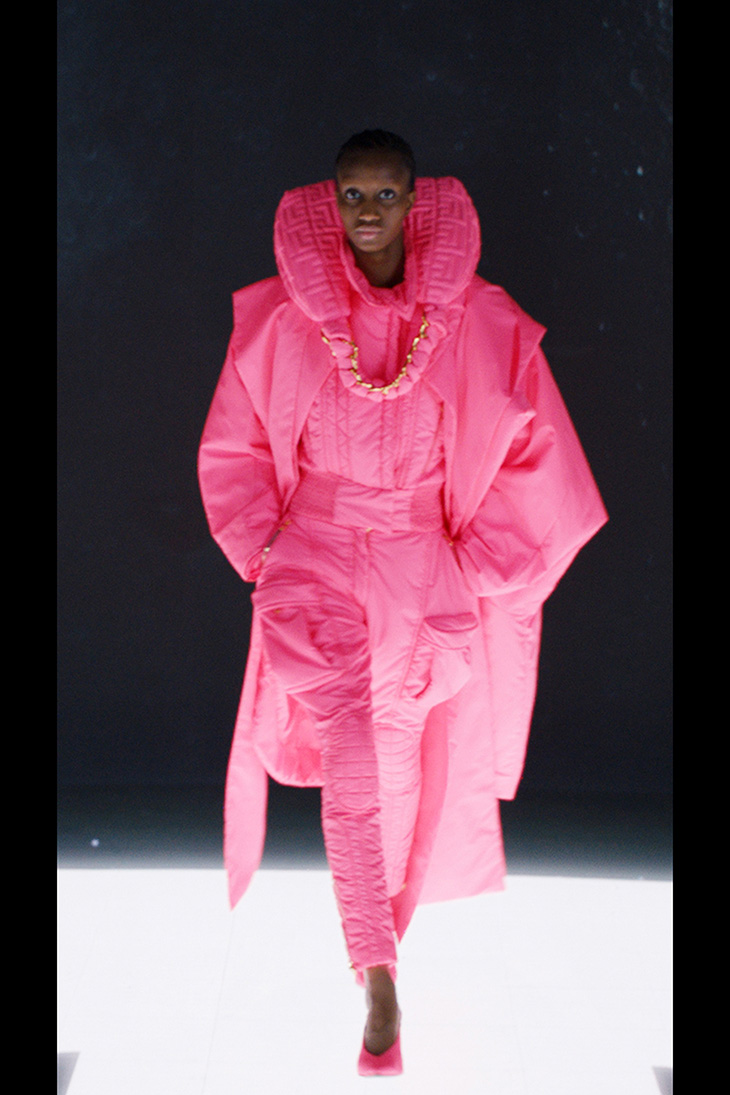 This focus on the monogram goes hand in hand with maison's tendencies to develop bespoke travel luggage. In fact it hits another Paris based competitor, whose luggage has been in the game far longer than any other. While we are certainly ready for the Balmain monogrammed luggage should brands such as Louis Vuitton start worrying?
After sitting at home for so long, our longing for travel is hard to measure. Sweatpants often traded for comfy travel are more likely than ever to stay at home. Travel has for us become an event in it's own right, therefore some dressing up can't hurt. And Olivier Rousteing are certainly ready for all of our travel outfit desires. The fast paced soundtrack ringing with the 1,2,3, countdown 4,5 half of the runway quickly catapulted us into outer space. Yet in the outer space longing for the sartorial tailoring comes into play mixed in with space-wear like outwear. However an outer space party comes fully equipped with 80s triangle shaped wide shoulder silhouettes.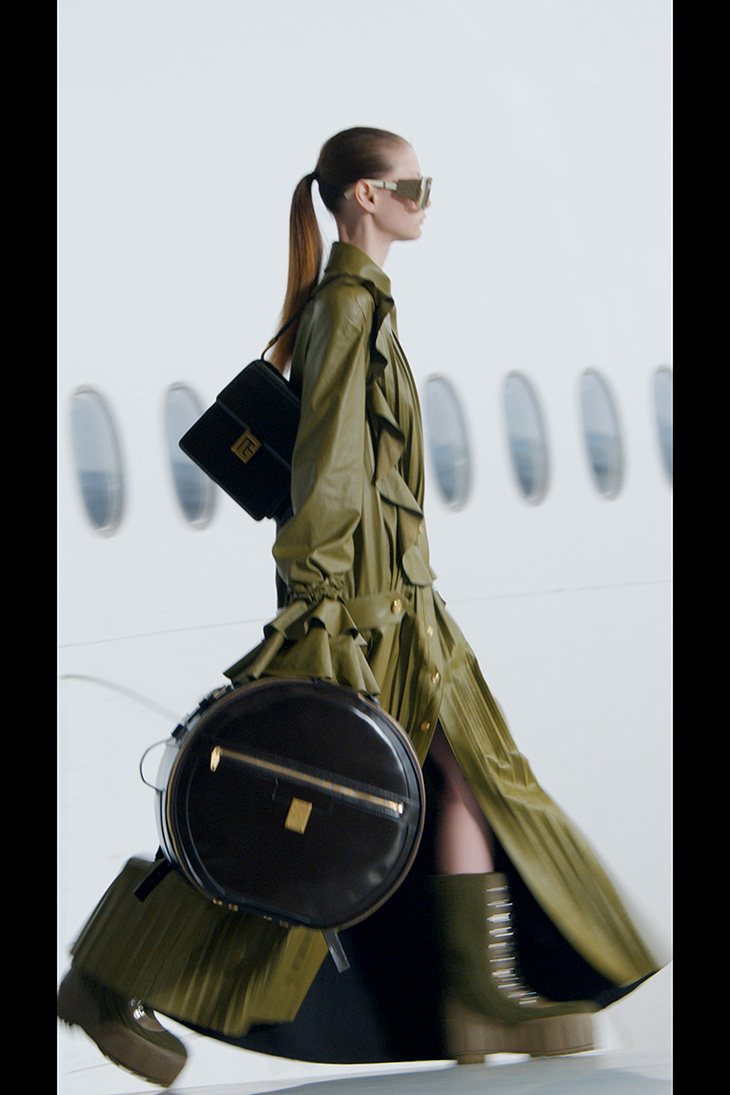 For Balmain's Above and Beyond themed collection Olivier and his team also bring back appropriately a total-metallic look painted in silver alongside the speculated return of baby pink nuances.
Finally, I have to note seeing the collection first in the masterfully prepared video is the only way to truly experience Olivier's playful and inspiring inspiration for the Balmain Fall Winter 2021.
Discover all the looks from the new Balmain Fall Winter 2021 womenswear collection in our gallery: