Alber Elbaz was born to a Moroccan-Jewish family and grew up in Israel where he attend the Shenkar College of Engineering and Design in Ramat Gan. In the mid 80s Alber moves to New York, where he forges connection with design and fashion community. In NYC he was introduced to couturier Geoffrey Beene in 1989, where he took the creative role of the label for 7 years. Following his time i New York he decides to move to Paris where he worked with Guy Laroche, before being selected as the head designer of Yves Saint Laurent's "Rive Gauche" line.
In October 2000 Alber becomes the artistic director of Lanvin, till October 2015. During his almost 15 years at Maison Lanvin he transformed the brand into one of the most prominent fashion business in Paris spanning globally.
Since exiting Lanvin he has worked a number of collaborative projects with fashion houses such as Tod's, and French perfumer Frédéric Malle on a fragrance called Superstitious.
Alber new role was finally unveiled in these difficult pandemic times within the richemont group with whom he launched his new label AZ Factory. The fashion house launched by Alber and Richemont reflected the designer's disenchantment with the fashion scene. His objective was to showcase much better transparency to the work behind the garments and work on a more inclusive sentiment for the customers. Elbaz' debut AZ Factory collection was applauded from raging sizes from XS to XXXL. The first collection was showcased earlier this year as part of the digital Paris Fashion Week.
Passing of Elbaz was confirmed this morning in a statement from Richemont. "It was with shock and enormous sadness that I heard of Alber's sudden passing. Alber had a richly deserved reputation as one of the industry's brightest and most beloved figures. I was always taken by his intelligence, sensitivity, generosity and unbridled creativity. He was a man of exceptional warmth and talent, and his singular vision, sense of beauty and empathy leave an indelible impression," shares Johann Rupert, Chairman of Richemont paying tribute to the late Alber. "It was a great privilege watching Alber in his last endeavour as he worked to realise his dreams of 'smart fashion that cares'. His inclusive vision of fashion made women feel beautiful and comfortable by blending traditional craftsmanship with technology – highly innovative projects which sought to redefine the industry Alber will be greatly missed by all of us who had the good fortune to know him or work with him. On behalf of all of my colleagues at Richemont and AZ Factory, I wish to extend our sincerest condolences to his family and friends," the statement continues.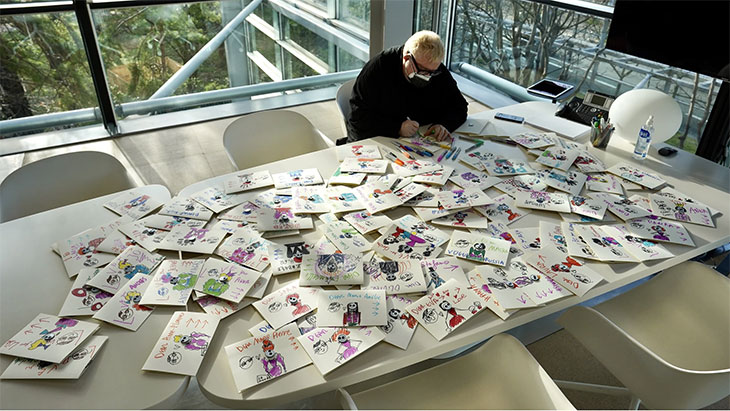 Finally Mr Johann Rupert adds: "On a personal note I would like to add that I have lost not only a colleague but a beloved friend. Rest in peace Alber."
Fashion designer Alber Elbaz passed away from COVID-19 on Saturday night in Paris. Elbaz was in an induced coma for several days. Alber was 59.