Fashion icons Amber Valletta, Carolyn Murphy, and Shalom Harlow star in the cover story of WSJ. Magazine's May 2021 edition lensed by photographer Lachlan Bailey. In charge of styling was Clare Richardson, with set design from Heath Mattioli, and casting direction by Piergiorgio Del Moro. Beauty is work of hair stylist Shay Ashual, and makeup artist Mark Carrasquillo.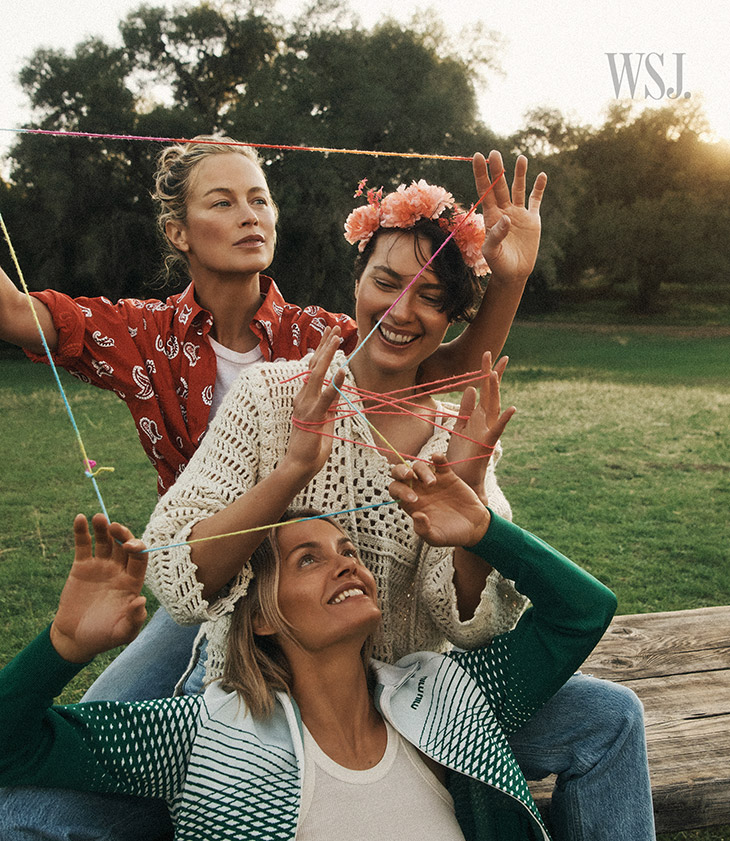 On coming together in Paris as teenagers:
"We just had a good stereo system and a bong," says Harlow, 47.
"I'm sitting there like this little kid just out of Virginia and Florida, going, Oh, my God, what the f— am I doing here?" recalls Murphy, 47.
Jeremy Scott on the trio's impact on fashion:
"They are one amazing iconic triplet—they are the late-'90s alt-queen supermodels," says designer Jeremy Scott, who shaped his recent fall 2021 Moschino show around a vision of Harlow as Rosalind Russell in the 1939 lm The Women, and cast all three for his cinematic presentation. "I said on set to the other models, 'We are on the set with [legends], let's pay homage and respect…. These are the ladies whose careers you hope to have one day.'"
Valletta on being the new trio, dislodging Naomi, Linda and Christy:
"I never wanted to see [the original supermodels] out of work for us to take over," says Valletta, 47. No, they wanted to study Linda, Christy and Cindy and all the other "supers" who were then on magazine covers monthly. And study they did, at shows, cheering like hooligans at the backstage monitors, says Harlow, and at group sessions with legendary photographer Steven Meisel. "Steven's responsible for a lot of that lineage being carried through to us," says Harlow.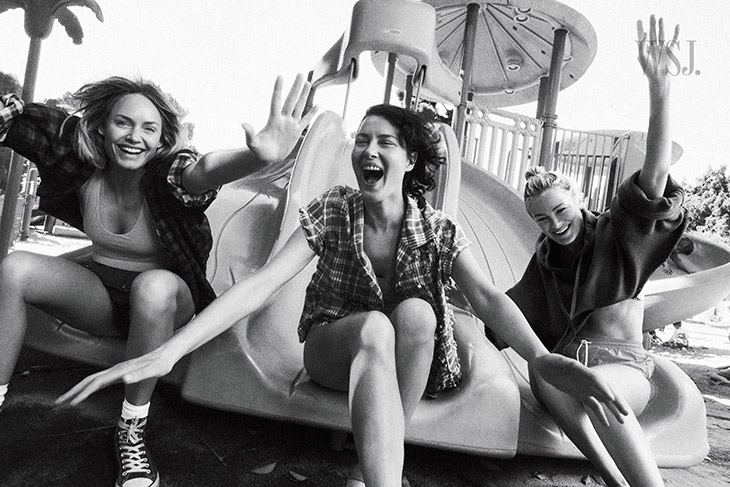 Murphy on the excitement and glamour of finally making it:
"I remember that [April 1997] cover, like, What am I doing here?" says Murphy, who was dubbed "Mamma Murphy" for her sensible side. "I have photos of every hotel room," she says. "I remember when I had my first fancy hotel room, the first time I flew first class, the first time I went to the party."
Harlow on competing with your friends:
Valletta says, "We competed with each other for sure." That competition is "a
complex thing to navigate
in any relationship," says
Harlow, the designated
"deep thinker" of the group, as they call her. "The essence of who we are is commodified—you know, there will be one job, and maybe the three of us are up for the same job. And really it comes down to things you can't control—it's not like one of us can rehearse better or hone our skills. Sometimes it's just filling a box with a blonde or a brunette or whatever."
Valletta on Harlow:
Valletta calls Harlow the "yin to my yang." They shot together so many times that eventually they got fed up with it, like a band that has had to perform the same hit too many times. "It got to a point where it was like, wait, we are individuals, too," says Harlow. Nonetheless, she and Valletta value their sisterly bond. "It's given me a place to look deeper and see how I want to cultivate a friendship and have to own things that maybe I didn't want to look at. It's complex, but it's nurturing," says Valletta. "You come up against yourself—we challenge each other that way."
Valletta on what the young models must think of them when on the same set:
"I think they just think, Who's that old lady backstage with us? Why is she here?" says Valletta with a laugh, of models who are often younger than her college-age son. She and Murphy have grown close over their single motherhood: Both have kids in their early 20s, Murphy a daughter named Dylan and Valletta a son named Auden.
Murphy on her daughter's love for her vintage pieces:
Dylan loves the '90s fashion that her mother has kept, including pieces Murphy bought on one post- shoot spree in 1998 in Paris with Meisel. "Steven was very much like, We're [finished]—we're going shopping!" Murphy recalls. "And [then] we're piling into a Mercedes. Next thing I know, we had gone to Louis Vuitton, and I was given things—a coat and bags—and then we went to Prada, where I bought a few things." She still has those, though she says she herself is not a clotheshorse. "I'm saving a lot of pieces for [my daughter]. I also think they're art pieces unto themselves… like this gorgeous blush-pink dress that Narciso Rodriguez made for me.
On the differences in shooting stories in the 90's vs. now:
"We still had the real raw deal," says Harlow. "And now, it's not like the 'house of whatever [designer]' anymore, it's traded on the stock market, and that's really apparent." As for social media, says Harlow, "there are the algorithms [and] the pace of it, and it's kind of feeding an evil machine in the sense that there is no mystery left. You post immediately after you've done a shoot."
It used to be just "the photographer, the stylist and maybe an assistant," says Valletta. "Now I don't even know what all these people are doing [on set]."
"The flow is constantly interrupted because everyone's looking at the monitor…or their phone," says Harlow. "Even just the pop and ash and the sound of the camera, there was a rhythm to that."
"It's [our job] to have this character, to have some study behind it and have references," says Murphy. "I remember some photographers bringing books."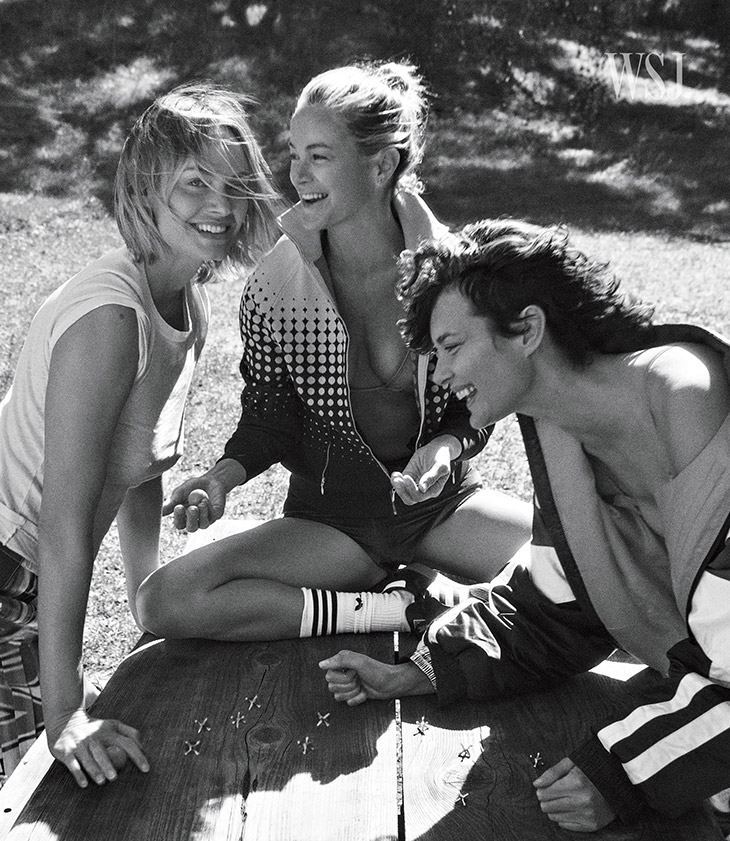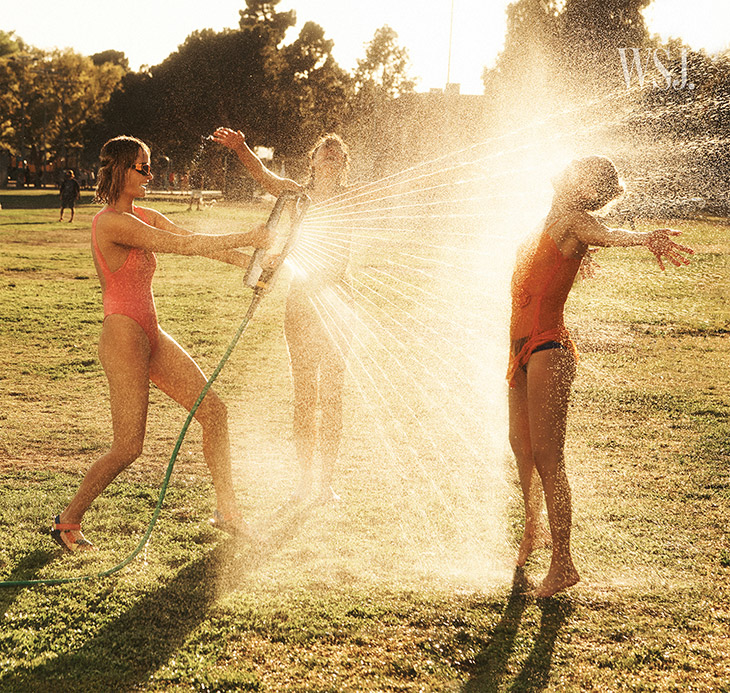 Of their Instagram-famous get together during the pandemic:
All three of their mothers have suffered from breast cancer, to which Harlow's mother succumbed this past year. The three women gathered recently in Los Angeles to grieve Harlow's mother, as well as their friend the model Stella Tennant, who died suddenly in December, days after turning 50.
They each posted photos from that day on their Instagrams, the three of them alone in the woods, no photographers, no makeup artists, no stylists. Just some ladies out for a hike wearing jeans and sneakers. "We cried a lot," says Harlow. "We talked about Stella, we also talked about some of our own stuff within the business that we've been going through in the last few years, and Shalom having just lost her mama," says Murphy.
"And then the laughter, the joy came— there's a safety there and for us, we're just where we are at in our lives as women," says Harlow. "This is life-long good stuff," adds Valletta.
Harlow on the pandemic:
"This has been a collective pause," says Harlow, ever the philosopher. "So what rises to the surface is…true love, true friendship to support, contact, relationship, community. And I think the gift is that we are coming out of this with all of this intact."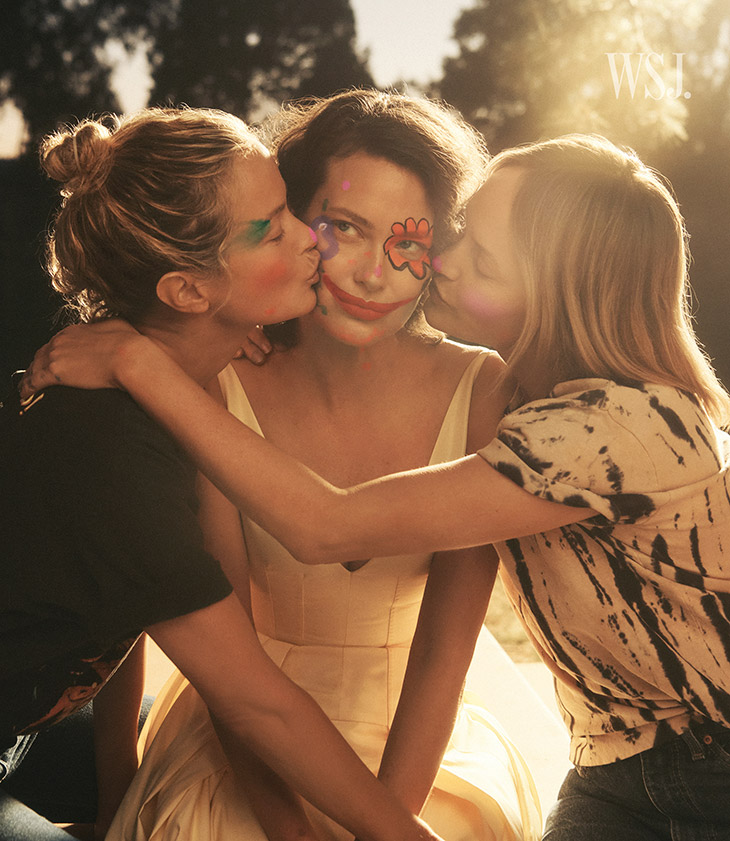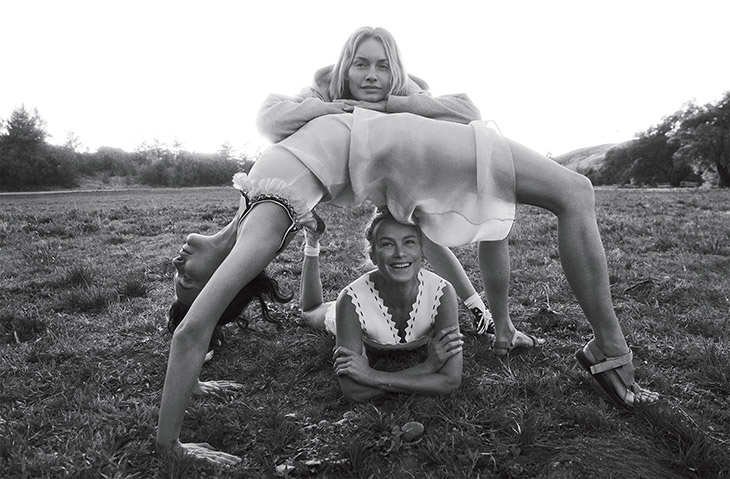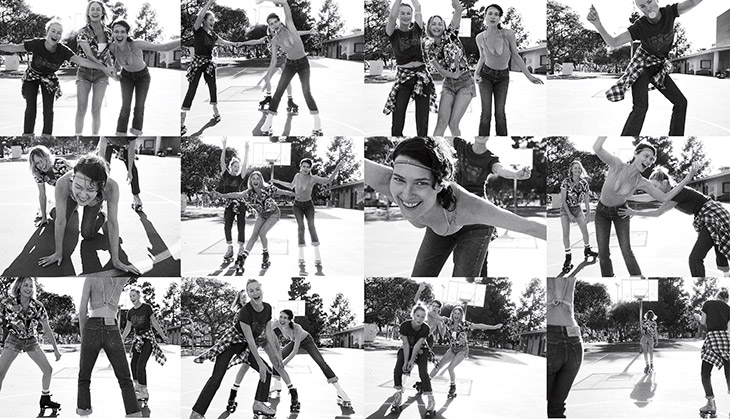 Photography © Lachlan Bailey for WSJ. Magazine; This article is featured in WSJ. Magazine's May Issue out on newsstands Saturday, May 1st – wsj.com