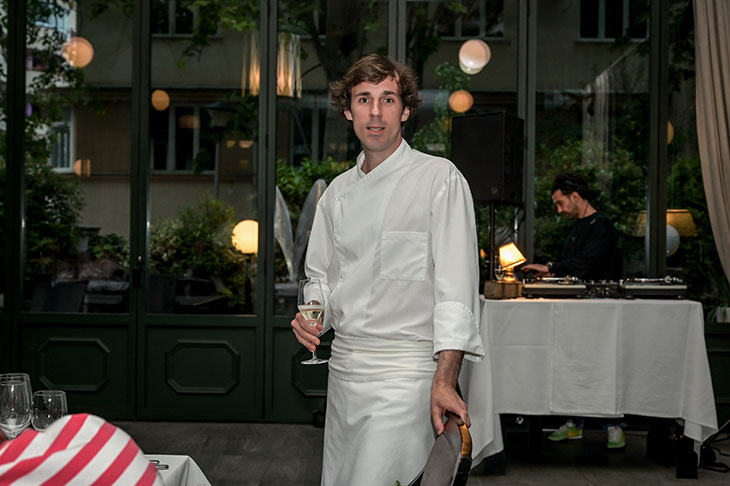 Chef Branko Kisic is already a household name in Belgrade, yet a year and a half ago he teamed up with Klub Knjizevnika (Writer's Club), one of Belgrade's most iconic restaurants. The restaurant has always been a hotspot for local literary icons but also for international celebrities and the city's gourmet audience. Branko is now mixing the restaurant's signature flair for traditional cuisine with his well-known dishes.
He sits down for an exclusive interview with editor KATARINA DJORIC to talk about the first time he fell in love with cooking, starting his collaboration with Klub Knjizevnika, and his favorite ingredients.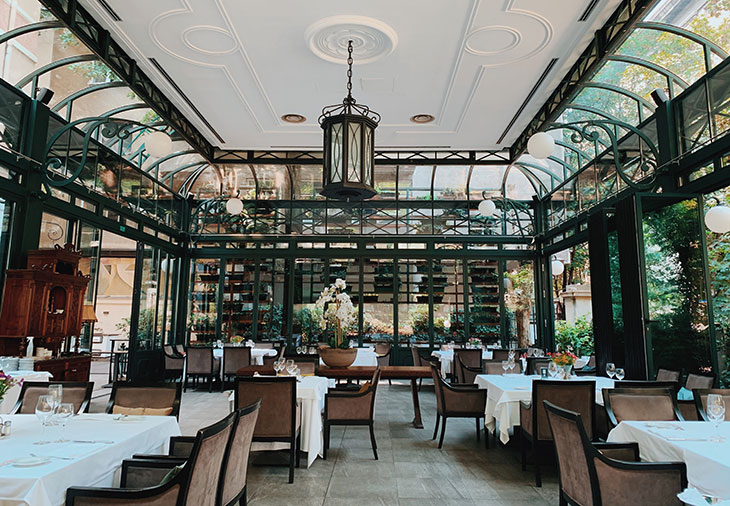 How did you transition from high school to culinary school? When and how did your interest in cooking begin?
In the beginning, I wanted to be an electrical engineer, because everyone in my family had a university degree and it was expected of me. My first contact with the kitchen was at my mom's pastry shop. I did the silliest jobs possible, from grinding walnuts to selling crepes, so that I could earn money to go skiing or to go on a beach holiday. At that time working in the kitchen was not a career option but a necessary evil. When I got expelled from high school for disobedience—I don't even remember why anymore—I decided to go to culinary school. Staging followed and so, in time, I fell in love with cooking.
It takes getting up every day and doing the exact same things as fast as possible—it's like a marathon. That's how I see this profession, I guess. The emphasis is on persistence and love, not talent.
Do you remember what you cooked on your own for the first time?
The first serious dish that I prepared was coq au vin, which did not turn out so great. The knowledge that I gained at culinary school could not really be implemented on such complex recipes, so at that point, I felt more proud of myself for knowing how to prepare a proper omelet.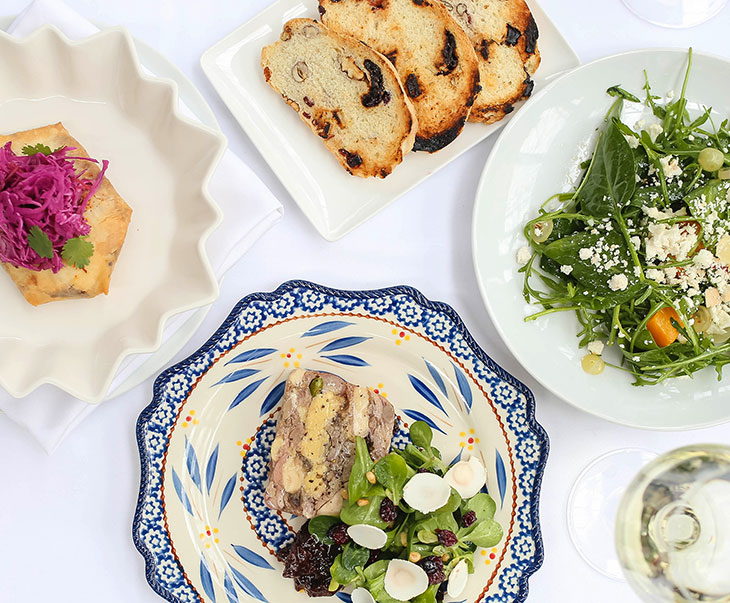 You learned from Michelin star chefs. How important is it to have good mentors and how relevant is talent?
I learned from really good chefs. I worked for a 3 Michelin star chef, Pierre Gagnaire, who owns seventeen restaurants. I was also taught by chef Adam Melonas, who was not as popular at the time. It is important, in a sense that, when you're in that environment, you have no choice but to improve. In the beginning, the kitchen work is not very creative, you are just executing at that point. Later, you gather all these experiences and implement them in your own work. Going there taught me what it means to be a great chef and how to implement those concepts in Serbia, for instance. At the end of the day, your customers decide your success, and for this, persistence is key. It takes getting up every day and doing the exact same things as fast as possible—it's like a marathon. That's how I see this profession, I guess. The emphasis is on persistence and love, not talent.
How relevant do you think Michelin is nowadays, and are any Belgrade restaurants deserving of this recognition?
It's truly great when a restaurant receives recognition, but unconditionally, without having to conform to Michelin or any other standards.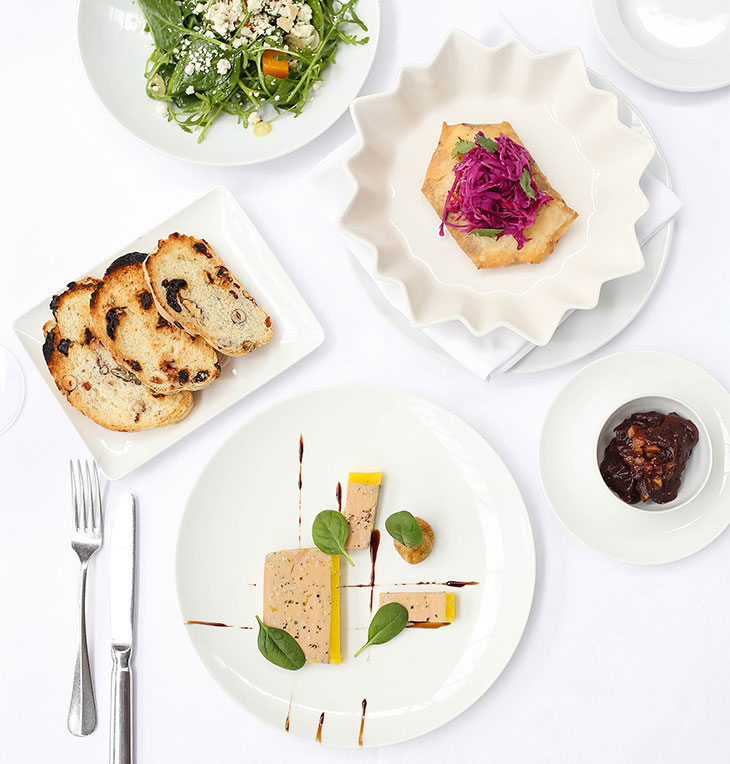 At the end of 2019, you started working in Klub Knjizevnika, one of Belgrade's legendary restaurants. Tell us about this collaboration.
Financially, the timing was terrible. Mentally, it made us stronger. It helped bring back those customers that had lost faith in the restaurant. The situation was similar everywhere in the world, no one expected things to ever go back to the way they were, and this worked in our favor. We started an intense media campaign and a new concept began to take shape. Until then, Klub Knjizevnika was a traditional restaurant so we took the opportunity to modernize it. The outdoor seating area was a very important resource during COVID-19. People wanted to be outside. They would initially come for the open space and would come back because of us, because of the food. Not many restaurants in the city have such a large outdoor area.
The ingredients used in Klub Knjizevnika are mostly locally sourced. Why is this important?
It's awesome to have an opportunity to go to a place where you can taste the ingredients that Serbia is proud of, produced by people who persevered and care about traditions. In a sense, you are leaving this heritage to the next generation and the generations to come. Our collaboration begins by us personally visiting these people, tasting their products, and learning about the production process.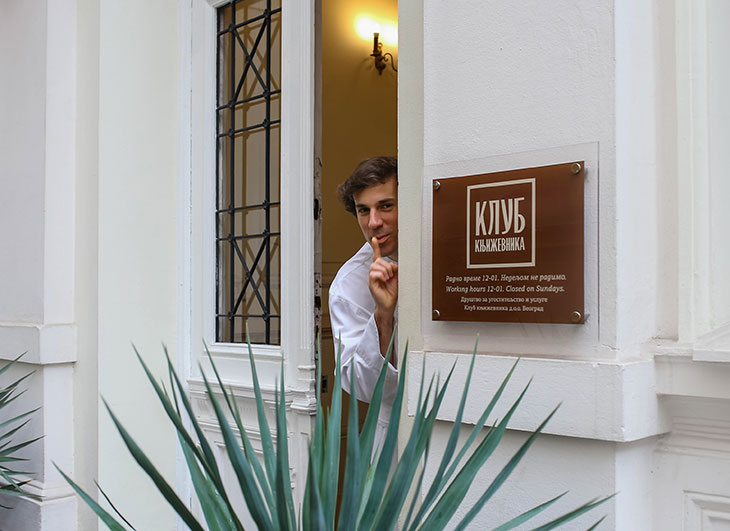 Since we're having breakfast at the moment (poached eggs with piperade), how important is breakfast to you as a meal?
I believe that when you have breakfast, it gives your day a whole new meaning. While you eat you have time to setup, think about things; it's a form of meditation.
My love for cooking is not particularly connected to the process of cooking. It's more about the whole kitchen feel, which is a special experience in itself.
What do you recommend we order at Klub Knjizevnika?
The perch is an absolute must. Our supplier provides perch that weigh over 5kg. It is a simple dish, with only peas and bacon as side dishes and it's delicious. Also, the duck is excellent; as well as foie gras. Everything is good [laughs]. It only depends on what you're in the mood for.
Where do you like to eat, aside from your own restaurant?
I like Toro in Zemun; Langouste is great, as well as Duomo; Rubin in Kosutnjak. JB pub in Juzni Bulevar serves fried foie gras which is superb.
How often do you cook for your family? What do you like to prepare for them?
I am not a fan of cooking at home. I can do a quick dish, some eggs with a twist, pasta. I get some vegetables from the farmer's market and make a cool salad. My love for cooking is not particularly connected to the process of cooking. It's more about the whole kitchen feel, which is a special experience in itself. There's a sense of cooperation between people, I feel like a conductor. At home, on the other hand, there's too much tension and not enough challenge.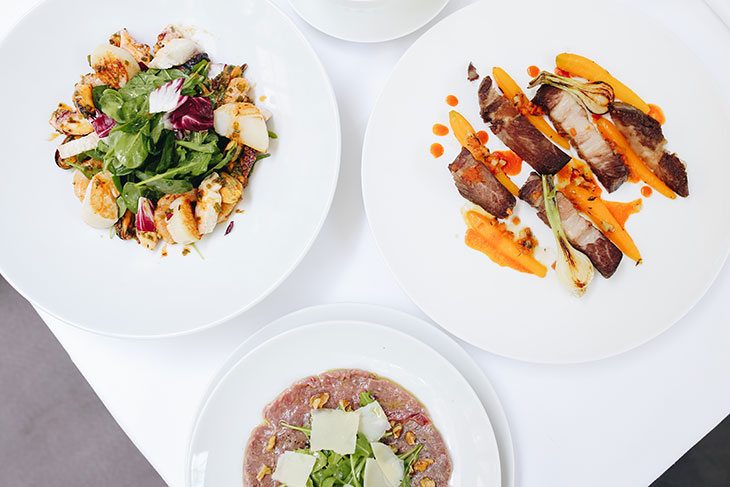 What are some ingredients that you can't live without?
I love butter, good quality lard, bacon, and all vegetables.
What is the fun part of your job, and what do you dislike?
The fun part is connected to creativity and the evolution of dishes that we see in a different light each time we make them. Whenever I prepare a dish I think: "This is it, I've outdone myself." And then the next time I realize I can do better. What frustrates me about this job is management.
Tell us about your experience cooking for Marina Abramovic at Square Nine.
I prepared a mushroom risotto for her. She came to see me, hugged me, and told me that she had never tasted a risotto like mine before.
What food trends are we going to see next?
I think it will come down to simplicity, as in the preparation of food as a necessity and only going to restaurants for the experience, a form of a night out. You don't go to restaurants just to eat, but to see someone, experience a different atmosphere. I think very few restaurants will survive in the future. Also, food supplies are dwindling, animals are becoming endangered, very few people are wealthy and so many people are poor. So everything will be divided into what is extremely good and what simply meets the needs. Only those who remain creative and unique will last.
What do you think about Instagram? How important is it in your industry?
Instagram is so present in our lives that it's hard to separate it from reality. How do you stay intuitive and express yourself through food, how do you stay pure and prepare what you really love, as opposed to giving in to what the customer needs and only preparing that?
What would be your last meal on earth?
A cold semolina pudding with apricot jam.
Photography Danka Hasanović Prokić

Restaurant Klub Književnika by Branko Kisić
Address: Francuska 7, Belgrade
Reservations
Phone +381 11 262 79 31 / Email office@klubknjizevnika.rs
For more log on to klubknjizevnika.rs