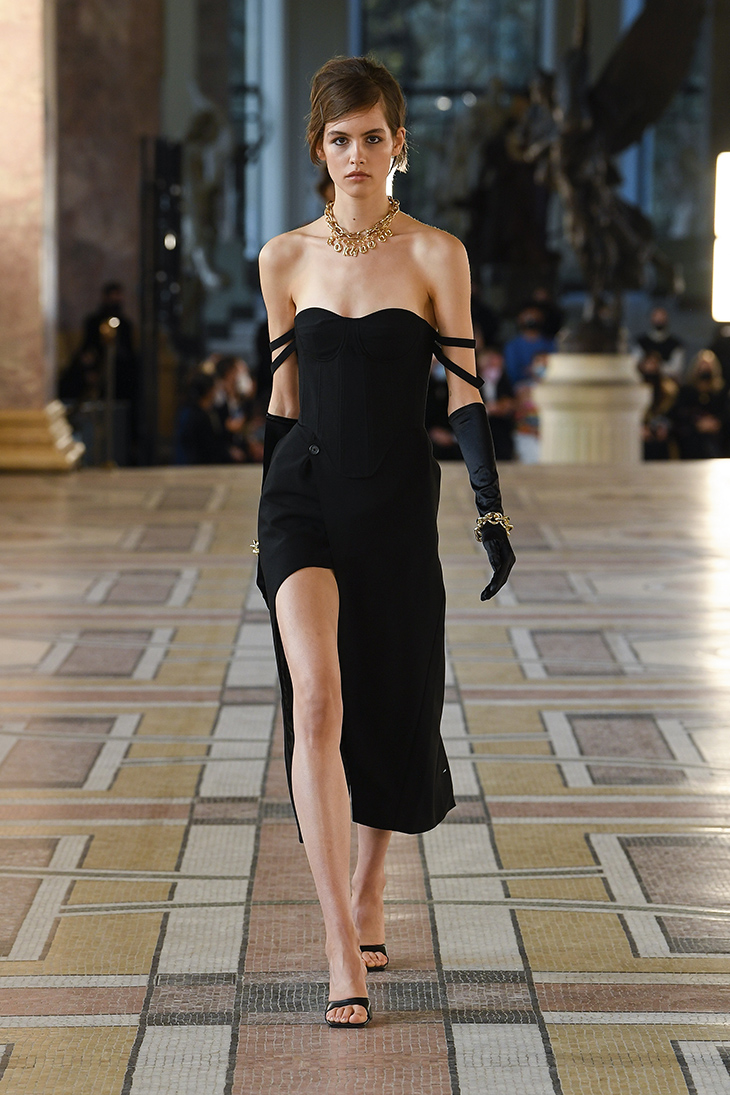 Discover ROKH Spring Summer 2022 collection revealed on Thursday, September 30th, during the recently wrapped up Paris Fashion Week. This season, Creative Director, Rok Hwang, was inspired by the idea of chasing the white rabbit from Lewis Carroll's "Alice's Adventures in Wonderland". Rokh's ongoing study of identity codes is exemplified by a particular crafting method – reducing a garment to its core structure, decoding all of its functionalities, then transfer those codes and details onto another garment's shape and form. Ours is a trans mutative way of cutting. We work to evolve the piece and embed the memory of one garment within another. – says creative director, Rok Hwang.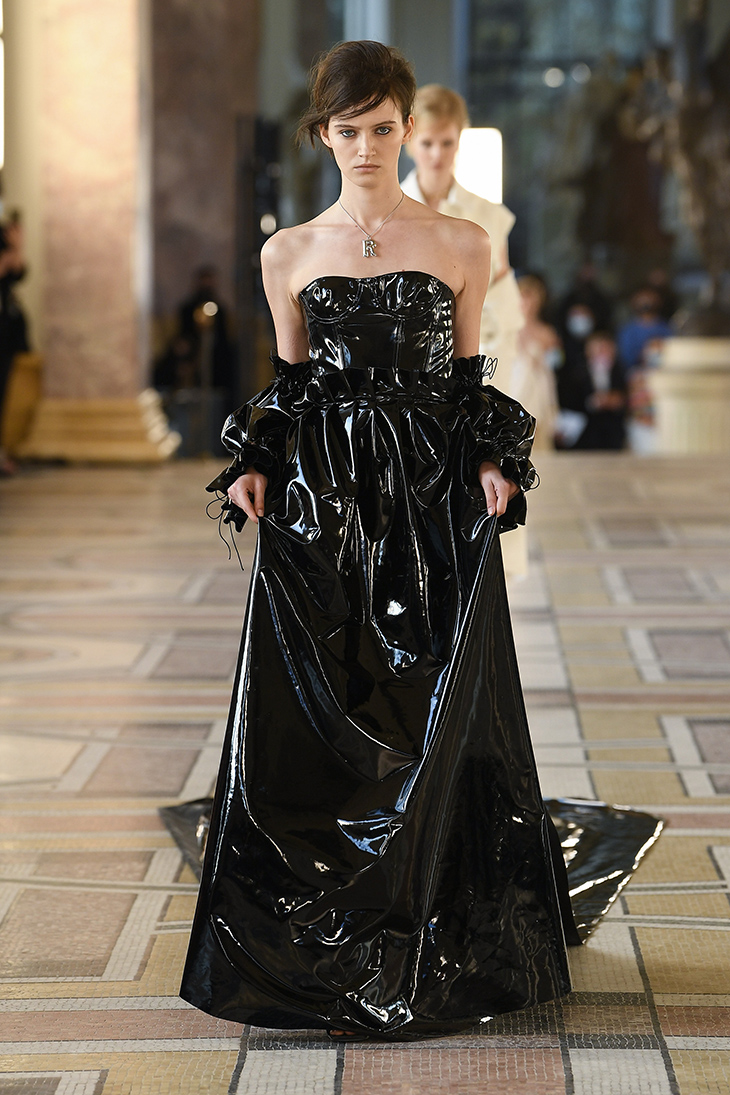 In my mind, the creation of random identities lies at the heart of Rokh. We study different garments and styles, each serving a specific purpose in life, then clash them all together to form a new language and wardrobe for women. The name of this collection, "White Rabbit," describes this pursuit: Of mixing many random details and ideas—points without any connection—and only loosely following the guidelines of womenswear. It feels a bit like chasing Lewis Carroll's White Rabbit down the rabbit hole, not knowing where it will lead us. – Rok Hwang, Rokh.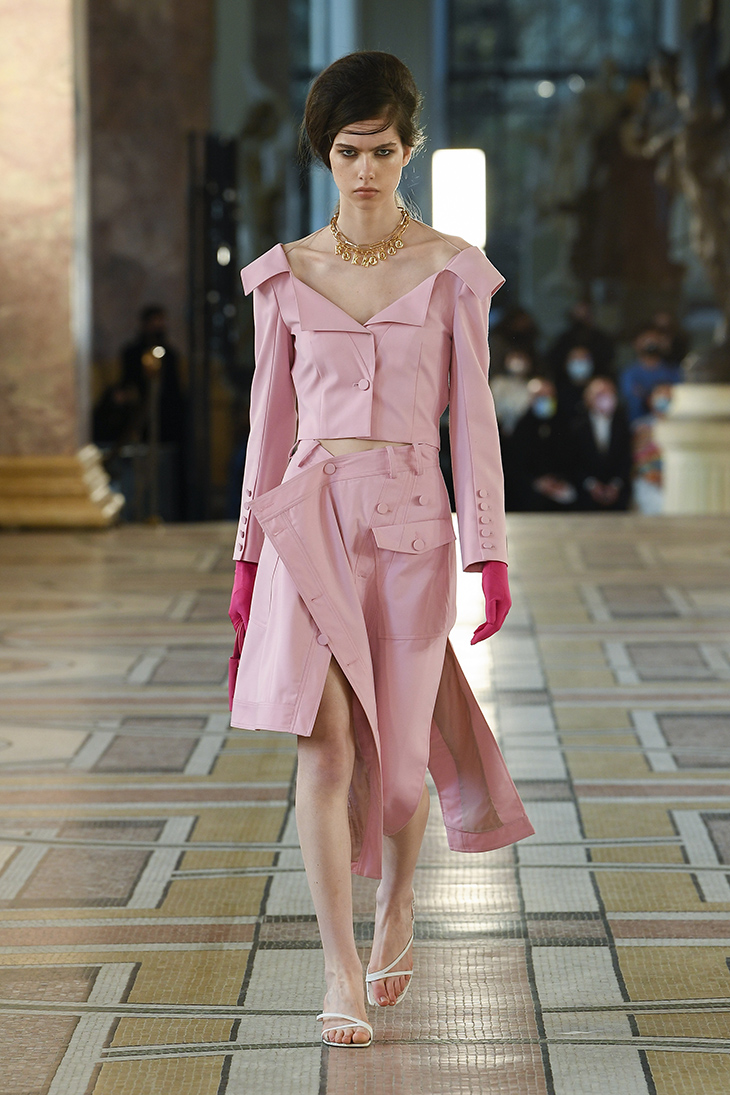 This season, the brand explored the practical utility jacket that features a heavy double stitching and fell stitching and internal fusing characteristic to workwear; patch pockets, expandable pockets, and flap pockets, with inner straps to bear weight. Those functions are taken and reshaped and repurposed onto the sensual and raw form of the evening gown.
The brand focused on the cut-outs, draped both soft and sturdy fabrics across the body; through this ongoing study of construction, and arrived at an image of youthful sensuality. A glamorous '90s evening gown is cut asymmetrically into a half-cropped skirt with utilitarian patch pockets.
A classic workman's jacket, also covered in pockets, becomes a fluid evening skirt, paired with a corset top with straps falling elegantly off both shoulders. In turn, through careful incisions, a soft candy pink skirt with raw seams bears the motifs of a utility jacket.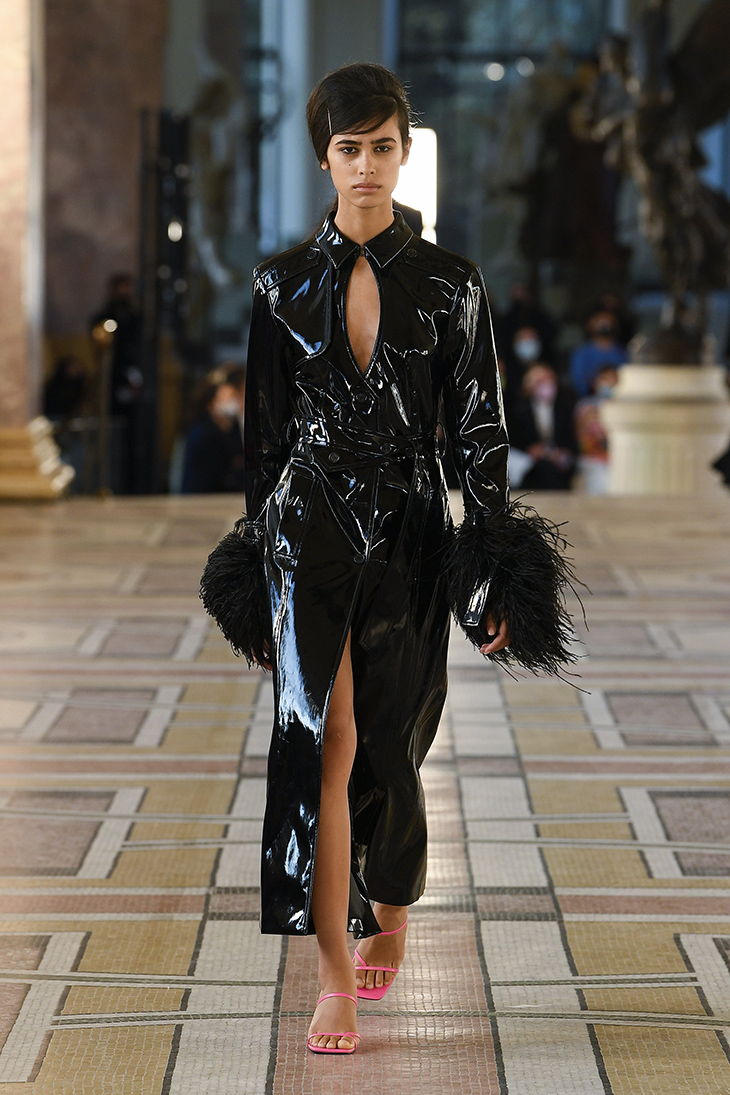 As our pieces come down the runway, I hope you can see the parallels running between timeless utility wear and the perpetual glamour of the evening dress. Our random crafting method also deeply affects our use of materials. Silk satin is the core of this season. I used silk to highlight the imbalance between formal materials and functional shapes. Inversely, heavy cotton gabardine with a twill finish was used to create voluptuous eveningwear. There are soft sun-bleached pastels and full-feathered and satin frocks covered in utilitarian stitching. I also wanted to use PVC with a glossy finish to emphasize this idea of youthful sensuality. It evokes memories of my time at Central Saint Martins. Many students like myself employed PVC, as we worked to create random identities of our own. – Rok Hwang.