Known for its DIY sensibility, Amiri jeans have quickly became a synonymous with contemporary cool. Today, the brand is known for its distinct aesthetics, impeccable craftsmanship and authentic embodiment of the Californian streetwear culture.
Iranian-American fashion designer, Mike Amiri, started his career as a designer of stage pieces for rock musicians. In 2014, he collaborated with LA-concept store, Maxfield, on an exclusive capsule collection. That also marks the launch of his eponymous luxury fashion line. The designer quickly became well known for his signature deconstructed jeans, hand-embellishments, leather pieces, graphic tee-shirts, as well as a rock & roll and grunge aesthetics. Today, Amiri presents his menswear and womenswear collections during the official Paris Fashion Week calendar, and his collections are available in the most of the worlds biggest retailers. In 2020, the brand has opened its first flagship store on Rodeo Drive, Beverly Hills. Discover additional Amiri jeans at GOAT.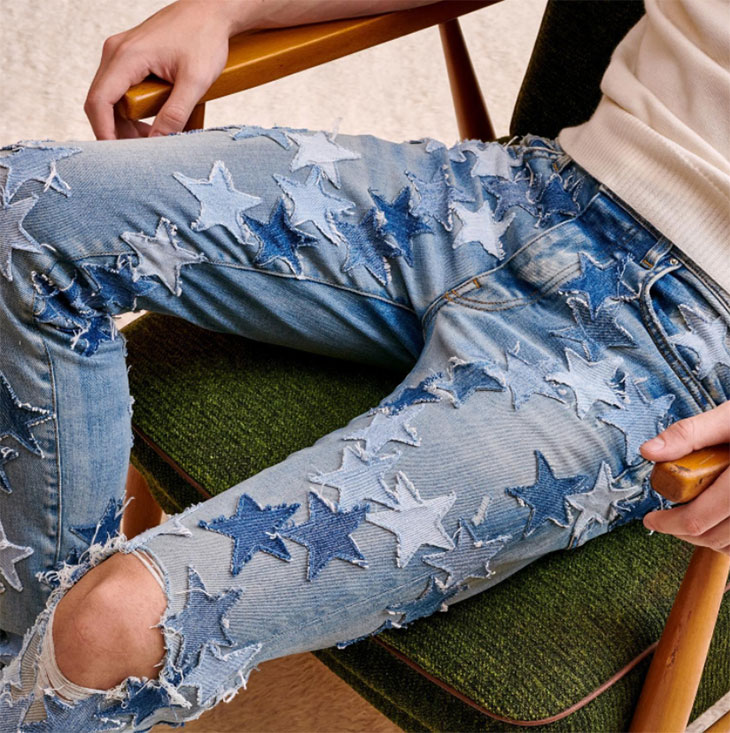 Designed almost exclusively in Los Angeles, the brand has been globally recognized for embodying the LA's streetwear culture, while bridging the gap between streetwear and luxury. Despite that, Mike Amiri said for GQ that he never looked at himself as an LA brand. "I saw myself as a global brand that's headquartered in Los Angeles, that's super inspired aesthetically by Los Angeles." However, in his collections, Amiri often takes the city as an inspiration, and his latest menswear show, Fall Winter 2022 was presented in Los Angeles Arts district.
The best brands coming out now started with no resources. Out of basements and garages empires are being built and disrupting the entire system. Just keep moving forward and watch the magic happen.
– Mike Amiri.
Famous for his distressed skinny jeans, Amiri is a go to brand among musicians, basketball players, and other world-known celebs. One of the biggest fans of the brand is American rapper Post Malone. He's very often spotted in Amiri black slim fit jeans, that he likes to pair with a rock band merch tee, and his signature cowboy boots. The Atlanta-based rapper 21 Savage posed for a SSENSE campaign in a pair of Amiri's distressed black denim jeans, paired with a JW Anderson sweater. The musician also mentions the brand in his song Many Men, with Metro Boomin. The lyrics read "Hundred large in these Amiris, they all Crippy (blue)", meaning that he can fit $100,000 in cash into the pockets of his AMIRI jeans (even thought the jeans are usually tight-fitting). Rapper Gunna, also mentions the brand in one of his songs, with the lyrics reading "my jeans Amiri".
Find more Amiri apparel styles here.
Until Fall Winter 2022.23 menswear collection, Amiri jeans haven't change the fit and stayed true to the skinny silhouette. The latest collection has seen change, with only one denim pants model, featuring a loose fit. The designer explained that he was influenced by the global pandemics, where people got used to wearing the sweatpants and more comfy fits. He was also inspired by the times he when he was starting his brand in downtown Los Anegeles. Guided by the designer's hand, archetypes evoke traditional menswear codes and formal fabrications distorted with the uniforms of modern America: references to leisure, workwear, and a distinctive West Coast personality. – says the press release.
The new silhouette is deconstructed but still precise. It embodies the textural freestyle of artistic creation: a loose, elongated shape is drawn with trademark kick-flare trousers, held by sculptural shoulders inspired by workwear fits, pieces layer, and overlap intuitively, creating a richness of composition similar to that of a painting.