An eternity ring is a ring that symbolizes eternal love for your partner since its design incorporates gemstones, most commonly diamonds, in an endless circle around the ring finger. This ring is sometimes also known as a diamond wedding ring, infinity ring, eternity band, full diamond band, or celebration ring. They're often used when celebrating special events between two lovers, for instance, a birthday, wedding, or anniversary.
But while the eternity ring is the perfect way to show your better half your infinite love for them, the search for one is often very daunting. This is because there's a vast selection you can choose from, and there are several things you need to consider before buying this ring. And to help you with your decision-making process, here are some pro tips to guide you when searching for an eternity ring.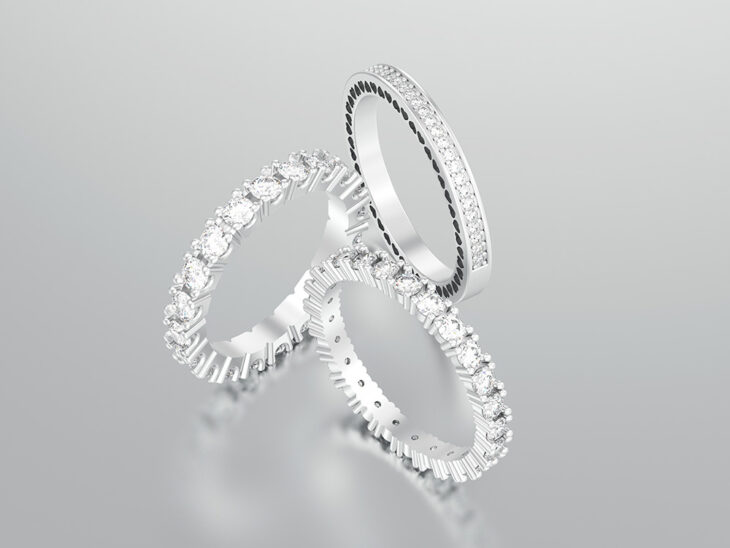 Select The Perfect Style For Your Loved One
Eternity rings come in several unique styles, each having its distinct attribute. Because of these different categories, it can be challenging to pinpoint the best eternity ring to gift your better half. With that, you'd have to take your time in knowing and identifying your partner's style so you can find a ring that matches their character and preference.
To help you get started, here are some of the available styles of eternity rings you can check out:
Emerald eternity rings: These rings feature emerald-cut diamonds that are rectangular-shaped and elongated with cut-off corners. Emerald eternity rings usually produce light flashes due to their sparkling effect.
Round cut eternity rings: These rings come in a basic round cut style of diamonds wrapped in the entire circumference of the band.
Princess cut eternity rings: These rings have a princess cut diamond ring which gives it an elegant and distinct style. They have an inverted pyramid shape with a square on the top and four sides.
Oval eternity rings: These eternity rings come with oval-shaped diamonds placed on the circle surrounding the band.
Unique eternity rings: These rings incorporate all the attributes of all eternity rings; hence can't be classified in any specific category. It's ideal if your partner has a unique fashion sense and likes standing out from the crowd.
On the other hand, you can also choose between a full eternity ring or a half eternity ring. From the terms itself, the former features stones studded in the ring's entirety, while the latter only covers the top half of the ring. And from these many styles of eternity rings, you'll be certain to find one that matches your partner's unique preference and style.
Choose An Appropriate Ring Size
Considering how significant an eternity ring is in symbolizing your love and relationship, it's only essential to pick the right fit. And so, ensure that you have the correct measurements before purchasing one. This way, you can minimize the chances of running into issues of it slipping off or being uncomfortably tight.
After many years of being together, you might think it'd be easy to know exactly what finger size your partner wears. For one, you can base it on her engagement or wedding ring. To help you do this, consider measuring the diameter of the inner circle of the ring. And from there, you can compare it to a standard ring size chart to determine the right measurement to get.
On the other hand, you can also enlist the help of her friends and family to help you determine her ring size. And more so, they can also discreetly ask about her preferences, giving you more information to work with when choosing the perfect eternity ring.
A tip to remember is to find a jeweler that offers flexible return and resizing policies, considering how tricky the sizing is. That way, should there be a need to tweak the ring's size, you won't have a hard time having it adjusted. However, also note that sizing up a ring can be a complex process, especially with it being studded with stones. And so, if you can get the right size the first time, the better.
Only Buy From A Trusted Dealer
Buying an eternity ring isn't only tricky because of the many different styles and designs to choose from, but because you'd also have to find a reliable jeweler. As much as possible, you'd want to work with a reputable one in the industry to ensure you get the most out of your investment. And so, it's essential that you take your time to research and find a trusted jeweler from whom you can buy an eternity ring that'll stand the test of time.
To identify a trustworthy and ethical jewelry dealer, you should examine the design and craftsmanship of the rings, as these usually differ among different retailers. You can also ask for recommendations from friends and family. Perhaps, they've purchased jewelry recently, and they can vouch for a dealer. There's also that option to look online for reviews. If you purchase the eternity ring in online stores, the presence of high-quality jewelry photography will be a significant indicator of trustworthiness.
In addition, local jewelers' guilds and other organizations will often have members who adhere to high standards in their industry. These can be places to start when looking for a trusted and reputable dealer.
Stay With Your Set Budget
If there's one thing that's crucial to the success of the rest of these pro tips when searching for an eternity ring, it is to set a budget and stick by it. This is essential to note because eternity rings can be costly, and if you aren't careful, you might end up spending more than you had initially planned. And so, it's always best to have a firm idea of how much you're willing to spend and stick to that budget as closely as possible.
How much you spend is entirely up to you. But to get a rough idea, start by doing some research on the pricing of eternity rings. Generally, it depends on the ring's design and style, from the stone quality to carat weight to setting style to the metal.
Considering your partner's style and preference, you can have a more or less estimate of how much the ring will cost. From there, you can start saving up and preparing for it. And at the end of the day, this can help you determine the perfect eternity ring that matches your partner's style and fits your budget at the same time.
Wrapping Up
It's no doubt that gifting your better half is one of the best ways to show them how much you love and appreciate them and elicit surprise. And what better way to show your love and affection than gifting them an eternity ring?
However, choosing the right eternity ring can be challenging due to the many options you'll find on the market. And so, if you're stuck on where to start, hopefully, this guide has eased all your concerns by detailing some pro tips to help you land the perfect eternity ring for your partner.