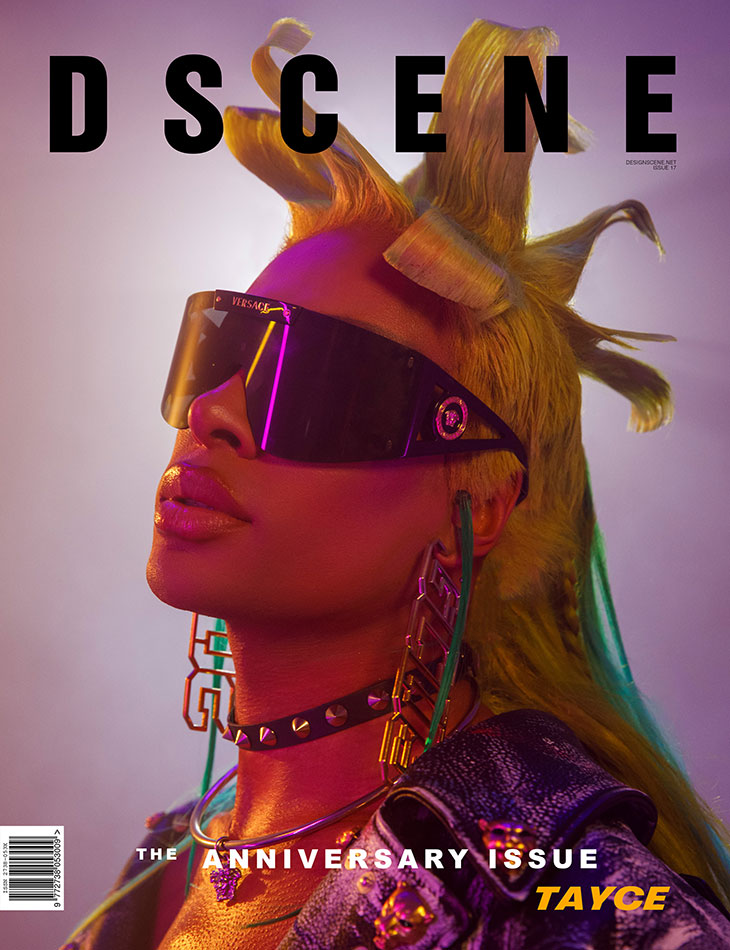 The Issue 17 of DSCENE celebrates the 15th anniversary of the magazine, with the RuPaul's Drag Race UK star TAYCE on the cover.
Tayce was photographed by BRYAN TORRES in Madrid with styling from FRANCISCO UGARTE and art direction from ANDREA GARCIA. Beauty is work of Hair Stylist SERGIO SERPIENTE, Makeup Artist SERGIO ANTÓN and Manicurist PANNKKS .
For the cover, Tayce, who is represented by The Squad Management, is wearing a jacket by Roberto Cavalli, sunglasses and necklace by Versace, earrings by GCDS and choker by  Alessandra Rich.
Photographer and Creative Director BRYAN TORRES @bryantorres.a
Stylist FRANCISCO UGARTE @franciscougarte_
Art Direction ANDREA GARCIA @andreadel4vega
Makeup Artist SERGIO ANTÓN @makeupbysergio_
Hair Stylist SERGIO SERPIENTE @serpiente.es
Nails PANNKKS @pannkks
Talent TAYCE at The Squad Management – @itstayce @thesquadmanagement
Fashion Producers CHARLIE DOMINGUEZ RAIDI & ENRIQUE BORRÀS @enriqqueb @dominguezraidi
Retouch ALBERTO MARO @alberto__maro
3D Artist GUERRI @akaguerri
Photo assistant AINOA JUAN ETIENNEMARE @ainoa_juan_etiennemare
Assistants ANTHONY JAKOBS @anthonyjakobs
Prod Assistant OLIVER COWEN @olijohnstone
Space @spathios www.spathios.com
Pole Dance VOLANDO VOY DANZANDO VENGO SCHOOL www.vvdv.es/ @vvdvshows – EMILIO FERRO
Axel Hotel Madrid @axelhotels www.axelhotels.com