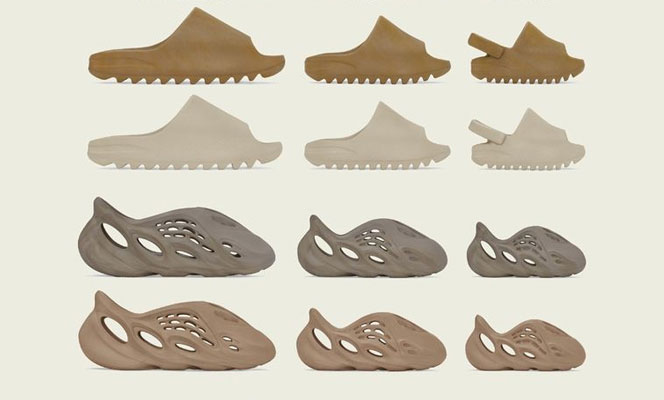 It seems as though summer 2022 will be another big season for the YEEZY Slides and Foam Runner models and looking at the new colorways that have released this year, it's not hard to see why.
DSCENE team has the rundown on the five new releases to cop this summer.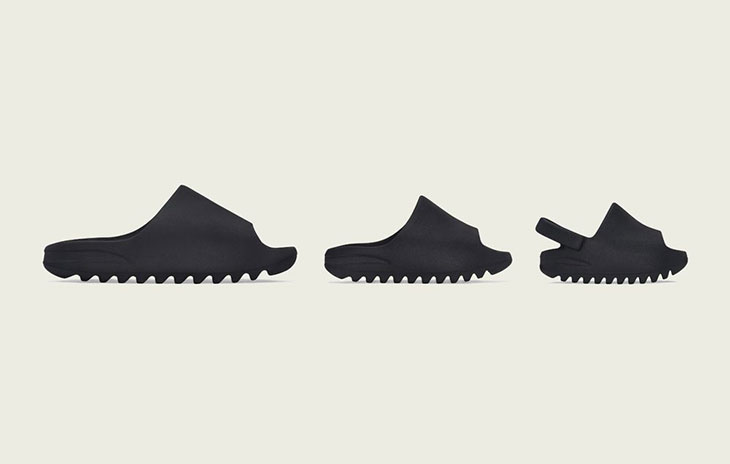 YEEZY SLIDE Onyx
One of the most coveted releases this year, the adidas Yeezy Slides returns with the launch of the "Onyx" colorway. Featuring an all black foam contraction, the style's color directly references its name. It was initially revealed in February 2022 at the Donda 2 listening event in LoanDepot Park Stadium in Miami.
The slides have officially released in March, along with the re-released of two more styles – the "Ochre" and the "Pure", that have no stylistic changes from their past releases. All three colorways are available in full family sizing, at a retail price of $60.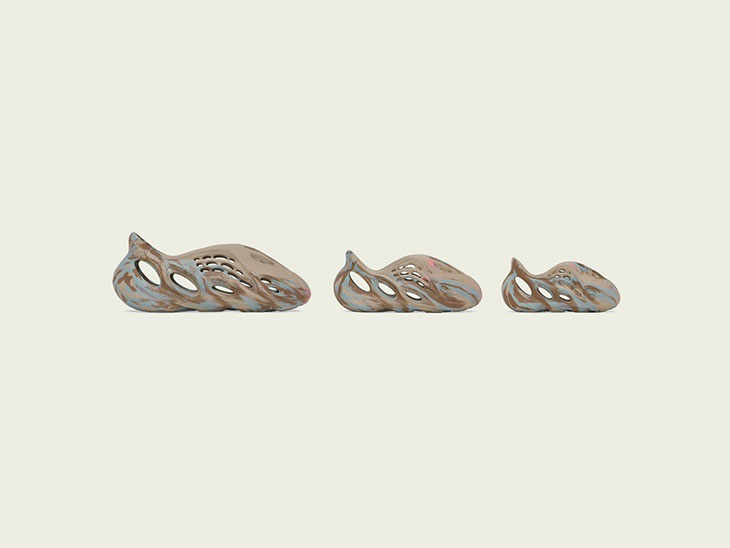 YEEZY FOAM RUNNER MX Sand Grey
For Summer 2022 season, adidas and YEEZY updated their flexible clog-like silhouette with a neutral blend of colors – the YEEZY FOAM RUNNER MX Sand Grey. The shoe features injected EVA foam, providing lightweight durability and it is made using algae harvesting technology that helps to keep lakes clean. Very comfortable thanks to the soft top layer in the footbed, the silhouette has strategically positioned holes that provide air flow.
For this model, Yezzy is thinking about the planet, with a new packaging that allows a less material waste.
The YZY FOAM RUNNER MX Sand Grey was initially available at adidas.com and in select retailers. If you missed the chance to cop them there, shop additional adidas Yeezy Foam Runners here.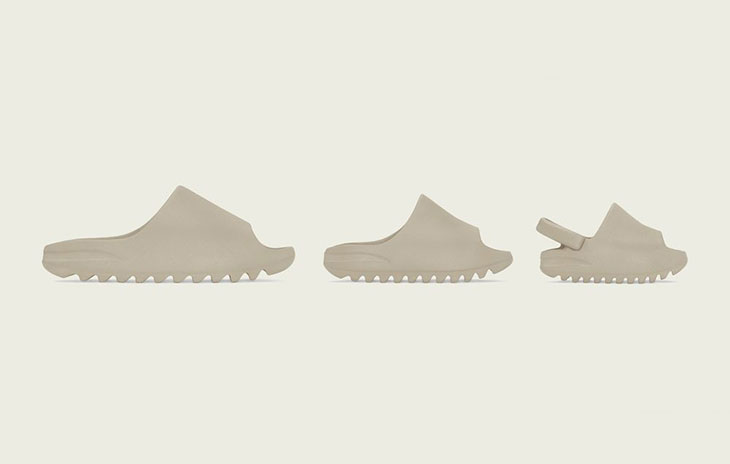 YEEZY SLIDE Pure
This March adidas and YEEZY have released two new slide colorways – YEEZY SLIDE Pure and the YEEZY SLIDE Ochre. Keeping to Ye's toned-down and natural-hued aesthetic the pair is a minimalist interpretation of an iconic sandal. Just like the previous slide models, the Yeezy Slide Pure features a signature lightweight EVA foam and a soft top layer for extra comfort, while the grooves in the outsole allow the flexibility and traction.
The YEEZY SLIDE Pure and Ochre were initially available on adidas.com/yeezy, at select retailers, and on YEEZY SUPPLY. Find more adidas Yeezy Slides at Flight Club.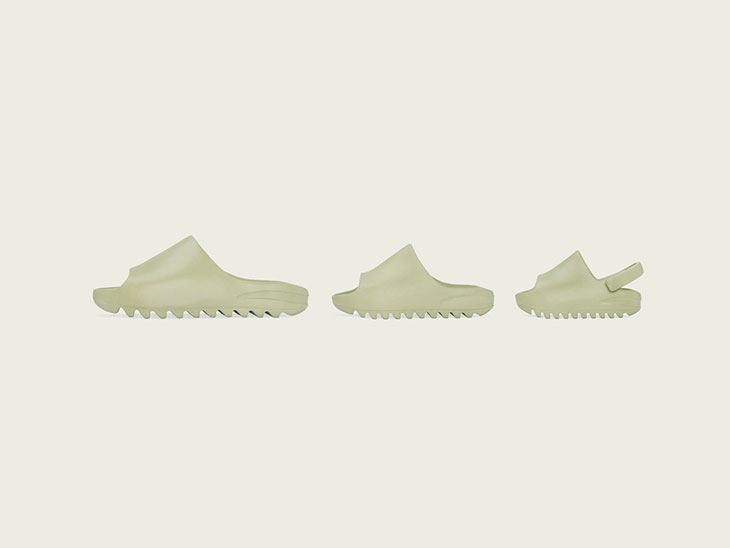 YEEZY SLIDE Resin
A true example of Ye's dedication to minimalistic design, the Yeezy Slide 'Resin' athletic sandal comes with monochromatic finish in a subtle green hue. It was first released in December 20219 along with the two other colorways – Desert Sand and Bone, and launchined exclusively on YEEZY SUPPLY in family sizes, for the retail price $55 adult, $45 kids, $35 infant.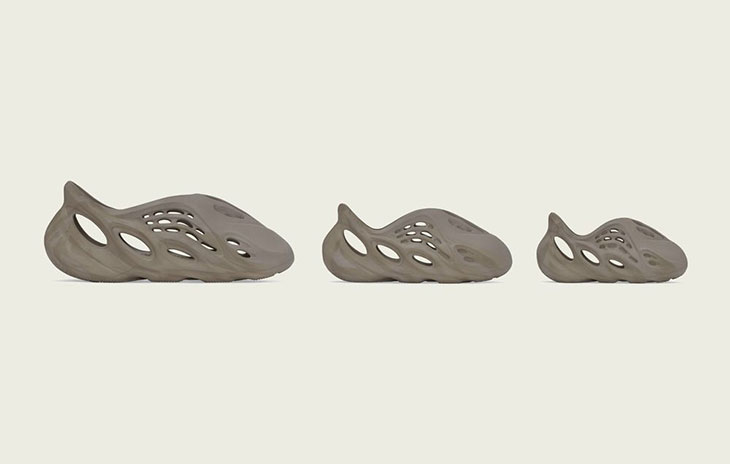 YZY FOAM RUNNER Stone Sage
One of many colorways of Ye's famed Foam Runners in collaboration with Germany's Three Stripe brand, the Foam Runner Stone Sage will surely provide your feet a supreme comfort. Released in March 2022 along with a "Mist" colorway, the model is available in full family sizing at a retail price of $80.
YZY FOAM RUNNER "Stone Sage" is colored faded grey with a randomised pattern consisting of darker greys and light browns. Overall, the sneaker has patterning similar to what is showcased on the YZY FOAM RUNNER "MX Cream Clay" and "MX Sand Grey". – from Yeezy.
The model features the signature ellipse-shaped perforations and as the previous models, it is constructed using a comfortable moulded EVA foam.
RELATED: Discover highly anticipated YEEZY GAP ENGINEERED BY BALENCIAGA collection, that brings Ye and Demna Gvasalia's shared vision of utilitarian fashion. Read more here.