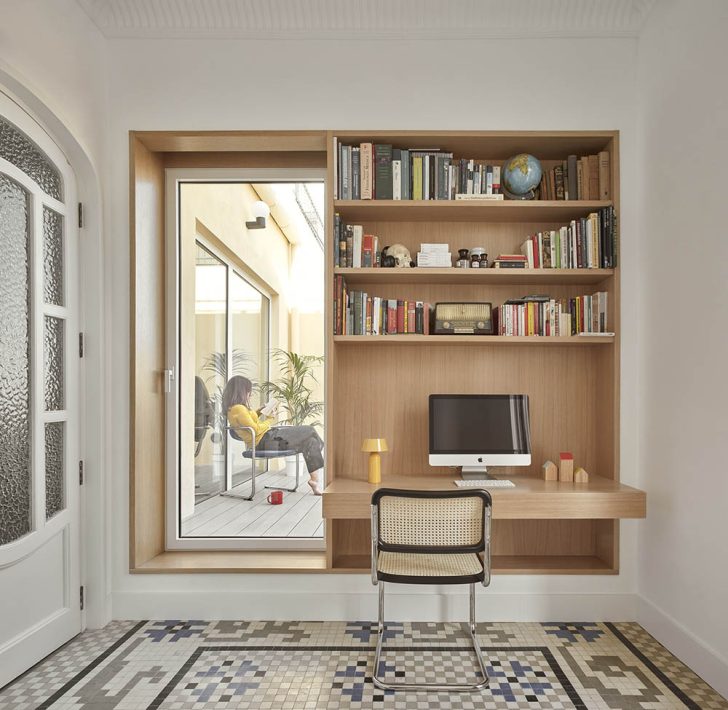 No matter what industry you're in, working from home has pros and cons. On the one hand, you can wear whatever you want and have a 20-second commute from your bed to your office. However, you may get distracted easily and have a difficult time separating your home life from work.
Creating a dedicated home office space is the best way to keep a healthy work/life balance; however, designing it with a lot of thought is vital to making it work for you.
Whether you're switching from an office cubicle to a dedicated room or just claiming an area in your kitchen, how you furnish your workspace is critical.
Flexible and Creative Options
Although office furniture isn't known to be the most aesthetically appealing, having a home workspace allows for a lot more creativity – especially when it comes to design.
In a home office, you'll have the flexibility to switch from utilitarian desks and filing cabinets to something with softer lines and textures.
Dreary 'office beige' walls can be traded for more vibrant colors, and personal décor touches like art prints and houseplants can enliven your workspace. Even if you're not keen on modern-chic décor, decorating more traditionally presents many stylish options.
What to Consider When Choosing Office Furniture
At the end of the day, choosing the perfect furniture for your home office isn't just about looking for a desk and the most comfortable chairs.
Before you even begin browsing through furniture, you should think about how much space you have to work with and what you'll need to be productive.
Choose an area with a lot of natural light – the more, the better. If you can use a space near a large window, consider how to position your desk to take advantage of the natural light. When choosing your office area, make sure you can feel focused and comfortable. Here are some other factors you should consider.
How Much Space is Available?
Before purchasing any furniture, take stock of the area's square footage so you know what you can work with. If you have an extra room in your house for a dedicated office space, you'll have more freedom for the size and number of pieces you can use.
If your dedicated workspace is confined to a corner of an existing room or at your dining room table, you need to utilize every inch of the space you have available.
How Long is Your Workday?
How long your typical workday is will also dictate what type of furniture you need to create a comfortable home office environment. If you work an average of 40-45 hours per week, consider having a dedicated area with a comfortable chair and desk.
If you're a digital nomad or work irregular hours, consider purchasing a moveable trolley that you can roll from one area to another.
People who work long hours at their computers tend to suffer from headaches, neck strain, and backache, so choose an ergonomic chair to keep you as comfortable as possible. The height of your desk and your lighting will also play a role – a desk that's too low and poor lighting can impact your productivity.
What is Your Personal Style?
Once you've assessed the available space and have an idea of what pieces of furniture you need, you can start narrowing down your furniture options by thinking about aesthetics. There are six popular décor themes to choose from: modern, vintage, contemporary, industrial, glam, and traditional.
Modern furniture is all about hard, streamlined lines, minimalism, and geometric shapes. In contrast, vintage furniture is often oversized, made from wood, and incorporates old-school or damask patterns.
Contemporary furniture design appears modern with a vintage twist – the materials used are usually glass, polished metals, and marble. On the other hand, industrial furniture can be reclaimed or upcycled wood, wrought iron, and exposed brick.
Glam furniture pieces are usually elegant with textural elements like faux fur and metals like rose gold and brass. Traditional furniture makes use of neutral-colored upholstery in soft shapes with ornate details.
What is Your Budget?
Once you've determined how to furnish your office space according to its size and desired aesthetic, you'll need to think about how much money you're willing to spend. If you're furnishing your office from scratch, the most essential pieces are a desk and chair – so they should be prioritized and form the bulk of your budget.
The next most crucial element in your home office space is adequate lighting. An ambient light source combined with a task light or two should be sufficient to provide enough light. If your budget allows it, consider storage and organization options and décor pieces – a home office with a personal touch will make the space feel more comfortable.
How to Choose the Perfect Desk
Your home office desk needs to be more than just a place to park your laptop – it should accommodate your other productivity needs, supply adequate storage, and be at the right height.
When choosing a desk, you should consider the surface area and ergonomics.
Surface Area
If you need multiple screens, an external keyboard, and a desktop task light, choose a desk with enough surface area to ensure it doesn't become cluttered. If you don't have enough space for your equipment – such as a printer, bookshelf, filing cabinet, etc. – you'll have to buy a desk with enough space to accommodate them either on top or underneath.
Measure the amount of space you'll need for your type of work and what equipment you need to be productive, then search for desks with enough surface area to meet your needs.
Ergonomics
To find an ergonomic desk, ensure it is at the correct height and has enough room underneath it. If you use a desktop PC for your work, your keyboard should sit at elbow height without raising your shoulders or bending your elbows at an uncomfortable angle. A workaround for this is to use a laptop stand or a pull-out keyboard drawer.
Your screen should be positioned at a slightly downward angle from your eye height and be at least 20 inches away from your face.
How to Choose the Perfect Chair
Once you've determined what kind of desk you need, you need to get an office chair. Your office chair is the most essential piece of furniture in your entire office setup – so don't skimp on it. You'll be in your office chair for hours on end, so it needs to be comfortable.
When choosing the perfect office chair, important factors to consider are its adjustability, seat depth, and lumbar support.
Adjustability
Because your optimal amount of support and seat height will vary throughout the day, choose a chair with a backrest, adjustable height, and armrests.
Seat Depth
When choosing a chair, ensure it accommodates your preferred width and depth comfortably. The optimal sitting position is with the backs of your knees approximately two inches away from the edge of the seat.
Lumbar Support
Adequate lumbar support in an office chair is absolutely essential. An adjustable back that can be moved to accommodate your body is a must. The back of the chair should mimic the curve of your spine and support you properly.