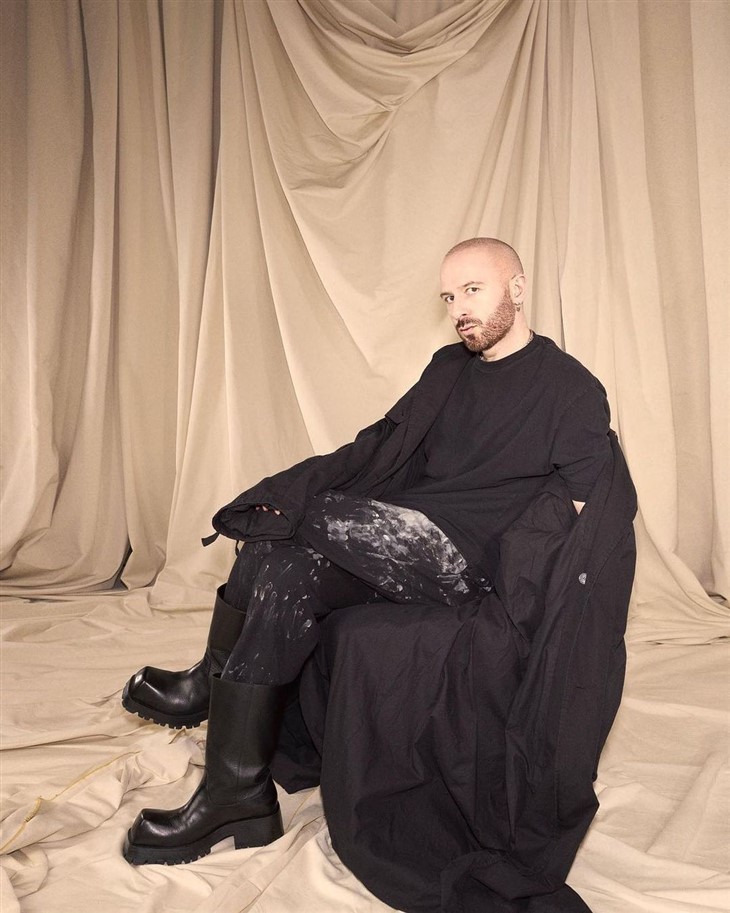 Georgian designer Demna began his journey in fashion in 2003, since then he took the world of fashion to his own hands. From founding Vetements with his brother Guram Gvasalia to becoming the Creative Director of Balenciaga, Demna is well-known for his provocative streetwear pieces and all-black aesthetic.
His riggid shapes and off-trend everyday streetwear aesthetics drawn the attention of many celebrities wanting to sport his pieces. From Kanye West, who appreciated Gvasalia's designs so much he invited him to be a part of his Yeezy Season 1, then later started collaborating with him for events to inviting him to direct the listening party for his latest album Donda, to Kim Kardashian which definetly started a frenzy wearing Demna's catsuits and debuting his latest designs druing fashion weeks and at Met Gala. His relationship with celebrities brought his designs to the next level, collaborating with actresses like Isabelle Huppert, Nicole Kidman and artists like Justin Bieber who appeared in Balenciaga's Fall 2021 campaign.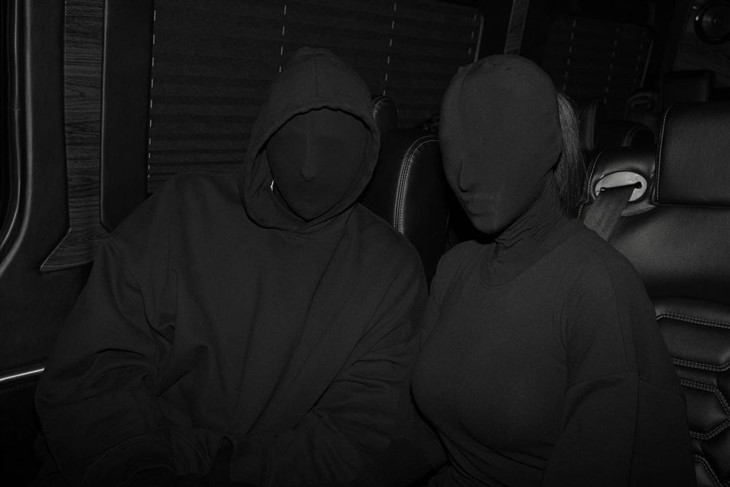 Early Life
Demna, whose biography is of great interest to his numerous fans, was born in Georgia on March 25, 1981. He fled his hometown with his Gerogian and Russian parents during the 1992-1993 Russo-Georgian War in Abkhazia, and moved to Tbilisi. There, he studied international economics for four years at Tbilisi State University. After finishing his education, he moved with his parents to Düsseldorf. His love affair with fashion started off in 2003 when he came to Antwerp to attend Royal Academy of Fine Arts, where designers like Dries Van Noten, Martin Margiela and Raf Simons started off their design careers. When he enrolled, he was the youngest and most inexperienced among the 46 students, but that didn't stop him in making his dreams come true. He graduated in 2006, and immediatly started collaborating with his teacher Walter Van Beirendonck on his men's collections.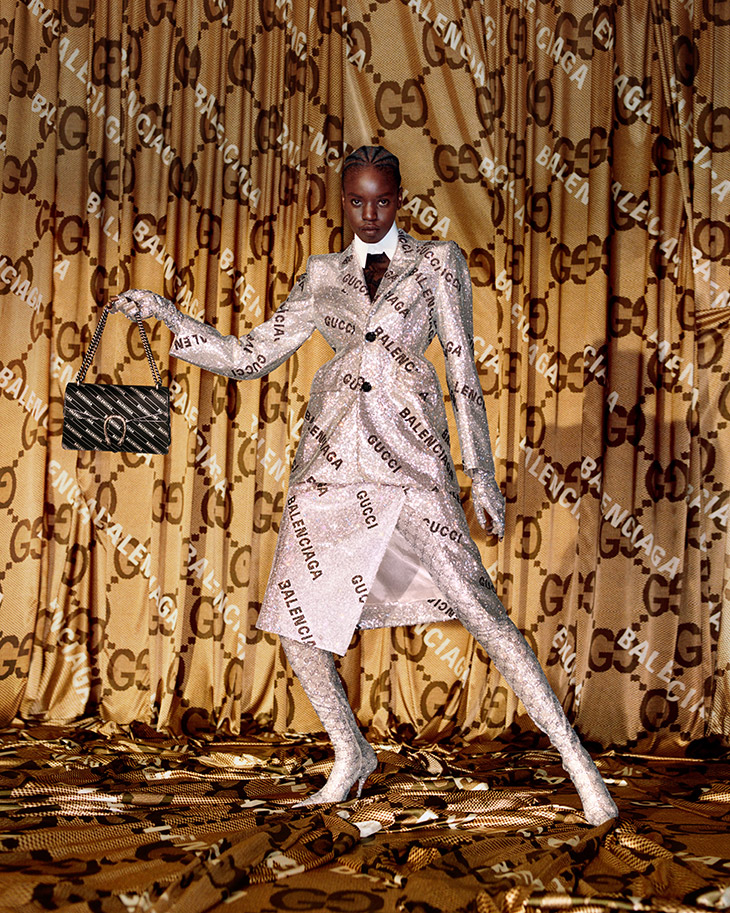 Fashion Ventures
As we previously mentioned, Demna's fashion career began at Walter Van Beirendonck's atelier, where he worked for a couple of months, before Martin Margiela hired him to work at Maison Martin Margiela where he was in charge for women's collections until 2013 when he was appointed as the senior designer of women's ready-to-wear collections for Louis Vuitton. His time in Louis Vuitton didn't bring him the satisfaction of designing and being recognized by then Creative director Marc Jacobs and his successor Nicolas Ghesquière. The good and bad experiences made him team up with his classmates and brother Guram Gvasalia and create a fashion label with a desire for different kind of fashion called Vetements. Through Vetements, Demna managed to collaborate with power houses like Brioni, Canada Goose, Church's, Levi's and DHL which led to an internet frenzy when Gosha Rubchinsky sported the collab t-shirt during the SS16 show.
VETEMENTS
In 2013 Demna and his brother Guram Gvasalia decided to team up with Demna's classmates from Royal Academy of Fine Arts and friends who worked at famous fashion houses and create a label which will speak true to their style and way of design. Vetements was made to subvert the high fashion status quo. The first pieces from the brand were made by reworking the pieces from thrift stores and army surplus outlets, and they were debuted at their first fashion show in 2014. The major buzz around the brand was made in 2015, when the brand presented their second collection at Dépôt, a famous gay club in Paris's Marais. The show was a definite success, featuring firemen's and prison guards' uniforms, generous volumes and Kanye West, Anna Wintour and Jared Leto sitting in the front row. After three shows presenting their pragmatic view on fashion, Vetements was nominated for the LVMH's Young Fashion Designer Prize. The brand continued to flourish, with the designs worn by celebrities and making headlines. For the Sring Summer 2017 show, Vetements presented their first collaborations with 17 brands: Alpha Industries, Brioni, Canada Goose, Carhartt Work in Progress, CDG SHIRT, Champion, Church's, Dr. Martens, Eastpak, Hanes, Juicy Couture, Levi's, Lucchese, Mackintosh, Manolo Blahnik, Reebok and Schott NYC, Umbro. Also, they collaborated with Reebok, DHL and Oakley. Continuing with their philosophy, brand introduced several more collections, until Demna Gvasalia decided to leave Vetements and to pursue new artistic ventures.
BALENCIAGA
Since joining the Balenciaga fashion house in 2015, Demna has transformed the brand and the entire portfolio, with street style becoming a major source of inspiration. The street style was also reflected in the fashion collection, whether in the form of black, white and red functional fabric jumpsuits with knitted tops made of rare llama wool or as oversized leather bathrobes with cashmere lining. A blue parka turned into an evening gown, and a coat made of functional material with onyx buttons served as a testament to the designer's youth, referring to today's reality while paying homage to the ancient past. The present, past and future cannot be left out. They must exist simultaneously. Gvasalia draws on the present and his own overly technological reality, but at the same time harmoniously follows the archive of Balenciaga, known for its technically perfect clothes and innovative cuts. So they both exist side by side in the collection, intertwined and complemented. Having made a tremendous success with womenswear line, Demna presented Balenciaga's first men's runway show in 2016. He was rewarded by CFDA at their 2017 Fashion Awards as the International Designer of the Year.
Demna faced the biggest challenge of his career when he decided to bring back Couture to Balenciaga, fully respecting the most important fashion designer of the 20th century and staying completely true to his revolutionary vision of the 21st century. Thus, he masterfully combined the DNA of the fashion house, which is referred to by entire generations of fashion designers, and his unmistakable style. Cristobal and Demna in one person, quiet, dignified, authentic, fully focused visionaries. In complete silence, as the great master Cristobal Balenciaga did, Demna presented his first haute couture collection Ii the salons on Avenue Georges V, which have been closed for more than half a century, 63 creations gradually appeared. Debuting the second couture collection this month, Gvasalia brought Kim Kardashian, Dua Lipa, Nicole Kidman, Naomi Campbell and more to his runway to showcase his latest designs.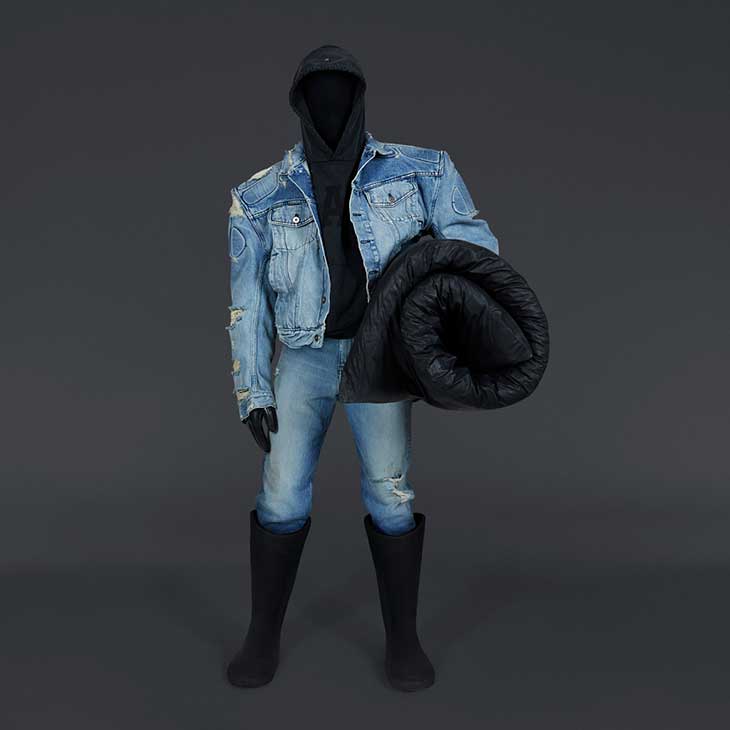 Among his shows and couture collections, Demna upgrades Balenciaga's and his portfolio with various collaborations. It started of in 2016, with Crocs collaboration debuting at Paris Fashion Week, combining luxury fashion with and what most would consider being the ugliest shoe. Following the trend of major houses collaborating, Demna teamed up with Alessandro Michele for Gucci x Balenciaga collection mixing the houses heritages. Among these, Demna also collaborated with Bang & Olufsen, Fortnite and adidas for the Resort 2023 collection. Saving the best for last, Demna Gvasalia teamed up with his long time friend Kanye West to bring Yeezy Gap collection engineered by Balenciaga. Kanye West definetly brought a lot of attention to Demna's designs throught the years so it was only logical that these two will eventually collaborate. The looks present Ye and Demna Gvasalia's shared vision of utilitarian fashion.
With his designs, Demna does not want to deliberately provoke someone, nor make fashion revolutions, he considers himself an ordinary tailor, who can offer much more than others. You can have different views on the work of this genius, but no one can deny his influence on the modern day fashion.