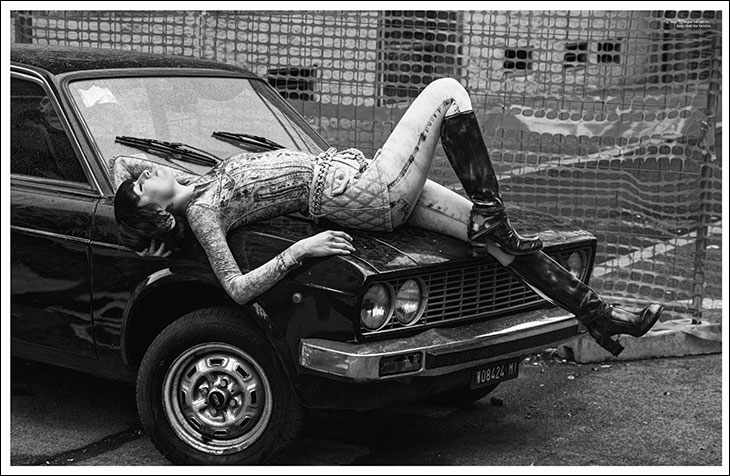 As we got closer to the colder days, it seems that we are only now aware that winter gives us daily fashion dilemmas. The biggest dilemma of them all, however, is what shoes to wear for the next few months. We don't want to sound dramatic, because there are, of course, worse things than cold feet, but it's still not very pleasant. So whether you're going for a winter walk or planning your footwear for the party season, warmth is a key factor to consider in winter. Of course, practicality should be taken into account, but that doesn't mean you have to skimp on style. From boots that perform both form and function to flats that you can wear with tights as well as bare feet without the risk of frostbite, keep scrolling to discover the best shoes for fall season.
MISBHV Black 'The 2000' Ankle Boots
Starting off with a fall wardrobe essential that everyone should have in their wardrobe, the ankle boot in black. This specific boot is made by polish streetwear label MISBHV. 'The 2000' Chelsea boot features ankle-high fit made from buffed leather, with rubber sole. This very simple style is upgraded with a  logo-embossed metal plaque at square toe, and branding on the side and heel counter. The elasticized gusset at sides provides additional comfort, characteristic for the Chelsea boots. Easily paired with every fall outfit, the MISBHV ankle boot is a must for this season!
Available for $595 USD – BUY HERE
BALENCIAGA Beige Trooper Ankle Boots
Luxury fashion house Balenciaga is definetly the talk of the season. Brand's Cretaive director Demna stays true to his out of the ordinary designs, which continue to win over fashionistas all around the world. One of the most popular products Balenciaga offers are the rubber boots. For this fall we chose the Beige Trooper ankle boots, which feature a square toe design with treaded rubber sole. The monochromatic look also offers you an opportunity to style them in numerous ways, while still looking your best.
Available for $750 USD – BUY HERE

BOTTEGA VENETA Black & Blue Tire Chelsea Boots
One of the most popular Chelsea boot returns for this fall in an updated look. Despite the fact Bottega Veneta has appointed a new creative director, Daniel Lee's pieces still hold a spot in the fashion world. The vegetable-tanned calfskin boots feature elasticized gusset at sides, as well as treaded rubber platform sole in blue, mixing with black upper. The fit is perfect if you're a fan of a touch of color in your all black outfits.
Available for $1450 USD – BUY HERE

VIRÓN Pink Disruptor Boots
In the sea of black and brown boots, we present you a pink choice. Made by fully sustainable brand Viron, which is advocating for a more equitable, intersectional future for all people, the handcrafted ankle-high PETA-certified recycled nylon canvas boots offer a perfect mix of both worlds. The fit also features graphic patches at outer side, lace-up closure, padded tongue and collar and treaded recycled rubber outsole. Cop your pair and enjoy the better side of the fall.
Available for $345 USD – BUY HERE

VERSACE Black Triplatform Boots
High platforms are definetly a hit this season, with luxury fashion brands reinventing the platforms in every possible way, making sure theirs are the most unique ones. The showstoppers this season are Versace's Black Triplatform boots which feature a calf-high fit made from stretch nylon jersey. The style features a square toe with a zip closure at inner sides, covered platform midsole and treaded rubber outsole. This attractive piece is perfect for a fall night out, or even daily combinations if you're daring enough.
Available for $1725 USD – BUY HERE

STELLA MCCARTNEY Brown Cowboy Tall Boots
It seems like cowboy boots aren't going anywhere. Last season has seen a surge in various styles, this season is no diffrent. For this fall, we chose Stella McCartney's tall brown cowboy boots which are entirely made from vegan materials. Blending tradition with cruelty-free technology, McCartney's boots feature a cuban heel and ornate stitching. Combine them with your favorite flowy dress and oversized coat and you're good to go.
Available for $1495 – BUY HERE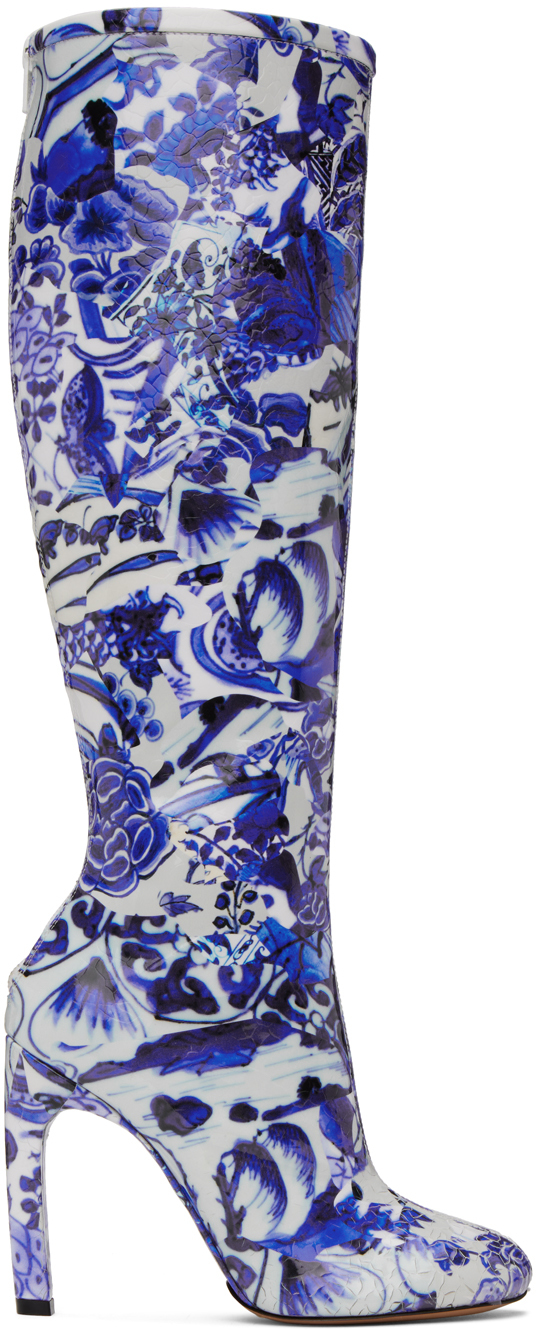 DRIES VAN NOTEN White & Blue Structured Tall Boots
Switching from casual fits to dressy ones, we chose this Dries Van Noten tall boots made from 100% leather. The white base is decorated with blue graphic pattern which looks almost floral like. The knee-high boots feature a square toe and a zip closure at the back, grained leather lining, and covered stiletto heel with rubber injection. Be sure, everyone is going to look at them anyway you style them.
Available for $1160 USD – BUY HERE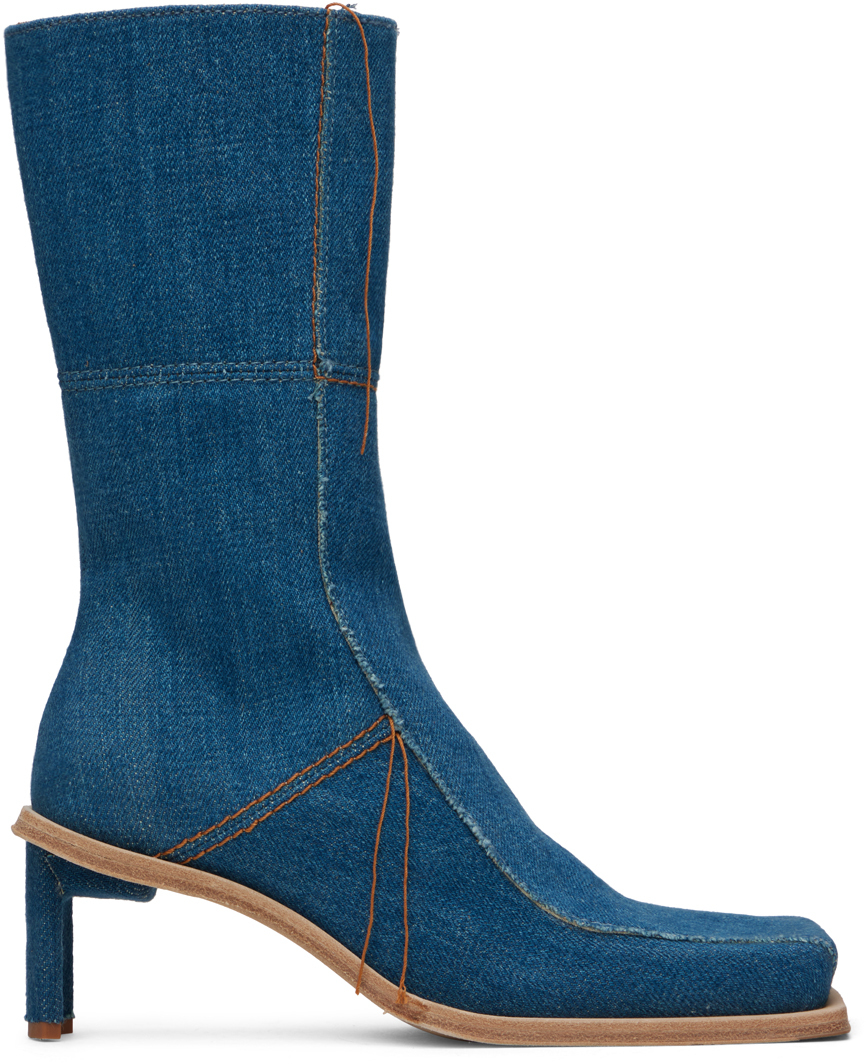 MIISTA Blue Amparo Denim Boots
Denim returns big this fall, so if you don't have any leftovers from the 90s and 00s, you should definitely cop this Miista Blue Amparo boots. This calf-high boots are decorated with fraying through and covered stiletto heel. Contrasting the denim blue upper is the beige leather outsole and brown fraying, offering you to style them in warm and fuzzy beige tones.
Available for $545 USD – BUY HERE


ISA BOULDER SSENSE Exclusive Off-White Expandable Tall Boots
Championing local production and artisans, Isa Boulder introduces a perfect mix of both with the Off-White Expandable tall boots. This tigh-high SSENSE exclusive pair is handcrafted with lace detailing throughout, with suede lining, almond toe and leather sole. The color might not be your firsta choice when you think about fall and cold and windy weather, but we assure you, this fit is perfect for mix and match outfits.
Available for $690 USD – BUY HERE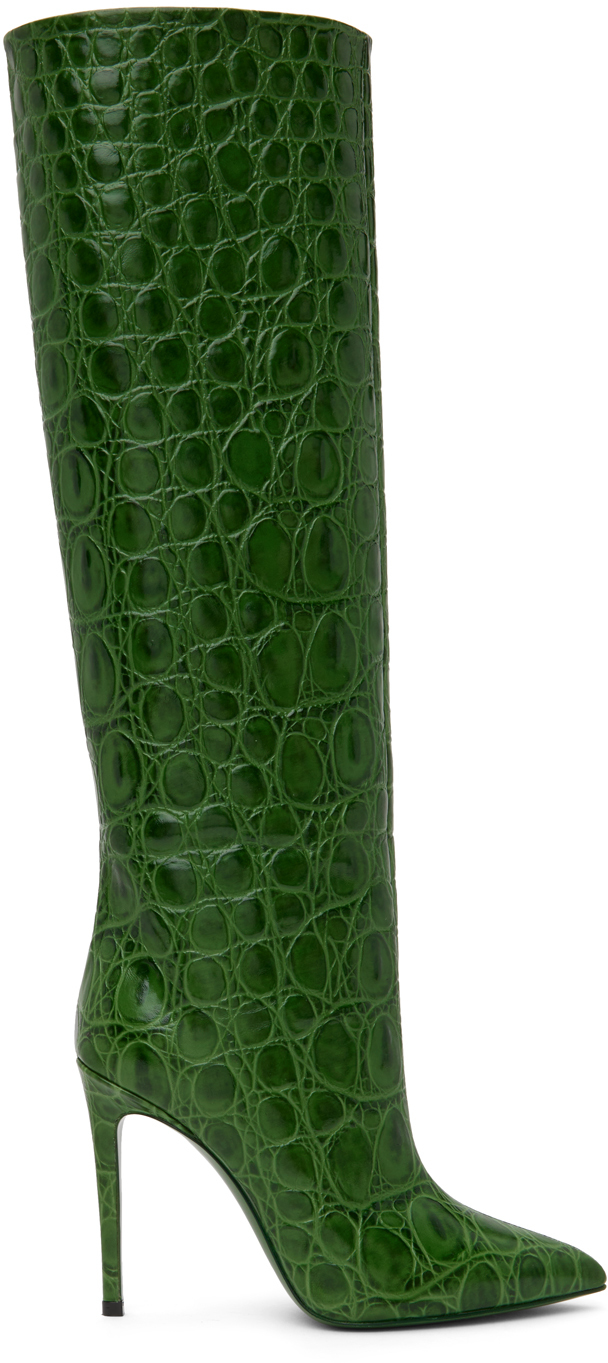 PARIS TEXAS Green Croc-Embossed Tall Boots
A girl has to have a good pair of high-heel boots made for a night out, right? Well, our pick is definetly the infleuncer favorite Paris Texas tall boot in green croc. This knee-high boots are still one of the most famous picks among the celebrities when searching for a stylish yet interesting fit. Made from leather, the boots feature a pointed toe, buffed leather lining, covered stiletto heel with rubber injection and leather sole. Throw on a fitted dress and a leather trench coat and get ready to party.
Available in $825 USD – BUY HERE