Having shoe styles in your wardrobe that never go out of fashion is perfect for keeping your looks stylish and modern without having to buy new pairs every season. Thanks to inspiration from high fashion designers and high street clothing stores, there are plenty of timeless shoe styles to incorporate into your closet, many of which are easy to pair with a range of looks. From casual daytime styles to footwear perfect for evenings and weekends.
To help you collate the ideal shoe collection, Koi Footwear have created this hot list of the very best shoe styles that never go out of fashion.
Laid-back white sneakers
A white sports sneaker or trainer (whatever you choose to call them) is the ultimate go-to daytime casual footwear choice. A-list celebrities, fashion designers and high street stores all love a white sport trainer, making these widely available year in, year out.
No matter what the season a lace up sport trainer can be styled with a wide variety of clothing pieces. From denim jeans and shorts, to dresses and leather jackets. The simple yet classic style makes this shoe choice a super versatile and flexible footwear go-to! So, whether you prefer a Gucci or an Adidas, a white trainer is a must have.
The Military Boot
Military fashion is based on the practicality of pieces worn by military officials over various periods of time. Combat military boots play an incredibly vital role in forming a military inspired look. Providing a comfortable, sturdy, and durable footwear choice that can be worn all season long, military boots have remained popular throughout recent decades.
Regularly re-introduced by leading fashion houses such as YSL, Dior, Giorgio Armani, and more, these boots can be seamlessly paired with a wide range of looks, but most effectively with dark winter outfits. Matching perfectly with long-line jackets in dark shades like khaki green, navy blue, black and grey.
Mules
Mules are a timeless style we seem to gravitate towards from season to season. An effortless, yet chic and elegant shoe, they are the perfect pick for anyone looking to create an expensive looking outfit. Thanks to their simple look mules are incredibly versatile, they can be worn in a wide number of ways. Pairing mules with a skinny jean and a cool graphic tee can make for an uber-cool daytime look, or can be used as the perfect alternative to your favourite stilettos.
Loafers
Loafers, like a classic Gucci Brixton, have been popular for decades. Since around the 1930s, people have praised this stylish shoe style for its comfort. Even if a loafer gives you flashbacks to school days, you can not deny they are truly elegant, classy and ideal for a wide range of occasions. Plus, since they can be worn in a number of different styles like penny loafers, horsebit, slipper loafers, mule loafers and more, they are a totally timeless shoe style.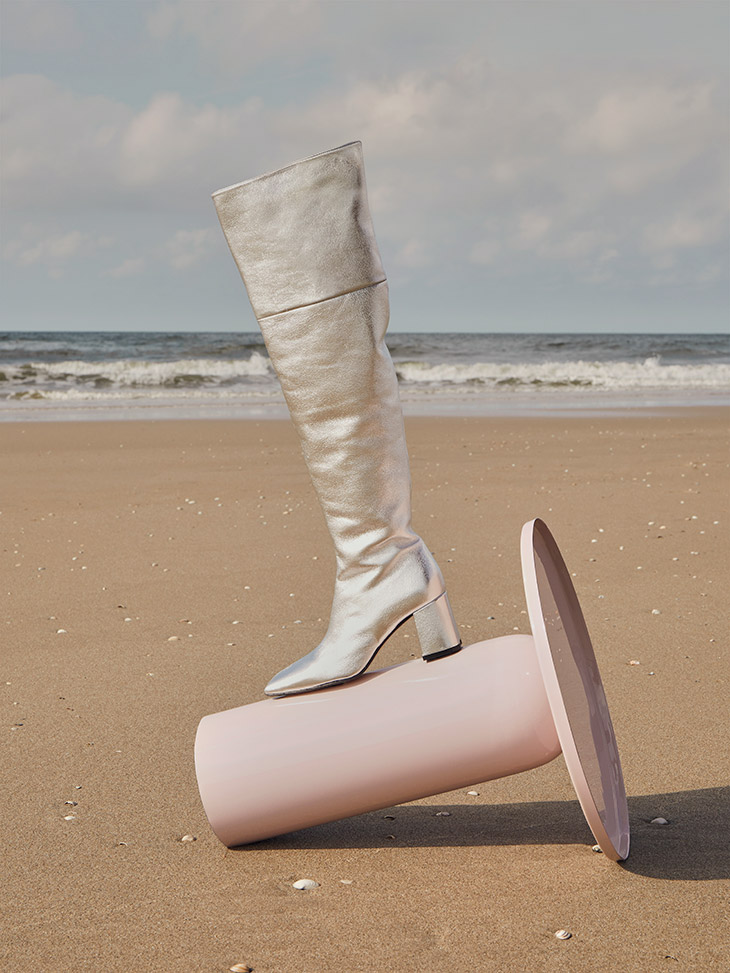 Over the knee boots
Over the knee boots or OTKs as some may refer to them are a timeless classic. Providing the perfect boot for the autumn and winter months. Not only are they comfortable, easy to style and provide warmth, over the knees are ideal for creating the illusion of slimmer, longer legs. They are an extremely flattering and fashionable footwear choice for a season when bulky, oversized clothing pieces are needed. This makes OTKs an ultimate choice every year.
Photography Julie Vielvoije for DSCENE.