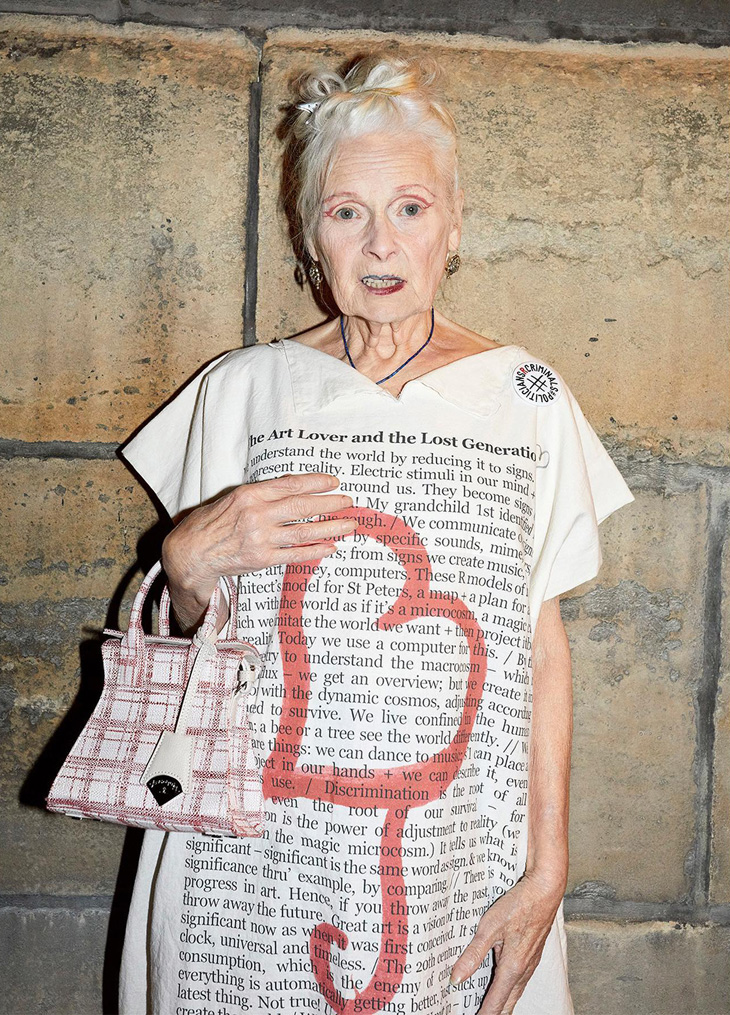 The legendary British designer Dame Vivienne Westwood, who fused high fashion with punk, politics and activism, passed away on Thursday, December 29th, peacefully and surrounded by her family, in London.
Vivienne continued to do the things she loved, up until the last moment, designing, working on her art, writing her book, and changing the world for the better. She led an amazing life. Her innovation and impact over the last 60 years has been immense and will continue into the future.
Vivienne Isabel Swire was born on April 8th, 1941, in the Derbyshire village of Tintwistle, the oldest of three children. She attended Glossop Grammar School before moving to the London suburb of Harrow in 1958, where she took a jewellery and silversmith course at Harrow Art School (now the University of Westminster), but quit after a single term – she didn't believe that a working-class girl like her could make a living in the art world. After taking up a job in a factory and studying at a teacher-training college, she became a primary-school teacher. In 1961, she met Derek Westwood, a Hoover factory apprentice, and they married on July 21st, 1962. Westwood made her own wedding dress and jewellery. A year later, she gave birth to their son Benjamin Westwood. Derek and Vivienne split up after four years of marriage. In 1966, Westwood meet then art student Malcolm McLaren, and gave birth to her second son Joseph Corré in 1967. They lived in South London, where she continued to teach until 1971.
A sad day, Vivienne Westwood was and will remain a towering figure in British fashion. Her punk style rewrote the rule book in the 1970s, and was widely admired for how she stayed true to her own values throughout her life. – Michelle Donelan, UK Culture Secretary

Dearest Vivienne Queen of punk. From the first day I met you to the last day I saw you, you made me smile , listen, learn and love more than the day before. I will forever be grateful to have been in your orbit , because to me and most , in fashion & in humanity, you, Vivienne, were the sun. To the coolest, most fun, incredible , humble, creative , badass, intelligent, fucking EPIC human being that has walked this earth… my inspiration and idol in all things … rest in love and Rest In Peace. I will miss you – Bella Hadid
In 1971, Westwood and McLaren opened a boutique on the King's Road, she first named Let It Rock, then changed it to 'Too Fast To Live, Too Young To Die' in 1972, and in 1974 it was re-branded as 'SEX'. The pieces were revolutionary, authentic and individualistic. Vivienne believed that clothes and music were supposed to channel rage and bring about change. Westwood and McLaren designed the iconic Pirate collection together in 1981 before parting ways. She named the period from 1981–85 "New Romantic" and 1988–91 "The Pagan Years". She researched the history of fashion, and reimagined it in radical ways. Her billowing Pirate shirts, 1980s mini-crinis, and 1990s tartan derriere padding were all inspired by 17th-century fashion, while her Empress Josephine gowns and corsets ideas came from 18th-century dress.
You did it first. always. incredible style with brilliant and meaningful substance. I continue to learn from your words, and, all of your extraordinary creations. I will always remember the night we bonded over our mutual love for Yves Saint Laurent. You never failed to surprise and to shock. I am grateful for the moments I got to share with you and Andreas. Rest in Peace dear Vivienne, although, somehow peace seems like the wrong word to use. – Marc Jacobs
In 1989, the influential Women's Wear Daily Magazine named her one of the six best designers of the twentieth century, she was the only female designer on the list, alongside Saint Laurent, Karl Lagerfeld and Giorgio Armani. In 1992, Westwood received OBE from Queen Elizabeth II (wearing a tailored skirt suit with a grey matching hat, and no knickers), and in 2006 the fashion rebel became a Dame of the British Empire. New York's Metropolitan Museum of Art honoured Westwood with an exhibition in 2002, as well as in 2013 with the Costume Institute's "Punk: Chaos to Couture" show. In 2004, the Victoria and Albert Museum in London held a retrospective, in 2007, she was handed the BFC Award for Outstanding Achievement in Fashion Design, while in 2018, the designer received the Swarovski Award for Positive Change for her constant climate-change activism.
Somehow I imagined Vivienne living way into her 100s. She still had so many urgent matters to shed light on, so many causes to support, still so many injustices to be outspoken about. And so many more magical outfits to still create. This talented and brilliant lady was so unique and so punk in all the way punk should be. She did it her way, all the way. Rest in glorious power – Helena Christensen
In 1992, Westwood married again, to an Austrian fashion student Andreas Kronthaler. In 2016 he became creative director of the brand, and the mainline was renamed in Andreas Kronthaler for Vivienne Westwood. Her designs have been worn by everyone, from burlesque dancer Dita Von Teese and pop superstars such as Miley Cyrus to royalty Camilla, Duchess of Cornwall and Princess Eugenie. Westwood supported Aids Research, PETA and Oxfam.