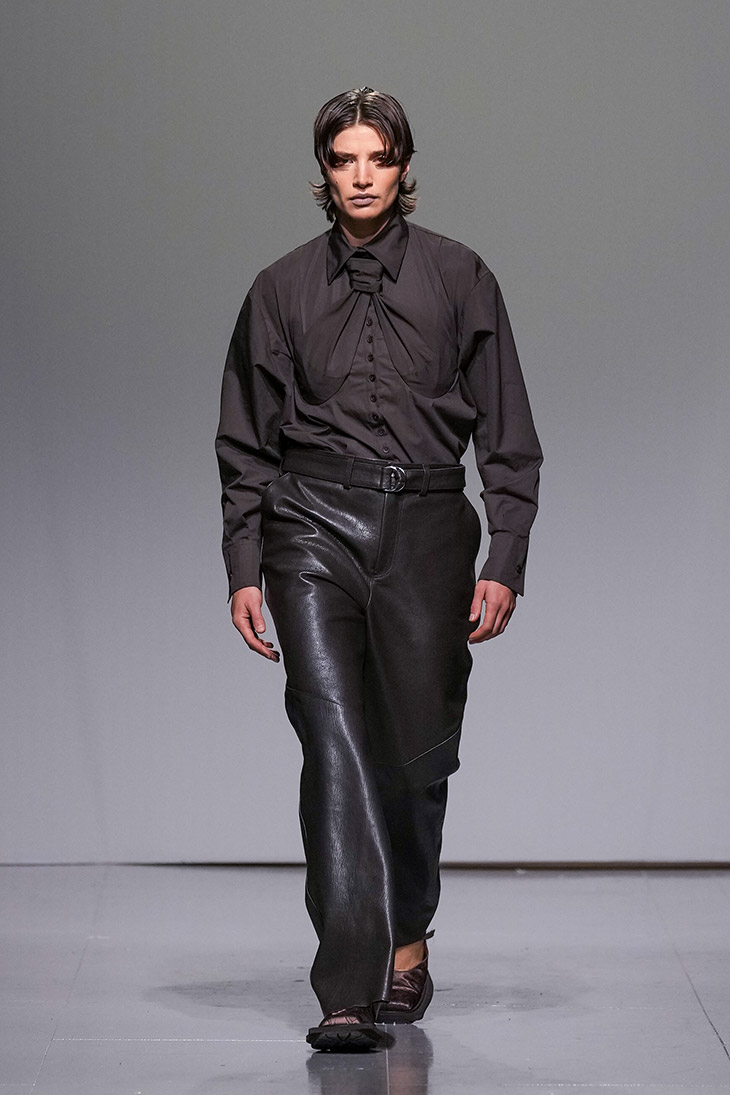 Designer SINÉAD O'DWYER presented her Fall Winter 2023 Collection, that explores the spirit of urban romance, during the ongoing London Fashion Week. The collection is titled Dúil, typically translated to English as "desire"; the Irish term dúil contains layers of nuance: Notions of fondness, appetite, longing, craving, and lust. For the season the brand explores how romance is both depicted and perceived. Sinéad also pays tribute to her late grandmother, with looks that channel the refined elegance of the early Hollywood starlets, her grandmother was dazzled by as a young woman in the 1940s and 50s.
FALL WINTER 2023.24 WOMENSWEAR COLLECTIONS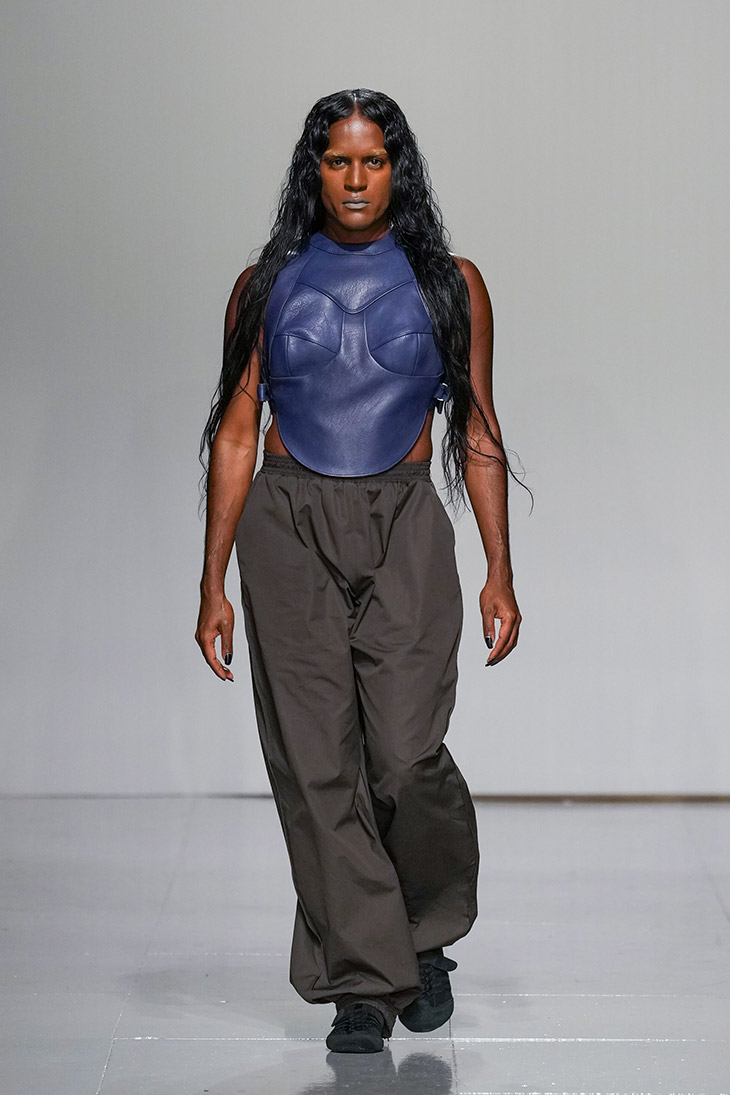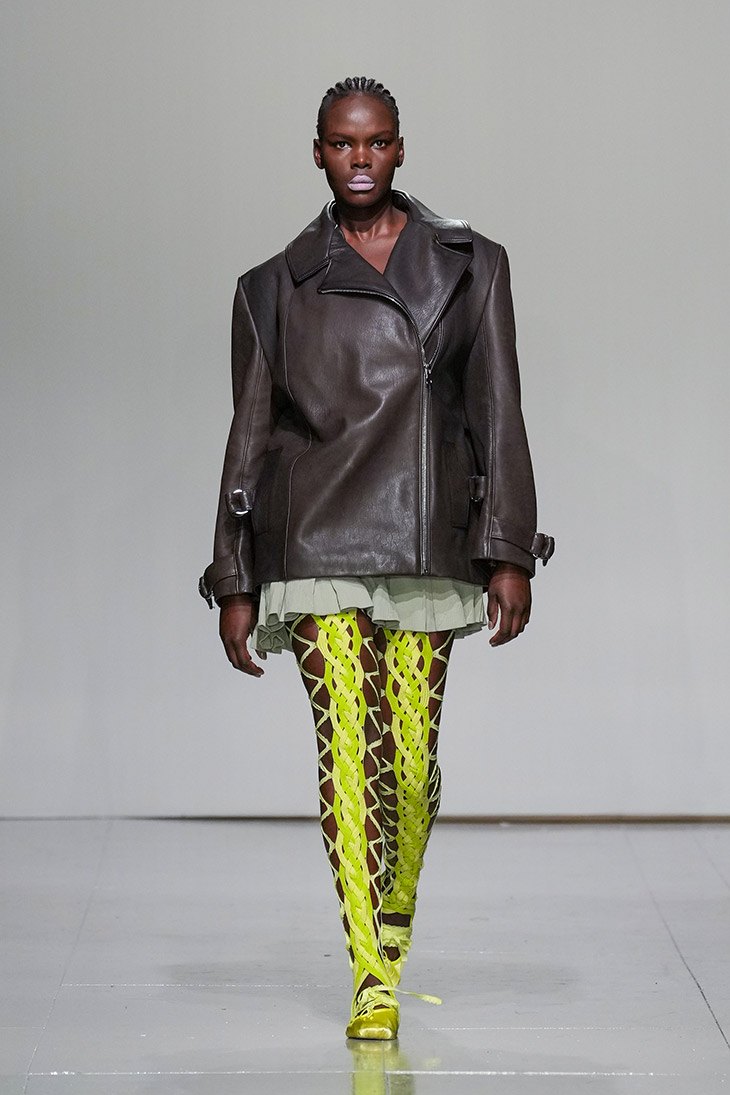 "Extending her exploration of her own adolescent recollections from last season, box pleated skirts – both mini and maxi – in cotton and natural dyed linen and poplin shirting with necktie halters that descend to swoop around the bust echo the uniforms worn by teens first coming to terms with love's heady swells; billowing satin pyjama sets worn under boxy, side-zippered wool wrap jackets suggests a look sported by scoundrel making a jailbreak to meet their paramour in the silent dark of a country night.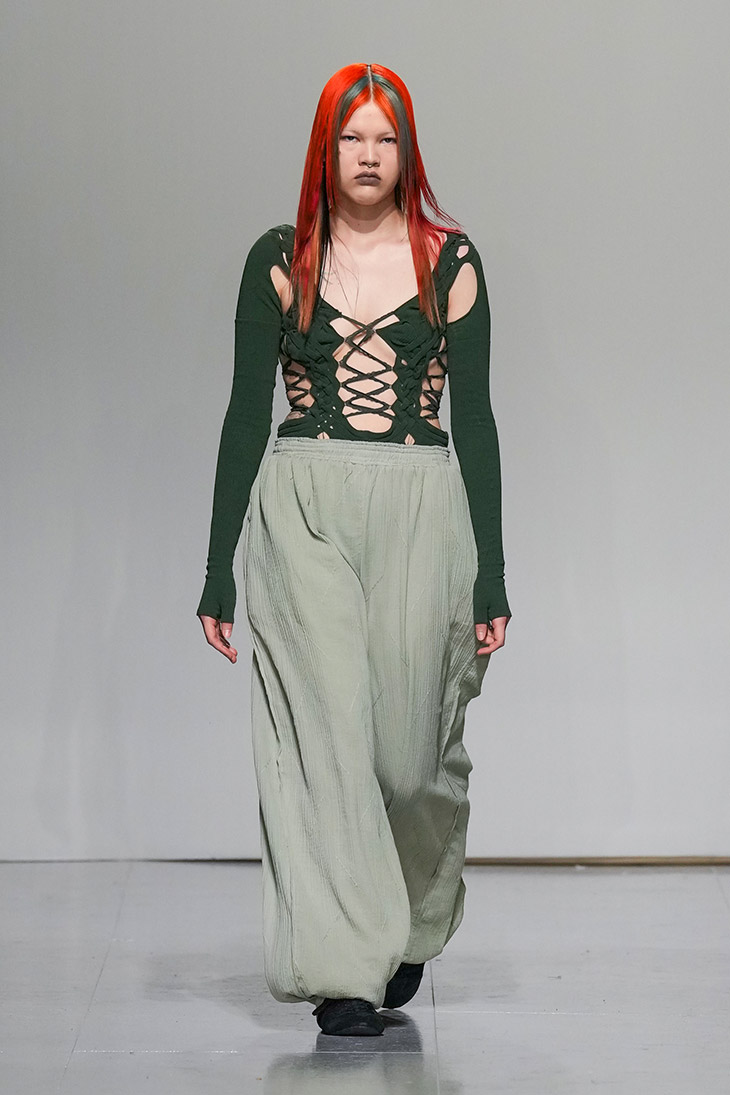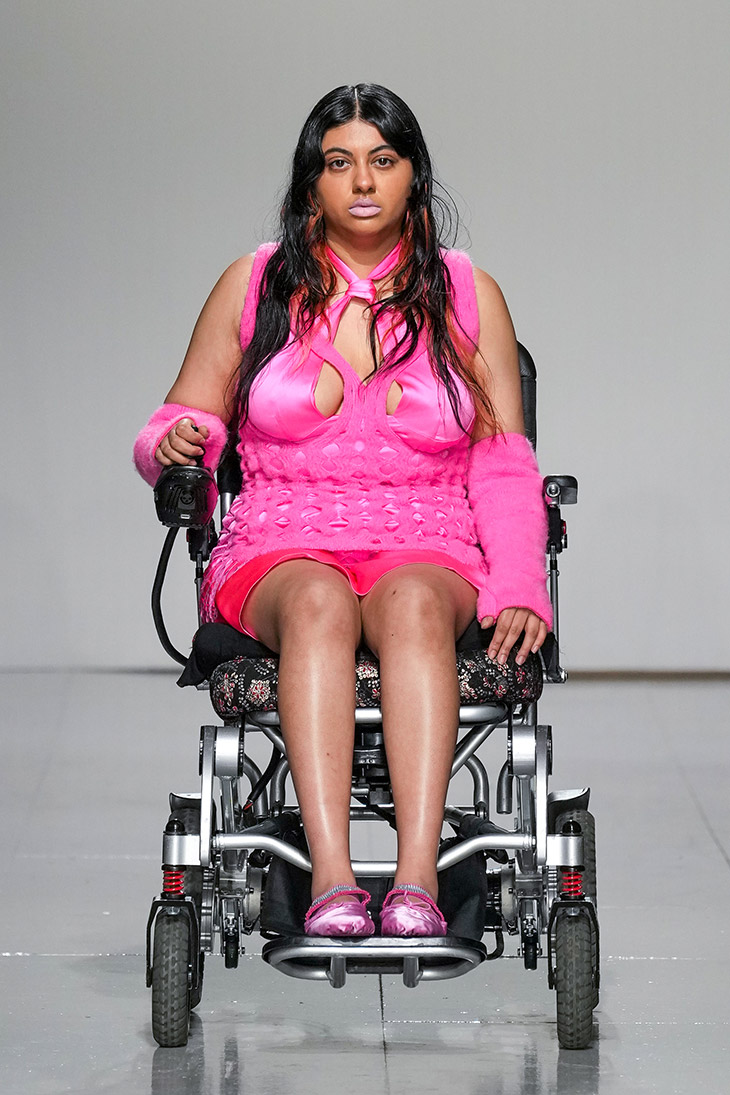 A similarly elevated spirit of romance informs floor-sweeping evening gowns in silk, webbed bodycon mohair wool dresses, and dapper sleeveless tailored suits in cotton and leather, an extension of the designer's commitment to exclusively working with natural fibres for her shirting and tailoring offer. Elsewhere, a biker jacket crafted in UK-reared and tanned deerskin – and a busted plastron and a pair of straight-legged trousers in similarly accreditated goatskin, leftover from the food industry and veg-tanned in the UK – exhibit the designer's honed leatherworking skills." – from Sinéad O'Dwyer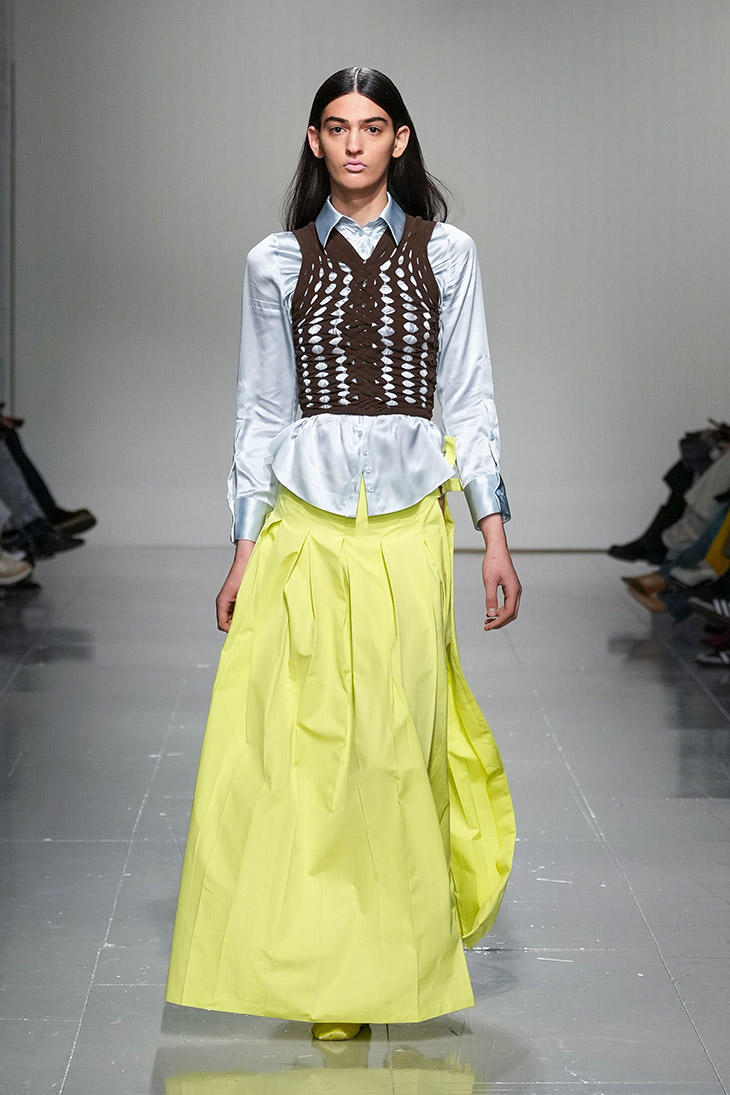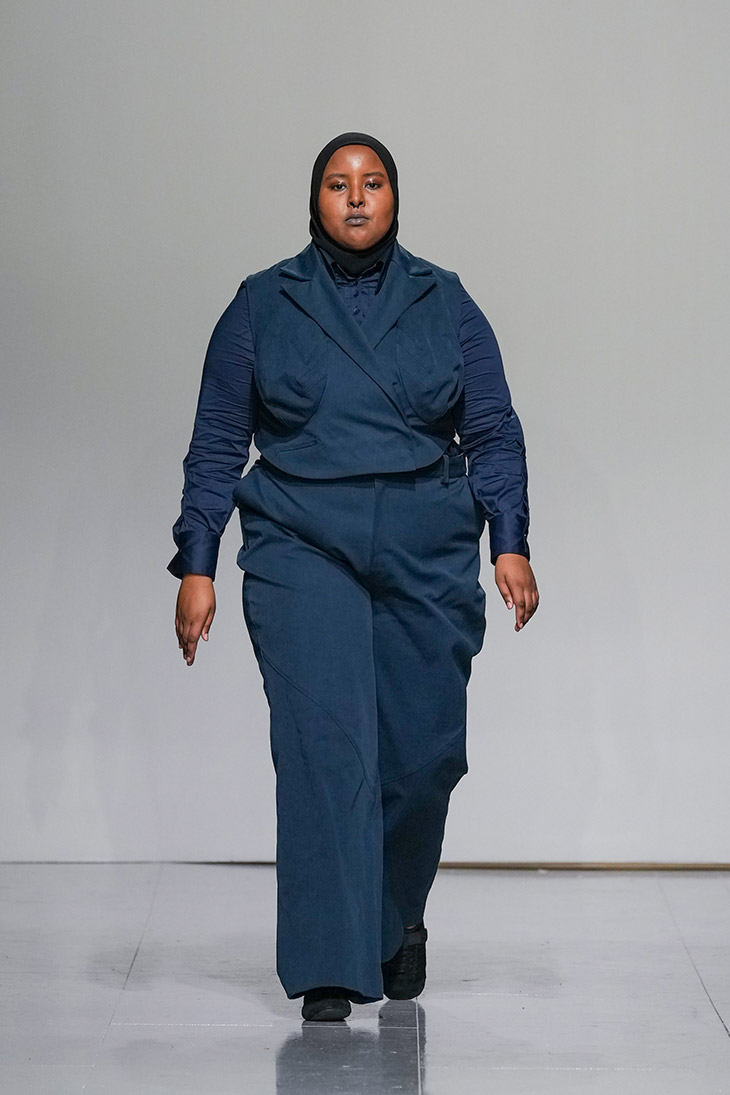 In loving memory of Rita O'Dwyer.
Creative Direction and Design: Sinéad O'Dwyer
Styling: Ai Kamoshita
Casting: Emma Matell
Communications: RAVEN
Makeup: Mel Arter
Hair: Anna Cofone
Movement Direction: Grace Nicol
Creative Direction and Design: Sinéad O'Dwyer
AW23 Studio Team: Niall Kelly, Katy Clark, Rebecca Smith, Christine McKay, Eloise Paylor, Josie Blumen, Romy Aldren, Yuening Fang
Footwear: Tabitha Ringwood designed and developed in collaboration with Sinéad O'Dwyer
Knitwear Development: Ilana Blumberg
Natural Dyeing: Cavan McPherson
Fabric Sourcing: Maria Arroya
A special thanks to Mom, dad and sister: Adele, Kevin and Aoise O'Dwyer; British Fashion Council, The NEWGEN panel, Sharna Osborne, Emma Matell, Mahoro Seward, Sophie Jewes, Tabitha Ringwood, Ilana Blumberg, Amy, Rose and Natalia and the RAVEN team, Laura and Team Blonstein, Simone Rocha, Lene Nielsen and Adrian Caddy, Emma Davidson, Greenspace, Zowie Broach, Ilias Iliazi, Sarah Mower, AW23 Studio Team, Ai Kamoshita, Cavan McPherson, Grace Nicol, Nora Nord, Cosha and Witch Trials.