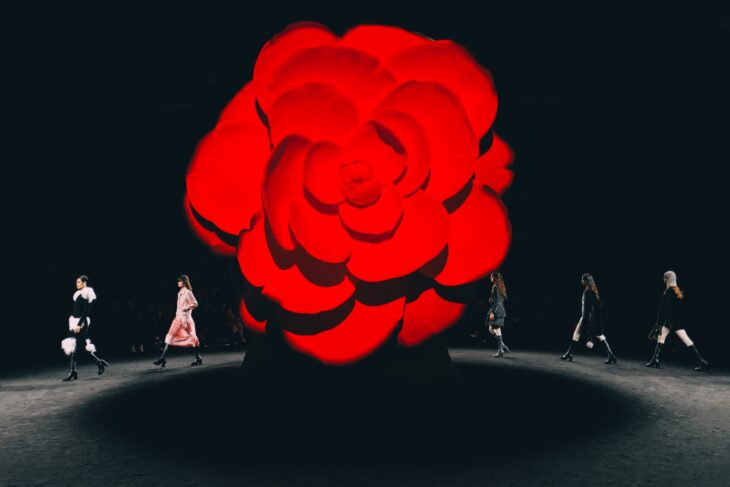 Chanel Fall Winter 2023 runway collection wraps the fashion week month seeing the industry coming back in full swing.
"The camellia is more than a theme, it's an eternal code of the House, I find it reassuring and familiar, I like its softness and its strength," – shares with the press Virginie Viard talking about the new collection. Viard and her team go back to black for the collection, rearranging the dna of Maison Chanel into an elegant yet daring offering. The collection celebrates lace, dominating the looks on the Fall Winter 2023 runway.
"The energy of the merry-go-round of wooden horses that provides the setting for Inez & Vinoodh's film, with actress Nana Komatsu as the heroine, gave me the idea for the Bermuda shorts suits and the asymmetries," adds Viard talking about the new collection. The film served as an early teaser for the house finding the Japanese actress in an iconic role from Qui êtes-vous, Polly Maggoo?. A French film serving as a timeless source of inspiration even more than six decades later.
Virginie Viard and her team sent down the runway 66 striking looks precisely portraying the message behind the new Chanel collection. The sentiment while refined and elegant is stirring away Chanel from a nod to the extravagant. Instead, the pieces subdued into garments ready to last for seasons to come. The play of texture is seen throughout the collection. The flower serving as the focus point, also seen on the runway itself, brings away the designs from the winter sentiment. Yet the looks are often elaborate in reworking outerwear for Chanel in a subtle manner. The flowers are present often throughout the collection to soften the rigidness besides classic womenswear pieces Virginie and her team brought to the runway. Design lines play masterfully with asymmetry, in coats but also slits seen in the dresses.
Chanel Fall Winter 2023 girl is an artist, however this artist shines on the stage but also behind the lens. The classic Chanel materials are mixed throughout the collection to complete the design process, but also to reshape the trends to come.  "The faded colours, the dusky pink, the crafted pieces, the touches of 1960s and 70s, a certain English vibe, the comfortable, enveloping coats, the authentic materials, make the collections more real, and more charming too," notes Virginie Viard talking about the collection.
CHANEL Fall Winter 2023 Runway Collection – See All The Looks in DSCENE magazines's runway gallery (stream the full runway video above):
Chanel Fall Winter 2023 Runway Finale:
Models: Abby Champion, Adit Priscilla, Adut Akech, Adwoa Aboah, Ajok Daing, Akon Changkou, Alaato Jazyper, Alice Charvet, Alix Bouthors, Amar Akway, América González, Angelina Kendall, Anna Ewers, Anok Yai, Anouk Smits, Apolline Rocco Fohrer, Arnelle Slot, Avanti Nagrath, Celine Vivod, Dana Smith, Ella Mccutcheon, Fatou Diawara, Felice Nova Noordhoff, Flavie Sammartano, Giselle Norman, Grace Elizabeth, Greta Bultmann, He Cong, Huijia Chen, Hyunji Shin, Ida Heiner, Jade Nguyen, Jill Kortleve, Kiki Willems, Kim Schell, Loli Bahia, Louise Robert, Lulu Tenney, Mariam de Vinzelle, Marilou Hanriot, Mathilde Henning, Merlijne Schorren, Mila Bergsma, Mona Tougaard, Nora Attal, Nyawurh Chuol, Ola Rudnicka, Olivia Vinten, Quannah Chasinghorse, Rachel Marx, Rayssa Medeiros, Rianne Van Rompaey, Sara Grace Wallerstedt, Saunders , Seoyeon Lee, Sun Mizrahi, Tianna St. Louis, Topsy , Valeria Buldini, Vika Evseeva, Vittoria Ceretti, Vivienne Rohner, Yilan Hua, Ying Ouyang