Louis Vuitton womenswear pre-fall 2023 collection takes us all on a road trip to Seoul, the collection brings what we love from the French Maison under the creative helm of Nicolas Ghesquière. For the showstopping show the French house collaborates with the Director of the most popular Korean show, the Netflix's Squid Game. Opening the show was the star of the show HoYeon Jung, joined by top models as well as breakthrough music star Lous and the Yakuza.
Not quite the same, but not quite different either… A tale of going back and forth may be found in the Louis Vuitton Prefall 2023 collection. From a picture to an idea, a recollection to an innovation, a firm belief to a new discovery leads us once again into enchanting story shaped by the label's creative director Nicolas Ghesquière.  A constant back and forth movement of creative energy through the Louis Vuitton's core roots. The company as well all know got its start as a trunk maker, and the same ideals that guided them then continue to inspire their apparel designs today. This striking way of thinking about travel that is infused with French refinement comes close to the label's DNA. An impeccable level of savoir-faire that, despite this, is nonetheless willing to engage in debate.
The Louis Vuitton Womenswear Pre-fall 2023 collection travels from one side of the imagination to the other – staples are given a fresh design and new characteristics during this time period. It then resumes its ceaseless motion over the Jamsugyo Bridge in Seoul. This landmark bridge is a living work of architecture that coexists in harmony with the whims of the water. For Ghesquière and his team it serves as the ideal metaphor for change. It provides stability to a collection that is itself undergoing change. Hwang Dong-Hyuk, the director of Squid Game, transforms the Jamsugyo Bridge into a character for this particular scene. He does this by involving the bridge in a new trick of light and watery illusion. The Jamsugyo Bridge is an important link to the city.
Discover all the Louis Vuitton Pre Fall 2023 womenswear collection looks:
With Louis Vuitton the spotlight is always on the bags, and Nicolas has infused the brand with a slew of original styles. The Louis Vuitton Womenswear Pre Fall 2023 collection brings a striking update to some of our favourites – take a closer look of all the bags presented for the first time on the Seoul runway: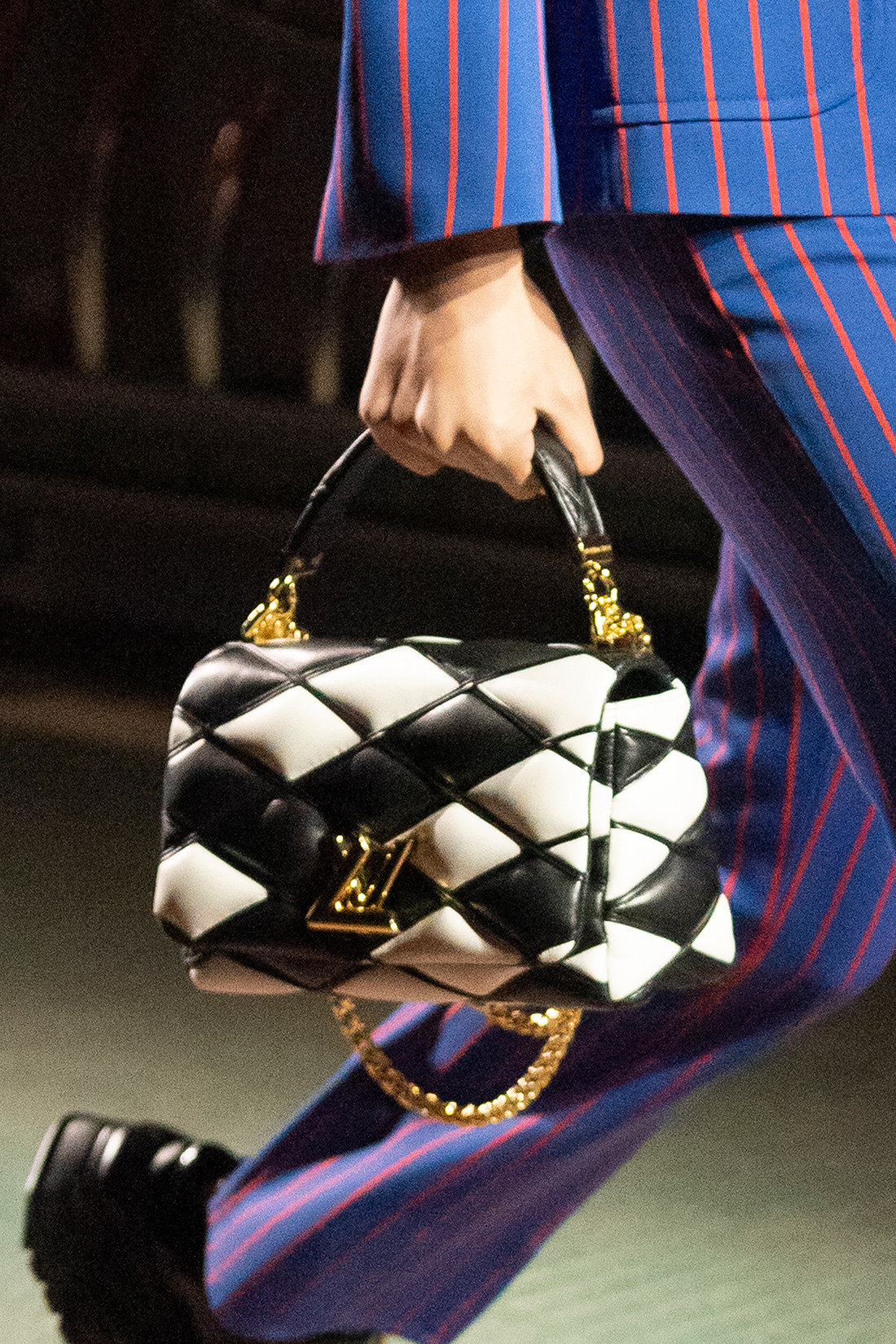 Discover all the stand out accessories from Louis Vuitton Womenswear pre fall 2023 collection in our gallery:
Designer: Nicolas Ghesquière
Editor-in-Chief: Marie-Amélie Sauvé
Hair Style Duffy
Makeup Artist Pat Mcgrath
Photo credit
Looks Pictures : Giovanni Giannoni
Scenography Pictures : Hyun Jun Lee
Video by Mathieu Bréchoire
Scenography by Creative Advisor Hwang Dong-Hyuk
Casting Director: Ashley Brokaw
Actress opening the show: HoYeon Jung
Talent Walking: Lous and the Yakuza
Models: Alin Szewczyk, Annemary Aderibigbe, Anouk Smits, Apolline Rocco Fohrer, Ashley Radjarame, Capucine Clowes, Cheongsol Jeong, Chloe Oh, Chu Wong, Dohyun Kim, Emm Arruda, Feya Voishcheva, Fleur Breijer, Franziska Jetzek, Greta Oberwalleney, Hanna Felding, Hyunji Shin, Ida Heiner, Iman Kaumann, Jay Pak, JiHye Park, Kate McNamara, Kristine Lindseth, Masha Skokova, Mika Schneider, Minji Lee, Mona Tougaard, Nora van der Tuin, Oudey Egone, Qisi Feng, Sacha Quenby, Samile Bermannelli, Sarah Brown, Saunders , Seng Khan, Shuqi Lan, Songah Woo, Sora Choi, Tida Rosvall, Valentina Castro, Vilma Sjöberg, Wai Ki Chan, Yoon Young Bae