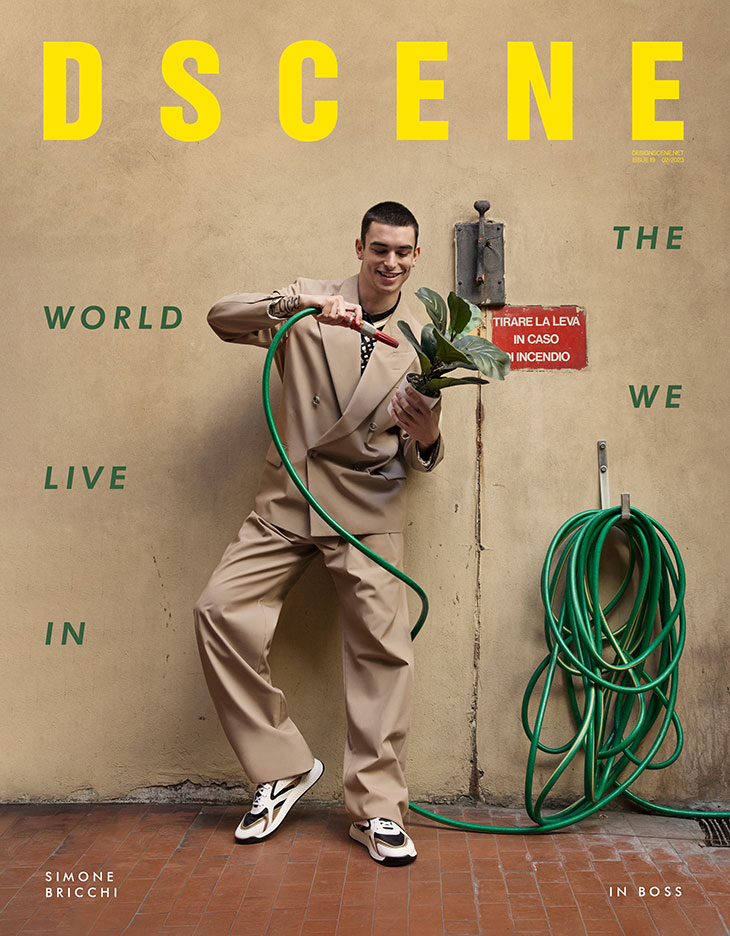 The Summer 2023 print edition of DSCENE Magazine explores "The World We Live In," starring the top model SIMONE BRICCHI in total look from BOSS Spring Summer 2023 collection, captured in Italian fashion capital Milan. In charge of photography was IGOR CVORO, with fashion from DSCENE Fashion Director KATARINA DORIC and Stylist STEFANO GUERRINI. Grooming is work of Beauty Artist ROSSANO FASANO.
DSCENE Summer 2023 Issue Is Out In June!
Pre-Order Your Copy in PRINT or DIGITAL
For the cover, Simone is wearing a total look from BOSS Spring Summer 2023 Collection presented in Miami this March, drawing the inspiration from the city's unique style. The collection delves into the enigmatic and dualistic nature that exists within opposing states. The artistic concept was translated into the brand's well-known expertise in men's tailoring, incorporating transparent materials and a combination of structured elements and captivating charm. The collection as a whole presented a polished and refined vision of how to embody and embrace the essence of self-expression and uniqueness in a world that is constantly evolving.
One of the underlying motifs that inspired the collection is the exquisite tension that lies between contrasting elements, such as solid and fluid states; land and sea; opaque and transparent; past and present. This powerful juxtaposition serves as the cornerstone of a new exploration in prints, tones, and textures, opening the door to a world that invites a creative, visual dialogue.
– said Creative Director Marco Falcioni.
Photographer IGOR CVORO – @igorcvoro
Fashion Director KATARINA DORIC – @katarina.djoric
Stylist STEFANO GUERRINI – @stefano_guerrini
Grooming ROSSANO FASANO – @rossanofasano
Model SIMONE BRICCHI at I Love Models Management – @thesimonebricchi
Fashion Assistants LORENZO IACOBONE @iacobonelorenzo and DARIA SAFFIOTI @daria.saffioti
Special thanks to MOVEM Fashion – @movemfashion
Stay tuned for more from DSCENE's latest edition coming to bookstores this June. The World We Live In themed issue is coming with DSCENE's view of the latest collection, plus exclusive artist and designer conversations.