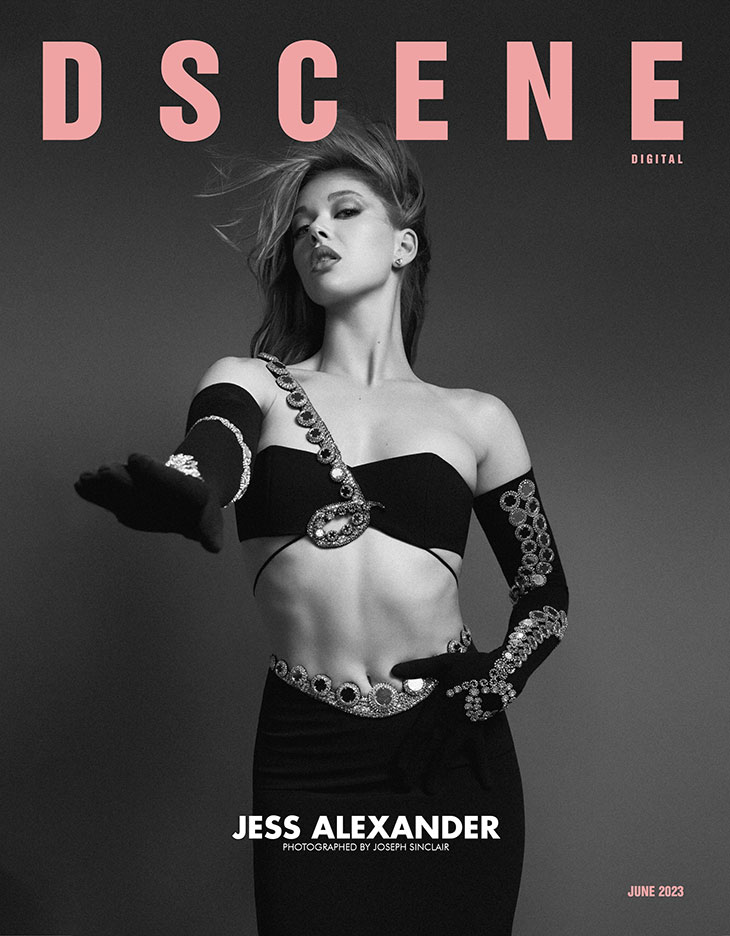 Fashion photographer Joseph Sinclair captured DSCENE Magazine's June 2023 cover story starring the promising English actress JESS ALEXANDER. In charge of styling was Natalie Roar, with beauty from hair stylist Pete Burkill and makeup artist Brooke Turnbull. For the cover Jess is wearing a total look from David Koma's Spring Summer 2023 collection, paired with Stephen Webster earrings, channeling the widely popular "mermaidcore" trend.
In the highly anticipated live-action rendition of "The Little Mermaid," Jess Alexander plays the role of Vanessa, the alter-ego of the iconic character Ursula, played by Melissa McCarthy. Portraying this pivotal character, Jess delves into the complex and captivating transformation that Vanessa undergoes in this enchanting underwater tale. Fans can mark their calendars for tomorrow, May 26, as the highly anticipated live-action adaptation of the beloved movie will finally grace the big screens.
Jess gained widespread recognition for her breakthrough performance in the BBC/Netflix series "Get Even." Her talent and screen presence caught the attention of audiences, propelling her career to new heights. Building on this success, Jess took on the lead role in Kate Cox's thrilling film "Into The Deep," produced by Lionsgate. Jess also showcased her acting prowess in the critically acclaimed film "A Banquet," directed by Ruth Paxton and starring alongside Sienna Guillory and she left a lasting impression in Kelsey Egan's directorial debut, "Glasshouse." Her portrayal in the film received rave reviews, further solidifying her status as a rising star in the industry.
With each project, Jess Alexander continues to impress both audiences and critics alike, demonstrating her range as an actress and her ability to deliver captivating performances. Her talent, combined with her choice of diverse and compelling roles, positions her as an exciting talent to watch in the world of film and television.
I'm honestly just honoured to be a part of the story, and the entire experience. Like millions of people, the original cartoon was something I watched and adored when I was a kid and it was a huge part of my childhood. And Vanessa – even though she's in the film for such a short period of time she's just an iconic baddie!
– says Jess Alexander about her role in "The Little Mermaid" for DSCENE Magazine's Summer Issue.
More images and Jess Alexander's exclusive interview will be published in DSCENE's upcoming Summer 2023 edition, out in June.
DSCENE Summer 2023 Issue Is Out In June!
Pre-Order Your Copy in PRINT or DIGITAL
Photographer Joseph Sinclair @josephsinclair using @leica_camera
Stylist Natalie Roar @natalieroar
Makeup Artist Brooke Turnbull @brookelturnbull
Hair Stylist Pete Burkill @peteburkill
Talent Jess Alexander @jessalxander
Styling assistants – Annie Tshichimbi and Eden Charkani