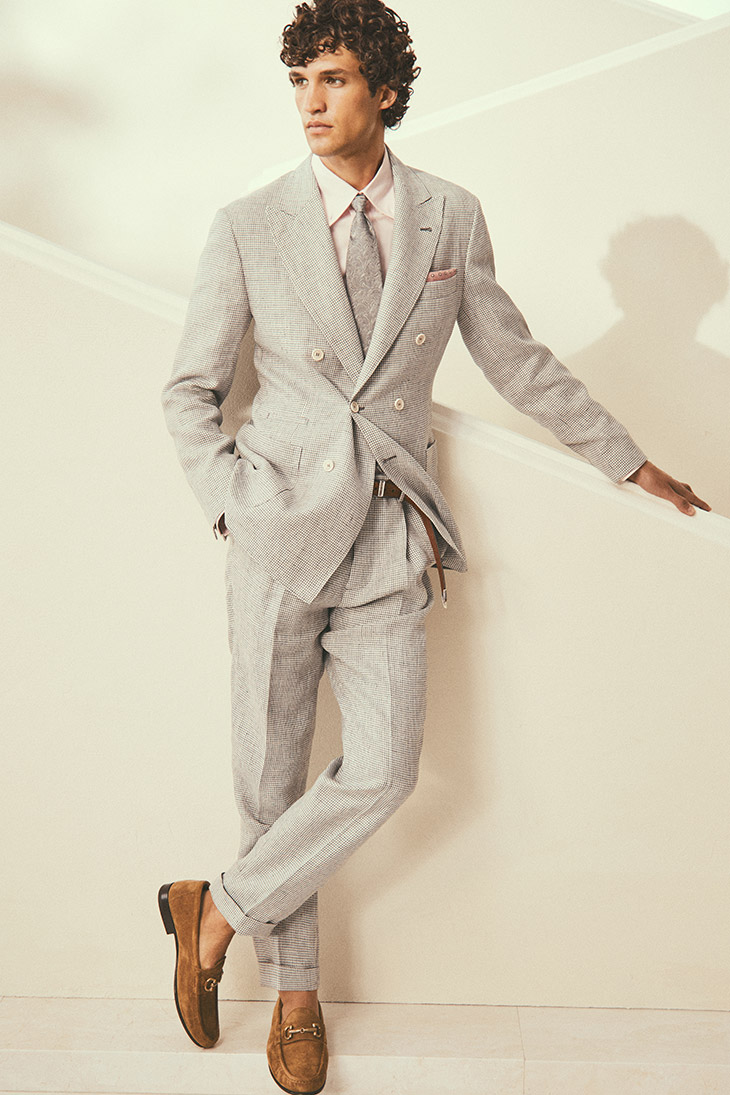 Fashion brand BRUNELLO CUCINELLI presented its Spring Summer 2024 Bohemian Evolution Collection, that pursuits elegance, and highlights the unique qualities of the modern man, as part of the ongoing Milan Fashion Week. The collection's diversity and harmony make it easy for the male personality to shine through, even in the simplest of combinations. With fresh hues, soft silhouettes, meticulously balanced garments, paisley patterns, and details inspired by the French Riviera, this collection offers a diverse spectrum of elegance that is uniquely suited to each individual. As always, the man and his choices remain a central point of reference. The use of natural textures, délavé, and slub effects enhances the summer's vibrant colors, which effortlessly complement timeless neutrals to create a new, fresh, and captivating balance. Not only do pink, raspberry, turquoise, and mauve influence patterns on shirts and T-shirts, but they also add refined accents to sartorial elegance, which are always complemented by the distinctive textural effects of the fabrics. The collection ensures harmonious combinations by offering a wide range of beige tones, from the lightest to the darkest shades bordering brown. Freshness and a sense of airiness are conveyed through the use of varying shades of light grey. Moreover, blues, including the sophisticated Prussian Blue, communicate refinement and elegance, even in their brightest hues.
SPRING SUMMER 2024 COLLECTIONS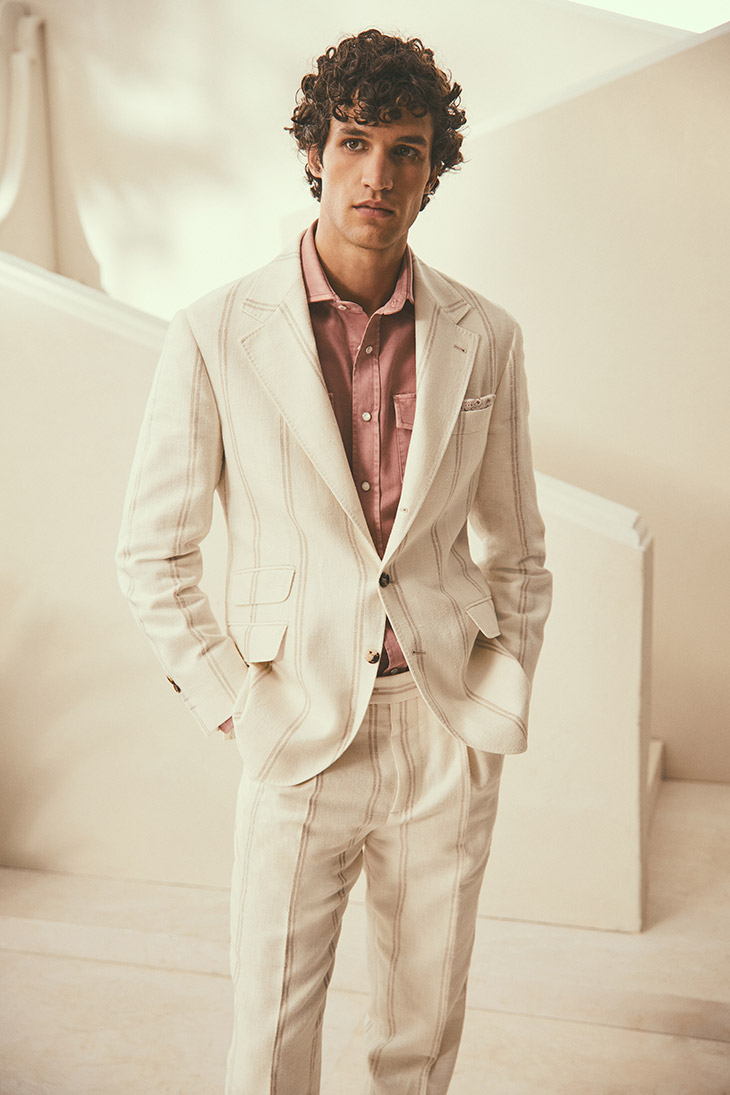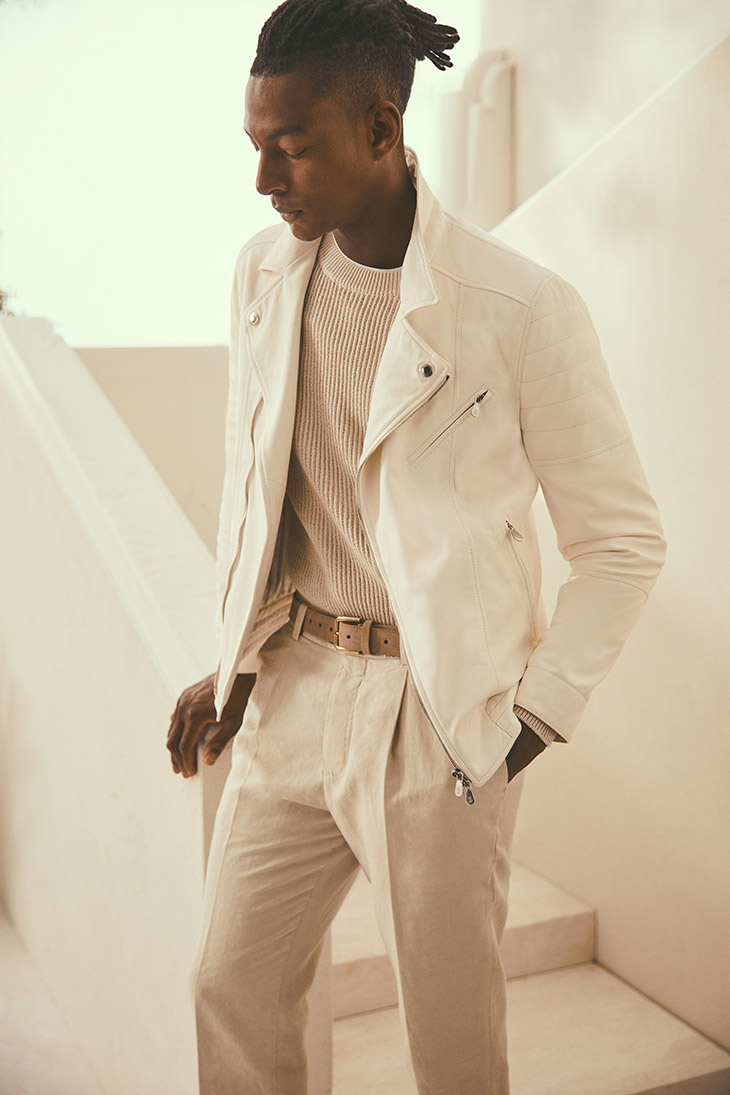 The new collection is distinguished by its soft volumes, which lend it a contemporary appeal. In addition to trousers, which have long been associated with casual yet polished styles, T-shirts and knitwear now feature softer fits. The silhouettes of sartorial blazers have been discreetly elongated, while outerwear and trench coats feature wide, fluid silhouettes that are accentuated by the use of lightweight, high-performance fabrics. The slightly shorter length of the outerwear emphasizes its sporting nature, whereas the leisure line is distinguished by its generous and comfortable fits. Selected fabrics and leathers prioritize lightness and comfort, enhancing each collection's nuance and silhouette with their unique and natural qualities. Patterns play a pivotal role in defining the look's style, extensively developed in shirts, T-shirts, blazers, and suits, introducing seasonal nuances that harmonize with neutrals. At the core of the collection, summer knitwear is elevated by prestigious natural fabrics including cotton, linen, and silk, which have been meticulously combined to provide a sense of comfort and lightness. Combining different techniques to create new, softer volumes and three-dimensional patterns add depth to the range of designs.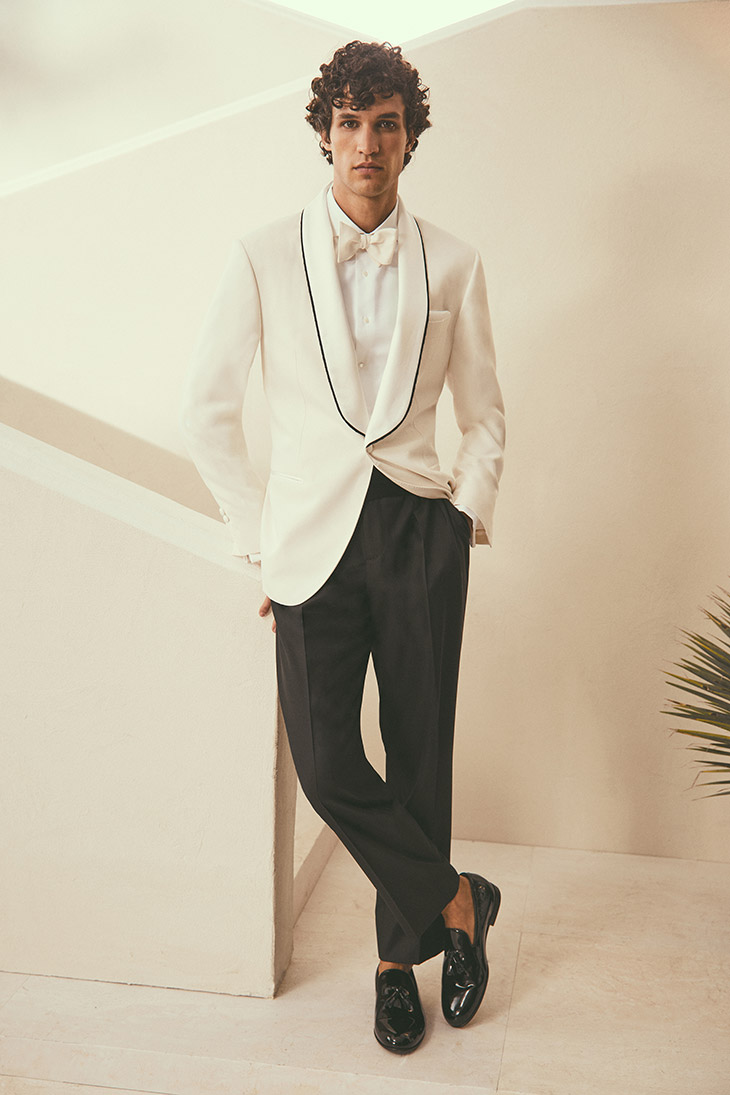 The accessories line adheres to the collection's guiding principles and offers modern elegance to complement an individual's unique personality. A significant evolution in loafers, in addition to the Derby, offers the versatility to complement styles for any occasion and season. From formal designs to deconstructed loafers, in addition to a reinterpretation of the lightweight and comfortable driving shoe. The extensive selection of summer sandals completes the assortment for the warmest months.
Discover every look from the Brunello Cucinelli Spring Summer 2024 Collection in gallery below: