Embarking on a quest for perfection, Balenciaga presents its highly anticipated 52nd Couture Collection on July 5th, marking Demna's third collection for the esteemed house.
Set in the grand salons at 10 avenue George V, the show unfolds to the captivating sounds of BFRND's reinterpretation of Maria Callas' operas in a never-before-heard a cappella format. Employing innovative techniques, BFRND collaborated with a sound engineer, utilizing AI programs to isolate and elevate the soprano's voice, transforming it into a sonic couture experience.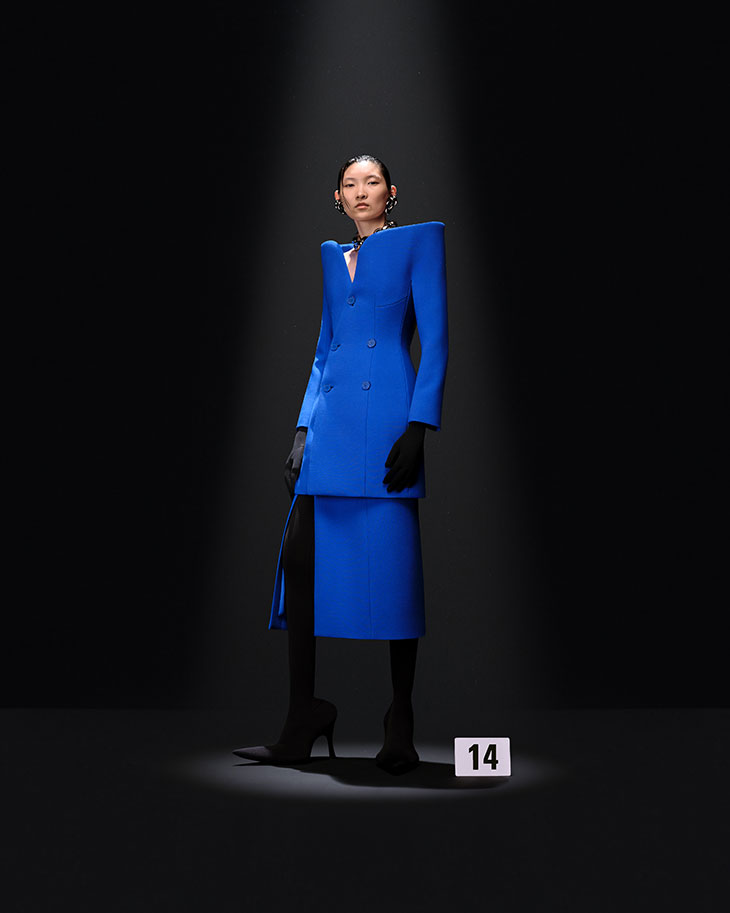 The collection commences with an homage to Cristóbal Balenciaga's original design, famously worn by Danielle Slavik, the couturier's preferred model from 1964 to 1968. This iconic piece, beloved by Slavik herself, also captured the admiration of Grace Kelly, who acquired it for her momentous 40th birthday celebration in Monaco. Reimagining the inaugural creation in a mirrored construct, the dress features velvet flowers and an integrated pearl necklace, seamlessly bridging the past and present.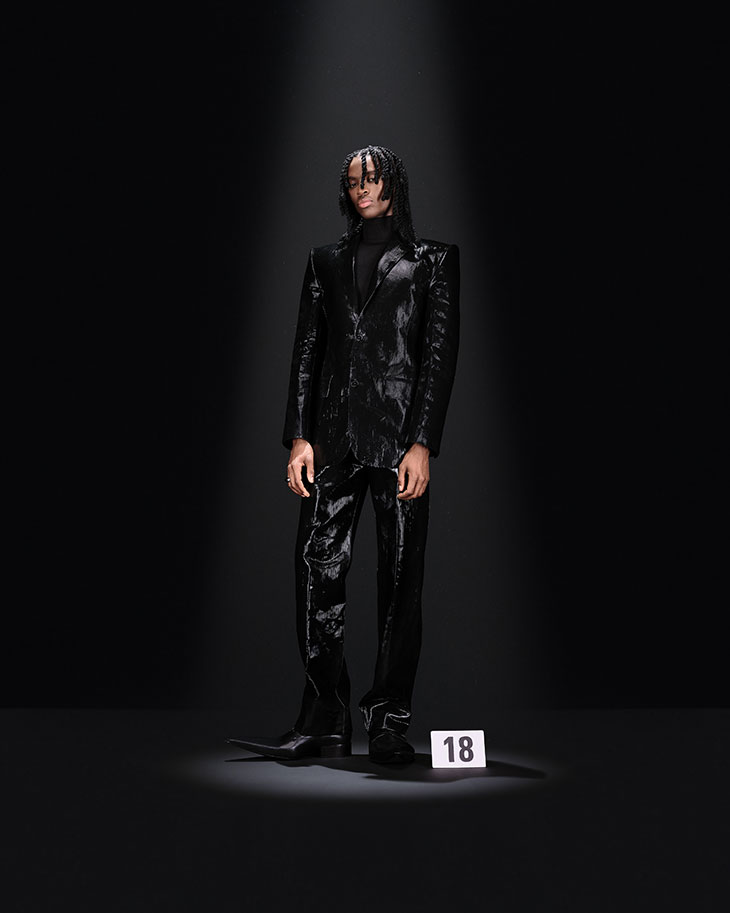 Architectural tailoring takes center stage, showcasing sharp shoulders, a curved-V neckline inspired by Balenciaga's signature tailored jackets, and a defined waist. For menswear, suits appear to be crafted from Prince of Wales check or pinstriped wool, but the reality surprises as Japanese denim meticulously woven on antique looms is the actual textile used.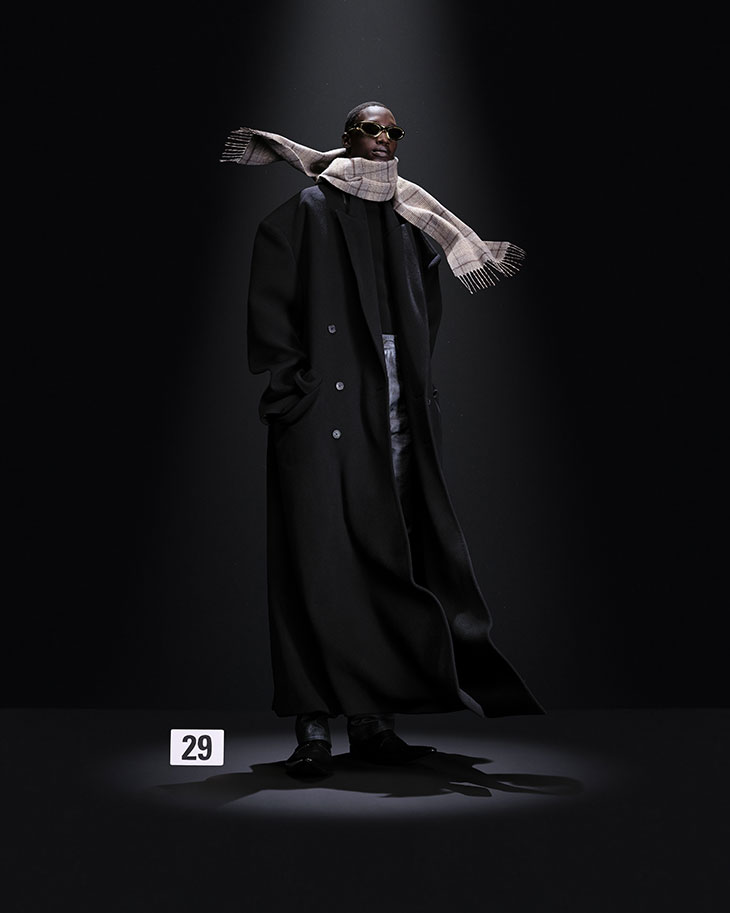 Embracing the art of trompe l'œil, the collection pays tribute to traditional materials with a modern twist. Hand-painted linen canvas panels are skillfully assembled into garments, creating the illusion of fur coats or jeans and leather pants. Houndstooth and python textures are expertly replicated, and blazers feature intricately painted buttons and lapels. Underneath these artistic applications, the garments maintain a streamlined structure, with dimension added through meticulously applied oil paint brushstrokes, sometimes requiring up to 280 hours of meticulous craftsmanship.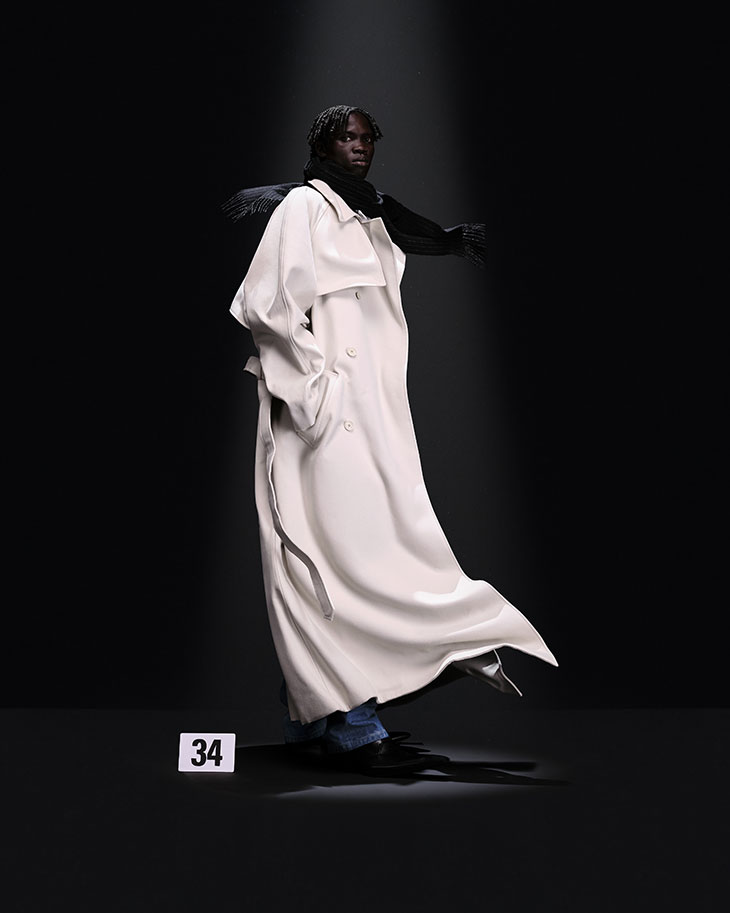 Structure emerges from two-dimensional forms as wool outerwear, cotton trench coats, and cashmere scarves are masterfully cut and fortified to evoke a windswept effect, even in a state of complete stillness. This meticulous process involves two full days of hand-sculpting, coupled with a knitted, bonded liner that reinforces the external fabric.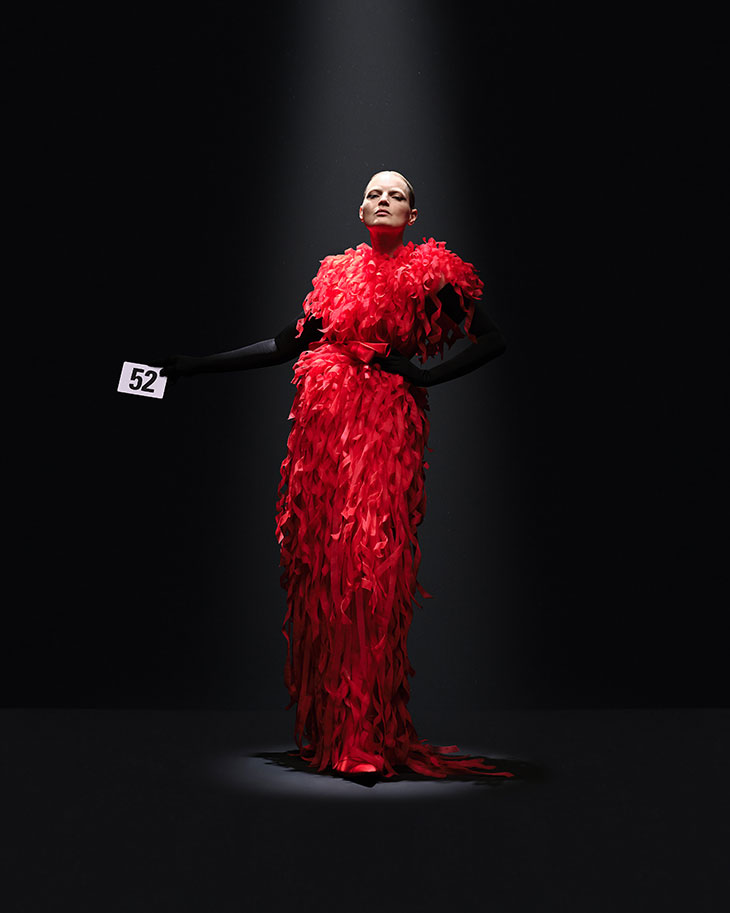 The collection culminates with mesmerizing eveningwear. Taffeta takes on a sculptural quality, draping away from the shoulders. Alternatively, a bespoke technique creates a liquid, plasticized impression, as the fabric elegantly spirals around the torso. One standout bustier dress dazzles with 10,000 crystals, painstakingly set within 3D-printed resin stone settings, resulting in an astonishing 900 hours of production time. The collection further showcases Swiss guipure lace, enlarged and woven chainmail, and meticulously sequin-sewn filigrees, showcasing the exceptional craftsmanship perpetually pursued by the metier.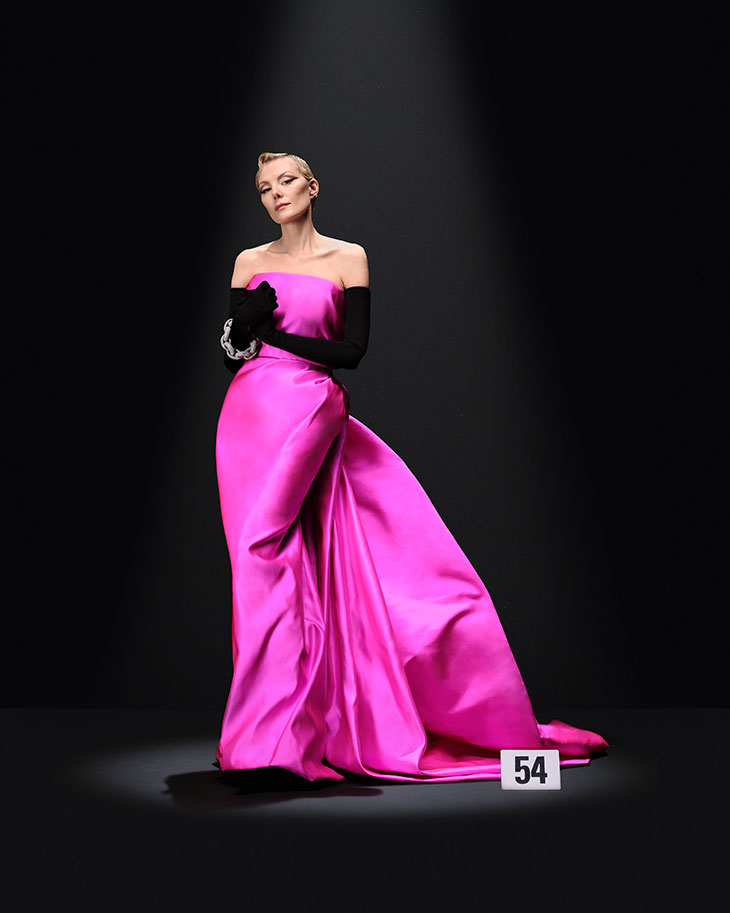 In a captivating finale, a dress fashioned from CAD-designed, 3D-printed armor and galvanized resin emerges, its polished chrome exterior reminiscent of a jewelry box, while a coating of black flock lines the interior. Symbolizing a temporal crossroads, this rigid and reflective ensemble blends classical techniques with cutting-edge advancements, underscoring a new reality. Acknowledging that perfection can only be approached when technology complements the vital human component in dressmaking, Balenciaga embraces this paradigm shift in its relentless pursuit of excellence.