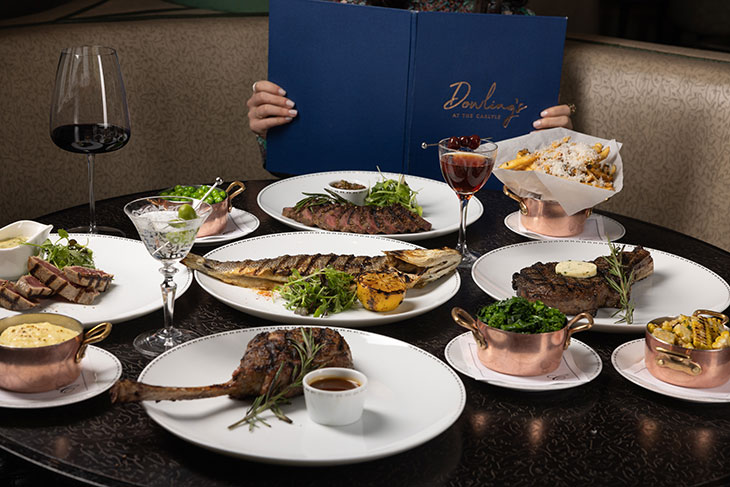 New York City, often dubbed as the world's melting pot, is as much a global culinary hub as it is a center for culture, arts, and finance. With a vast array of cuisines from every corner of the globe, the city's dining landscape offers a tantalizing treat for every palate. This culinary diversity is exuberantly celebrated during New York Restaurant Week, a semi-annual event that transforms the Big Apple into an expansive tasting menu.
Launched in 1992, New York Restaurant Week began as a part of the Democratic National Convention's welcome program. It started with just 100 participating restaurants but has since evolved into one of the most anticipated events on the city's gastronomic calendar. Today, it draws the participation of hundreds of establishments, ranging from iconic institutions to budding bistros, spanning all five boroughs of the city.
The fundamental allure of Restaurant Week lies in its democratization of high-end dining experiences. Participating restaurants curate prix fixe menus for lunch and dinner, offering them at a fraction of their regular prices. This allows gastronomes to sample dishes from some of the city's most renowned chefs and eateries without the hefty price tag often associated with such venues. It's an invitation to explore, to step outside one's comfort zone, and perhaps discover a new favorite spot or dish.
But Restaurant Week is not just about value; it's about adventure and storytelling. Every dish served during this event narrates a story—of heritage, of passion, of craftsmanship. From a steaming bowl of ramen that echoes the bustling streets of Tokyo to a delicate French pastry that transports you to a quaint Parisian café, the week is a journey around the world, right from the comfort of your table.
Moreover, in recent years, with the increasing emphasis on sustainability and local produce, many participating restaurants have tailored their menus to showcase seasonal ingredients sourced from local farms. This not only highlights the city's commitment to sustainability but also offers diners a taste of the freshest ingredients New York has to offer.
New York Restaurant Week is more than just a culinary event. It's a celebration of diversity, a narrative of passion and resilience, and above all, a tribute to the city that never sleeps and its ever-evolving gastronomic landscape. Whether you're a native New Yorker or a tourist, Restaurant Week is the perfect opportunity to savor the flavors of the city and to cherish the stories they bring to the table. We had the opportunity to sample dishes from various restaurants showcasing a myriad of global cuisines; see the detailed experiences below.
Leña at Mercado Little Spain
Leña's culinary spirit is ignited by the enchanting allure of fire, the most primal element of cooking. Drawing inspiration from Spain's revered grill-centric eateries such as the asadores of the Basque Country and the distinguished steakhouses of Asturias, Leña masterfully crafts a menu dominated by ember-cooked offerings. From sizzling vegetables to succulent meats and seafood, the spotlight remains firmly on the larger grilled specialties, epitomized by the likes of suckling pig and lamb.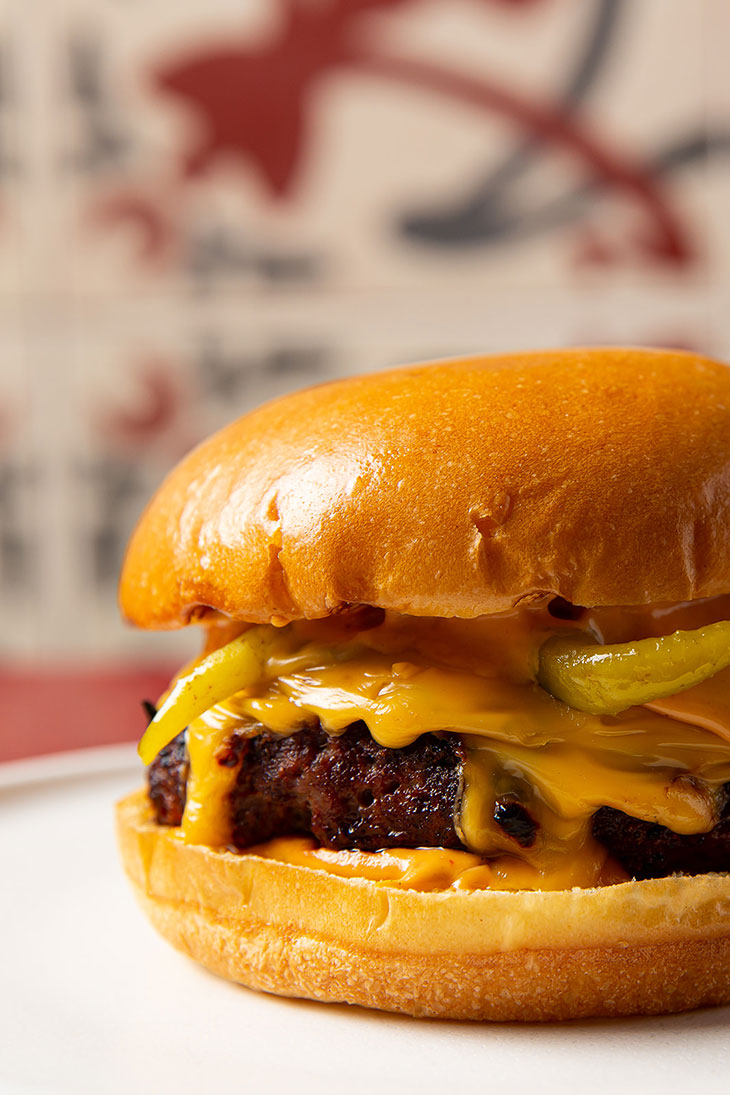 For this year's Restaurant Week, Leña is offering a 4 course tasting menu for $45 per person. During our visit, we indulged in their celebrated Txuleburger – a 60-day dry-aged ribeye masterpiece weighing 8oz, skillfully seared over the smoldering charcoal embers of their 'Josper' oven. This creation was adorned with creamy American cheese, which many argue is unparalleled for a burger. Its distinctiveness was further enhanced by their specialty blend, a combination of brava sauce, olive oil mayo, and mustard, humorously referred to as their 'not-so-secret sauce'. The inclusion of pickled green peppers, sourced from the Basque Country, added a refreshing jolt of tanginess.
Dowling's at The Carlyle
Under the culinary prowess of Executive Chef Sylvain Delpique, previously known for his exceptional work at 21 Club, Dowling's at The Carlyle paints a nostalgic picture. The menu is a canvas of Chef Delpique's unique spins on ageless New York classics, interspersed with dishes reminiscent of a bygone era. Each item is thoughtfully curated, presenting diners with a harmonious blend of tradition and innovation. The restaurant itself, post its meticulous redesign, now showcases a chic dining ambiance, catering to patrons for all meal periods – from a serene breakfast to a leisurely weekend brunch, and from a sumptuous lunch to an elegant dinner.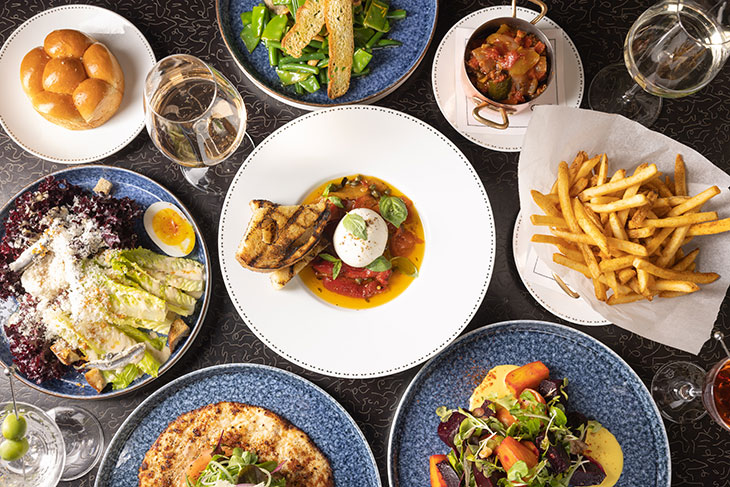 For the Restaurant Week, they are offering a three-course prix-fixe dinner menu priced at $60 per person, and the two-course prix-fixe lunch menu priced at $45 per person. We had the privilege of experiencing this culinary masterpiece firsthand, starting with a refreshing White Gazpacho, combining almond with green grapes and a hint of verjus, creating a symphony of flavors and a beautifully plated Red and Golden Beets in an exquisite saffron yogurt. For the main dishes we tested the Branzino with arugula, orange supreme, fennel, and an olive tapenade, a testament to the chef's commitment to freshness and flavor. But no visit would be complete without sampling the Carlyle Burger, served on an artisanal brioche bun and accompanied by a zesty pickled relish, rich cheddar, and crispy fries. For the desert, we tried Crème Fraîche Panna Cotta, a delightful juxtaposing the creaminess of panna cotta with the tang of macerated grapefruit, all enhanced by a hint of grappa.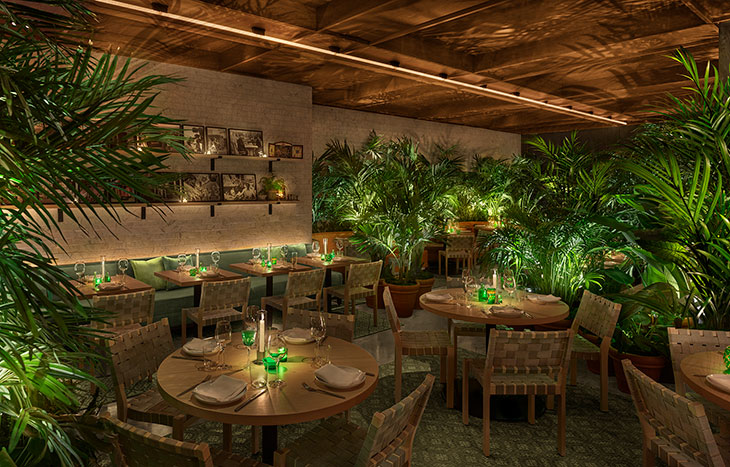 POPULAR at Public Hotel
During this year's Restaurant Week, one particular spot beckoned us with its allure: POPULAR, a bastion of authentic Peruvian gastronomy. Here, diners are treated to an immersive experience, thanks to the globally inspired creations of Chef Diego Muñoz, renowned for steering Astrid y Gaston in Lima to the pinnacle of Latin American dining as rated by The World's 50 Best Restaurants. Drawing from Peru's rich tapestry of culinary influences — from ancient Incan methods to Spanish, Moorish, African, Italian, Chinese, and Japanese traditions — Chef Diego has crafted a menu at POPULAR that encapsulates the essence of his homeland's multicultural cuisine. In the heart of New York, the ultimate melting pot of international flavors, this restaurant emerges as a beacon of Peruvian culinary artistry.
Our culinary journey during Restaurant Week began with the Prix Fixe Menu, priced at a modest $60 per person. The Calamares Fritos showcased the freshness of the ocean, while the Market Fish was a testament to Chef Diego's masterful execution of traditional techniques. But our adventure didn't stop there. Unable to resist the allure of POPULAR's signature offerings, we indulged in the 16oz Bone-in Ribeye. Seared to perfection and accompanied by Peruvian chili-butter, crispy French fries, and a delightful anticuchera mayo, every bite was a revelation. The Roasted Baby Carrots further showcased the restaurant's commitment to vibrant, fresh produce. And as for desserts? We left no stone unturned. From the airy Picarones and indulgent Chocolate Mousse Cake to the exotic flavors of Roasted Pineapple Carpaccio and Lucuma, our taste buds were taken on a sweet and sumptuous journey.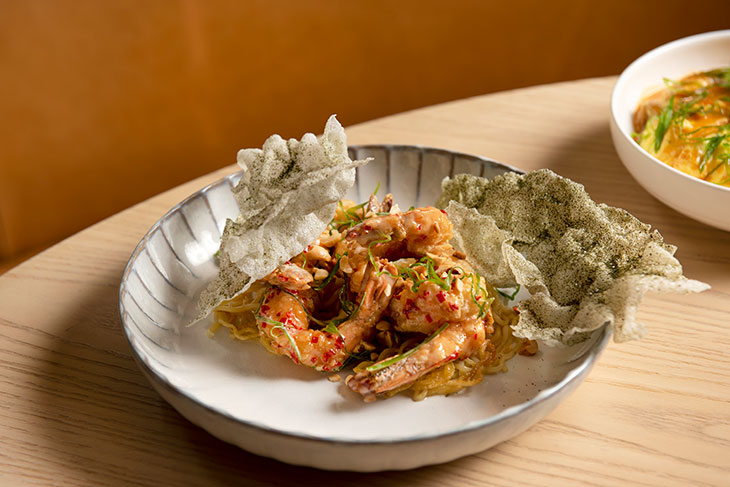 To cleanse the palate and complement the symphony of flavors, we sipped on POPULAR's pisco cocktails, touted as some of the best in class. The wine selection, chosen to accompany Chef Diego's dishes, was impeccable. Moreover, the chef's belief that those who craft extraordinary dishes are best suited to create cocktails resonates throughout the drink menu. After all, a chef's intricate understanding of flavors ensures every cocktail is an extension of the culinary narrative.
However, as delightful as the menu is, the ambiance and service are equally paramount. From the moment you step into POPULAR, you're greeted with warmth and professionalism. The attentive staff, each trained to perfection, anticipate your every need, ensuring that your meal is not just about taste but about a holistic experience, making every guest feel special.
The Grid at Great Jones Distilling
Nestled amidst New York's bustling avenues lies a unique gastronomic retreat: The Grid at Great Jones Distilling. This establishment is where culinary art meets the nuanced craft of distillation, presenting a harmonious blend of flavors that truly resonate with the city's dynamic spirit. The ambiance at The Grid strikes a chord of urban sophistication harmonized with intimate warmth. The textures, colors, and elements allude to its industrial heritage while ensuring that guests are enveloped in a contemporary, inviting atmosphere.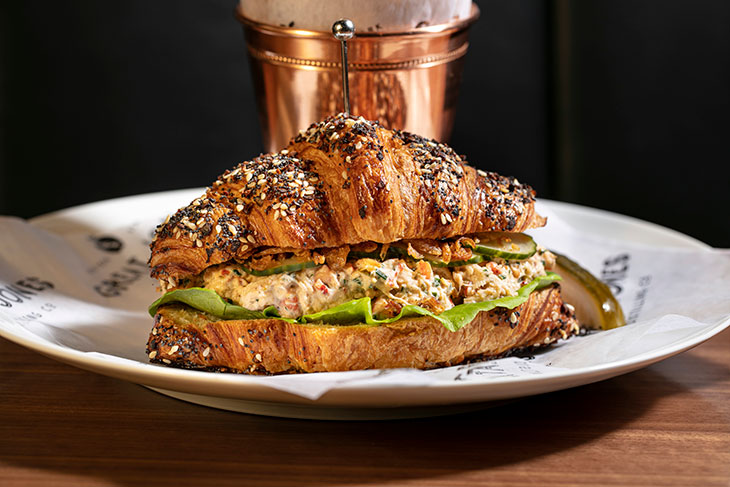 During our visit to The Grid at Great Jones Distilling for Restaurant Week, we tried the array of dishes from their curated $45 menu. We began with the Croquettes, a savory fusion of confit duck and potato, Burrata, and the Chopped Salad, a refreshing blend of little gem lettuce and radicchio, brought together with a velvety buttermilk dressing. For entrées, the Striped Bass was a highlight, elegantly paired with cucumber, lemon, tomato, and olives, conjuring a taste reminiscent of Mediterranean shores. The Steak Frites was a hearty choice, featuring an 8oz Bavette steak that harmonized perfectly with crispy fries, all draped in a rich au poivre sauce. Adding a touch of Italian warmth to our meal was the vegetarian Bolognese, which showcased seasonal mushrooms, ripe tomatoes, aromatic basil, and soft gnocchette. To wrap up this gastronomic escapade, we indulged in the Sticky Toffee Pudding. This dessert was an exquisite pairing of moist carrot cake with indulgent cream cheese ice cream. And of course, we savored a selection of their ice creams and sorbets, each flavor a testament to the restaurant's dedication to authentic, fresh ingredients.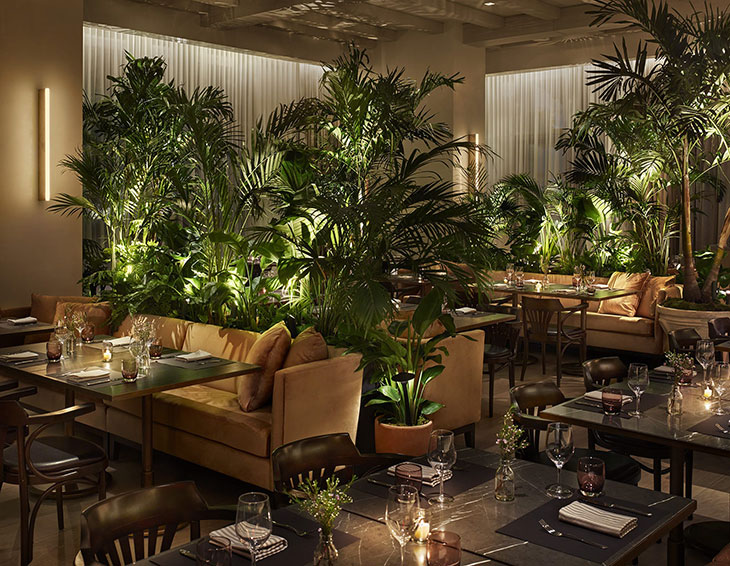 The Terrace and Outdoor Gardens
Located on the 9th floor of The Times Square EDITION hotel, The Terrace and Outdoor Gardens stands out in the city's vibrant culinary landscape. Guided by Chef John Fraser's expertise, this modern brasserie harmoniously melds innovative techniques with cherished American culinary traditions. A signature of Fraser's style, the menu prominently features vegetable-forward dishes, a testament to sustainability and commitment to local sourcing from regional farmers. This eclectic mix positions The Terrace as the go-to destination for diverse occasions, from theater outings to brunches, attracting both locals and hotel guests.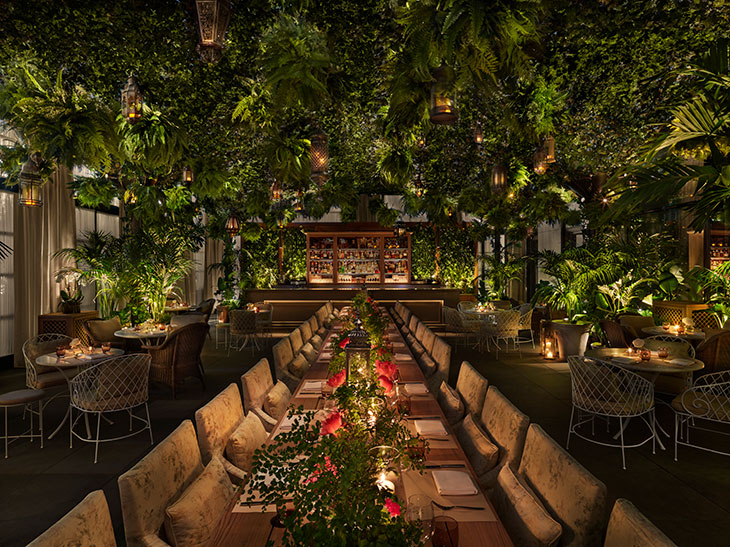 Highlighting their participation in this year's restaurant week they presented a curated 3-course lunch and dinner menu. We embarked on a culinary journey starting with the Tie Dye Salad, an amalgamation of Boston bibb, roasted beets, pistachio, goat cheese, and a blackberry vinaigrette. The Spanish Octopus further showcased Fraser's artistry with its pairing of marble potatoes, olive aioli, and salted orange. The mains didn't disappoint. The Faroe Islands Salmon, accompanied by summer beans and smoked citrus butter, was delectably tender. In contrast, the Marinated Skirt Steak offered a delightful play of flavors with shiitake and calabrian chimichurri. The dining experience culminated with a reimagined Tiramisu, boasting mascarpone cream and cold brew foam.
Parallel in both price and offering to The Restaurant Week Menu, The Terrace and Outdoor Gardens also annually offer a pre-theatre prix fixe dinner, catering to the theater-going crowd.
Zaytinya
Set against the opulent backdrop of The Ritz-Carlton New York, NoMad, Zaytinya offers a dining experience that marries the rich traditions of the Mediterranean with contemporary flair. This restaurant, which seamlessly merges the culinary artistry inspired by Turkish, Greek, and Lebanese cuisines, is a testament to José Andrés' profound understanding of Mediterranean gastronomy. Years of meticulous research, travel, and passion for food have culminated in a menu that celebrates shared small plates of both authentic and innovative creations. At the helm of this culinary ship is Head Chef Jose Ayala, ensuring that every dish is a voyage of flavors.
Embracing the spirit of Restaurant Week, we dove into the menu, with offerings that ranged from $45 for lunch to $60 for dinner. Our tasting journey began with the silky Hommus, a classic purée of chickpeas accented with garlic and tahini, accompanied by the Tzatziki, a refreshing mix of Greek yogurt, diced cucumbers, and dill, and the smoky Baba Ghannouge, where fire-roasted eggplant met tahini, lemon, and garlic in a flavorful dance.
The Olive Orektika presented Greek olives beautifully marinated with coriander seeds and lemon, paired with turmeric pickles. A refreshing interlude was the Karpuzi Me Feta, a harmonious combination of compressed watermelon, ladolemono, Kalamata olives, Feta, and mint. The culinary narrative progressed with the Chicken Youvetsi, a hearty dish of chicken braised with tomato and cinnamon, and the Imam Bayildi, an inspired preparation paying homage to the Ottoman era, with eggplant, onions, and tomatoes slowly simmered in olive oil and aromatic spices.
Our taste buds were then treated to the Crispy Brussels Afelia, Falafel, Salmon, and Shish Taouk, each dish narrating its own tale of flavors and textures. The Beef Soutzoukakia, with its cumin-spiced meatballs in a fragrant tomato sauce, was a savory climax to our feast.
Pink Taco
At its heart, Pink Taco is more than just a restaurant; it's a statement. It eschews the ordinary and embraces the extraordinary. While its name might hint at irreverence, the dishes are nothing but sincere in their homage to traditional Mexican fare, albeit with a contemporary edge. For the Restaurant Week, they are offering a two-course prix-fixe lunch menu priced at $30 per person, and the three-course prix-fixe dinner menu priced at $45 per person.
Our foray into Pink Taco during Restaurant Week was akin to diving into a colorful fiesta. Every dish seemed to be dancing to its own rhythm, bursting with flavor and personality. The restaurant's ethos is to make every meal a lively party, and it delivered on that promise in spades. An array of tacos, as one might expect, forms the cornerstone of the menu. However, these aren't just your standard tacos. Each one is a carefully curated blend of textures and flavors, showcasing the depth and variety of Mexican cuisine. From tender meats marinated to perfection to the freshest of vegetables and tantalizing sauces, each bite was a revelation.
No Mexican feast is complete without a nod to its spirited beverages, and Pink Taco does not disappoint. Their margaritas, with that perfect balance of tart and sweet, were a delightful accompaniment, while the curated tequila selection promised a deep dive into Mexico's favorite spirit. What truly stands out about Pink Taco, beyond the food and drinks, is its ambiance. The restaurant pulses with energy, echoing the vivaciousness of a Mexican carnival. The decor, unabashedly bold and quirky, sets the tone for an evening of uninhibited enjoyment.