Sir Savigny Hotel, located in Charlottenburg neighbourhood, the art taken part of Berlin, is an embodiment of an elegant contemporary stay ideal for modern day traveller. Steps away from a local train station, and a myriad of restaurants and galleries it is the perfect city getaway in West Berlin. With only 44 rooms the Sir Savigny Hotel feels more like a home than a busy hotel, while staying there it offered us a unique, two-night experience we'll never forget.
Sir Savigny Hotel Location and  Accessibility
Situated on the bohemian Savignyplatz, the central West Berlin location is a true cultural hotspot with galleries steps away and a rich selection of must visit restaurants. Conveniently, the nearby Savignyplatz train station offers direct connections to and from the airport. A stroll around reveals the area's history, where thinkers and artists such as Otto Dix, Stefan Zweig, and Bertolt Brecht once roamed. The neighbourhood's creative energy remains today, providing you with an inspirational atmosphere that's both vibrant and calming.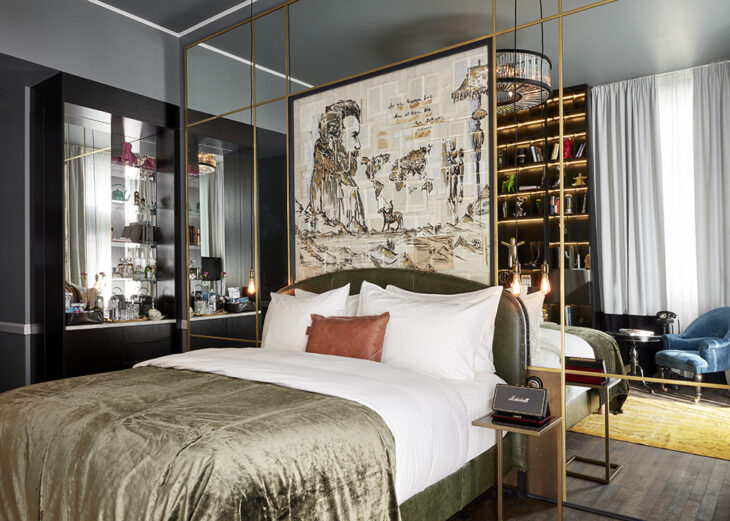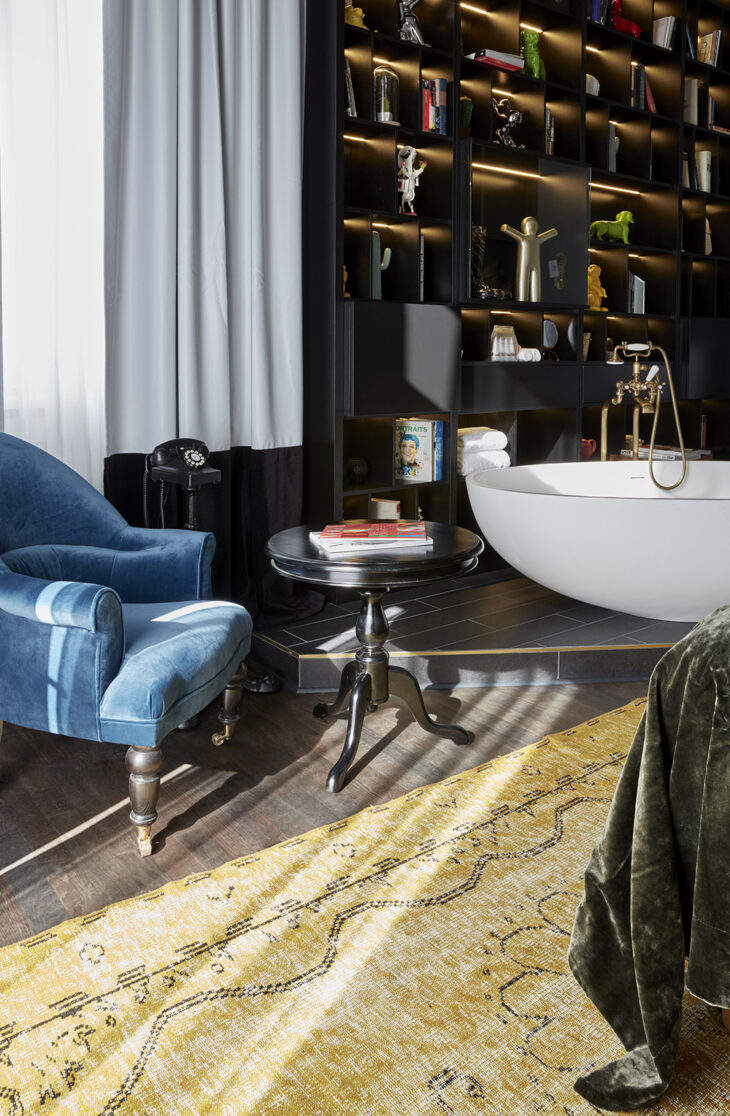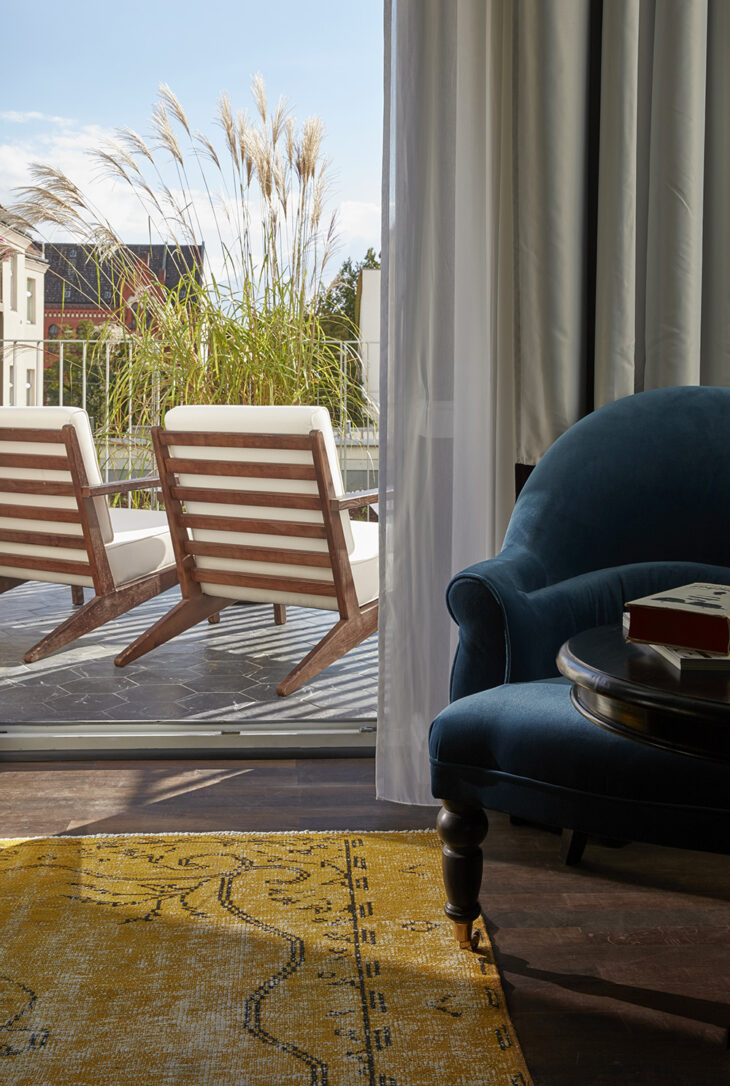 Hotel's Interior Design
Upon entering, the lobby's absence immediately impressed, instead of a typical hotel lobby, a welcoming library that serves as the heart of the hotel welcomes you in. The carefully planned interior design is work of the international award-winning architecture practice Baranowitz + Kronenberg. Ground floor shapes a seamless connection between the hotel's library, Winter Garden, lounge, and The BUTCHER burger bar.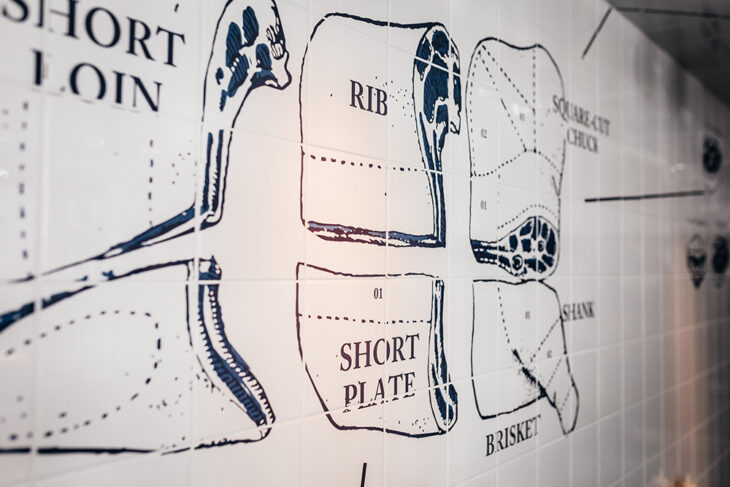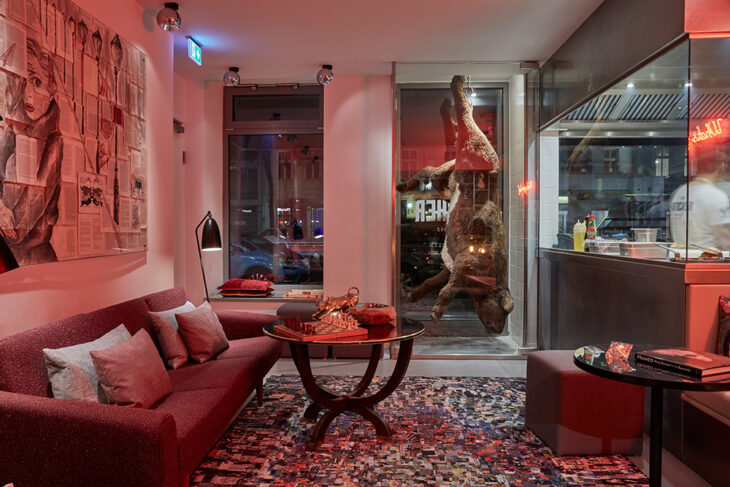 Floor-to-ceiling steel shelves filled with curated coffee table books, a large communal wooden table, and a 360-degree fireplace in the Winter Garden shape the hotel's unique charm. The beautifully green courtyard garden view, embellished with orange trees and bougainvillea, create a tranquil scene of an urban Oasis. Finding a space such as this is truly rare in urban settings.
The highlight for us were murals by German street artist DOME, depicting shadow theatre-inspired images. The artist's work connects with the hotel's overall aesthetic and adds a mystical depth to the space. Rightfully so, the Berlin hotel is also proud part of the coveted Design Hotels™ listing.
RELATED: Sir Victor Hotel in Barcelona
Sir Savigny Hotel's Dining Experience at The BUTCHER
Sir Savigny is home to The BUTCHER, a much talked about fast-food getaway that has already made waves in Amsterdam. Its Berlin offshoot is equally impressive, serving a variety of mouth-watering dishes. From juicy Aberdeen Angus beef burgers to delectable spare ribs and truffle sauce fries, The BUTCHER is a true gastronomic delight. While for a moment you are confused if you truly entered a butcher store or a restaurant, the interior designers masterfully mixed in the feeling of a butcher's, transformed into a kitchen with a restaurant area. Their burger's are now on the list whenever we are in Berlin, and if you did not feel like leaving the room and craved yet another burger – no worries Sir Savigny's got you covered. The Call-The-Burger button, a playful touch inside the rooms that allows guests to order from The BUTCHER with a press of a button without ever leaving their room!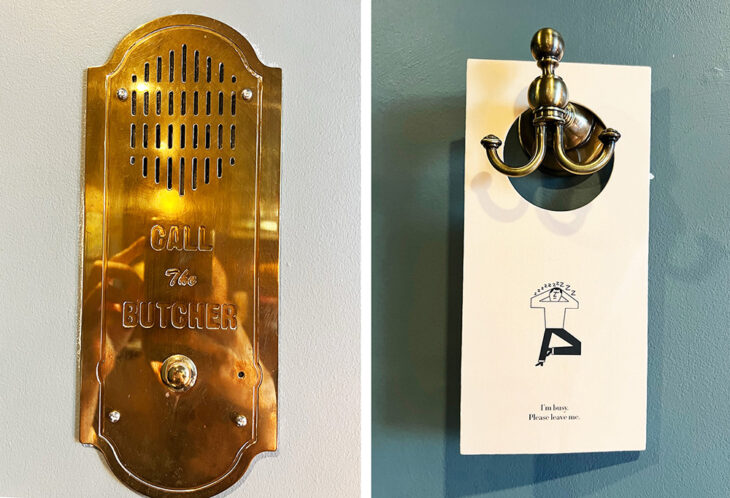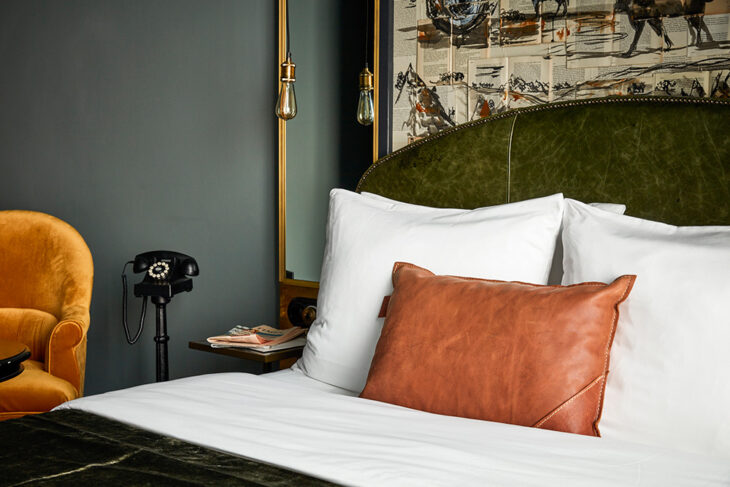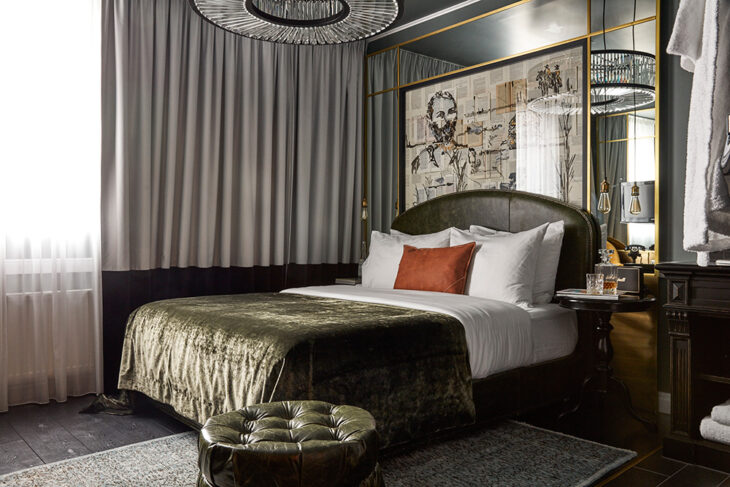 Sir Savigny Rooms and Suites
The sentiment of the elegant lobby continues into the rooms and suites at Sir Savigny Hotel, each designed with deep grey and emerald green tones, plush velvets, and soft leathers. The masterful interiors by Amsterdam-based  Interior Designer Saar Zafrir, coupled with unique paintings created for each room by Berlin based Artist Katharina Musick, take us to a bohemian hotel with a cinematic flare meant to take you into a true vacation mode.
Standing out for us were surely the impressive Sir Suites with freestanding bathtubs and floor-to-ceiling shelves filled with books. For Sir's suites in Berlin both Saar and Katharina truly showed how impressively creative they are.
If you didn't already know, Sir Savigny is part of the boutique hotel brand Sir Hotels, already known for authentic stories and distinctive locations. It stands out as a shining example of timeless design and hospitality the modern day traveller expects. Staying at Sir Savigny in Berlin, in big thanks to the helpful and friendly staff, felt like coming home and spending time with true friends. This stay wasn't just about a room; it was about immersing in Berlin, design, and some extremely tasty burgers! From the beautiful interiors to the books, art pieces and the food, Sir Savigny offers an enriching experience that's more than just a place to rest your head.
Discover more of the Sir Savigny Berlin in our gallery: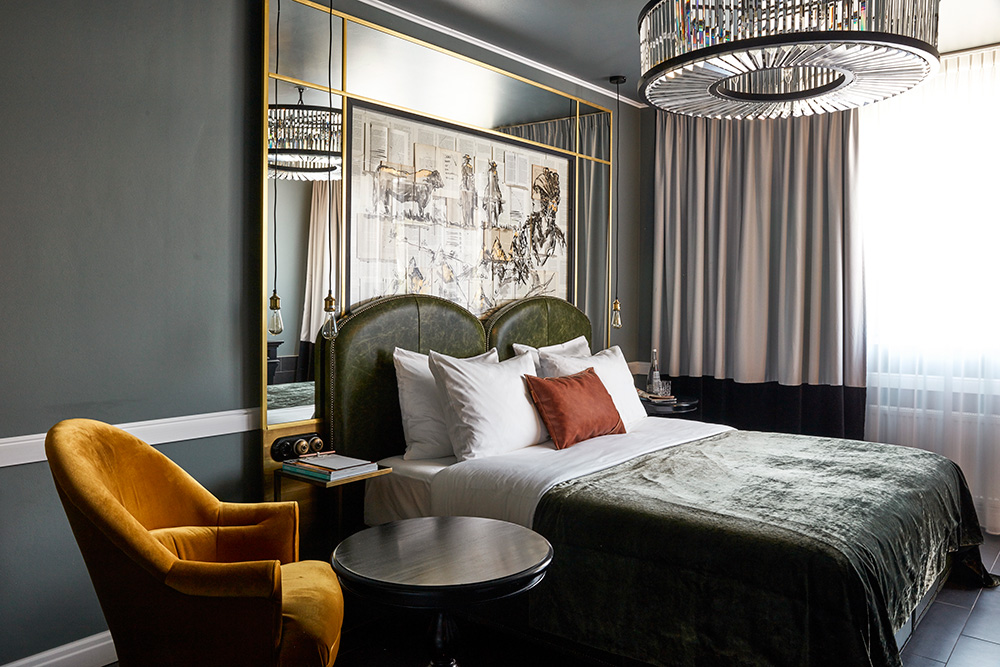 Whether you're in Berlin for business, leisure, or cultural exploration, we are sure the Sir Savigny Hotel team is ready to welcome you with open arms.
Words by Contributing Editor Nikola Bajovic
Sir Savigny Hotel Berlin
Address: Kantstraße 144, 10623 Berlin, Germany
Phone: +49 30 21782638
For booking and more log on to sirhotels.com.