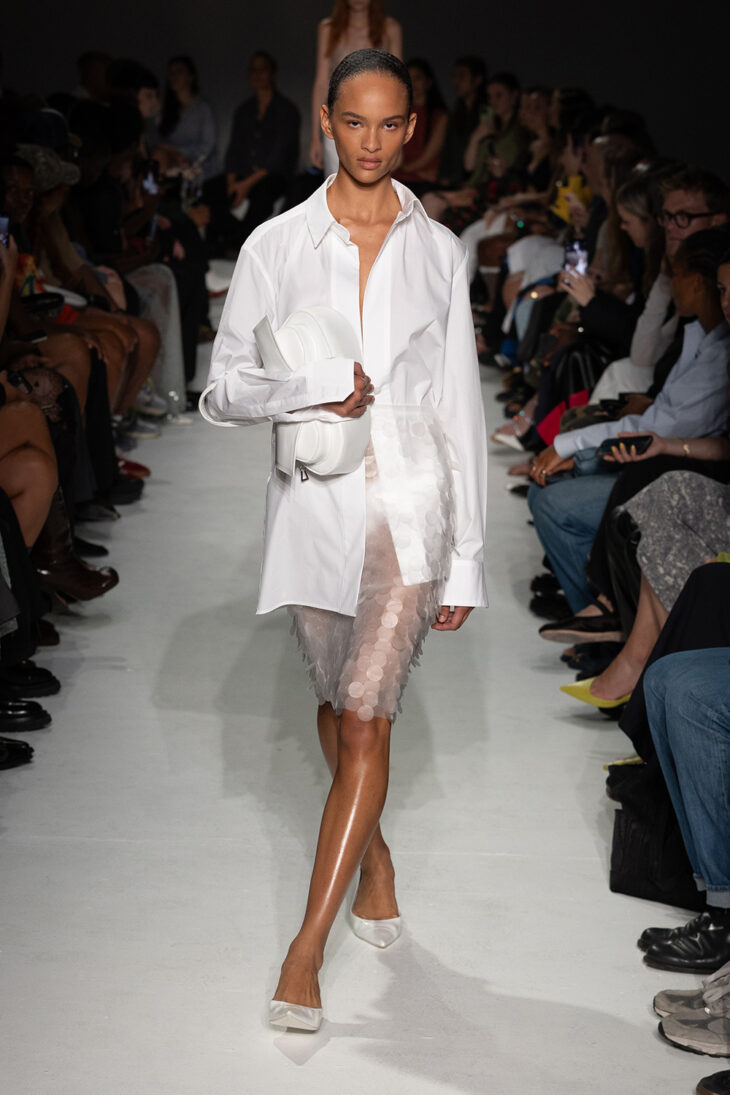 In an ode to the ephemeral encounter of juxtaposing worlds, 16Arlington's Spring Summer 2024 collection finds itself down a highway of innovation and nostalgia, led fearlessly by the talented Creative Director Marco Capaldo. Invoking the spirit of a night drive filled with untamed possibilities, the collection hinges on a powerful narrative where the wearer is set to transcend boundaries, embodying a sense of boundless freedom and potential. Capaldo describes this essence as "the freedom that comes with getting behind the wheel and just driving," where one can "go anywhere, be anyone".
In this collection, "There is no such thing as a bad coincidence" serves not only as the title but the ethos that permeates every fabric, every design, narrating a journey where the known meets the unknown in a beautiful clash. 16Arlington runway becomes a bustling city street, where feminine and masculine aesthetics casually meet and intertwine in an electrifying conversation of styles. The garments converse with one another in a dialect that's both new and familiar, engaging in dialogues that are written and rewritten with each stride on the runway.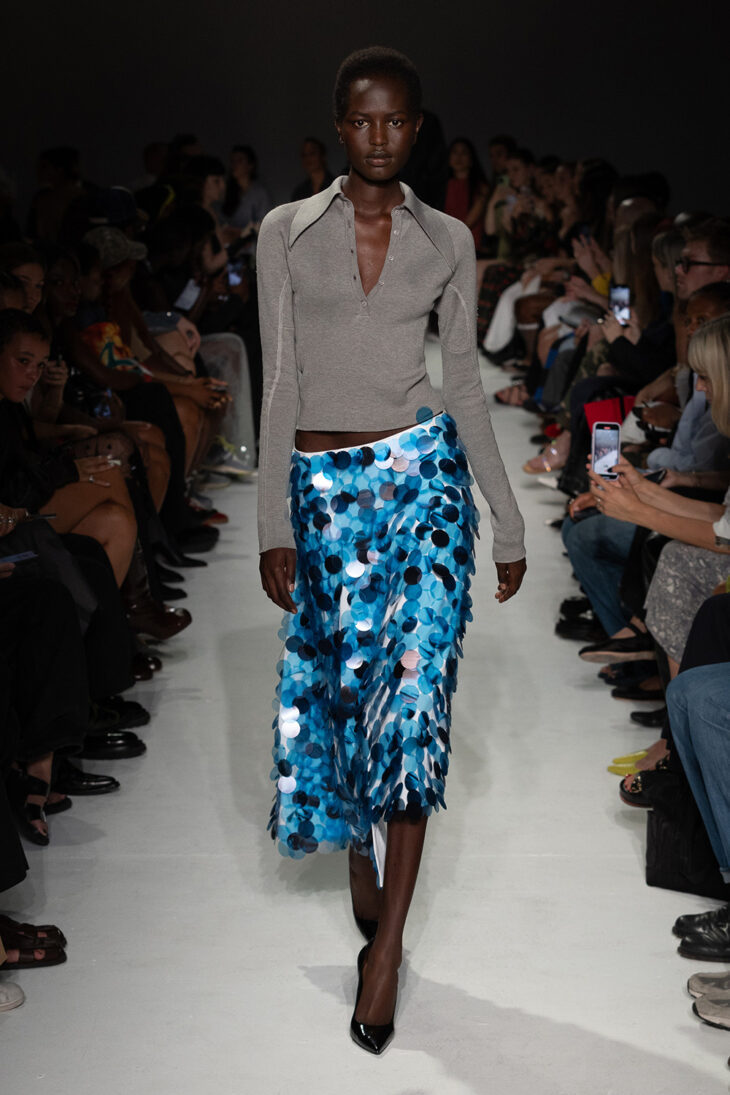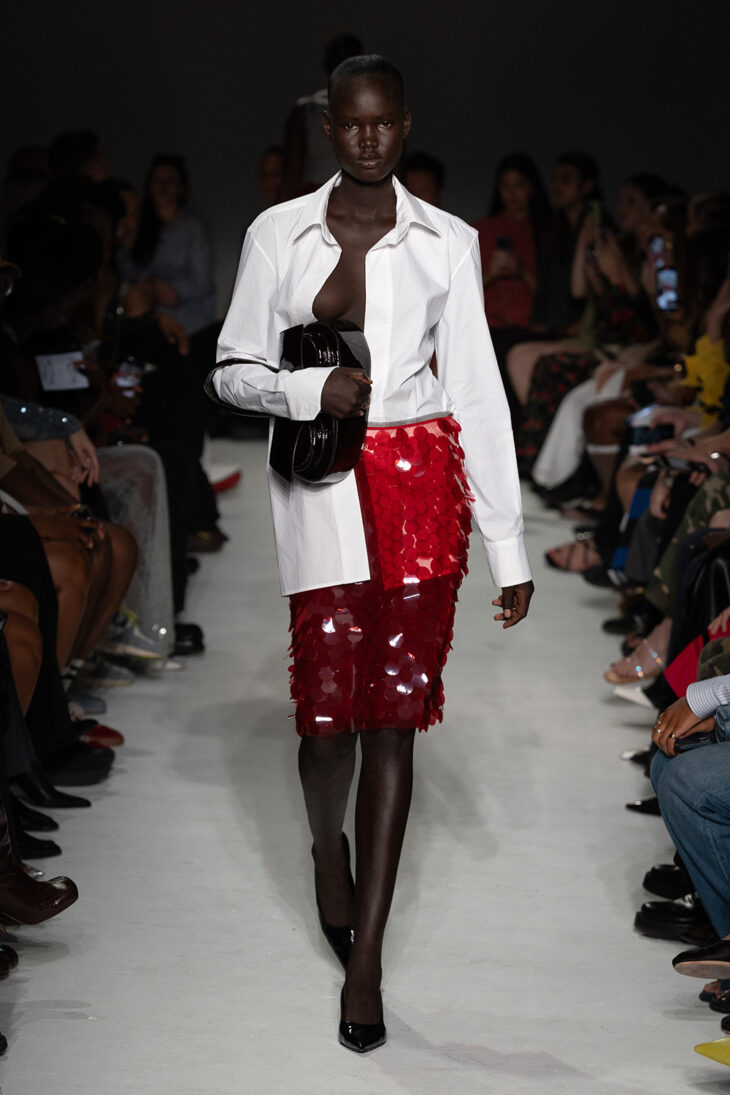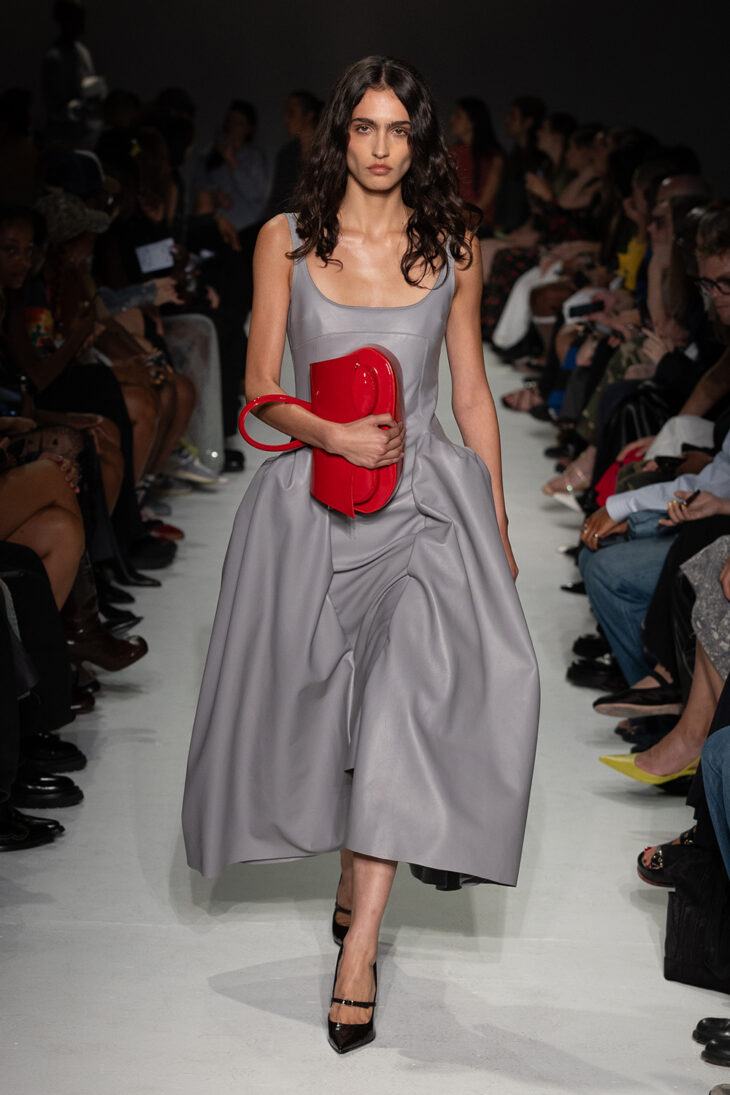 Each piece seems to be a paradox, enticing viewers to take a closer look, to dive deeper into the complex narrative spun by Capaldo. Traditional materials are transformed, reinventing sequins or polished silver metals that dance melodiously against the skin. 16Arlington collection goes beyond fashion, becoming a form of art where textiles morph before the eyes of the beholder.
This season, 16Arlington invites us to a world where the fabric serves as the canvas for contemporary narratives, with nylon mimicking the delicate creases of paper and ostrich plumes captured within glossy translucent vinyl that reminisces the industrial grace of factory curtains. Capaldo's artistry and creativity comes to light, as is evident in the paillettes that adorn garments, semi-sheer and digitally imprinted with rich blues, creating a visual narrative that pays homage to raindrops on a car window.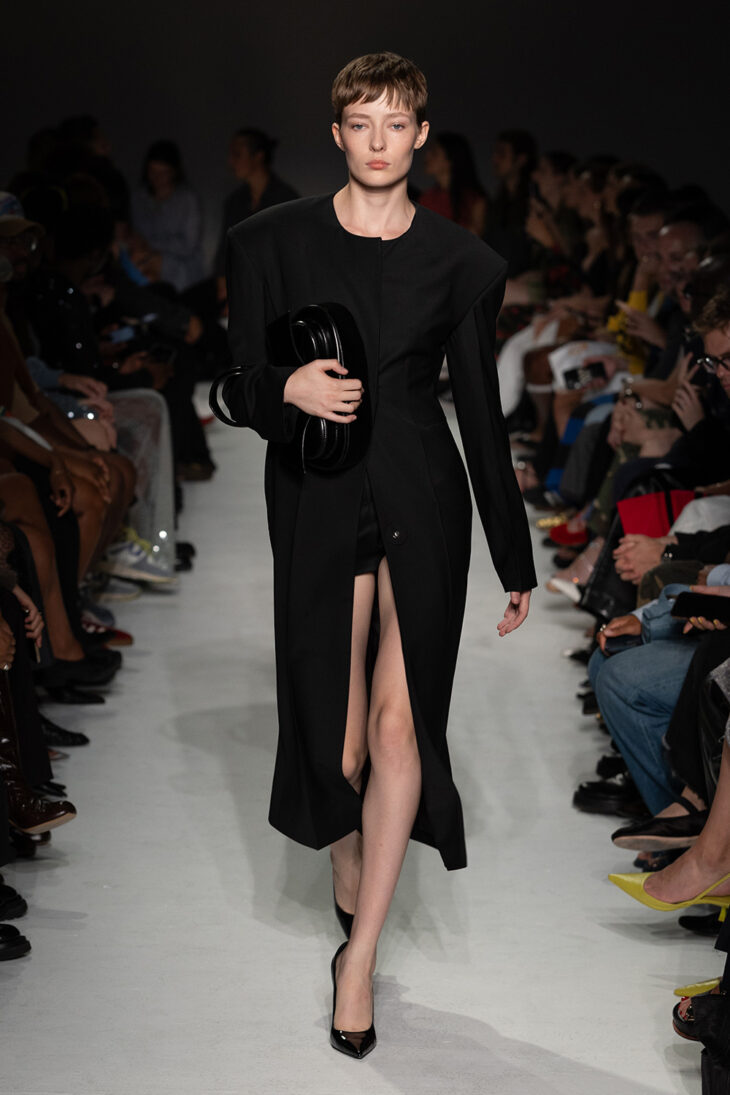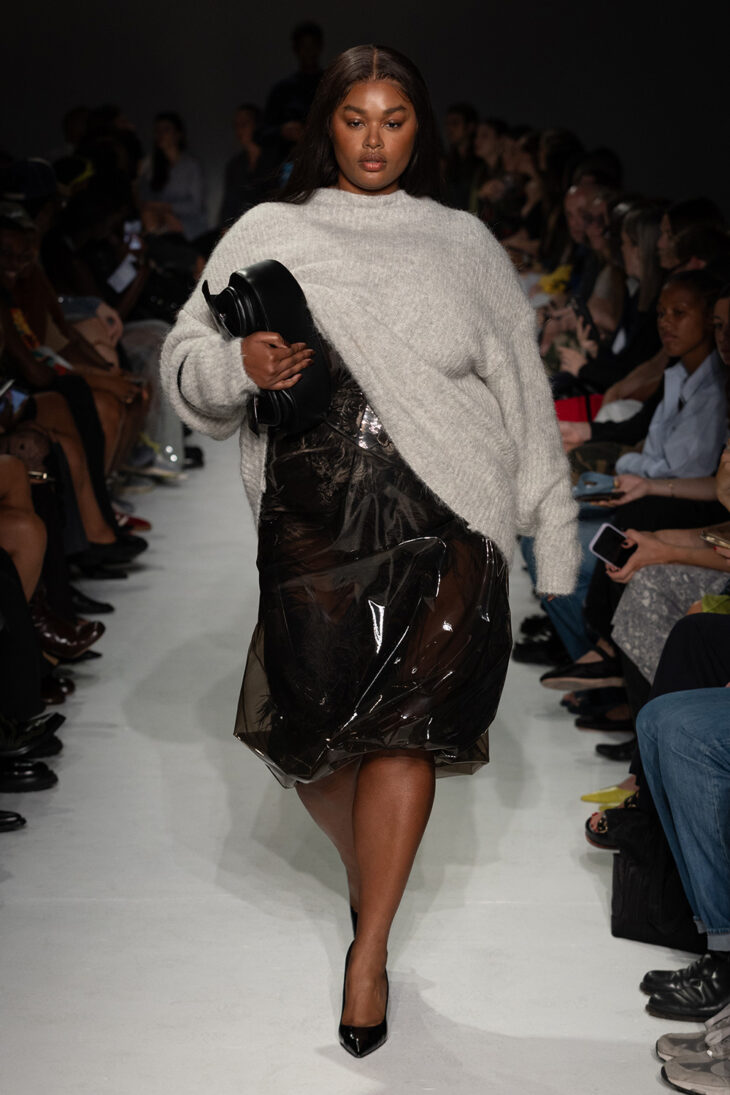 16Arlington runway finds a potent voice within the art direction of Olu Odukoya, a poetic abstraction of phrases borrowed from David Lynch's iconic noir, Lost Highway. It forms an intricate tapestry of space and language, offering a meditative perspective on dialogue and interaction, where every garment, every thread speaks volumes, echoing Capaldo's sentiment that "wherever we're going, it's exactly where we're meant to be." Additionally, Capaldo also uses the momentum to present 16Arlington's run into menswear, with a few men's look sent down the London runway.
16Arlington dares to redefine luxury fashion, embodying a hedonistic spirit that enlivens the modern woman's wardrobe. Even in its young age, having been founded in 2017, it carries the profound weight of a rich heritage, an electrifying dance between the sensual and the subversive, the precise and the provocative. In honour of the vibrant legacy left by the late Federica 'Kikka' Cavenati, Capaldo steers the brand with an undeniable passion, ensuring that the heartbeat of 16Arlington continues to pulsate strongly.
The Spring Summer 2024 collection presented during London Fashion Week stands as a powerful testament to the brand's capacity to merge past and present, tradition and innovation, creating not just clothing, but a story. In the mix of 100s of brands hitting the runways this fashion week month, 16Arlington promises to stay for seasons to come by delivering a clear message.
Words by DSCENE Editor Zarko Davinic. Discover more of the collection in our gallery: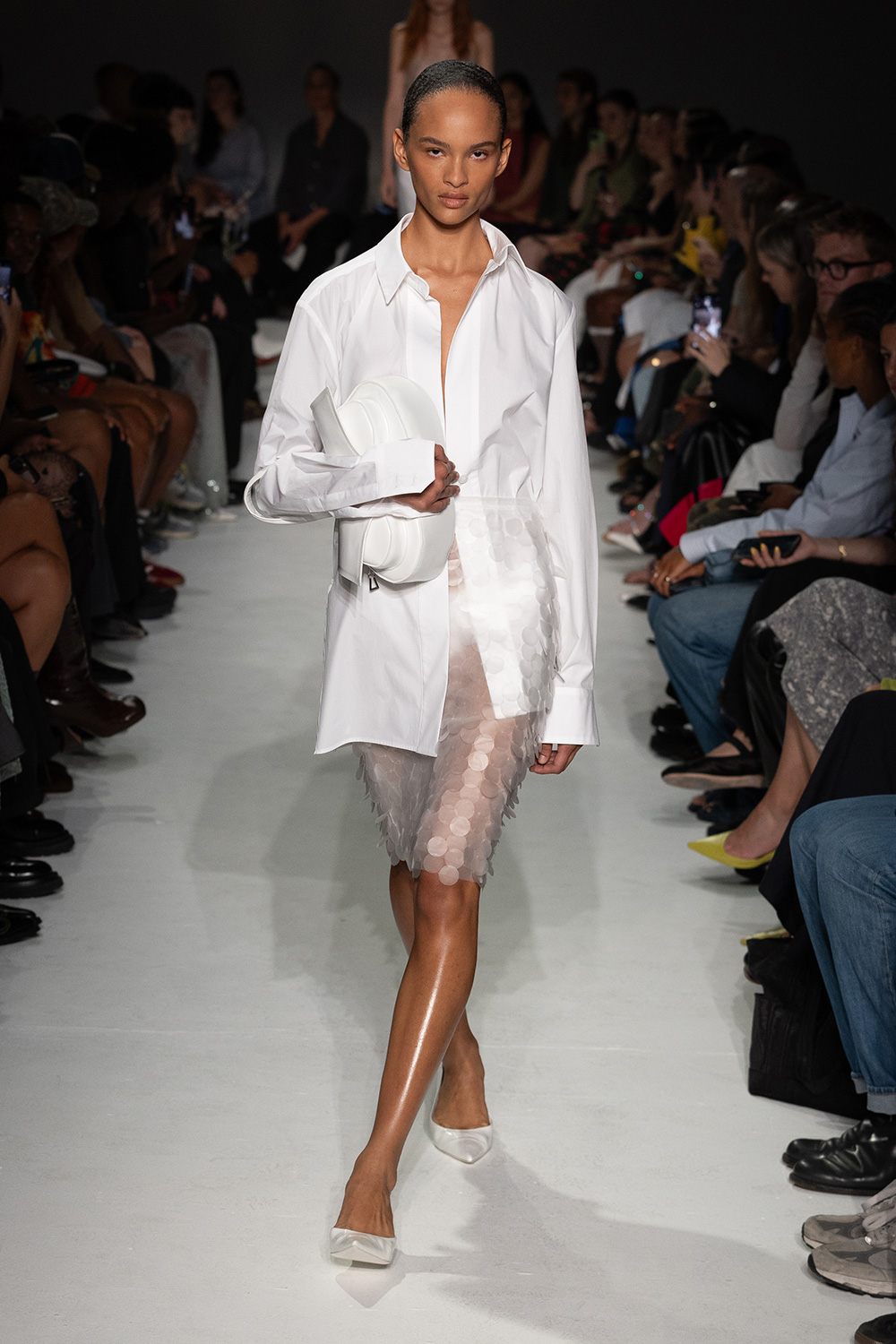 Art Direction: Olu Odukoya
Styling: Julia Sarr-Jamois
Casting: Shelley Durkan at Shelley Durkan Casting
Hair: Sam McKnight at Premier Hair and Makeup
Make-up: Lauren Parsons at Art Partner
Nails: Sylvie Macmillan at Management Artists, using CND
Composers: Gamaliel and Dante Traynor
Music Direction: Alex Putman at untitled (recs)
Text: Emma Hope Allwood
Production: Studio Boum
Models: Abdulsalam Adeigbe, Achol Ayor, Adwoa Aboah, Africa Garcia, Agel Akol, Ana Elisa Brito, Anipha Umufite, Ben Hawkins, Carliane Paixao, Celeste Fitzpatrick, Edna Karibwami, Emily Sturgess, Finlay Robinson, Gaye Serigne, Grace Valentine, Huijia Chen, Jacey Philana, Jennifer Matias, Joan Maria, Kerolyn Soares, Laura Reyes, Louise Robert, Nyaduola Gabriel, Nyakong Chan, Precious Lee, Sara Caballero, Shuqi Lan, Sien van den Brande, Tinglei Liu, Ugbad , Wang Fei, Yilan Hua