Fashion house AREA unveils its Fall Winter 2023 Ready-To-Wear and Couture Collection on September 10th during the ongoing New York Fashion Week. This season, the brand embarks on a creative journey, tracing the evolution of primal instincts through the annals of fashion history.
Embarking from an epoch where bones and fur were elemental survival tools, AREA skillfully navigates through the centuries where these materials transitioned into markers of aristocracy, wealth, and modern-day opulence. The collection stands as an ambitious endeavor to dismantle these age-old notions, venturing into a realm of alternative material explorations to redefine these symbols.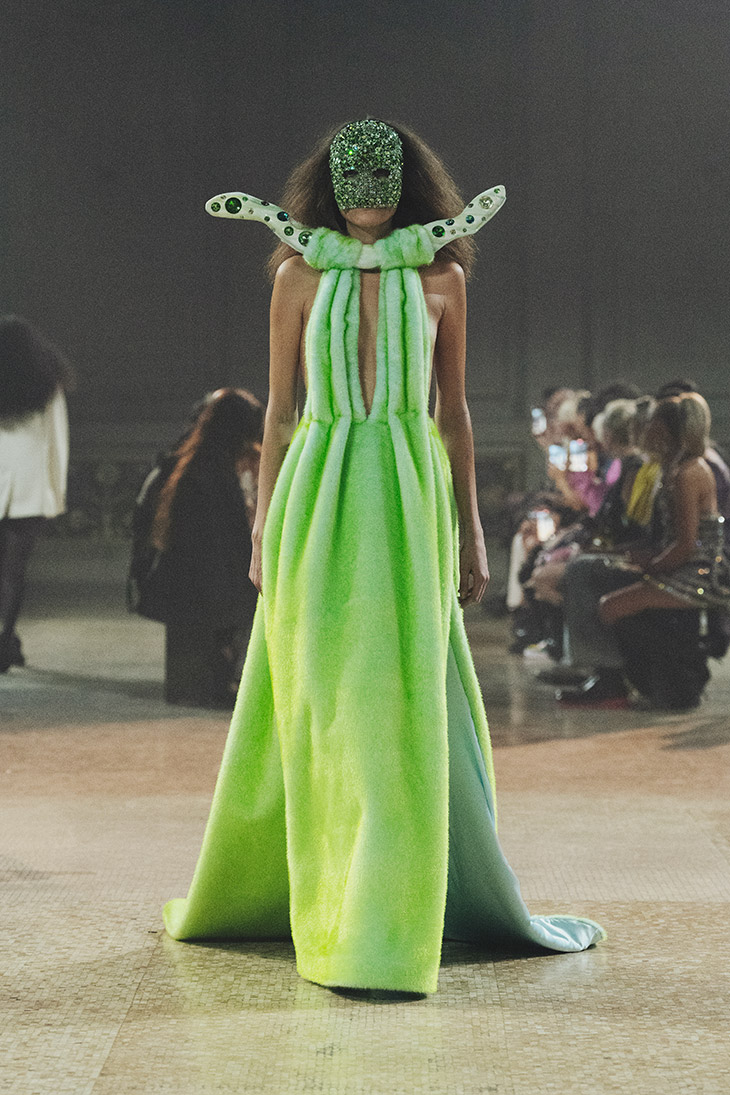 An intriguing facet of AREA's research materialized in the form of fur, an archaic form of clothing initially synonymous with warmth and protection. Over time, it morphed into a status symbol, fostering a pronounced disparity between the affluent and the deprived. The brand envisages a revolutionary transformation of this symbol into a modern, inclusive entity. The new manifestations of fur, seen in trompe l'oeil denim, fluid crepe viscose, and silk jacquard, are a testimony to this vision.
The creators embarked on this transformation by photocopying vintage fur pelts, which were then warp-printed onto an array of fabrics, encapsulating the enchantment of fur through its graphic texture, dramatic volume, and construction. This vision seamlessly transitioned into various wardrobe elements, including skirts, dresses, and monumental couture coats, thereby blending the glamour intrinsic to fur with everyday wardrobe essentials.
This season, AREA rediscovers the roots of jewelry and adornment, integral to its brand DNA. The inspiration is derived from prehistoric times when bone served as a primary material in jewelry crafting. Bridging the primitive craftsmanship with modern techniques, the collection encompasses abstract bone shapes, rendered through various methodologies involving lacquer, Swarovski crystal bombé, and molded claws.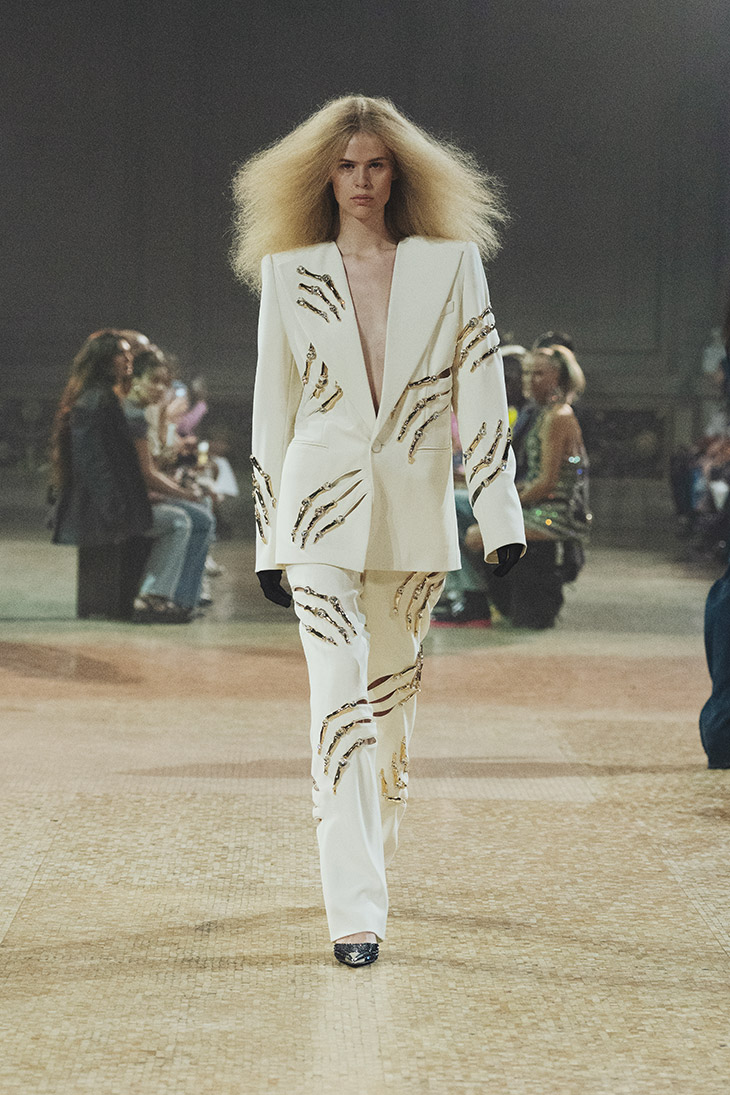 Venturing first into the realm of bones, AREA introduced hand-sculpted, exaggerated bone-like shapes, enveloped in resin enamel and embellished with Swarovski rivoli crystals. These innovative creations find their place knotted into dramatically draped couture gowns and abstract jewelry, portraying a perfect amalgamation of the primitive and the modern.
Next, the house forayed into the reimagining of bones and skulls as adornments, crafting a myriad of Swarovski crystals into bombé skull heads, bracelets, and colliers. This technique further extends into embroidered crystal and paillette cups found on dresses, tops, and fully encrusted catsuits, symbolizing a seamless fusion of antiquity and modernity.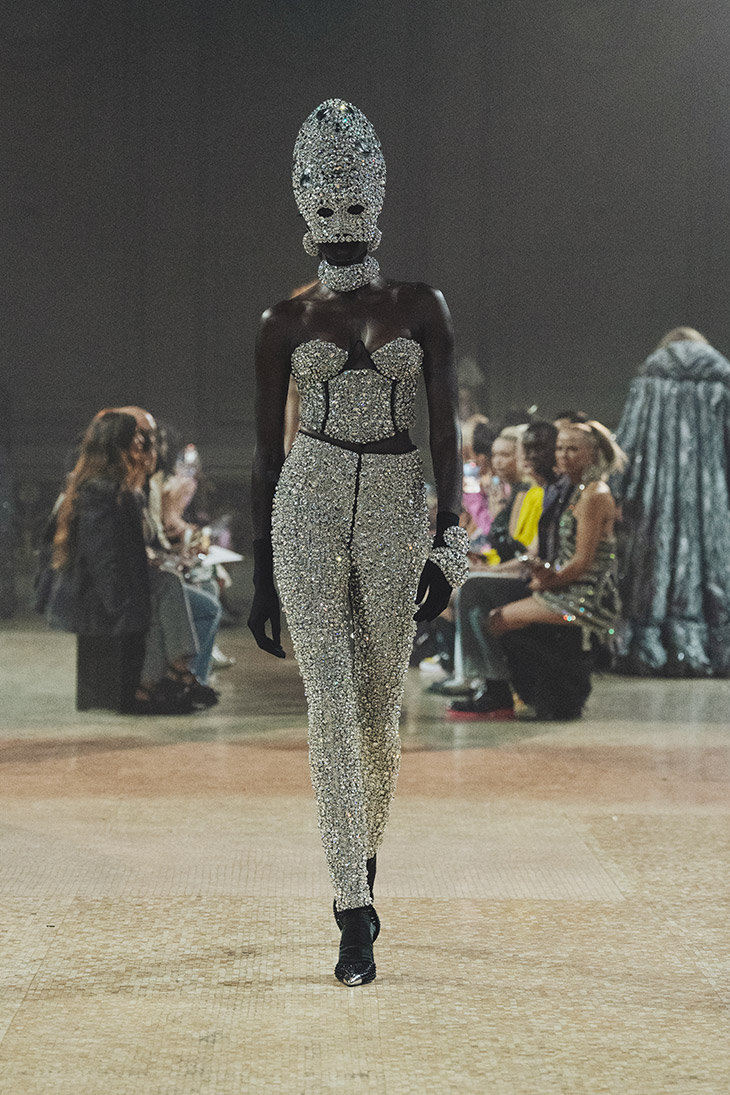 AREA's final narrative in this collection unfolds through the creation of hand-molded jewelry claws, a bold statement infusing savage beauty into the ensemble. These claws artistically dissect elegant suiting pieces, body-hugging cocktail dresses, and slashed denim, presenting a fresh perspective on 'distressing', and pushing the boundaries of contemporary fashion.
With Fall Winter 2023 collection, AREA stands at the cusp of fashion innovation, crafting a narrative that is both ancient and futuristic, and offering a glimpse into the transformative journey of materials and symbols through time.
Creative Director / Co-Founder: Piotrek Panszczyk
Styling: Katie Burnett
Hair: Ryan Mitchell using Mr. Smith
Makeup: Kanako Takase using Addiction Tokyo
Nails: Yukie Miyakawa
Music: Senjan Jansen
Production: REPLICA
PR: Lucien Pages Communication
Special Thanks: The AREA team both local and abroad, our dedicated mills, suppliers and craftsmen, our amazing
cast, Katie Burnett, the teams at REPLICA, Lucien Pages Communication, Sergio Rossi, Addiction
Tokyo, Mr. Smith, and EMCEE.