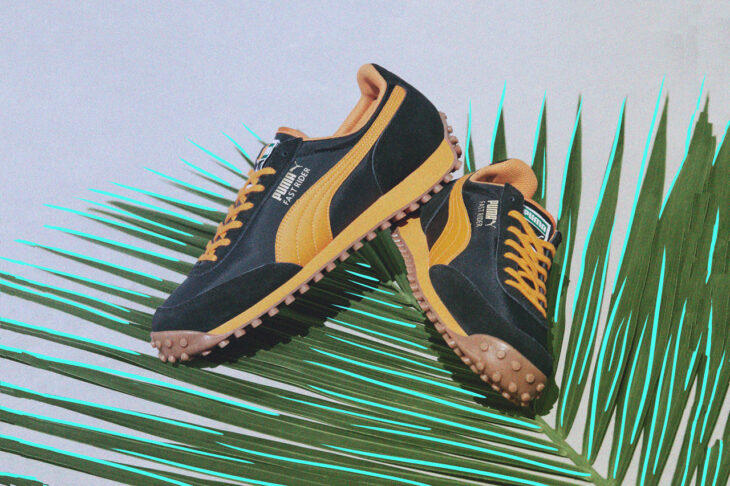 The 1980s marked a transformative era for Puma, the renowned sports apparel and footwear brand. With its bold and distinctive designs, Puma became an icon of the decade, capturing the essence of the vibrant and rebellious spirit that defined the era.
Let's delve into the remarkable journey of Puma during this unforgettable era and explore how it solidified its status as an iconic brand.
Noteworthy Releases
The 1980s witnessed a wave of noteworthy shoe releases that revolutionised the footwear industry, from groundbreaking technologies to iconic shoe releases:
The Palmero OG shoes from the 80s are making a highly anticipated comeback after being teased by PUMA collaborator and ambassador, Dua Lipa. Originally launched in the 1980s, these iconic low-top sneakers were an instant hit among football enthusiasts, particularly the terrace crowd.
With its timeless style, impeccable craftsmanship, and low-top design, the Palmero OG quickly became a favourite choice for athletes and fashion-conscious individuals alike. Now, as it prepares to return, the Palmero OG is set to capture the hearts of a new generation, combining retro charm with undeniable appeal.
Duoflex Technology – Torero Football Boot
In 1982, Puma introduced its revolutionary Duoflex technology through the Torero football boot, leaving a lasting impact on the sportswear industry. This groundbreaking innovation became a game-changer for athletes, offering enhanced flexibility and support on the field.
The Torero boot gained further prominence when it was proudly worn by the legendary Argentinian footballer, Maradona, during the 1982 World Cup. Maradona's skillful moves combined with the Duoflex technology propelled the boot into the spotlight, solidifying its reputation as a top choice among professional players.
Puma's Duoflex technology, showcased in the iconic Torero boot, set a new standard for performance and became a symbol of excellence in football footwear.
PUMA made history in 1985 with the release of the world's first smart shoe, the RS-Computer shoe. Built on the innovative Running System (RS), which introduced a unique cushioning system, this groundbreaking footwear combined four components with varying physical and chemical characteristics into a single unit.
The RS-Computer shoe went beyond traditional footwear functionality by integrating a computer module. This pioneering technology enabled runners to gather and analyse valuable data, allowing them to track their performance, compare past runs with future goals, and gain insights into becoming faster, more efficient, and competitive
Iconic Moments
From the brand's illustrious tennis roster to its historic decision to go public, these defining moments have shaped PUMA's journey and cemented its position in sports culture. Let's explore these pivotal events and their lasting impact on the brand's storied history:
Martina Navrátilová's Grand Slam Success
The year 1983 marked an iconic moment for PUMA in the world of tennis when Martina Navrátilová was recognised as the most successful player of her time. Her remarkable achievements included a record-setting 167 singles and 177 doubles tournament victories, with a staggering 59 major titles won, establishing an Open Era record.
Navrátilová's accomplishments, including her "Grand Slam Boxed Set," brought global attention to PUMA's tennis roster. Alongside esteemed players Guillermo Vilas and Boris Becker, Navrátilová contributed to PUMA's meteoric rise in popularity, solidifying the brand as one of the most renowned and respected names in tennis.
Boris Becker's Wimbledon Win
The year 1985 witnessed a significant moment in the history of PUMA as Boris Becker secured a momentous victory at Wimbledon while donning PUMA sneakers. At just 17 years old, Becker made tennis history by becoming the youngest, first unseeded, and first German player to claim the prestigious title.
Throughout his journey, Becker relied on his constant companions: PUMA shoes and a PUMA racket. Working closely with PUMA, he collaborated to develop his signature shoes, designed to prevent ankle turning and encourage more daring and audacious play on the court.
Maradona's 'Goal of the Century'
Maradona's legendary "Goal of the Century" during the quarter-finals of the 1986 World Cup in Mexico holds immense significance for PUMA. In this iconic moment, Maradona showcased his extraordinary skills and agility, starting from his own half and manoeuvring past six players, including the goalkeeper, before finding the back of the net.
What made this moment even more remarkable was Maradona's choice of footwear: his trusted PUMA KINGs. The goal not only solidified Maradona's status as one of the greatest footballers of all time but also showcased the superior performance and reliability of PUMA's iconic football boots.
In a momentous move, PUMA transformed into a public company as Puma AG in 1986, commencing trading on the German stock exchanges. The company's stock, symbolising its growth and accomplishment, started trading on both the Munich and Frankfurt stock exchanges.
Armin Dassler, PUMA CEO and son of the company's founder, Rudolf Dassler, joyously celebrated this milestone alongside his colleagues from the PUMA board. This pivotal step marked a landmark in PUMA's corporate journey, highlighting its commitment to transparency, expansion, and ongoing development as a prominent player in the sports apparel and footwear industry.