Supermodel Linda Evangelista graces the digital cover of WSJ. Magazine's Fall Men's Style Issue captured by the legendary fashion photographer Steven Meisel. Together, Steven and Linda reminisce and unveil their collaborative masterpiece: a vibrant monograph titled "Linda Evangelista Photographed by Steven Meisel". Set to be published by Phaidon this month, the book stands as a monumental testimony to their enduring friendship and decades-long creative alliance.
The book not only encapsulates a collection of nearly 190 mesmerizing images, spanning almost 25 years, from 1987 to 2011, but also delves deep into a friendship that stood the test of time, with Meisel often playing the role of Evangelista's champion, mentor, and sanctuary. A sizable portion of the imagery is devoted to the magical '90s, the era that beheld the ascent of the supermodel phenomena and the reign of "the Trinity", where Evangelista, alongside Christy Turlington and Naomi Campbell, became the epitome of glamour and allure.
Their collaborative journey has not only enriched the fashion tapestry but often defined the contemporary trends and cultural shifts. Some of their iconic works include the thought-provoking "Makeover Madness", a 70-page Vogue Italia feature in 2005 that scrutinized the escalating frenzy around plastic surgery, and groundbreaking campaigns for powerhouse brands like Dolce & Gabbana and Barneys New York.
As Linda Evangelista bares her soul in the feature, she reveals the timing of this retrospective comes as a catharsis amidst her fierce battle with health crises, including a recent breast cancer diagnosis in 2018. Yet, her spirit remains unbroken, as she bravely steers through these tribulations with an unfaltering determination to triumph – not just for herself but for her son Augustin. The unwavering support from her close-knit circle, including her friend and confidante Salma Hayek, fuels her resilience. Now, embracing her role as a "survivor on standby", Evangelista faces the future with a heart brimming with gratitude, a spirit ready to celebrate life, and a vigilant eye on her well-being. Linda Evangelista is ready to embrace life with renewed vigor and grace.
Meisel on their collaboration:
"It's like Marlene Dietrich and [the director Josef] von Sternberg," says Meisel. "You're creating together—it's never a solo act."
Meisel on meeting Evangelista for the first time:
"She just sparkled," Meisel remembers.
Meisel on rarely focusing on the past:
"It's only recently that I have even looked at [my] old pictures," says the photographer, whose only previous mass-market book was another collaboration—the era-defining Sex, which he and Madonna published in 1992 (art-directed by Fabien Baron).
Meisel and Evangelista on deciding to do the book now:
"I just did [the new book] because Linda asked," he says about his first retrospective monograph.
"And he said yes!" she chimes in. "There was no long, in-depth conversation…. We went to work…. Dare I say, I was kind of easy," she adds. (Evangelista says she is still deciding on a breast-cancer research organization where she will donate her book proceeds.)
"It was the right time," Meisel says. Choosing which photos to use was surprisingly easy. "We agreed—" she starts a sentence. And he finishes it: "Ninety-nine percent of the time."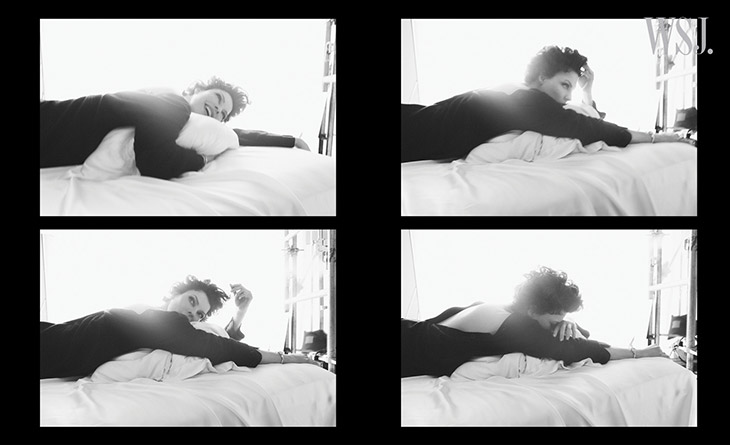 Evangelista on her breast cancer battle:
"I've kept it quiet. Only a handful of people knew. And I'm just not one of those people who has to share everything," she says. "I thought to myself, I will share this one day but while I am going through it, absolutely not. I don't want the Daily Mail waiting outside my door like they do every time something happens. 'Linda seen for the first time since blah blah blah.' "
Evangelista on hair growth after second time undergoing chemotherapy:
"This is all new hair," she says. "It came back very dark. It's even curlier than it used to be. The first time, I lost all the hair on top of my head, like my grandfather did."
Evangelista on her first breast cancer diagnosis in 2018:
"It was detected in my annual mammogram," she says. "The margins were not good, and due to other health factors, without hesitation, because I wanted to put everything behind me and not to have to deal with this, I opted for a bilateral mastectomy. Thinking I was good and set for life. Breast cancer was not going to kill me."
Evangelista on her reaction to a second breast cancer diagnosis last July:
"Dig a hole in my chest," she told him. "I don't want it to look pretty. I want you to excavate. I want to see a hole in my chest when you're done. Do you understand me? I'm not dying from this."
Evangelista on tackling her treatment:
"I just went into this mode that I know how to do—just do what you've got to do and get through it. And that's what I did."
Evangelista on her prognosis:
Recently, she's been told by her post–cancer care oncologist that her prognosis is good. It's not quite the answer she was hoping to hear. "Not 'great'? Why isn't it great?" she asked. "Well, once it's come back, there's a chance," she says the doctor told her. With what she describes as "a horrible oncotype score," a number that represents the recurrence risk of cancer, Evangelista says her future is uncertain, which makes every day precious. "I know I have one foot in the grave, but I'm totally in celebration mode."
Evangelista on whether she feels she did anything wrong in choosing to undergo CoolSculpting treatments that reportedly left her "horribly disfigured":
"I did," she says. "I took a drink of the magic potion."
"I love that movie," she adds, referring to Death Becomes Her, the 1992 black comedy, starring Meryl Streep and Goldie Hawn, in which a potion promising eternal youth wreaks havoc.
"I said to myself, Would I drink the magic potion?" she continues. "Of course I would."
After the CoolSculpting commercials on television "got to my head," she succumbed to the temptation. "It just backfired on me," she says.
Evangelista on her son, Augustin James Evangelista Pinault, who will turn 17 in October:
"He loves sports. We love going to games. You name it," she says, listing some of his preferred teams, which include the Carolina Panthers ("Our favorite is American football; we're crazy about it").
"We travel to a lot of games as we enjoy it so much, and I was secure for many years knowing I wouldn't be recognized."
Evangelista on Salma Hayek, Augie's step-mother, wife to Augustin's father, François-Henri Pinault:
"I love that woman. She's a woman's woman. Just like me, [she's] so family oriented, and so positive. She's a blessing to us… She was very, very generous and kind to me while I was going through my chemo."
Hairstylist Garren on Linda Evangelista's only concern upon learning of her diagnosis:
"When this happened to her, it was just devastating," Garren says "She basically said, 'If I didn't have my son, I don't know what I would have done. I have to be there for my son.' "
Evangelista on her standing ovation-worthy finale appearance in Fendi's star-studded baguette 25th anniversary celebration last year:
Online, some predictably snarky comments soon appeared, Evangelista recalls:"Like,'What's she hiding under that dress?' " Today, she can laugh about that. "If they only knew—my [post-surgical] drainage tubes had just been pulled," she says.
Meisel and Evangelista on their friendship:
When Linda comes over, they do "normal stuff," she says, like watching TV, awards shows being among their preferred viewing. Linda learned to cook from her Italian mother, grandmother and aunts, and enjoys cooking seasonal dishes.
"Not that I was ever aware," Meisel says archly. "The other night, she came over for dinner and we ordered in…. She says she's a good cook…but I don't know that."
"I'm a great cook! You eat my food," she counters.
The pair continue to press their points before he abruptly ends the discussion: "Fine, she's a great cook."
Designer Anna Sui on Linda Evangelista and Steven Meisel:
"The two of them did their best work together…. There was really just such magic going on between them. She is such a perfectionist. She pushes herself so hard. I think that was what made her and Steven's relationship so incredible—she [worked so hard] to capture that mood that Steven was trying to evoke each time."
Art Director Fabien Baron on Linda Evangelista and Steven Meisel:
"He is fashion," says art director Fabien Baron. "Steven Meisel has that extra thing… that maybe only [Richard] Avedon and [Irving] Penn had, a knowledge of craft and a knowledge of how to push and to push as far as you can. Right on the verge of, the thing's going to crack. "She understands what he is looking for. 'OK, you want to go there?' " he adds.
WSJ. Magazine's Fall 2023 Men's Style Issue available Saturday, September 16th.
Photography © Steven Meisel for WSJ. Magazine, read more on wsj.com