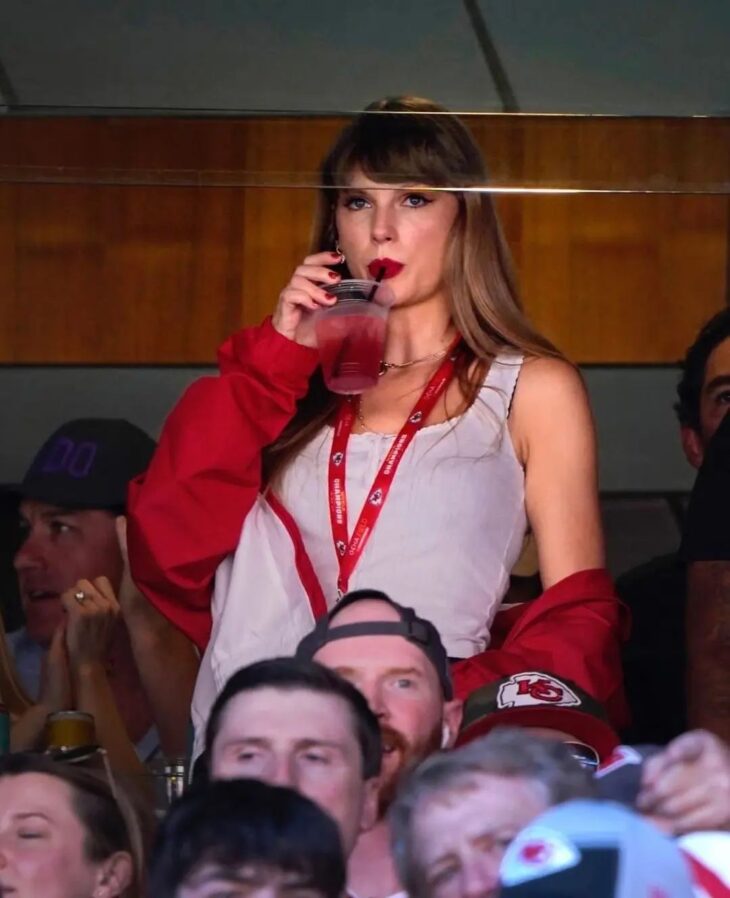 Taylor Swift made a notable appearance during the nationally televised game between the Kansas City Chiefs and the Chicago Bears this Sunday, further sparking rumours about a potential romantic relationship with Chiefs' tight end, Travis Kelce. While the dating status of Swift and Kelce sparked discussions among NFL enthusiasts and Swift's fanbase, the burning question on everyone's mind was, "What did Taylor choose to wear to the game?"
Taylor Swift's On and Off-Duty Style
For those who proudly count themselves among Taylor Swift's dedicated fan base, it's no secret that she has been consistently delivering a plethora of fashion forward styles as of late. Throughout her ongoing Eras Tour, Swift has graced the stage donning no less than 28 unique outfits and continues to introduce surprises with each performance. Her wardrobe choices for the Eras Tour are nothing short of attention-grabbing, featuring sequined bodysuits, grand princess gowns, and striking fringe jackets, to name just a few of the sartorial pieces that make up her ensemble. While it's undeniably delightful to witness her in glamorous red carpet attire, there's an endearing and down-to-earth quality to observing "Miss Americana" when she's dressed in off-duty gear.
In stark contrast to her radiant on-stage persona, Taylor Swift manages to keep her street style refreshingly understated. This spring season, Swift has been frequently spotted in various corners of New York City, effortlessly showcasing an array of chic and understated looks. From elegant skirt sets that exude femininity to cozy crewneck sweaters that radiate comfort, Swift effortlessly infuses her elevated taste into a wardrobe that remains firmly grounded in everyday wearability. In essence, Taylor Swift emerges as the ultimate muse, offering us a trove of inspiration for our summer attire.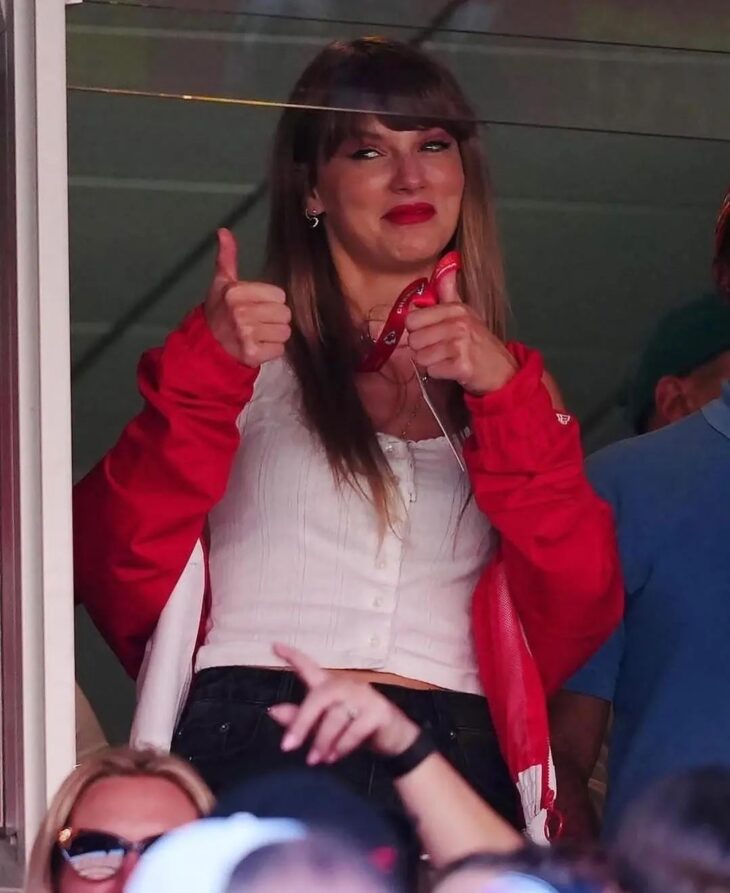 Taylor's Look for the Game of the Kansas City Chiefs'
This weekend, the singer took a trip to Kansas City to attend the September 24th showdown between the Kansas City Chiefs and the Chicago Bears at the famed Arrowhead Stadium. The internet erupted with excitement as her presence sparked fervent discussions, all while swirling rumors hinted at a potential romantic connection between Swift and Travis Kelce, the Chiefs' accomplished tight end.
Taking her place alongside Donna Kelce, the mother of the two-time Super Bowl champion, Taylor Swift graced the event from the comfort of Kelce's suite. If you looking to replicate Taylor Swift's style, you're in for a treat because we have all the particulars of the look she sported at the game.
The music legend opted for an understated yet stylish look, featuring a crisp white Dôen tank top, a pair of dark-wash KSUBI denim shorts, and a red New Era Chiefs windbreaker jacket – a choice that felt utterly natural, given the occasion. She completed her look with a tan corduroy cap by Ralph Lauren, a Louis Vuitton signature camera box bag, diamond crescent earrings from Jacquie Aiche, and a bold cherry-red lip. However, what truly elevated the ensemble in my eyes was a set of White Red New Balance 550s perfectly coordinated with the Chiefs' signature colors.
When the realms of music and sports collide to form a new celebrity power couple, it becomes a major event, not only in the world of entertainment but also for the sneaker industry. Taylor Swift is renowned for setting trends, while Travis Kelce stands as one of the most prominent sneaker enthusiasts within the NFL.
New Balance 550 'White Red'
The New Balance 550 initially gained recognition on the basketball court during the 1980s, only to later be stashed away in New Balance's archives for an extended period. Nevertheless, the sneaker, along with other popular New Balances, has experienced a triumphant resurgence over the past three years thanks to their effortlessly cool and laid-back aesthetic, reminiscent of classic basketball footwear.
The 'White Red' variant of the New Balance 550 made its debut in February 2022 with a price tag of $110. While this particular model is currently sold out on the New Balance site, you can purchase a similar pair in white and red without the hints of black. Fortunately for those browsing online, the exact 550s can still be found on sneaker resale platforms, often hovering near their original retail price.
In case you missed it: Check out our Style Guide on Women's New Balance Shoes