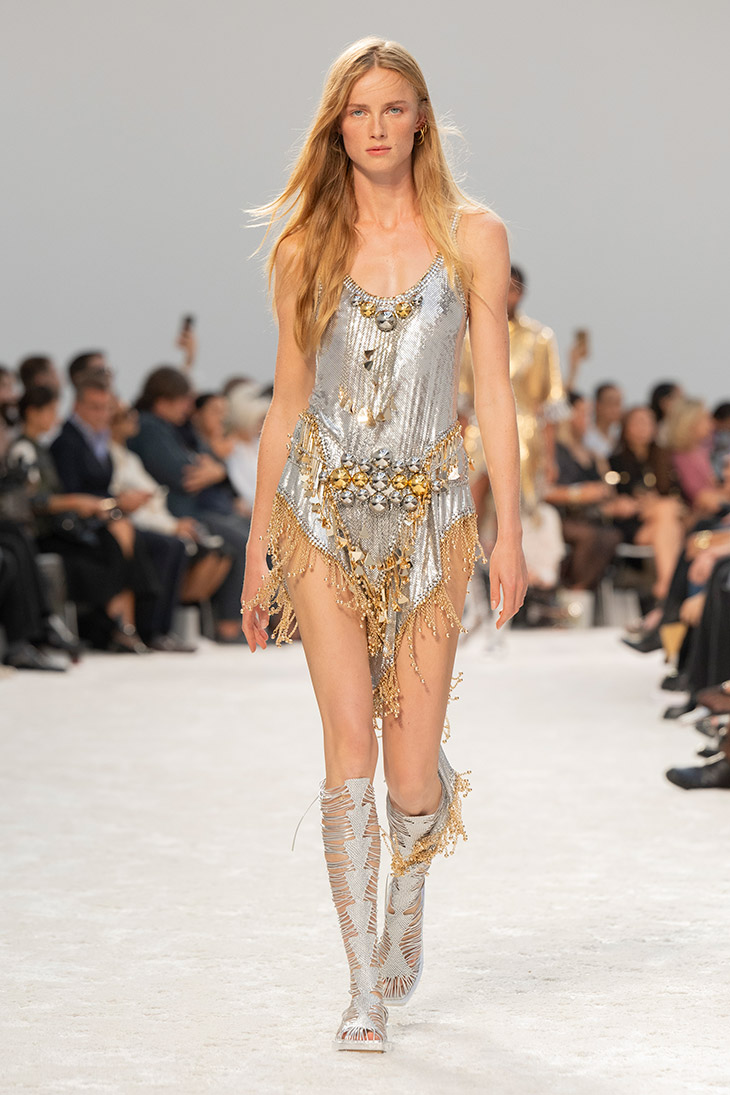 Fashion house Rabanne revealed its Spring Summer 2024 Collection, titled "Origins of the Future" – a contemplative odyssey from the depths of antiquity to the realms of the unforeseen future – on Thursday, September 28th, at the Palais de Tokyo, Paris. Julien Dossena's latest collection emerges as a mirage, where enduring myths and artifacts blur with dreamt stories and illusion, manifesting a powerful feminine representation, statuesque and fearless, transcending time.
SPRING SUMMER 2024 COLLECTIONS
This archaeological expressiveness is anchored in the present, a simultaneous reflection on ancient handcraft and its contemporary evolution, exploring the dynamic between tactility and sensuality. Adorned and provocatively revealed, the body becomes a canvas for traditional clothing such as sarouel pants and scarf tops, transformed with geometric metallic embroidery, metal fringe, and lacing, juxtaposing raw, rustic fabrics with elaborate beading and loose gold threads hinting at a state of exquisite decay.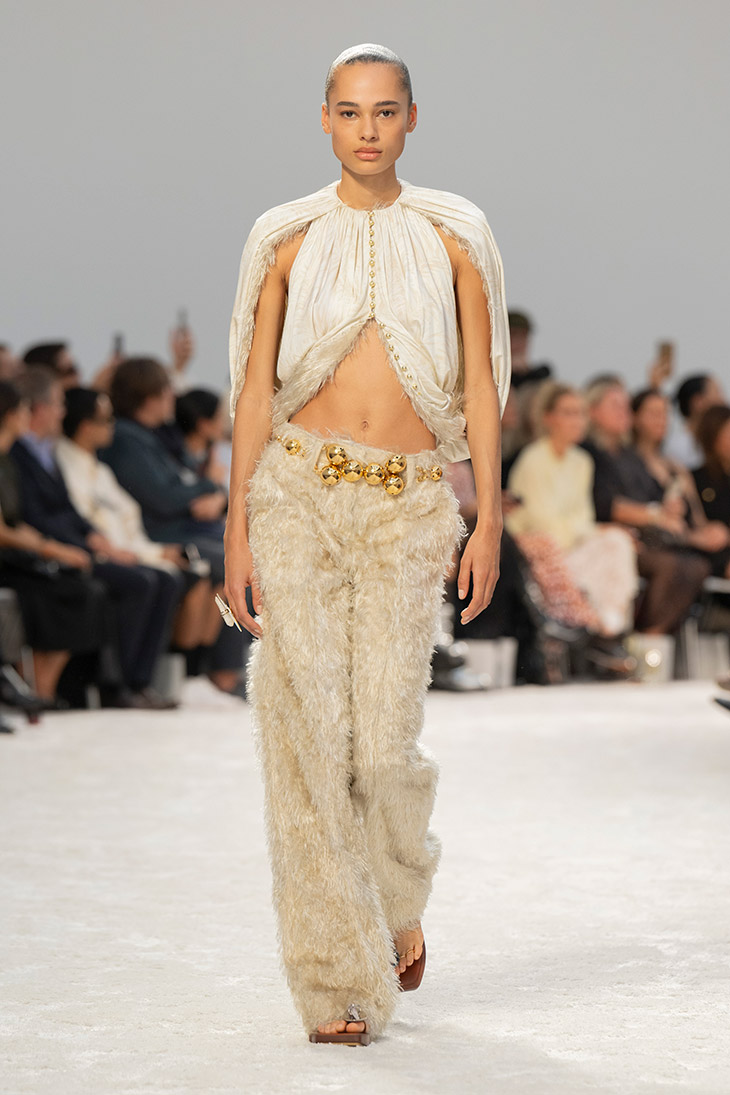 Yet amidst this ancestral resonance, a parallel modern narrative unfolds. Tailored jackets with gathered fronts, angular basque waistlines, and slouched trousers channel a contemporary grunge attitude. Draping evokes antique marble statuary, from delicate fabric folds to serigraphic prints capturing light and shadow. Wool and hemp knits and wovens pay tribute to Sheila Hicks, as contoured silhouettes dissolve into densely layered fiber volumes. The material experience becomes intimate, the swish of liquid metal mesh and the frisson of wood discs and peacock feathers engaging the skin, highlighted further by a palette beyond the emblematic black, gold, and silver of Rabanne – gradient desert tones, luminous copper, and cool shades of blue and lilac.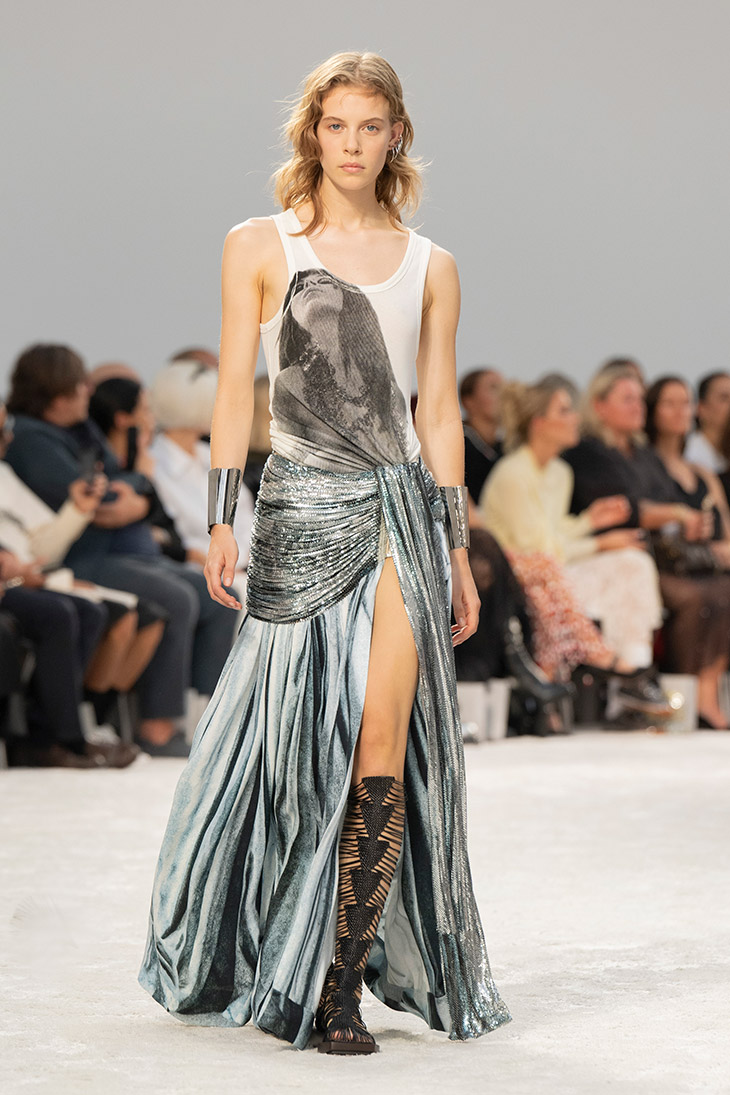 Mystical flourishes manifest in sculptural hardware, from forehead pendants to belts of gleaming spheres and sandals embellished with rock crystals, while openwork boots offer a contemporary take on the gladiator style. The collection culminates in a revisitation of "Nues," the iconic series by photographer Jean Clemmer with Paco Rabanne, as images from 1962 grace tank tops, paired with Swarovski crystal and metal mesh dresses, emphasizing the perpetual mystery and desire intrinsic to Rabanne, uniting the past, present, and future in a dance of material, form, and imagination.
Discover every look from the Rabanne Spring Summer 2024 Collection in the gallery below: