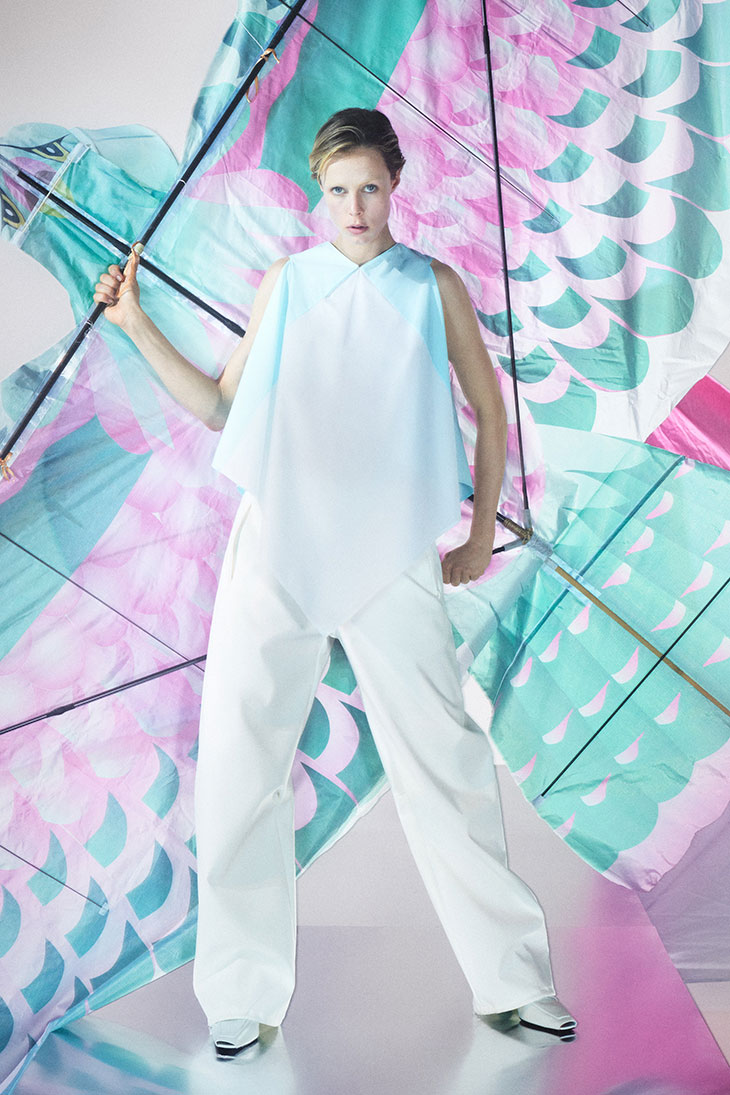 Yang Li's latest collection for Shang Xia is a poetic journey through contemporary Eastern aesthetics, merging postmodern designs with Chinese minimalism. The SS24 collection, aptly described as understated flair, paints a visual narrative that's both ethereal and rooted.
From the outset, the inclusion of twenty traditional kites, handcrafted by Sichuan master artisans, beautifully anchors the campaign, photographed by Casper Sejersen. The kites – made of rice paper and poised on bamboo and carbon fibre spars – transcend mere accessories. They are nostalgic tributes to Li's cultural lineage, simultaneously symbolizing forward-looking adventures.
The garments in the collection dance in fluid variations, where the softness and transparency of fabrics confront meticulous tailoring and sharp geometric cuts. The play of lightness against precision is reminiscent of the kites' own balance between fragility and structure.
One cannot help but be taken by the collection's adaptability. Garments unfold and overlap in modular combinations, toeing the line between outerwear and inner elegance. The range is expansive: from qipao mini dresses, boleros, cotton voile sets to Ming stripe smocking coats, Shang Xia presents a vast landscape that drifts between formality and relaxation.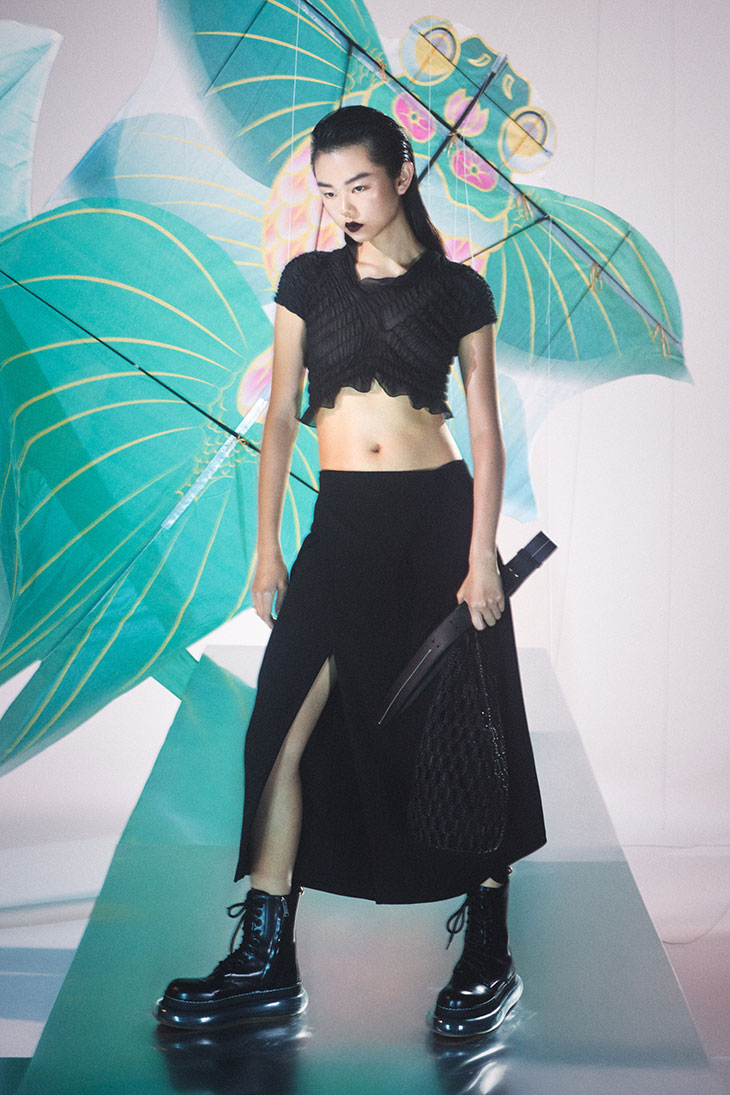 Textures and optics are at play in the collection, with ruched details adding depth and intrigue. The gleam of satin in trenches, shirts, and petal-hem dresses imbues the pieces with an ethereal luminosity, elevating the overall palette.
A hallmark of Yang Li's minimalist approach, the color selection of Han purple, jade, and celadon grants the garments a radiant clarity. This is further enhanced by festival icon prints symbolizing prosperity and longevity. The blue rose motif stands out, conjuring memories of Li's childhood and offering a sentimental nod to China's rich print-making tradition.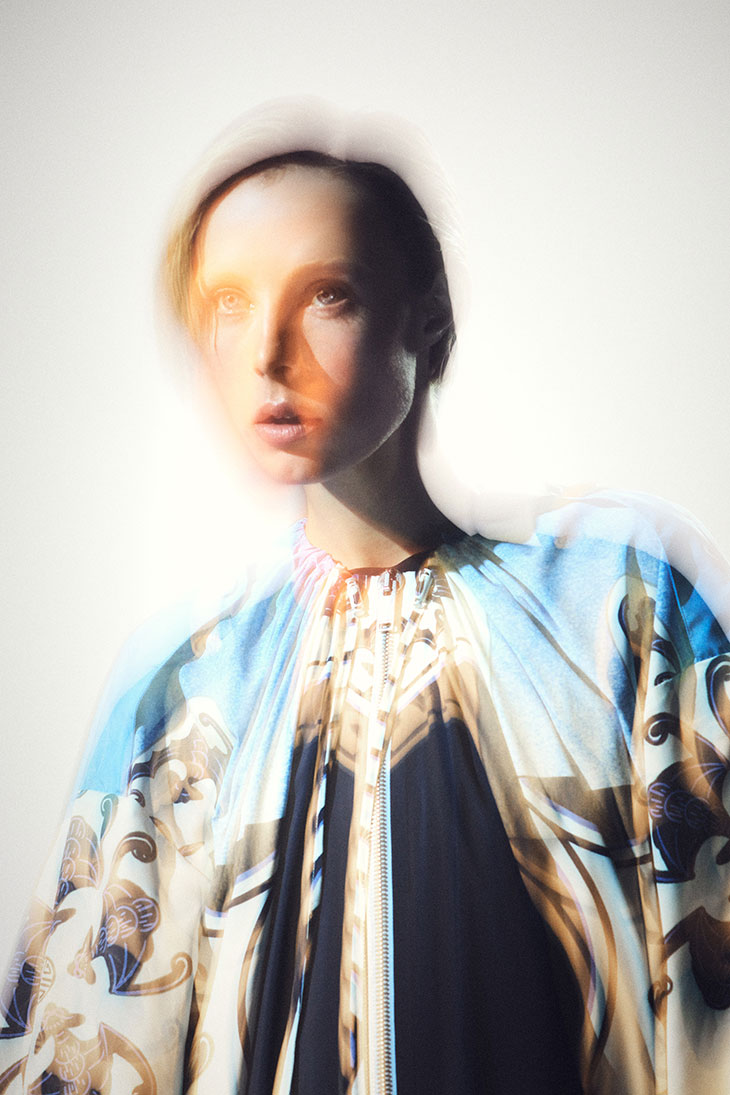 A delightful surprise is Shang Xia's debut into the world of jewelry with the introduction of Ronghua silk flower brooches and necklaces. These delicate pieces punctuate the collection, juxtaposing traditional motifs with modern designs.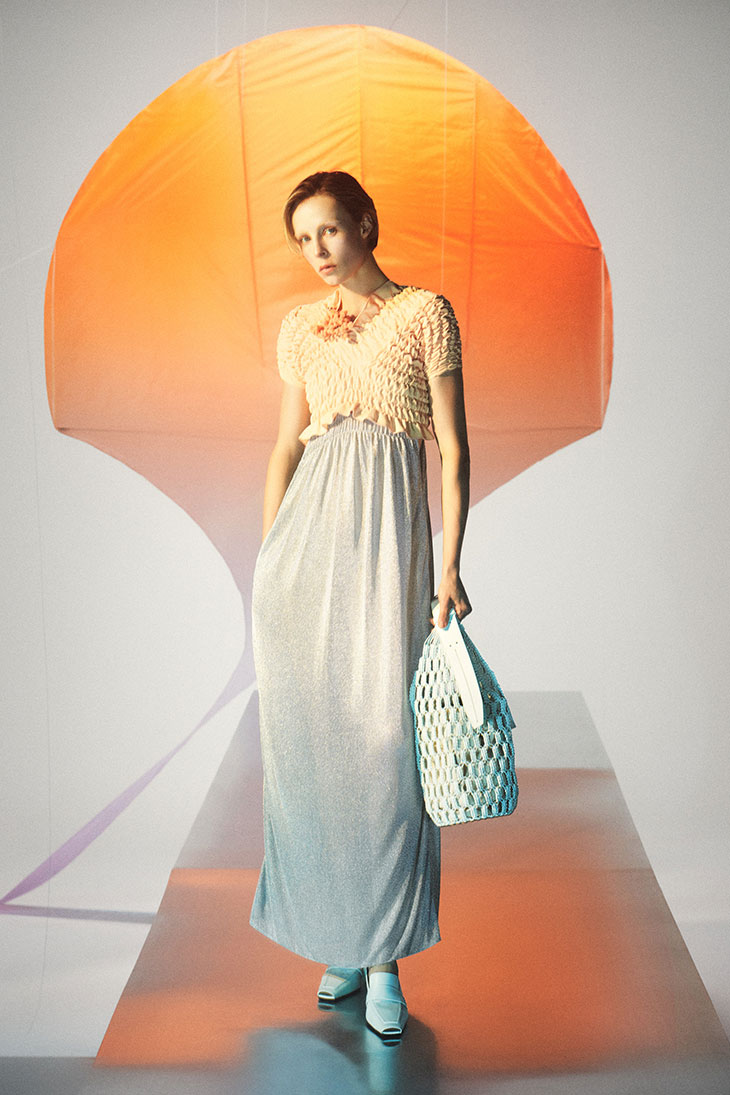 Footwear takes a bold step with teacup enamel-heeled leather mules, referencing Shang Xia's iconic ceramic glazed homeware, alongside evolving bubble soles that now embrace a punkier, laced-up aesthetic.
In the realm of accessories, the triangular bag returns, reincarnated as a baguette version crafted from raffia. This is complemented by leather Lady-Moon bags, showcasing Shang Xia's commitment to innovate while upholding its essence.
The SS24 collection is an atmospheric ode to feminine strength and duality. It captures a sensation of floating amidst the clouds, yet remains tethered to cultural roots. Yang Li has once again demonstrated that contemporary fashion can be a harmonious blend of tradition, innovation, and soulful storytelling.