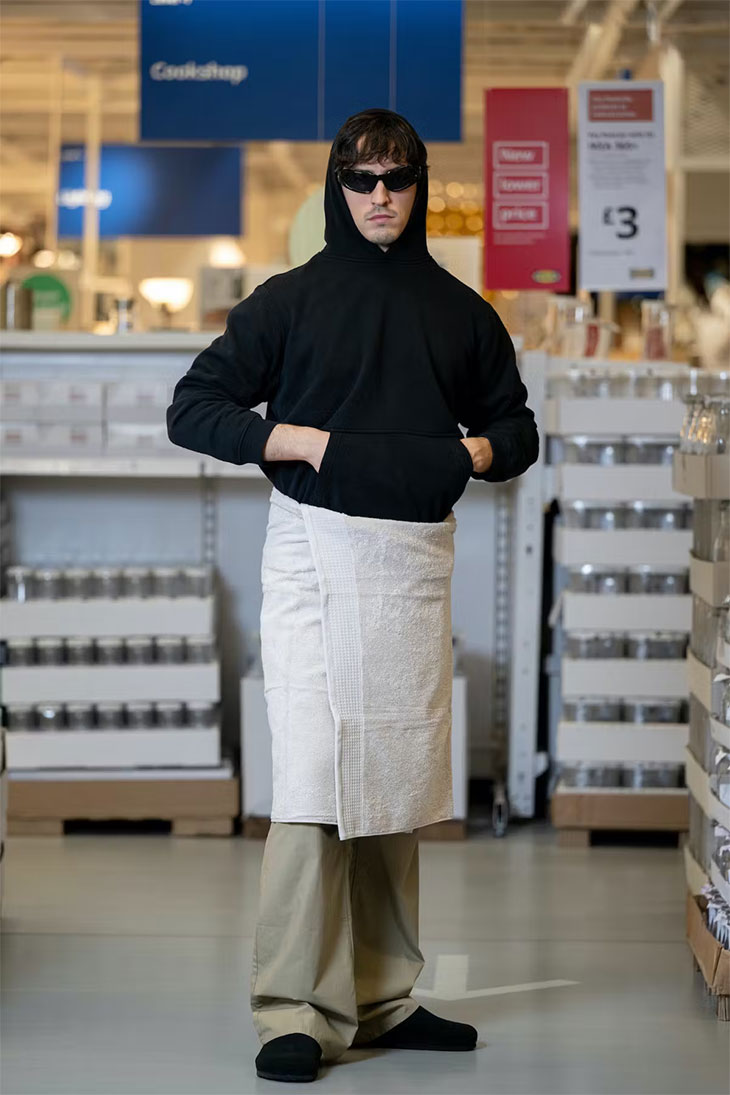 In a world where a towel can transcend its humble bathroom origins to become a high-fashion statement, Balenciaga's $925 Towel Skirt has surely set the bar. But, wait! IKEA, the champion of affordable home solutions, just entered the chat with a witty riposte: the VINARN bath towel, masquerading as a skirt, for a mere $8.
Balenciaga, a name synonymous with luxury and occasionally controversy, recently showcased a towel skirt during its Spring 2024 presentation at Paris Fashion Week. Priced at a whopping $925, this terry cotton towel boasts an adjustable belt, buttons, and a Balenciaga motif. It's not just a towel; it's a fashion experiment, one that you can wear anywhere – as long as your wallet permits!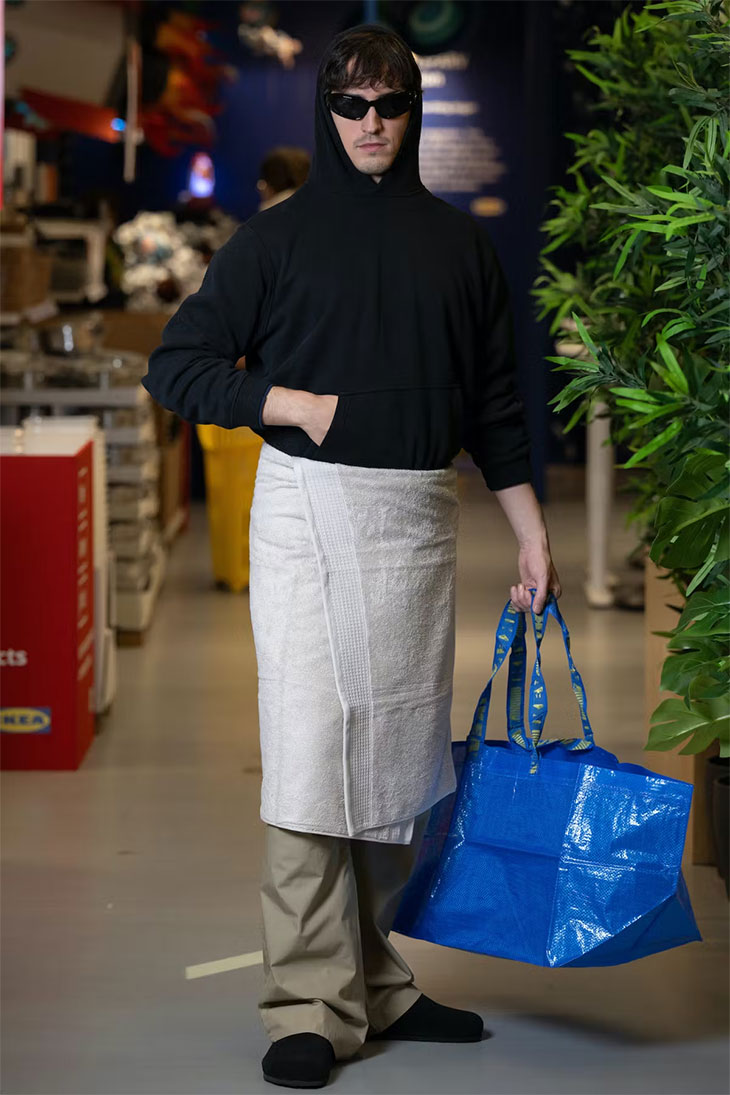 The beloved Swedish megastore known for its meatballs and maze-like showrooms have unveiled their version of the towel skirt – the VINARN bath towel. This isn't just a bath towel; it's a fashion statement, and at $8, it's almost $900 cheaper than its Balenciaga counterpart. IKEA's tongue-in-cheek marketing showcases the towel in all its versatile glory, perhaps with a slight nudge and wink at the absurdity of high fashion pricing.
Balenciaga has a history of turning the ordinary into the outrageously expensive – remember the $1,800 leather trash bag? Their towel skirt is in line with this trend of creating high-priced items from everyday objects. It's an approach that often leaves us questioning the boundary between luxury and madness.
Demna, Balenciaga's creative director since 2015, promised a more mature and serious approach in future designs, especially after last year's ad scandal. However, the towel skirt seems to stray from this path, leaning more towards buzz creation rather than practicality. It's a bold move that continues to spark debate over the true essence of luxury fashion.
View this post on Instagram
IKEA's response is not just about offering an affordable alternative. It's a playful jab at the fashion industry's sometimes questionable extravagance. The VINARN bath towel stands as a symbol of practicality and affordability, traits that IKEA has long championed.
The contrast between Balenciaga's Towel Skirt and IKEA's VINARN bath towel poses an intriguing question: What defines fashion? Is it the price tag, the brand, or the utility? As IKEA steps into this fashionable fray with its characteristic humor, it reminds us that fashion can be both fun and functional without breaking the bank.
IKEA's take on the Balenciaga Towel Skirt is more than just a quirky response; it's a commentary on the fashion world's often perplexing pricing strategies. While Balenciaga turns a simple towel into a luxury item, IKEA brings us back to earth, reminding us that sometimes, a towel is just a towel, even when worn as a skirt.