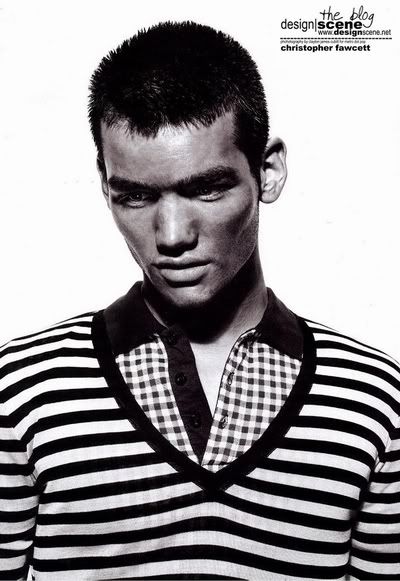 Model:

Christopher Fawcett
Magazine:
Metro Dot Pop
Editorial:

Lake Como Yacht Boys, Summer 1964
Photography by

Clayton James Cubitt
Styling:

Rene Garza
Grooming:

Katie Wedlund
Christopher is originally from Denver, Colorado and a former navy serviceman, Fawcett came to the big apple and has already found himself on the pages of Man Magazine, Genre (He did a cover and editorial for them) Glitterati and Metro Pop. Recently Fawcett walked for the 6th Annual National Underwear Day hosted by Lydia Hearst for DKNY and 2(x)ist, he also did runway shows for Andrew Buckler at Bryant Park and appeared in the 20th Anniversary presentation for Calvin Klein's "Steele" line of underwear. We are expecting to see Christopher on the upcoming Spring Summer New York fashion week, he is represented by B1 Model Management.

The photos above are courtesy of Christopher Fawcett and his publicist, provided for this exclusive Design Scene feature, and in a few days time we will publish an interview with Chris.
Click on the images above to enlarge.