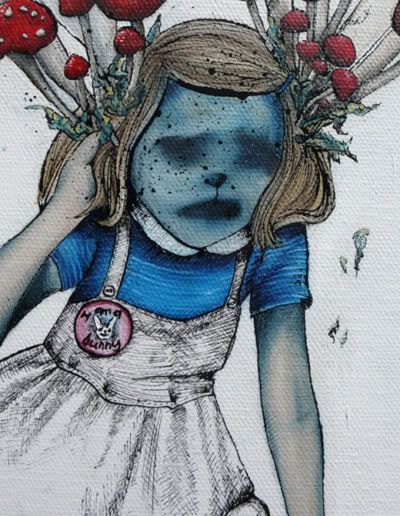 A Mirror Distorted
Opening Reception: Thursday August 6 2009 / 7.00pm – 10.00pm
Exhibition Dates: August 6 – August 27 2009
Address: Carmichael Gallery / 1257 N. La Brea Ave / West Hollywood CA
Carmichael Gallery is proud to present A Mirror Distorted, an all-female international group show featuring new works on canvas, paper and mixed media fabric by artists Andrea Michaelsson, Candice Tripp, Cherri Wood and Pam Glew.
Retro chic and urban grit unite in the work of Andrea Michaelsson, whose portraits of starlets and beauties exude unabashed spontaneity and sophisticated feminism. Using a lush range of acrylic, watercolor, ink and spray paint, she interprets the glamour of early twentieth century American fashion and cinema with an ironic European edge. More info and images under the cut
: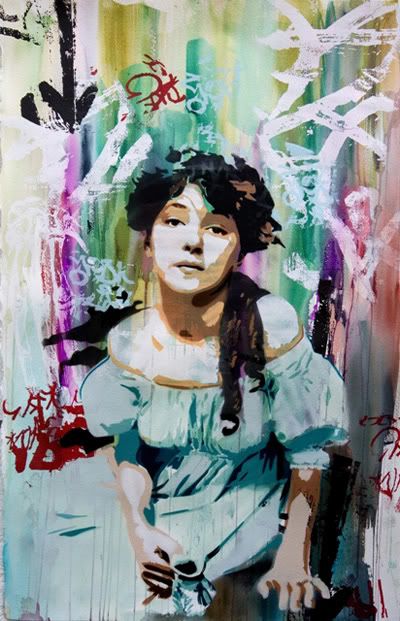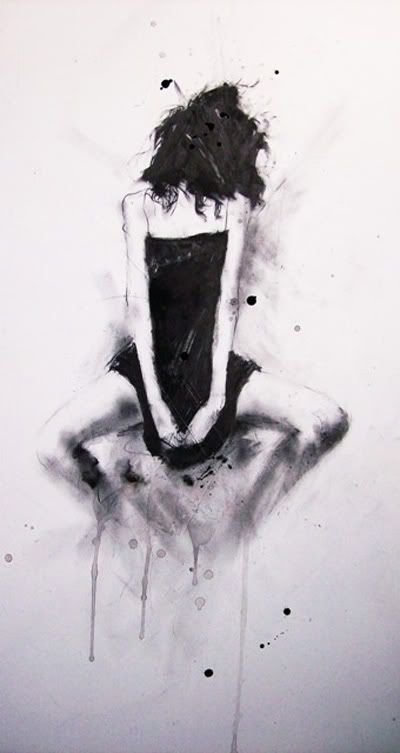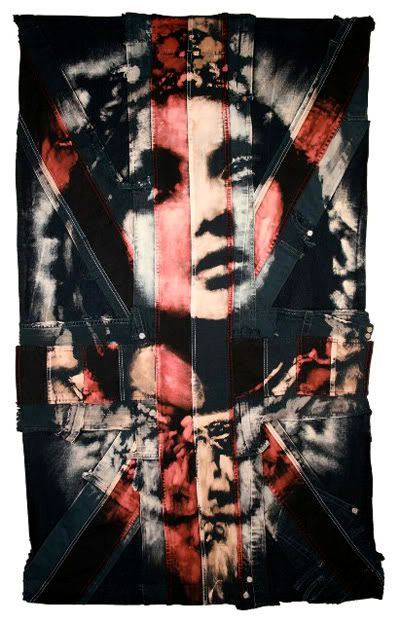 Candice Tripp has produced a series of oil and inks on canvas entitled "Fib-Lore". The pieces illustrate classic lies told to children to discourage naughty behavior, yet which instill a fear that does more harm than good. While Candice's subject matter and use of negative space are intentionally disturbing, her innocence and wit furnish the scenes with a burst of narrative force.
The floating, brooding figures in Cherri Wood's new works on canvas are engulfed by emptiness and despair. The pairing of muted blacks and grays against stark white canvas magnifies her subtle exploration of the human form and psyche. Several of Cherri's pieces contain quotes and dialogue culled from classic plays and short stories, providing an added narrative layer.
Pam Glew presents a series of pieces hand-crafted from denim, linen, and vintage Italian, Iraqi and American flags. Collectively entitled "Culture Clash", these works depict the faces of women and children in attitudes of beauty, fear, vulnerability and power. Pam's eclectic imagery is culled from horror film stills, contemporary Western icons and the photography of war-torn states.
An opening reception for A Mirror Distorted will be held on Thursday August 6 2009 from 7.00pm – 10.00pm. The exhibition will be open for viewing through Thursday August 27 2009 from 1.00pm – 7.00pm.
Andrea Michaelsson
Andrea Michaelsson began her career as a photographer of the colorful characters and situations that compose urban life in Barcelona. From these snapshots evolved striking stencil portraits woven into the fabric of the city's streets. Although much of her work was destroyed following the government's decree to eradicate graffiti, Andrea has remained an influential player in the Catalan street art scene. Based in the vibrant district of El Ravel, she and partner Ilia Mayer continue to paint both in Spain and around the world as the collective Btoy. Andrea has exhibited in galleries and events in Belgium, Germany, Italy, Mexico, Spain, UK and the US. Her prints are produced by UK publishing house Pictures on Walls. Publications featuring her work include ROJO, Overspray, Stencil History X and the book "BTOY" by Belio. For more information about Andrea and Btoy, visit thisisbtoy.com.
Candice Tripp
Candice Tripp was born in 1985 in Cape Town, South Africa. The self-taught artist relocated to the UK upon completion of her high school education in 2004 to pursue fashion design at Central Saint Martins. She discontinued her plans for university in 2007 with the booking of her first solo show in Newcastle. Now twenty-three, she has exhibited her work in Los Angeles, London, Newcastle, Vienna and Berlin. Candice most recently enjoyed a successful solo exhibition at Lazarides Gallery, Newcastle. She currently lives and works in Newcastle-upon-Tyne. For more information about Candice, visit candicetripp.com.
Cherri Wood
Cherri Wood is a young illustrator based in Saint Paul, Minnesota. Describing her pieces as "a cluster of ink explosions," she frequently splashes the paper and canvas with liquid ranging from diet coke to tea and smudges it with willow charcoal and graphite. Cherri has exhibited her work in Los Angeles, San Francisco, Denver and London. For more information about Cherri, visit flickr.com/fysimone.
Pam Glew
English artist Pam Glew creates striking portraits of women on a variety of vintage media, including fabrics, metal, antique book paper and other aged materials. Her distinctive aesthetic is achieved through a unique creative process involving ink, ammonia, bleach, and spray paint. Pam has been
particularly lauded in recent years for her series of hand-worked and sewn flags, which she has exhibited in galleries across the UK and USA. One of a select group of strong female urban artists working today, Pam's pieces hang in collections throughout North America and Europe. She lives and works in Brighton, England. For more information about Pam, visit pamglew.co.uk.
Carmichael Gallery
Carmichael Gallery of Contemporary Art exhibits emerging international contemporary artists with a focus on narrative and figurative painting, mixed media and sculpture.
Carmichael Gallery is located at 1257 N. La Brea Avenue, on the SW corner of La Brea and Fountain, West Hollywood, CA 90038. Gallery hours are Tuesday through Sunday, 1 p.m. to 7 p.m., and by appointment. For more information, please visit our website www.carmichaelgallery.com, email art@carmichaelgallery.com, or call 323.969.0600.
*Courtesy of Carmichael gallery, in the order from the top photos above by: Candice Tripp, Andrea Michaelsson, Cherri Wood and Pam Glew.