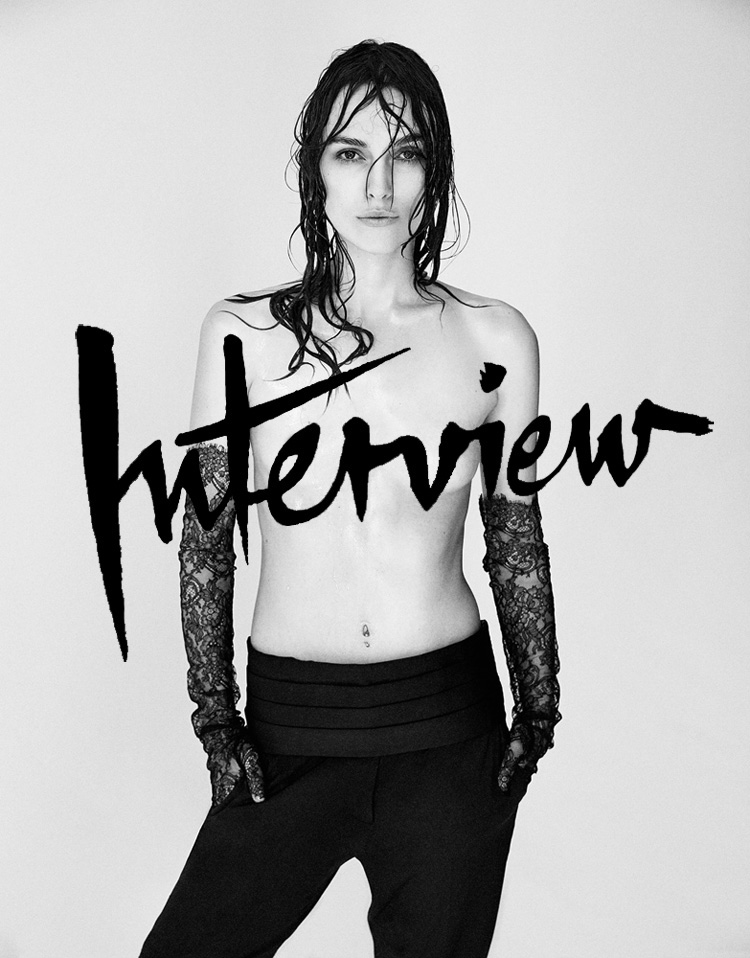 Actress Keira Knightley takes one of Interview Magazine's latest photographers issue covers with a shoot from fashion photographer Patrick Demarchelier. Styling for the black and white session is courtesy of Elin Svahn, hair styling by hair stylist Martin Cullen and makeup by makeup artist Petros Petrohilos.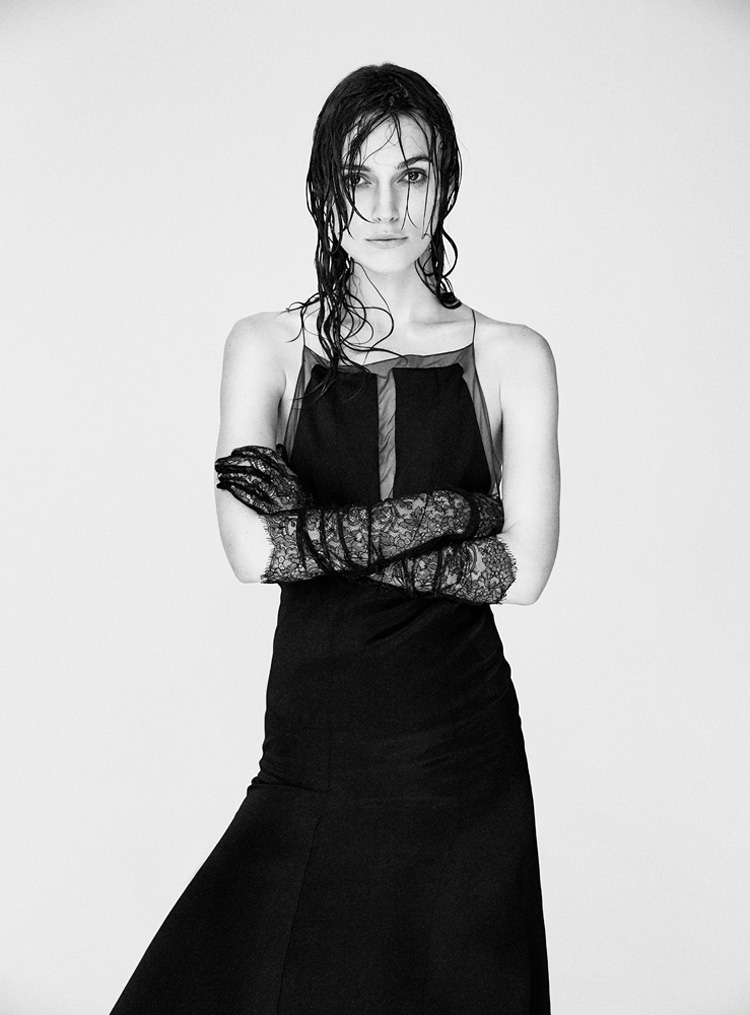 KEIRA KNIGHTLEY: Hey, Patrick! How are you?
PATRICK DEMARCHELIER: Very good. I'm in Long Island on holiday. In a few days, I have a trip to Sweden. After that, I'm going back to New York for one day and then to St. Barts for a trip to work for a few days, then I'm finished.
KNIGHTLEY: Oh my God, you're everywhere. Where are you going in Sweden?
DEMARCHELIER: We're going to the north. It's a hotel and spa. It's on top of a tree.
KNIGHTLEY: On top of a tree? Is it the place where they have a box of mirrors, so you can't see it? Have you been to this hotel before?
DEMARCHELIER: No, never. I've been to Sweden—my wife is Swedish—but this is a new place. How are you doing? Are you doing a movie now?
KNIGHTLEY: No, I'm not. What am I doing? I just bought a load of books that I'll read over the summer and hopefully choose another film based on that. I don't know if that'll happen, but it's quite a good way of working. Okay. I'm going to ask you questions. What's your favorite picture that you've ever taken?
DEMARCHELIER: I don't really think about that. For me, the new pictures are what I'm thinking about every day. The past is the past, no? Every day is a new challenge. Like for you, the movie that you'll be in is a new challenge. Photography is just the shot—one day, two days—and the next day you're gone.
FIND ALL OF THE INTERVIEW PHOTOGRAPHERS ISSUE COVERS.
KNIGHTLEY: Do you take pictures even when you're not on shoots? Do you always have a camera with you?
DEMARCHELIER: Not too much, no. I don't take the camera out with me. My eyes are the camera for me every day.
KNIGHTLEY: So does that mean if you're walking around, you get inspiration, log it in your head, and maybe use it at some point?
DEMARCHELIER: Exactly. If you love it, it's in your system.
KNIGHTLEY: What would be your ideal day, your dream day?
DEMARCHELIER: Every day is a dream, every day I spend with my wife.
KNIGHTLEY: Aw. Is it just fashion that you do?
DEMARCHELIER: No. I do fashion, portraits, nude. Sometimes animals, too. I love Africa. I love the wild. I love my dog. Actually, the best portrait I did was of my dog.
You can see and read more on interviewmagazine.com. (as well as the uncensored image)