All of us have at least a few celebrities who we really like and adore. Celebrities almost become like our inspiration and role models and it is only natural to want to look like them and follow their footsteps. One thing that celebrities inspire in us is their hair and makeup sense. Don't we all love it when our favorite actresses and models step on the red carpet with their wonderful eye makeup?
Well if you too want to have that kind of make up at home, then there are tips you can follow. The following are some ways to do 'celebrity style' eye makeup at home.• Smokey eyes
Well smokey make up is really in vogue as far as the eye makeup is concerned. Almost all major celebrities are in love with this make up style and don't hesitate wearing it even to big events. You too can try on the Smokey eye look by using darker eye shadow shades, the right eyeliners and the correct blending technique.
• Eyelash extensions

Those large beautiful eyelashes of celebrities which you totally love are nothing but eyelash extensions. Eyelash extensions work like artificial eyelashes and can be attached to existing hair to create an effect of extended or big eyelashes. Just by using this technique, you can come several steps closer to the way your favorite celebs look and style themselves.
• Artificial eyebrows

Another eye makeup technique that you can use to enhance the appearance of your eyes and to look like your favorite celebs is putting on artificial eyebrows. One of the most effective products in this category is WUNDERBROW. These semi permanent eyebrows or artificial eyebrows are hair like fibers which can be attached to your existing brows using a gel to make them appear denser and to give them a desired shape. This technique is useful for those who have naturally thin or light brows and wish to add volume to them. The product is made using keratin protein and is thus similar to real hair in appearance and texture.
WUNDER BROW is one of the best ways to look like a celeb in real life as it helps you to get the perfect eyebrow shape without going to a professional makeup artist. It is a safe and easy product to use and has not side effects. The best thing about it is that once put, it doesn't come out for a long period of time.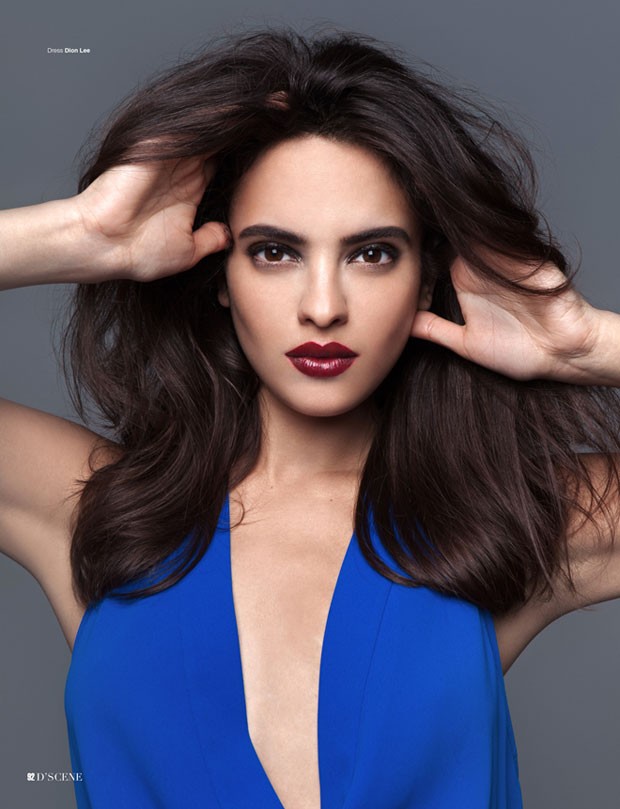 • Get the eyeliner right
There are many ways to put eyeliners but to apply eye makeup like celebrities, it is important to get the technique and colour right. Make sure you don't just outline the upper lid but also give it a certain shape towards the outside to make the eyes appear bigger and beautiful.
• Curl the lashes, put some mascara
If you are not an eyelash extension person, then another way to highlight your gorgeous eyelashes is to curl them up using an eyelash curler and then put some mascara on top. This will make them look all curled and pretty with the mascara.
All images star Nina Daniele at LA Models photographed for our D'SCENE Magazine by Elias Tahan. Hair styling by Kristin Heitkotter at Tracey Mattingly using ORIBE and makeup by Cynthia Rose at Exclusive.