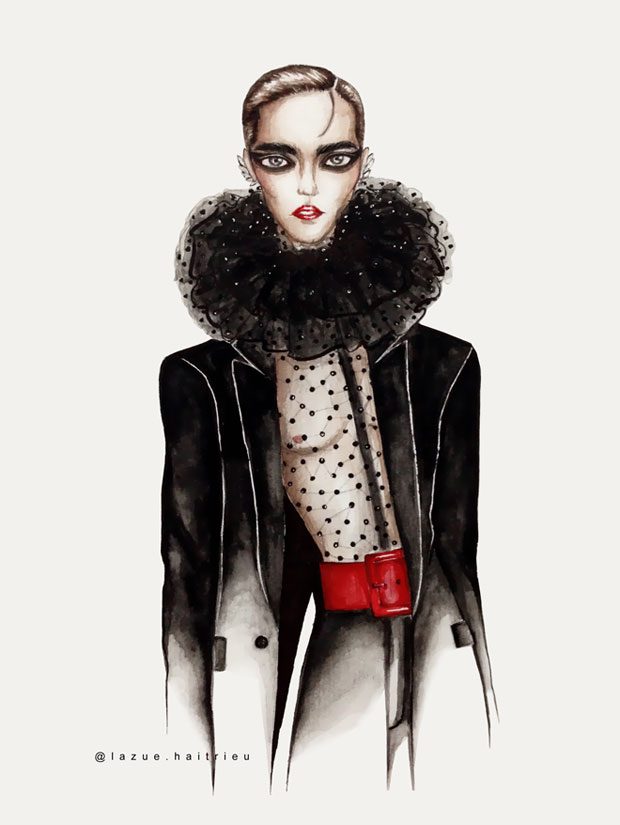 For D'SCENE Magazine's #SUPERS issue FEDERICA PANTANA and SARAH ENGELLAND paint an intimate portrait of the Saint Laurent muses. 
On a wintery and gloomy Monday night, I walked into a dusty high-school prom hall that is the Moth Club. With a 70s glam stage featuring glittery drapes and a gilded ceiling, the deep East London spot seemed to be a perfect fit for the young artsy crowd gathered for Sunflower Bean's last tour performance.
The band's front woman, Julia Cumming, has been a favorite of designer Hedi Slimane, gracing multiple campaigns and several catwalks for the mega-house Saint Laurent. I scanned the crowd, and, unsurprisingly, the Saint Laurent posse had come in full force to support their friend's band. The silvery hair with lilac highlights next to me belonged to Lida Fox, and behind her I spotted Sarah Engelland, Lili Sumner and Robbie Wood, three other veterans of the Saint Laurent legion.
As the concert started, Julia's ethereal voice and punky, badass vibe filled the room, and the Saint Laurent darlings danced away in their scruffy hair, faded makeup, and thrifted threads. It was easy to get enchanted by their effortless beauty. There was some kind of witch-craft in the unforgettable punk-edgy charm of these kids. Rock and roll bohemian muses in skinny silhouettes, rocking choker necklaces, torn tights, and furry coats. They resembled a 2015 version of Cherie Currie; the Saint Laurent cheries.
After the music ended, I caught the girls for a moment while their friends pack the stage to congratulate the band. As we talked, it became apparent that each of these willowy creatures has been pursuing a creative passion spanning music, art, photography, dancing and writing. Indeed, one of the stand-out qualities of Slimane's take over at Saint Laurent had been the attention to casting. The kids stomping on his runway were not just the hot faces of the season, or the supers, they were carefully selected based on vibe and personality. Slimane had made a one-of-kind habit of featuring young musicians on his runway, young artists on his set and clothes, and young writers and artists in his books. Not only do these kids had embodied his rock and roll image, they had provided inspiration with their own projects, and Slimane gave them a platform to showcase their passions.
Julia Cumming for Saint Laurent Campaign by Hedi Slimane
Sarah, who has been a Saint Laurent model since the very first show Hedi did for the house, plays violin, likes writing and reading poetry, and makes paintings using make-up. Lili Sumner, who has been one of the two muses featured in the last Saint Laurent campaign by Hedi 'Hollywood Palladium collection' and who also left an iconic fashion image walking in the heart-shaped fur at the last show of Slimane which certainly has made fashion history. I learnt that Lili studies literature and has a passion for writing and music. The second muse featured in the Hollywood Palladium collection is Gracie Hartzel, a Missouri breakout star, brunettenowgoneblond with a Jane Birkin's resemblance, is a Japanese art and manga's enthusiast and is currently accompanying her boyfriend Marlon Magnee on tour with his band La Femme, showing a hidden talent in singing and playing guitar. Another music rising star and Saint Laurent cherie is Staz Lindes, regular Saint Laurent cat walker and campaign cover star, she leads the LA-based girls band "The Paranoyds". At the concert, I finally hang out some more minutes with Lida of lilac mèches and sapphire eyes, who innocently tells that she dances a lot and loves taking pictures on films and disposable cameras. It turned out, that "dancing a lot" can be seen condensed in a Saint Laurent dance video where her long legs swirling in the white emptiness of a spacious loft will take your breath away for one minute and 26 seconds. Her passion for photography, instead, is live on a website (filmhooligans.com) where she and the rest of the Saint Laurent cheries are not shy to share their raw, unfiltered, unapologetic adventures from London to New York defining themselves as "shenanigans of the digital age documented on film". There is some Slimane's school in such hyper realistic captions. "Hedi shaped our career and our life too…" admitted Lida in our chitchat.
It seems clear that the SAINTLAURENT realm under the kingdom of Mr. Slimane has been a fashion renaissance hosting artists and musicians, promoting and prioritizing talent over bare prettiness.
The recent announcement of Slimane's departure from Saint Laurent has shaken the fashion world, and it leaves some questioning as to where the industry will head after that. Hedi's departure constitutes certainly a step back into a somehow fashion obscurantism, given that it might disintegrate that beautiful art platform that surrounded the fashion name.
Staz Lindes Walking for Saint Laurent
A crucial question resounds in the quiet air of the Saint Laurent castle now under a new dynasty: what will happen to the fashion revolution that Slimane started? Will Saint Laurent without Slimane remain not just a fashion brand but a creative springboard for young artists or will another brand embrace such higher goal? If so, would any another designer be able to reach the rock&roll poetic highs that Hedi touched at Saint Laurent? Wouldn't it be just an imperfect refute of it? The questions remain unanswered and given the announcement of Saint Laurent skipping this June's Men fashion weeks, the mystery won't be unraveled until this September with Women fashion weeks. Certainly, the Instagram wipe out of all the Saintlaurent-under-Hedi's pictures could give us a hint of clear cut with the past.
Lili Sumner at Saint Laurent FW16 Show, photo courtesy of Yves Saint Laurent
While the fashion world is holding the breath waiting for Anthony's debut and Hedi's next steps with the hope either of them will continue lead a fashion reformation, maybe the focus should be on another target. Shouldn't we have rather faith in the Hedi-Saint Laurent progeny? In the strikingly unpretentious and yet super talented souls of girls like Lida and Julia, Sarah and Lili, Gracie and Staz I could unforgettably grasp a hint of burning pride in being Hedi's legacy, the flesh and blood expression of his creativeness. Pride of being enlisted as the young cadets in his revolution against stale fashion standards. The fashion world should therefore keep an eye on these one-of-a-kind kids because it might be from their talents that a new fashion wave will stem from.
Photo © Hedi Slimane
After all, while the pretty girls will always strut down the aisle absent-minded, we should feel confident that the Saint Laurent cheries' walk will continue to be a crusade to prove the world thatbeauty is personality. Beauty is individuality. Beauty is music. Beauty is art.
Opening illustration by Lazué Hai Trieu @lazue.haitrieu