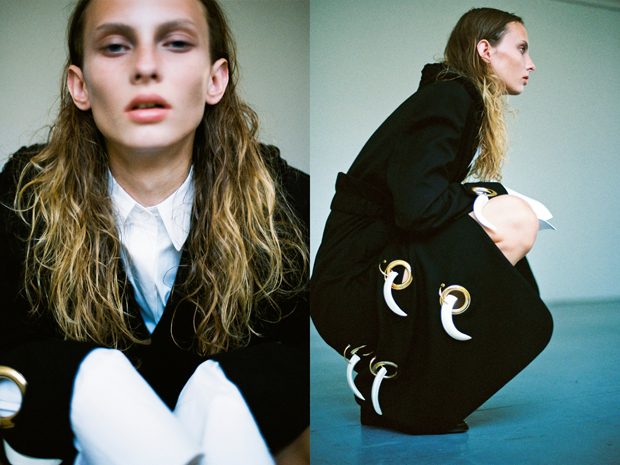 Tel-Aviv based fashion designer NIV KEREN shares with us his latest lookbook captured by photographer Merav Ben Loulou featuring model Vika represented by Elinor Shahar Personal Management. Makeup is work of Netta Szekely for MAC Cosmetics, with hair by Sheva Koren.

See the lookbook and read our exclusive interview with Niv Keren below: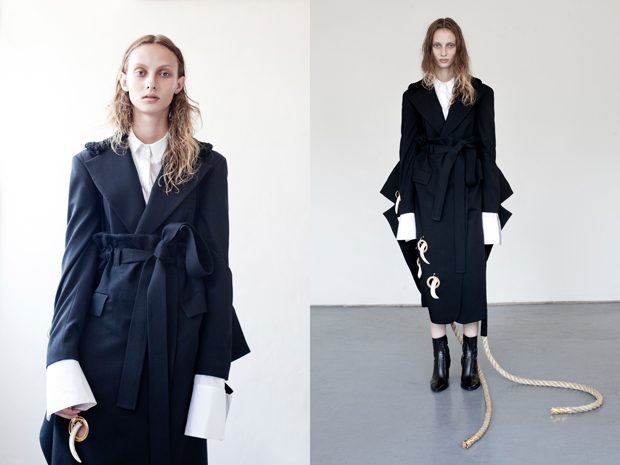 How did you first get interested in fashion?
As a high-school student I already was very occupied with literature and art. I went to high school of art & design where I found my neutral gift for fashion which was a direct continuation to my interests. I was fascinated by human characterization and imaging through colors, shadows and materials.
Are you self taught or did you study fashion design?
While I went to high school of art & design I've studied the basic fashion fields, which helped me very much when I started Shenkar College of Engineering, Design and Art in the Department of Fashion, which was just now ranked 10th in the prestigious BoF Global Fashion School Rankings.
The studying in Shenkar was the first time I was surrounded by creative people, and also the first time I've learned everything I know about Tailoring Techniques and Construction. My education helped me to get much more in-depth levels of thinking and design.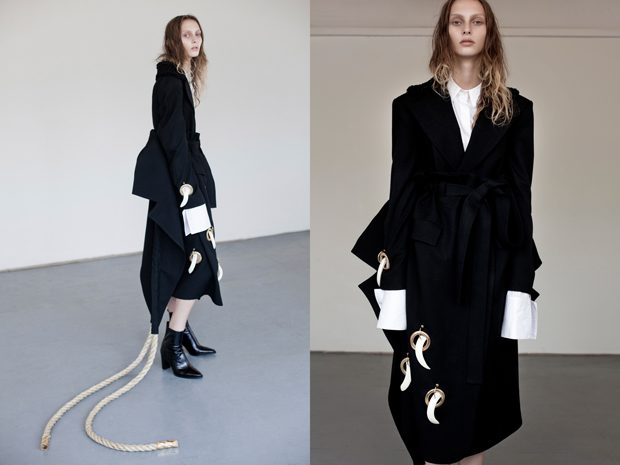 What was the first piece of clothing you ever worked on?
The piece of clothing that I want to talk about was not exactly my first piece or rather my first significant piece of clothing I've designed. When I've first got to Shenkar one of my first courses was "Denim". That was the first time I've understood the true meaning of listening to the material and understanding it's limitations and abilities. I've made a dress That cut in a circle shape, using a traditional hand print. I think that was the time that my Design esthetic started to come together in a more coherent way.
What inspires you and how does that inspiration turn into reality?
I don't really believe in the cliche "inspiration is everywhere" in its literal existence. It's true that inspiration is all around us but one of the most important rules of being a designer is to meticulous choose the right and most relevant images to ones work. A designer must have a associative thought process, he must be curious and have the will to know as much as possible, in every aspect of his life. My work many times involves the will to redefine concepts with cultural political and fashionable contexts.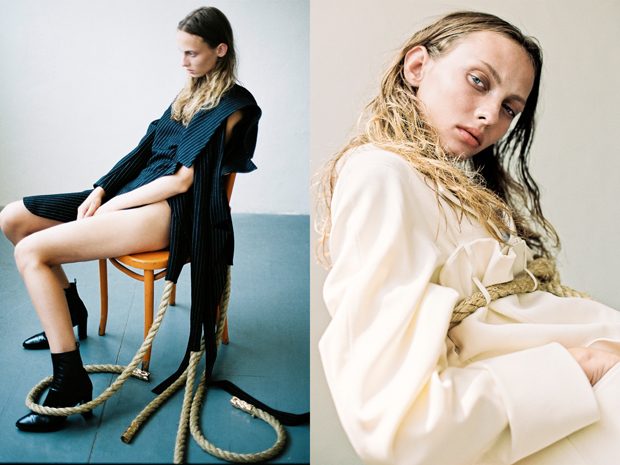 Describe your design aesthetic in three words
acute, subversive, tailored.
What are your favorite colors and materials to work with and why?
When I've first started interesting in fashion, designer like Rei Kawakubo and Yohji Yamamoto left a big impact on me, as well as my color scale that is based mostly on black, white and navy. I have a strong attraction to unconventional materials that is not necessarily comes from textile discipline. I give great thought in developing design elements and it's combining in my work. I think that my guiding line in choosing of the material in narrative, stimulating thinking and awakening of an emotional reaction.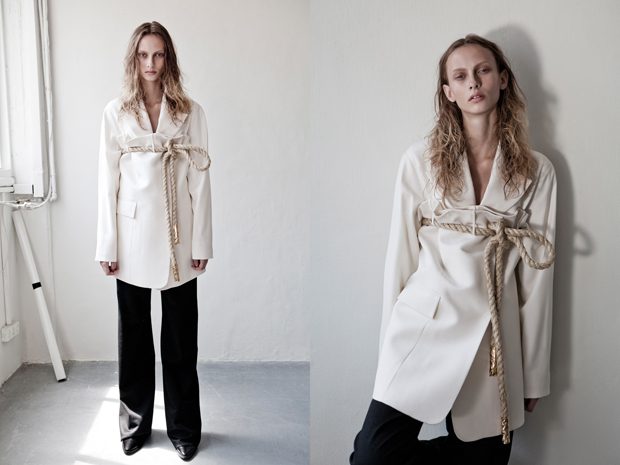 What are the challenges you have faced as a fashion designer in Tel-Aviv?
Tel-Aviv is a warm whether city, so most of the year long – many clothes aren't necessary. The few days when someone needs to wear coat or Layers are rare. As a result there isn't much supply of materials or foundation for creation, especially not tailored one, that is my main profession. That puts a great challenge for all the many talented Independents designers and local brands who have great potential in the un-nurtured environment
Is there someone in the fashion industry who inspires you?
As a high-school student I came to read an article in the name "Can a jacket be intellectual" by Sally Brampton? the article mostly deals with unfamiliar to me at the time designer name Martin Margiela. Looking back I now realize that me being exposed to Margiela's work, and his approach regarding the fashion industry- shaped a lot of my own perception.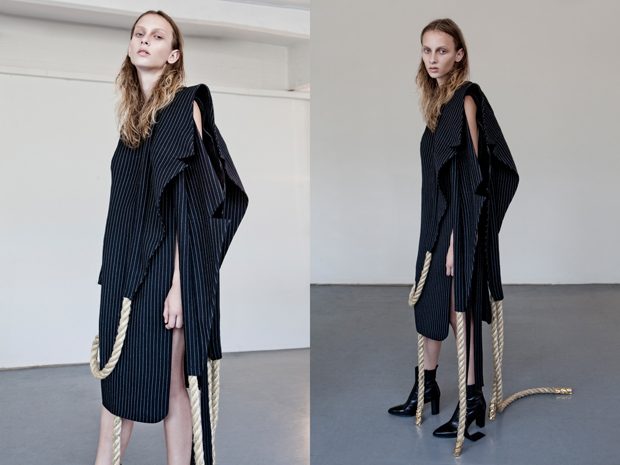 Do you think fashion can still influence society?
I think that in the last few years the game has changed regarding fashion, that is no longer use as an means to stand in the crowd. The social medias and the regular medias causes high fashion to look glamorous but accessible so everyone wants to be a part of it. As a result people drawn into big names, and the interest of motives of the design. No one writing about the clothes that are beyond the esthetic immediate level that can be seen in a screen resolution, so there isn't a rational reason to want to wear it. I think that in the last few years there come together a opposite new movement that against that state of mind that slowly socially penetrate.
Where do you see your label in 5 years time?
As much as I love working on my own, my great aspiration for the moment is to become integrated in a big fashion house and learn how things work from the inside.