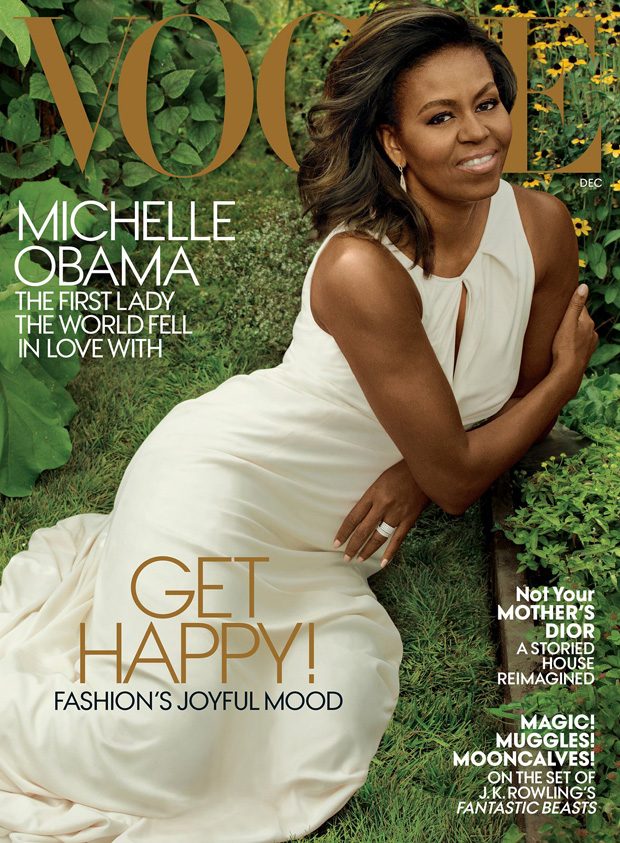 America's First Lady Michelle Obama takes the December cover girl of American VOGUE in a post-election turmoil. The first Lady is teaming up once again with Annie Leibovitz for a striking cover bidding in its own right a farewell to the 8 year Obama Presidency and the White House.
"People see themselves in her, a dedicated mom, a good friend, and someone who's not afraid to poke a little fun at herself from time to time" said President Obama for AMERICAN VOGUE
For the cover the first lady wears a dress from Carolina Herrera and Monique Pean earrings, with makeup by YSL Beaute. Hair styling courtesy of Johnny Writhe, makeup by Makeup Artist Carl Ray. Set design by Mary Howard.
For the rest of the shoot Michelle Obama wears two more garments from Atelier Versace.


Mrs. Obama took her time. The question she was asked most on the campaign trail was "What kind of First Lady will you be?" The answer was always the same: "I won't know until I get there." Early on some critics called her distant or "angry"—an epithet she bristled at. "Michelle never asked to be First Lady," President Obama writes me by email. "Like a lot of political spouses, the role was thrust upon her. But I always knew she'd be incredible at it, and put her own unique stamp on the job. That's because who you see is who she is—the brilliant, funny, generous woman who, for whatever reason, agreed to marry me. I think people gravitate to her because they see themselves in her—a dedicated mom, a good friend, and someone who's not afraid to poke a little fun at herself from time to time." – from American Vogue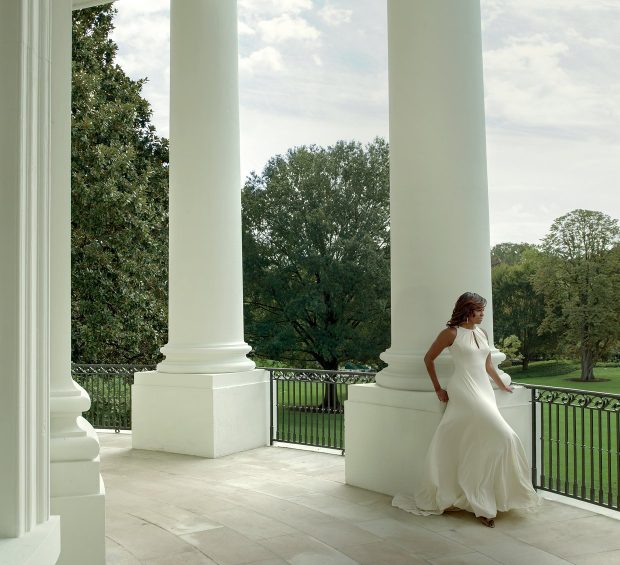 When I bring this up to Mrs. Obama, she lets out a big sigh. "You know, there are little . . . moments. Even today I was looking out at this view here." She gestures to the windows. "Looking out on the South Lawn and the Washington Monument and it had just rained and the grass was really green and everything popped a little bit more. It's soooo beautiful. And for that moment I thought, I'm going to miss waking up to this, having access to this anytime I want." She recrosses her legs. "But on the flip side . . . it's time. I think our democracy has it exactly right: two terms, eight years. It's enough. Because it's important to have one foot in reality when you have access to this kind of power. The nature of living in the White House is isolating. And I think Barack and I—because we're kind of stubborn—we've maintained some normalcy, mostly because of the age of our kids. I go out to dinner with my girlfriends; I go to Sasha's games; Barack has coached a little basketball with Sasha's team. But at the same time, when you can't walk into CVS?" – from American Vogue
For more of the interview and the shoot visit americanvogue.com.