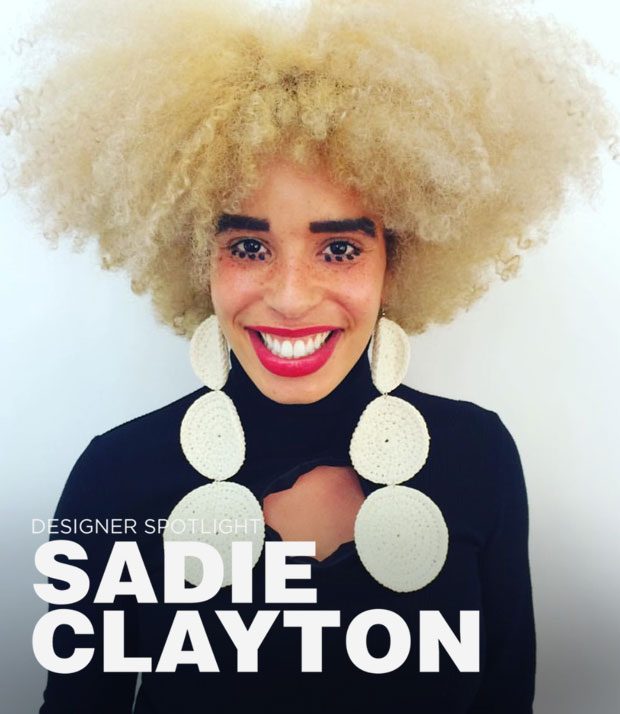 DESIGN SCENE magazine's Deputy Editor ANA MARKOVIC sits down for an exclusive interview with breakthrough British Fashion Designer SADIE CLAYTON, to talk about crystals as a source of inspiration, her creative process and the spring summer collection.
Did you always dream of becoming a designer?
I have always had a strong interest in fashion which started through the realisation that as a mixed race girl brought up with one Jamaican and the other white British parents I used clothes to fit in, wearing one style when I spent time at my fathers and another with my mother.
So, do you believe such background sparked your interest in fashion?
Yes, slowly I became aware of how I wanted to dress not how society wanted me to appear and I felt truly empowered by this new strength. It was at this point that I really understood that I wanted to be a designer.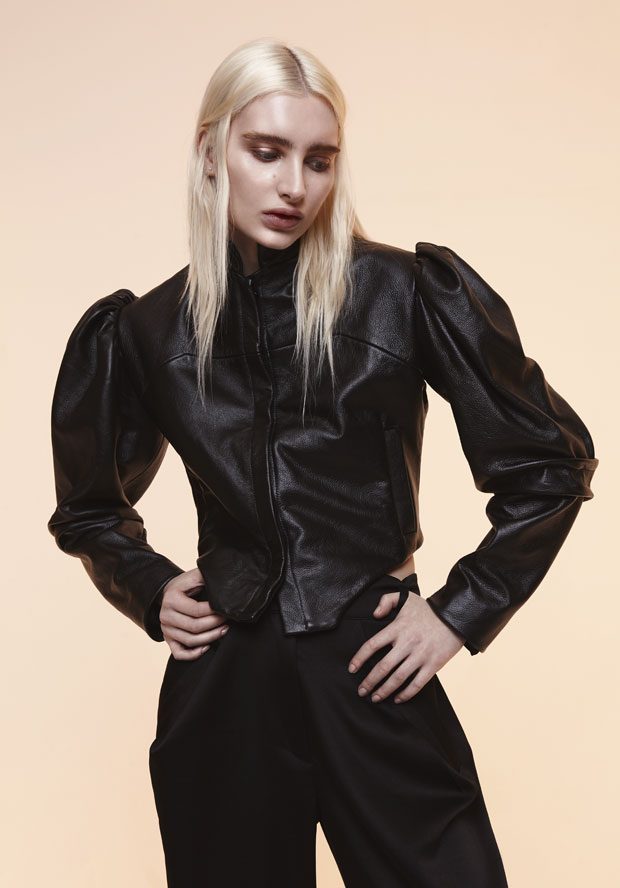 What are your main sources of inspiration?
The world around me. I have two concepts which I have explored over the last few seasons which are time and headspace. Being inspired by the world around me and seeing everyone, including myself, doing everything possible to fit their many responsibilities into every day work and home life, I have developed the concept of how difficult is to find time for everything and even more so the headspace and creative space for oneself. A more personal twist is also the integration of the use of crystals in the collection. I am a firm believer in the benefits of crystals within our every day lives and which are often used in spiritual journeys. I translate their natural shapes into the shapes of my garments or holistically as part of the journey which i elaborate through my embroidery and embellishment.
How did copper became part of your work?
I always knew that I wanted to work with lots of different materials as a designer, not just fabrics and metal was one of them. Silver and gold were more prevalent, yet as I grew up and was studying I was naturally drawn to the depth and richness of copper which is actually an element known also for good luck. I love the way that working with copper it can transform into a range of colours oxidising into blues and greens and as it ages it mellows.
Tell us about your creative process.
I rinse my crystals so I feel that i'm in a cleansed state of mind to begin the next collection. Write lists of keys words to describe the mood I want to project, collect imagery and fabrics, design a mood board and a colour board, begin sketching for the imagery, make mini versions of the sculptural pieces on an 18inch mannequin, sketch from the mini sculptures to develop the shape/cut, drape shapes onto a mannequin, and finally begin pattern cutting.
So, while you are in the midst of your creatives process, do you design with a specific woman in mind?
My muse is Grace Jones but fundamentally I design for a strong woman who isn't afraid to express herself and who doesn't look to trends or the usual designer brands as the only way to show her style.
What was the inspiration for your Spring Summer 2017 collection?
As I said, finding your headspace, the creativity and enhanced benefits of life in this creative mental environment and holding on to time which is hard to keep, hard to find are the concepts that I have worked with on my last couple of collections including Spring Summer and Autumn Winter 2017. The constraints and release of our mental states and therefore personal happiness reflected in my embroidery which shows the path we take – our journey. Throughout my collections I have worked with 3d cut outs as a physical reflection of this. These cut-out shapes on trouser and skirt hems act like a mirror. At the heart of what I do, I am a sculptural designer taking inspiration from every day life blurring the boundaries between fashion and art.
Could you set aside a favorite piece?
From the Spring Summer obviously I love the latex collaboration I did with Kim West, but I think that my favourite piece is my navy, silk organza parka.
Being respected in the fashion industry as well as in the art world at such early stage of your career, do you feel pressure when you work on new projects?
No the only pressure I feel is that I want to fulfill the brief and our objectives to the best of my creative potential. I want to make every collaboration a success whatever it is.
You already have many successful collaborations, is there someone you would really like to collaborate with in the future?
I would love to collaborate with Ron Arrad, Calzedonia, Mercedes and Soho House to create some interiors for their next locations.
Who are your favorite designers?
Jacquemus, Thierry Mugler, Commes, and Margiela.
As big art lover, tell us which cultural events this year our readers should not miss?
My London Fashion Week show in September which is going to be a fusion between fashion, art, technology.
What are the main challenges in your line of work?
Finding investment and distribution. Boring, but for an emerging designer both are a huge challenge to stabilise the business and bringing in revenues.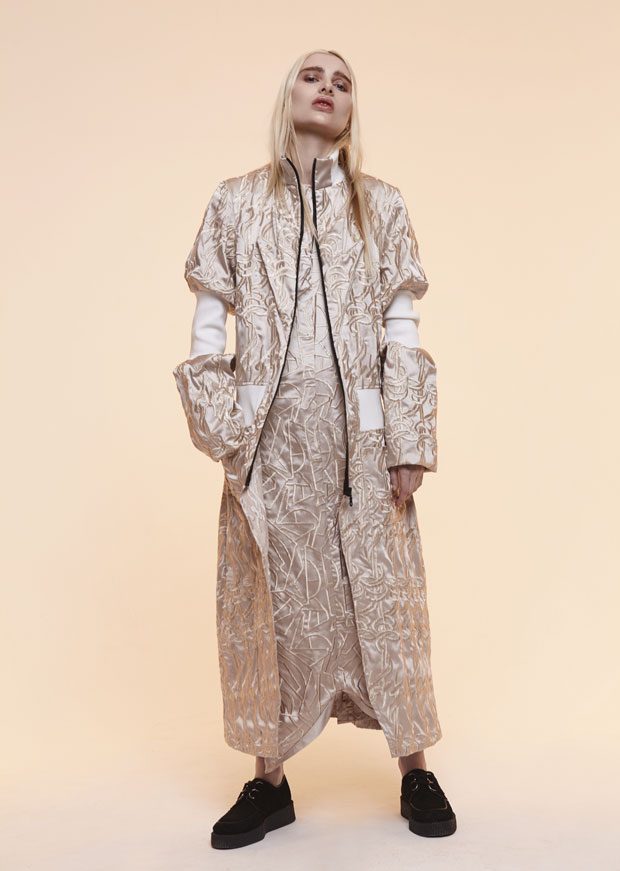 And what's the best part about your job?
Definitely a mix between collaborations as they are such a big part of my DNA and obviously the design process.
How will Brexit affect future of British fashion scene?
Unfortunately I think it will make our lives even more difficult. Though we have never been 100% part of Europe we definitely had lots of benefits. Now the costs or our products have increased and the likelihood of a UK designer being chosen when there are so many other European designers diminishes.
With today's state of the world, do you think fashion should be part of empowering women even more than before?
Absolutely. As part of the reason that I started in the business myself was understanding the power and strength that fashion can give women, I think it is crucial that it makes it's voice heard but in a truly meaningful way. It is all well and good shaking a pink flag or hat, but Fashion needs to be at the vanguard of equal opportunities, equal pay and building a working environment which facilitates the complicated lives of women.
What piece of advice would you offer our readers who are considering a career in fashion industry?
I would recommend to think about it carefully and create a strong support structure from the beginning. The business is tough and you need great tenacity and determination but also amazing people around you to help you succeed.
For more of Sadie's work visit sadieclayton.co.uk and keep up with her on insta @iamsadieclayton 
[All images from Sadie Clayton's AW17 collection, see more]
Originally published in DESIGN SCENE Magazine July 2017 – issue 016, out now in PRINT and DIGITAL.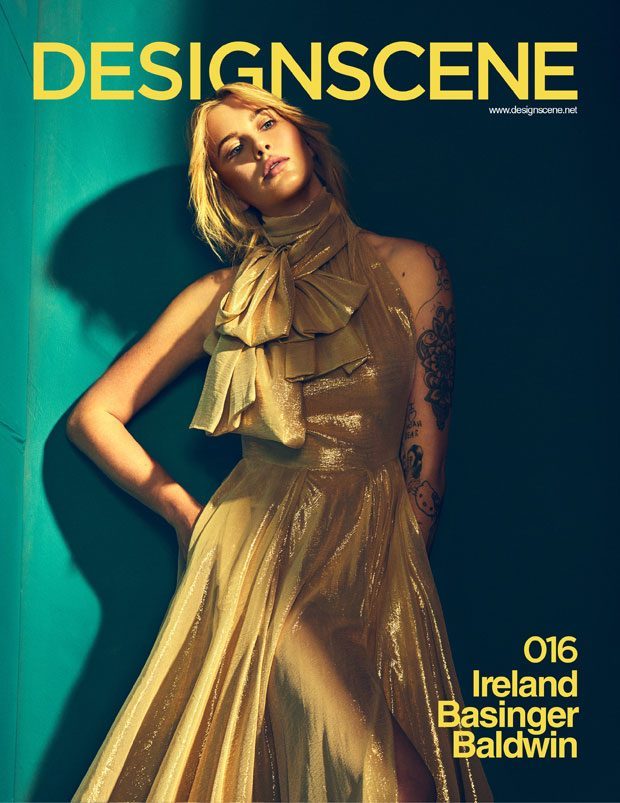 We love hearing from you, connect with us on Twitter, Instagram and Facebook.