Fashion designer ANTONIO GRIMALDI meets with DESIGN SCENE Magazine's Deputy Editor ANA MARKOVIC for an exclusive interview talking about his inspiration, the state of haute couture and the inspiration for the collections to come.
Did you always dream of becoming a designer?
When I was child I always dreamed of becoming a designer. I was really passionate about fashion and in particular about craftsmanship as well as art. I spent a lot of time inside the little atelier of my country, Salerno, in the South part of Italy where I learned the secrets of Couture.
Read more after the jump: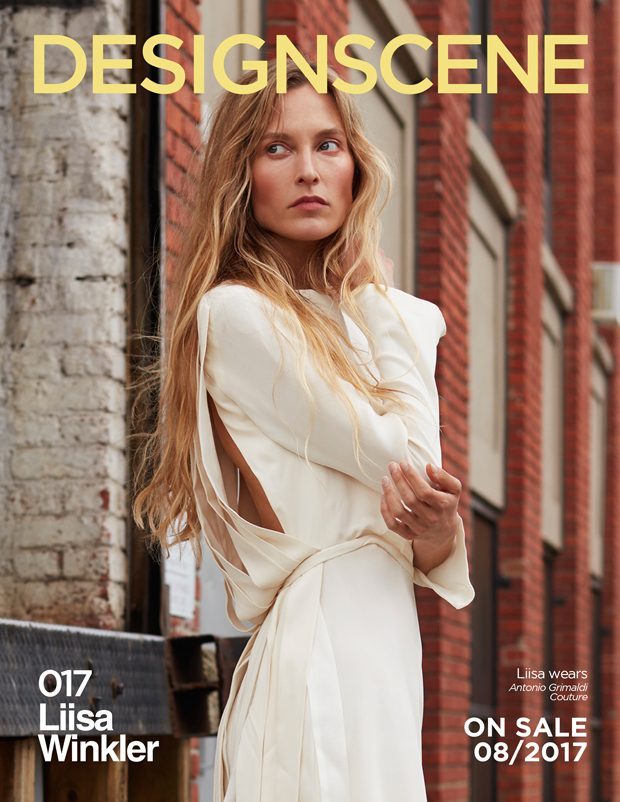 Liisa Winkler in Antonio Grimaldi Couture for Design SCENE #017 by Alvaro Goveia
What are your main sources of inspiration?
I travel a lot, and I love art. In each collection, Couture or ready to wear I bring a part of me that comes from my journeys all over the world and from the creativity of contemporary art and architecture.
At the beginning of your career you worked as couturier with dressmakers, how much did that helped you as a designer?
To work with dressmakers is basically the most important thing that a couturier has to do. They know better than you textures and the art of modeling and thanks to them your sketches are not only a dream but they come to reality in a form of a dress.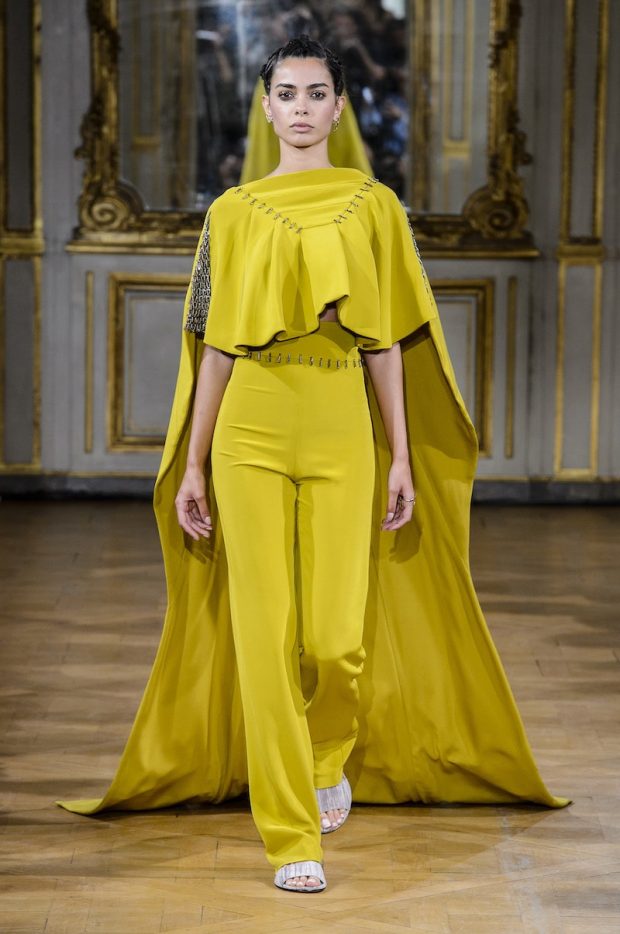 From Antonio Grimaldi FW17 Couture Collection
You studied art, how much your love for art influences your designs?
I studied art and advertising in Academy. My designs live through contemporary art, it is a sort of must have of my stylistic philosophy in every collection and creation.
How has your work evolved since you began your own label?
In a positive way, of course, thanks to my team and to Riccardo Tisci who invited me as a member guest during Paris Haute Couture Fashion Week, that from a business point of view as not competitors for the presence of international buyers and customers.
Tell us about your creative process. Do you design with a specific woman in mind?
Actually not, the inspiration comes from the moment and the suggestions of the present. But I always think about alternative and strong woman, like a fighter, who loves art and culture and knows what she wants, even through fashion
What are the phases in creating a haute couture collection?
First the ideas, the mood of the collection, the sketches. Then we choose fabrics and textures, but we can change idea in the work in progress of the dress. Finally the modelling and the cut until the real gown that you see on catwalk.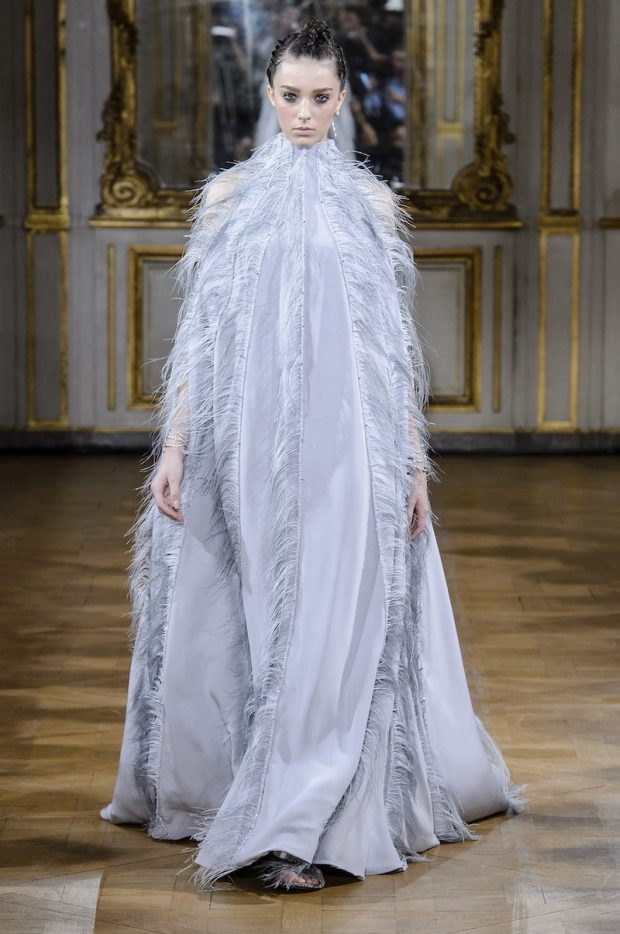 From Antonio Grimaldi FW17 Couture Collection
So, our cover star supermodel Liisa Winkler wears a dress from your Spring Summer 2017 haute couture collection, which was your first as an official part of Paris haute couture calendar, tell us more about it?
It was a dream, coming true. Actually is not my first time in Paris Haute Couture Fashion Week because ten years ago, with my past label and my creative partner, I was member guest of the official calendar thanks to Mr Emanuel Ungaro that really appreciated our Couture Creations. Now Paris is my life, Rome where my atelier is based in the historical Palazzo Besso, is my house.
We absolutely loved your Spring Summer 2017 haute couture collection, what was the inspiration behind it, and do you have a favorite piece?
I started creating this collection thinking about Love. I've visited Maurizio Cattelan artistic exhibition Not Afraid for Love and I designed lovers and fighters women that are absolutely strong in achieving love, that in my case is the Love for my work. Aphrodite is the inspiration, the beautiful goddess of feelings and in the collection, the plisse' and Embroidery dresses that I've done are my favorite creations.
What are you working on now? Can you share with our readers something about your next collection?
Next collection will be presented once again with a fashion show in the official calendar of Paris Haute Couture Fashion Week. Inspiration is top secret but what I can say is that you will see dark and gothic Antonio Grimaldi creations maybe less romantic that in the past.
Do you enjoy more making ready to wear or haute couture collections?
The process of creation, as I' m first of all a couturier, for me is the same. Always inspired by art, the difference is that thanks to ready to wear your fashion is for everybody, Couture is tho accessible for an upper class customers.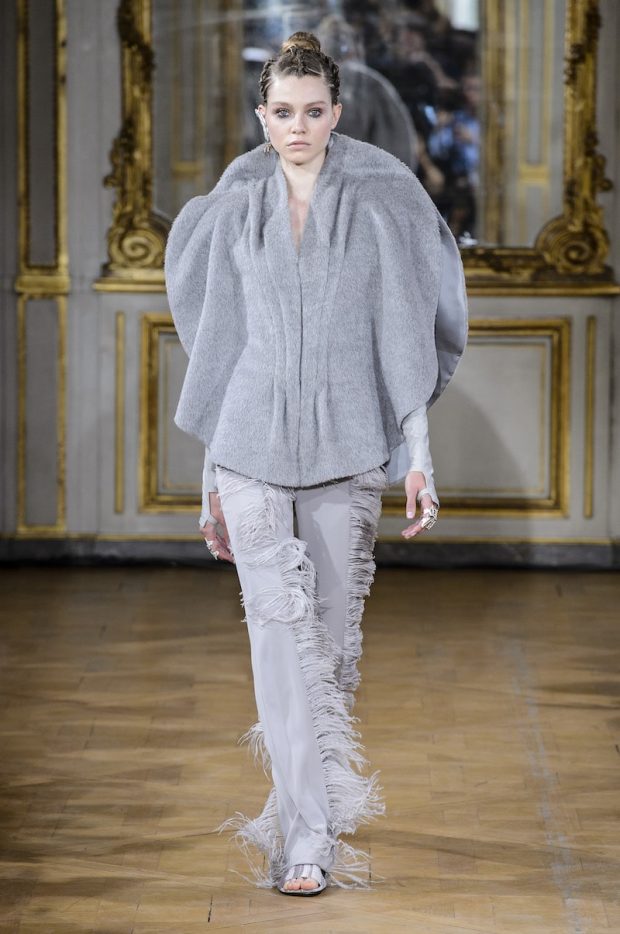 From Antonio Grimaldi FW17 Couture Collection
Evanescence's singer Amy Le is wearing look from your collection for Speak to me video, tell us more about that collaboration. How did it happen?
I love her. She is fantastic and she has a wonderful voice. Our press office received a request of collaboration for the music video by Anna Lombardi who was the stylist of Amy on that project. Later she came in Italy to visit the atelier and she loved my turquoise dress. So very quickly we modified it for her and she decided to wear the gown on the set of "Speak to me".
How do you see the place of haute couture in today's world, and what is the future of haute couture?
Haute Couture is magic, Haute Couture is a dream, Haute Couture is pure love. But it is not for the masses, because of the prices that are a bit higher than ready to wear considering the intense work of craftsmanship and handmade Embroidery going into the creation. In my vision of I prefer quality ready to wear that is far from fast fashion and is a sort of Demi Couture, all women can dream to have a couture dress in the wardrobe.

How do you define style?
I love sensuality, lightness and alternative lines and modelling. I like to research the new. The not seen yet.
What piece of advice would you offer our readers who are considering a career in fashion industry?
It is not easy at the beginning, talent is not enough to work in Fashion. There is need of financial investors to produce dresses, without forgetting that fashion is business. Anyway don't stop to create and love your job. Thanks to passion, as soon as possible, your dream will become reality.
Keep up with Antonio Grimaldi and his latest collections on his official web page antoniogrimaldi.com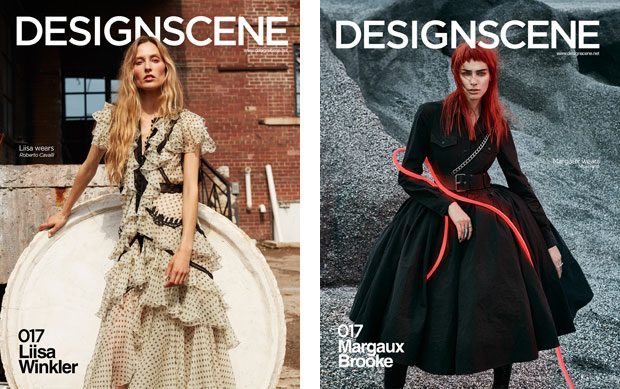 Plus, don't miss our 1 YEAR SUBSCIPRION TO DESIGN SCENE Magazine for $24,90