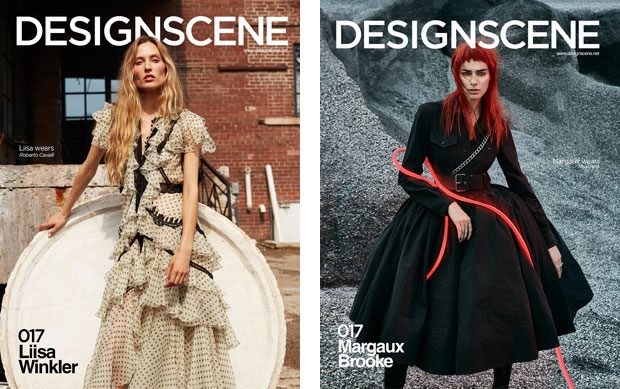 DESIGN SCENE Magazine August 2017 issue is out now with our first ever double cover starring supermodel icon LIISA WINKLER (wearing Roberto Cavalli) and breakthrough top model MARGAUX BROOKE (wearing Moschino). Alongside exclusive interviews and fall winter 2017 editorials all in our issue 017.
GET YOUR COPY IN PRINT OR DIGITAL
Scroll down for more of the issue and intro from the editor's letter of our Editor In Chief Zarko Davinic.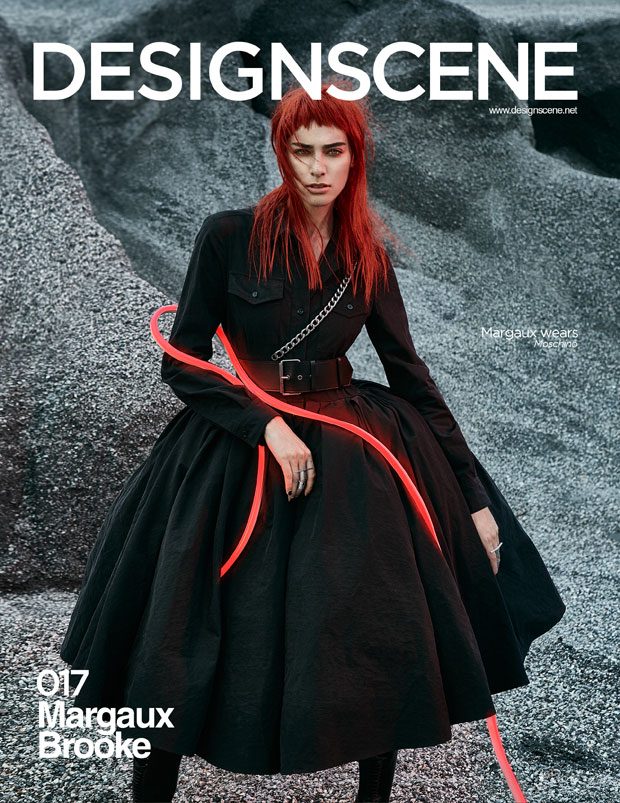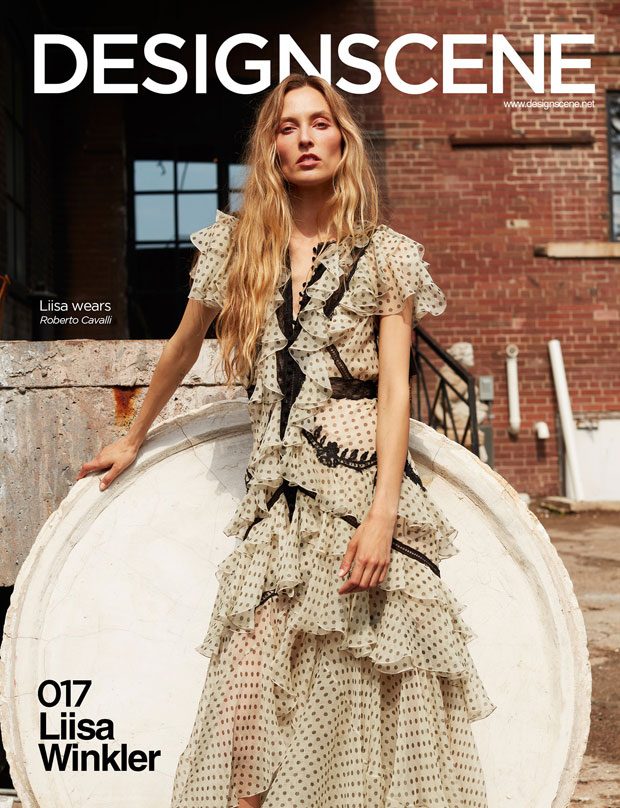 Plans for DESIGN SCENE Magazine's August 2017 issue started almost six months ago, right from the start we wanted to celebrate the change of the seasons publishing for the first time a double cover issue. We started work on the issue with one of our cover stars, the sublime Liisa Winkler whose unparalleled career started in mid 2000s with note worthy Gucci campaigns to remember, sublime Christian Dior runway moments and epic Vogue Italia covers. Liisa worked with us on her cover shoot by the celebrated Toronto based photographer Alvaro Goveia and her inside interview feature session Alkan Emin (an interview you should not miss!).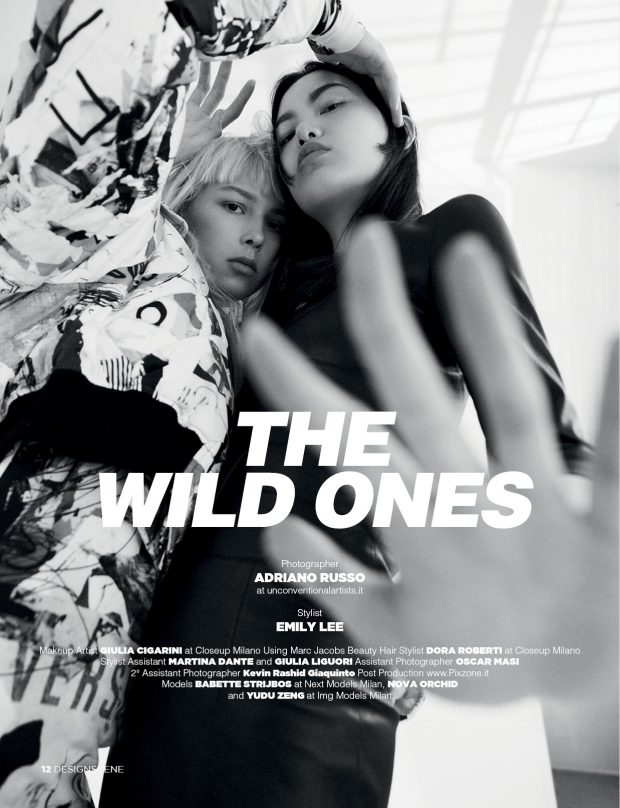 I am not sure if the brainstorming for the 2nd, or simply said other cover of DESIGN SCENE 017, started maybe even more than a year ago. On the lookout for exciting new photography talent in Asia, I discovered along with our Asia Fashion Editor Randolph Tan the fascinatingly talented photographer Pisid. Immediately our plans for a shoot in Bangkok unfolded, where Pisid is based started, the moment Randolph called me and said Margaux  Brooke who made our cover story ever so special. Brooke's head-turning looks along with the out of this world location resulted in a story to remember, literally picking out which photo from the shoot we should frame for our office.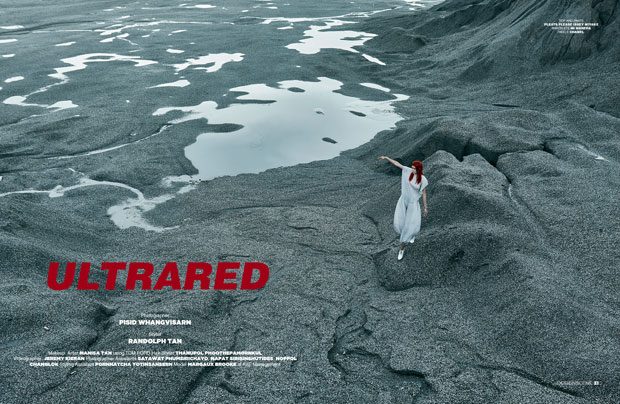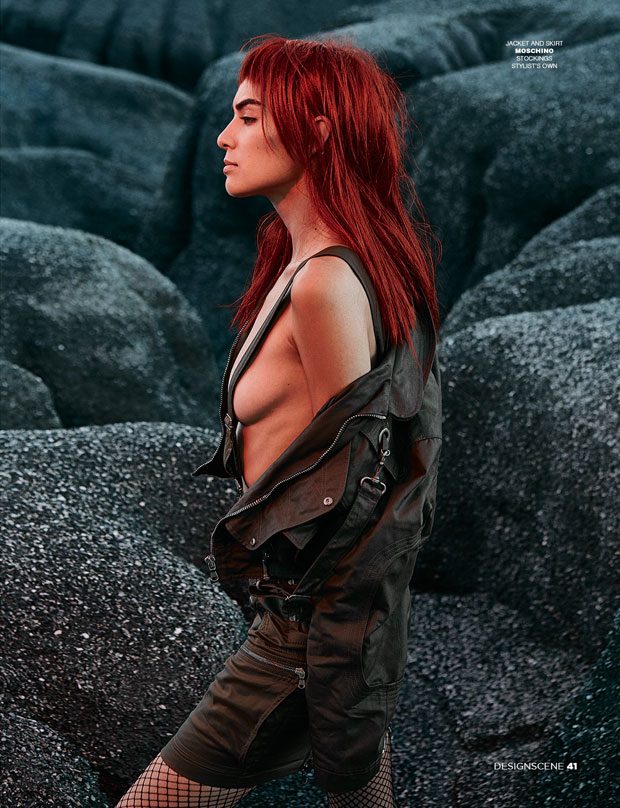 Hence my delight in this edition, when our Milan Editor Emily Lee proposed a stunning new Fall collections shoot with one of my favourite Milan photographer the talented Adriano Russo. Emily had an idea of pairing up two girls taking eveningwear to a daytime escapade. We also venture into the wilds of American countryside with a shoot imagined and brought to life by the talented new contributor to our magazine, New York based Fashion Stylist Damien Vaughan Shippee, who in my ten year journey with DESIGN SCENE has presented one of the most exciting and well thought moodboards for a fashion story. Helping Damien bring his vision to life was the talented photographer Remi Rebillard.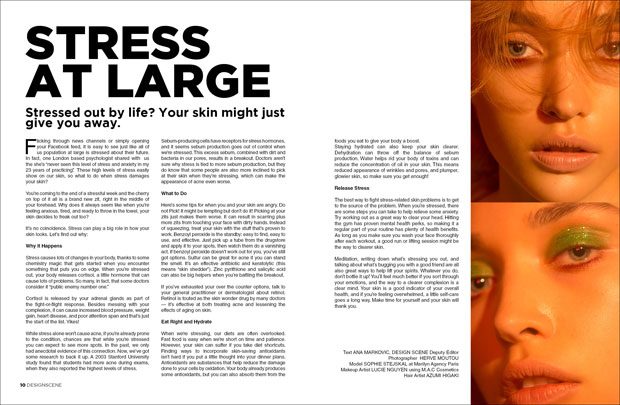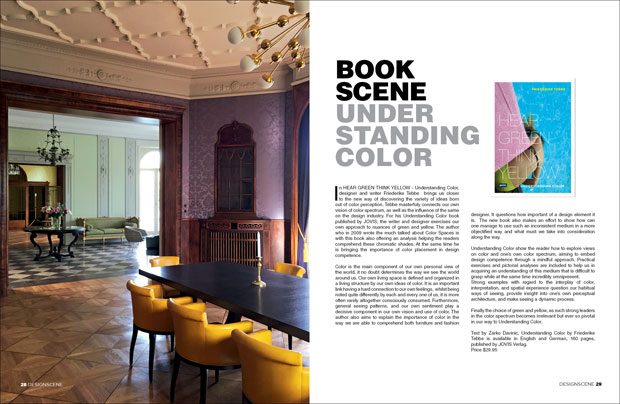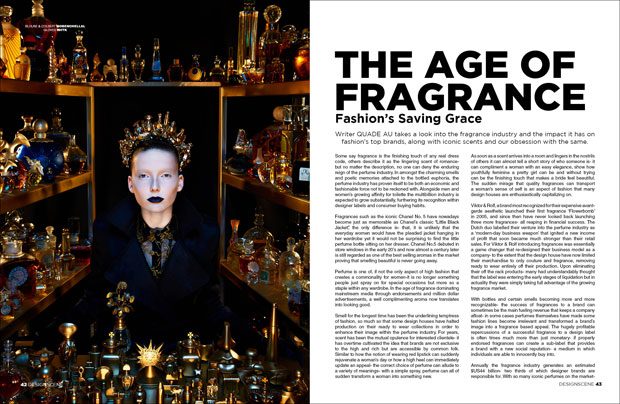 Elsewhere in the issue, I was happy to put to work our new and very talented writing contributor Quade Au, who tackled the fragrance mania taken to a new level by the fairy tale like shoot by Martijn Senders. While it came to writing and talking with talented fashion industry movers and shakers our long time Berlin Contributor Sussan Zeck entered the world of Jewelry house Thomas Sabo for an exclusive interview with their creative director Susanne Kölbli. While we went back to Milan where our Fashion Features Editor Katarina Djoric sat down with bag and accessory designer Giancarlo Petriglia, whose bags are literally magic in a shape of a bag.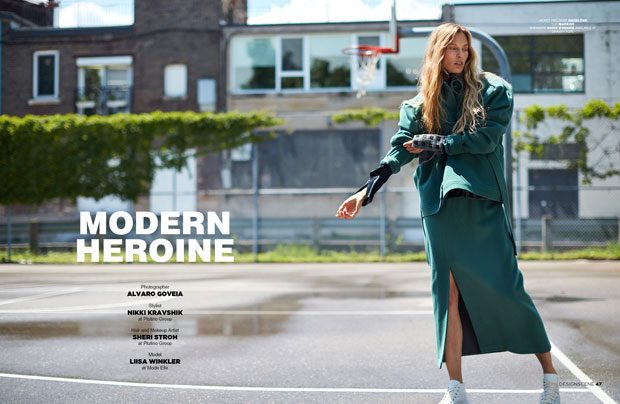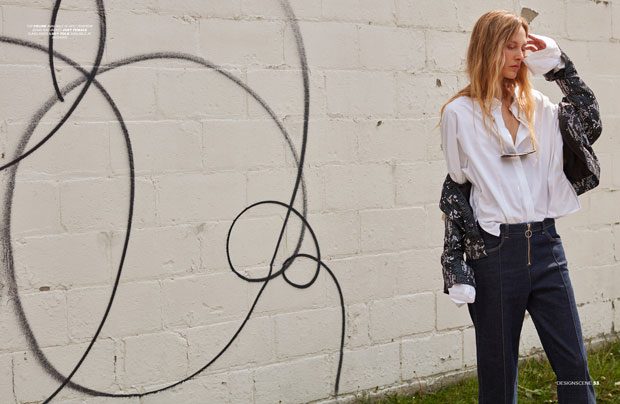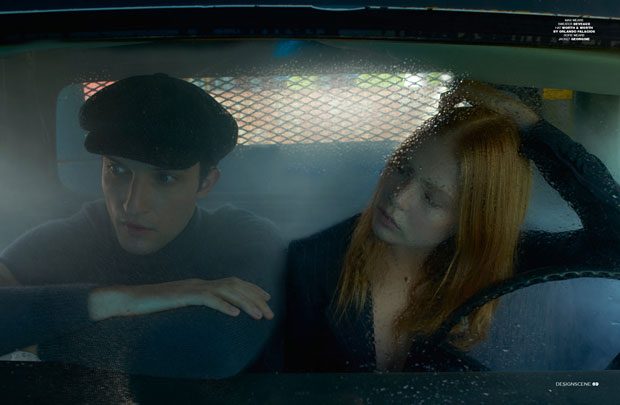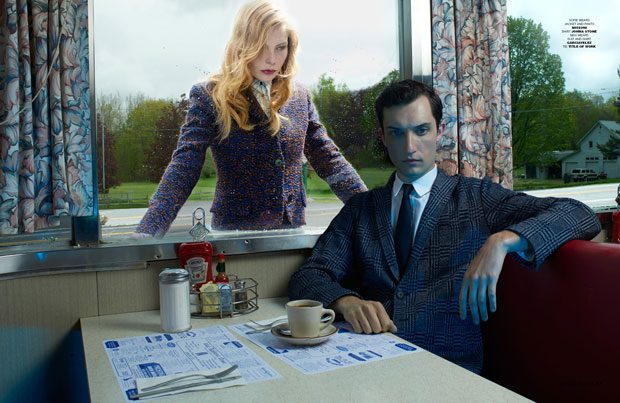 Finally, while working out is not anybody's favourite pass time in the pre-August days, fashion stylist Sayuri Bloom comes back to contribute a sporty new shoot by photographer Daniela Glunz.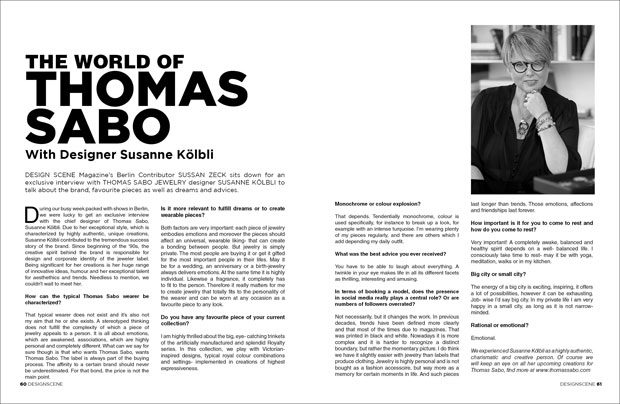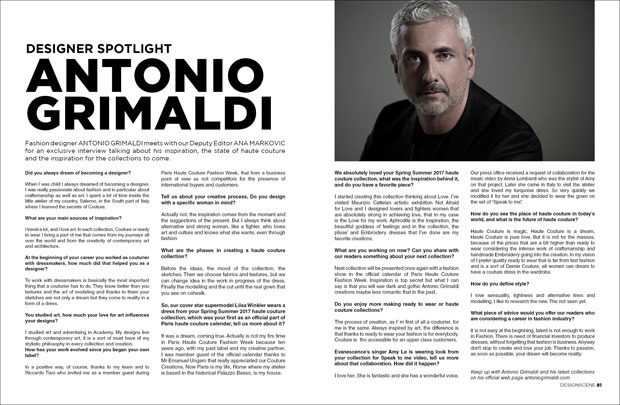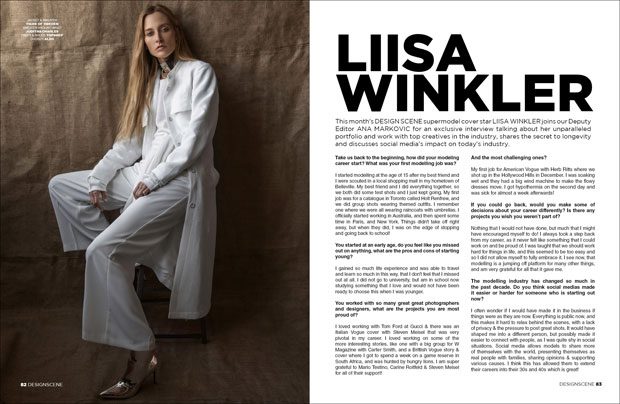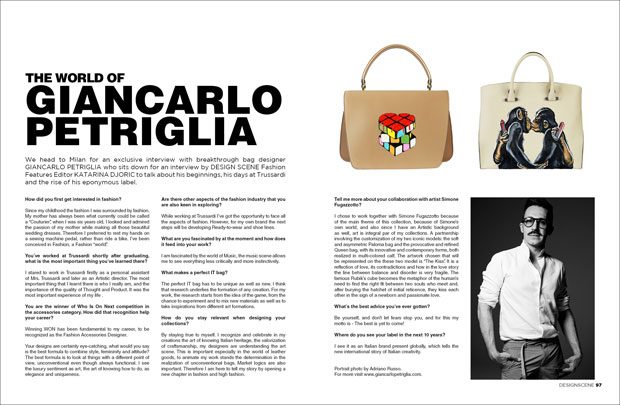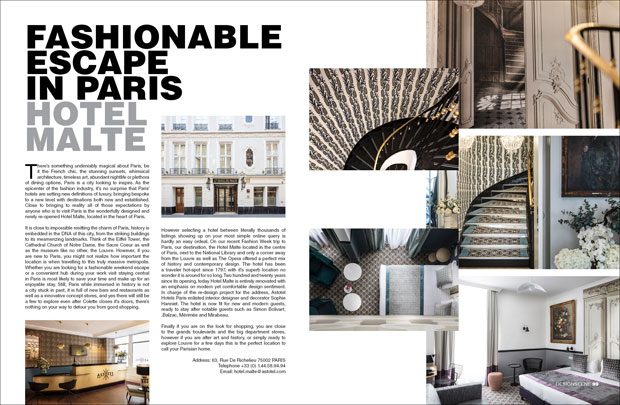 Words by DESIGN SCENE Editor In Chief and D'SCENE PUBLISHING Founder ZARKO DAVINIC.
Photograpers Adriano Russo, Pisid Whangvisarn, Alvaro Goveia, Remi Rebillard, Daniela Glunz, Herve Moutou, Alkan Emin
Stylists Nikki Kravshik, Damien Vaughan Shippee, Sayuri Bloom, Nicole Contador
Plus, don't miss our 1 YEAR SUBSCIPRION TO DESIGN SCENE Magazine for $24,90, subscribe till August 5th to receive Issue 016 for free.